1948 Hudson Commodore news, pictures, specifications, and information

Tweet
Hudson introduced their 'step-down' unibody models in 1948. This design had the passenger compartment down inside the perimeter of the frame that was an integral part of the body. Passengers would step down into a floor that was surrounded by the perimeter of the car's frame. This lead to a safer car with more passenger comfort and improved handling due to the lower center of gravity. Since that time, nearly all automakers have adopted this approach to packaging automobiles. In 1954, the company merged with Nash-Kelvinator to form American Motors Corporation in 1954.

In 1948, Mrs. Chapin commissioned Derham Body to convert this new Hudson into a limousine. The car has a roll-up divider window behind the driver. Much of the chrome and nameplates were removed and the car painted black with a padded top for a more formal appearance. It is the first of only three Hudson limousines built during this period.
This Hudson Commodore Eight Custom Station Wagon was the car that was never built. In the post-War era, Hudson discontinued all commercial, utility, and station wagon lines, except for pickup trucks. In 1948, they introduced a new and radical 'step-down' design. One prototype pickup was built before the idea was abandoned. The product line-up included Super Six, Commodore six and Commodore Eight Coupes, convertibles and sedans. There were a total of 117,200 cars built in 1948 and the new tooling cost an astronomical $16,000,000 and left no money to build a woodie wagon. Don Butler, Hudson's famed designer, decided to design a woodie wagon anyway but management deemed it too costly to build.

Don Butler had recently been discharged as a veteran from the Army Air Force. In 1946 he was hired by Hudson's styling supervisor, Arthur Kibinger. While in the Army, he had sharpened his skills and techniques as an illustrator for instruction manuals and training materials. During his off-duty hours, he drew cars. After joining Hudson, he helped work on the final drawings for the step-down models. He continued sketching his own designs, now using Hudson as the basis. He sketched several body styles that management was unaware of at the time. His step-down designs included a station wagon, a pickup, and a town car, the latter appearing both with and without a wood applique. Unfortunately, there was no official interest in his ideas so his ideas remained hidden until the publication of his 1982 Crestline book The History of Hudson.

Butler's illustrations in the book fostered much interest among Hudson enthusiasts, including Bill Eggert of Denver. Inspired by the drawings, Eggert began work on a period-inspired Hudson Woody Wagon. He began with a rust-free 1948 Hudson Commodore Eight four-door sedan from Missouri. For the rear 'cabin', he used a 1954 Hudson donor car, its roof forming the greater part of the wagon's rear roof. The curved lift-gate window was formed from Lexan. The wood was difficult to forge; every stick had to be hand-crafted and finished to fit. The wood working along took over a year to create all the pieces using ash framing with mahogany veneer.

After the work was completed, the car made its debut at the 2007 National Meet of the Hudson Essex Terraplane Club at Auburn, Indiana. It was the only woodie in attendance and certainly the star of the show. Since that time, the unique creation has been shown just once before coming to auction in 2012.

The L-head inline eight-cylinder engine displaces 254.5 cubic-inches and offers 128 horsepower. There is a three-speed manual transmission and four-wheel hydraulic drum brakes.

In 2012, the car was offered for sale at the St. Johns sale presented by RM Auctions. It was estimated to sell for $150,000 to $200,000. As bidding came to a close, the car had been sold for the sum of $195,500 inclusive of buyer's premium.
By Daniel Vaughan | Oct 2012
The new Hudson models made their debut on December 7, 1947. They featured the company's step-down design with a low roof with plenty of interior room. In 1948, sales jumped nearly 50 percent over 1947, and Hudson rose from 13th to 11th place in the market.

This Hudson Commodore is a near-original car with just one repaint since new. The original color is Quartermaster Grey metallic and is striped grey cloth interior with clear plastic seat covers. Inside it a two-tone wood-grain dashboard and the odometer shows just 27,000 miles. It is very well equipped with an overdrive system, a windshield visor with a traffic light prism, chrome side window visors, a tissue dispenser, a rear window wiper and window blinds, and reversing lamps. It has the correct fender skirts and chrome hubcaps. There are trim rings and wide whitewall tires.
By Daniel Vaughan | Nov 2014
Introduced in 1941, the Hudson Commodore was produced by the Hudson Motor Car Company until 1952. The Hudson Motor Company was established in Detroit and has a long and lucrative history. The Commodore model was the most lush and exquisitely luxurious Hudson model ever produced and the first generation introduced the 2-door coupe, 4-door sedan and the 2-door convertible. The largest Hudson model also, the Commodore model rode on Hudson's 121 ' wheelbase, while the Commodore Custom's rode on the same for their coupes, or 128 ' wheelbase for sedans. The Hudson Commodore's were powered by either Hudson's exclusive 202ci I6 that produced 102 bhp or Hudson's 254.4 I8 that produced 128 bhp.

The largest model range that was introduced for this year, Hudson lineup was attempting their biggest lineup of all times. The Commodore lineup consisted of coupes, convertibles and sedans. A forward hinged hood that opened from the rear was continued to be in use by Hudson body styling, while at the same time the hood slid downward over the grille.

1940 and '41 models received a snazzy new up do for the 1942 year that included new concealed running boards, external trim arrangements and enlarged front grilles. The 1942 model year was ended in January as Hudson promoted its economy over luxury in its all new shortened model for U.S. war production.

The second generation of the Hudson Commodore began in 1946 and lasted until 1947. This new range included 4-door sedans as well as 2-door convertibles. On August 30, 1945, Hudson began its postwar automobile production and the body-styles were trimmed down to Sedan, Convertible and Club Coupe. Keeping the models strongly based on the '42 model Hudson, these models only received small cosmetic updates. The biggest update did include the car's grille now sporting a concave center section.

In comparison to other similar model makes, Hudson automobiles were much more fully trimmed and all Hudson models received flashy accoutrements. They included ashtrays, twin air-horns, and arm rests on the doors, windshield wipers, locking glove box, stop lights, sealed beam headlights and deep pile carpeting. Both the Commodore and Commodore Customs received air-foam seat cushions; as Hudson is famous for being the original automaker to unveil foam seat cushions. Other new innovations were rear arm rests in the sedans, door-step courtesy lights and gold etched lettering on the dash board panel.

Hudson's top-of-the-line series, the 1948-1949 Commodore Eight came in three body styles including a convertible, and was a much more popular model than previous versions, due to its innovative 'Step-Down' design. For these two model years alone, nearly 60,000 units were sold.

The third generation of the Hudson Commodore was unveiled in 1948 and lasted until 1952. An all-new 'step-down' automobile body was released by Hudson for the 1948 model. The Frame vehicles place the body of the car onto the chassis and then the two units were bolted to each other. Since the height of the vehicle was now much higher, passengers needed to step up into the car; and this was the major need behind the running boards. The passenger compartment was now placed inside the chassis, and the vehicle's perimeter frame now encircled the passenger compartment. This is how Hudson passengers 'stepped-down' into the vehicle. The step-down allowed Hudson to take advantage of serious weight-saving techniques through uni-body construction. The Hudson vehicles were now even safer since surrounded by the car's chassis; all of this combining to make a well-performing and all-around safe vehicle.

Only one series was available for the 1948 Commodores, and were available in either I8 or I6 powered versions. The body styles offered for this year was a convertible coupe, and two and four door sedans. On the inside, the Commodore was upholstered in leather for convertibles and in broadcloth on sedans. A variety of standard features were also included on the Hudson line in the same fashion of the history of their line, for no additional up-charge options. A total of 35,215 units were produced of the Commodore Eight.

The Commodore lineup gave birth in 1949 and now included a much more luxurious Commodore Custom line. Only minor trim changes on the outside of the vehicles were made for the 1950 through 1952 model year for the Hudson Commodore.

For the last year of the Commodore, the model was split into an Eight series and a Six series. The outside of the vehicle received yet another trim change. Unfortunately the design behind the Step-Down bodies began to look faded and outdated by the end of the 1951-1952 model years. Rather than redesign the older model, company President A.E. Barit chose instead to replace the Commodore with a compact Hudson. Starting in 1953, Hudson would only offer the Hudson Hornet and the Hudson Wasp line.
By Jessica Donaldson
For more information and related vehicles, click
here
BENTLEY CHARGES FORWARD WITH HYBRID CONCEPT
• Bentley to introduce plug-in hybrid technology to the luxury market • Additional performance and efficiency without compromise to luxury • Bentley Hybrid Concept showcases the technology in flagship Mulsanne • First application of hybrid power available in 2017 in the Bentley SUV (Crewe, England. 9th April 2014) Bentley is envisioning a powerful and even more efficient future with the Bentley Hybrid Concept – a technology showcase that previews Bentley's first plug-in hybrid model...[Read more...]
Auctions America Continues Successful 2013 Season with its Annual Fall Carlisle Sale
• Auctions America rounds out its 2013 auction season in Carlisle, Pennsylvania, October 3-4 • Two-day Fall Carlisle sale, held in conjunction with the Carlisle Events Collector Car Swap Meet & Corral, features a diverse roster of 300 classics, exotics, muscle cars, hot rods, and customs • Auction highlights include a desirable 1967 Chevrolet Corvette 427/435 Roadster, a 1969 Chevrolet Camaro Z-28 RS Sport Coupe, and a 1960 Mercedes-Benz 190SL Roadster • Full event details and a frequentl...[Read more...]
DEMAND FOR BESPOKE PERSONALISATION DRIVES THE ROLLS-ROYCE SUCCESS STORY
Nearly every Rolls-Royce Phantom and almost three in four Rolls-Royce Ghosts sold around the world are commissioned with Bespoke personalisation. And customer demand for the world's pinnacle automotive tailoring service has helped drive the marque towards three consecutive record sales years. In the first quarter of 2013, nearly every Phantom and Ghost model commissioned in Europe and the Middle East was specified with Bespoke design. In North America, the world's largest Rolls-Royce market, ...[Read more...]
Bentley To Bring Its Style Inside
• New partnership announced with Club House Italia • Development begins on 'Bentley Home Collection' • Fine furnishings for home, executive and office interiors (Crewe, 14th May 2013). Bentley is delighted to announce a partnership with Club House Italia for the development of its new Bentley Home Collection. This exclusive collection of furniture and homeware will combine the finest quality craftsmanship with exquisite modern design and the luxury finishes which underlie Bentley's ren...[Read more...]
RM Auctions Realizes $36.4 Million At Single-Day Arizona Biltmore Sale
• RM generates more than $36.4 million in sales with 89 percent of all lots sold at its 14th annual Arizona sale • Single-day sale features selective, handpicked offering of blue-chip automobiles, eclipses 2012 Arizona sale tally by more than 42 percent • Eight automobiles achieve million-dollar plus results with multiple new auction records set • Top-seller: 1960 Ferrari 250 GT SWB Berlinetta 'Competizione' sells for record $8,140,000 • RM continues its 2013 auction calendar with the prese...[Read more...]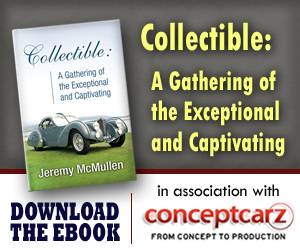 Similarly Priced Vehicles from 1948
Tucker 48 ($2,450-$2,450)
Buick Series 70 Roadmaster ($2,300-$3,430)
Cadillac Series 62 ($2,910-$3,440)
Chrysler Town and Country ($2,450-$3,415)
Oldsmobile Sixty Series ($1,600-$2,620)
DeSoto S-11C Suburban ($2,630-$2,630)
Chrysler New Yorker ($2,065-$3,415)
Chrysler Windsor ($1,900-$2,885)

Average Auction Sale: $64,913
© 1998-2014. All rights reserved. The material may not be published, broadcast, rewritten, or redistributed.