1920 Dodge Brothers Model 30 news, pictures, specifications, and information

Tweet
The Dodge brothers, Horace and John, produced steam engine parts in Detroit in the late 1900s. They created automobile parts for many of Detroit's fledgling automobile manufactures, including Henry Ford who was one of their larger customers. As partial payment for supplying parts, the Dodge Brothers agreed to become major stockholders in the Ford company. From 1903 until 1913, the company supplied the bulk of Ford's engine and chassis parts. In 1913, they were bout out and received several million dollars.

In 1914, the Dodge Brothers began building their own cars. With appropriate funds, they were able to design and build a very popular and reliable automobile that were price more than the Ford Model T but less than other competitor's vehicles. Sadly, both brothers died during 1920 and in 1928 the company was purchased by the Chrysler Corporation and the vehicle was renamed Dodge in 1930.

Most of the Dodge Brother automobiles were open touring cars or roadsters. This example is a rare Enclosed Coach was one of the first bodies built for Dodge by the Budd Company in Detroit. Most of the Enclosed Coach vehicles (Sedans) were constructed with wood frames. This example is constructed with a welded-steel inner structure.
Horace and John Dodge founded a precision machining company in Detroit in 1900 and quickly found work producing engine and chassis components for Olds Motor Vehicle and Ford Motor Company among others. They were very successful and built a strong reputation for quality. So not surprisingly their decision in 1914 to introduce their first Dodge car, the Model 30, complete with the industry's first all-steel body, 12-volt electrical system and a sliding gear transmission, met with much success. By 1916 they were second in U.S. sales.

With the tragic death of both brothers in 1920, the company passed into the control of investment bankers and was then acquired by Chrysler in 1928. In addition to building complete cars, Dodge also sold chassis with an engine, cowl and fenders for use by custom body builders.

This car is the only example of this style of speedster in existence and its early ownership is unknown. It is equipped with an early 1920s Roots-type supercharger with a pressurized fuel system and auxiliary oil tank. It was discovered as a 'basket case', but complete with the supercharger and gauges.

This car is believed by Dodge experts to be a custom-built speedster rather than a re-bodied car. While the chassis and engine were manufactured in 1920, the car has parts produced as late as 1925. It may have been built by a dodge Brothers dealer as a promotional car.

The car has been carefully restored to its original yellow hue and authentic brass trim.
For more information and related vehicles, click
here
FORD FUND ANNOUNCES $1 MILLION WILLIAM CLAY FORD AUTOMOTIVE DESIGN SCHOLARSHIP
◾Scholarship commemorates the design legacy of William Clay Ford, former chairman of Ford Motor Company's design committee ◾Ford Fund commits $50,000 per year during the next 20 years, giving five automotive design students each $10,000 per year ◾Mr. Ford oversaw design of the iconic Lincoln Continental Mark II, considered by many one of the greatest cars ever built Ford Motor Company Fund will award $1 million in automotive design scholarships during the next 20 years to commemorate the la...[Read more...]
Volkswagen Opens New Plant In Ningbo, South Eastern China
◾Production begins at Group's 105th plant worldwide and 16th factory in China ◾New production technology based on the Modular Transverse Toolkit (MQB) ◾Annual production capacity of 300,000 Volkswagen and ŠKODA models ◾5,700 new jobs The Volkswagen Group is expanding its production capacity as planned and thereby optimizing the capacity utilization of its production network in China. Prof. Dr. Martin Winterkorn, Chairman of Volkswagen Aktiengesellschaft, and Prof. Dr. Jochem Heizmann, Memb...[Read more...]
Ford Fund Sends World War Ii Veterans To Visit World War Ii Memorial In D.C. On D-Day; Announces $278,000 Grant To Dav
◾Ford Motor Company Fund is sponsoring an Honor Flight for World War II veterans to visit the National World War II Memorial in Washington, D.C., on the anniversary of D-Day – one of three Ford-sponsored Honor Flights in 2013 ◾Ford Fund announces $278,000 in grants to DAV (Disabled American Veterans), bringing its total support for veterans to more than $6.5 million since 1996 ◾Ford Motor Company's support of veterans dates back to 1922 DEARBORN, Mich., June 6, 2013 – On the 69th ann...[Read more...]
GM Design: 85 Years of Making Art That Moves You
As GM Design celebrates its 85th birthday this month, the 1,900 men and women in GM's 10 global design centers are focused on the future, united in their vision to entice consumers to fall in love and see vehicles as they do: art that moves you. 'Our global team is united around its passion for designing vehicles that make an emotional connection with customers,' said Ed Welburn, GM vice president, Global Design. 'What was true 85 years ago is still true today: A designer's role is to create...[Read more...]
See Vintage Steam Cars at this year's Glenmoor Gathering
One of the highlighted features of the 2012 Gathering will be steam-powered automobiles. At the end of the 19th century, steam was king—and proven. It powered industrial machinery, ships and railroad locomotives. It was only natural that steam was used to power early automobiles. The most famous of these was the Stanley (shown above) but another well-known steam car was built in Cleveland—the White—and Locomobile began as a steam car. In all, more than 200 vintage and classic American and E...[Read more...]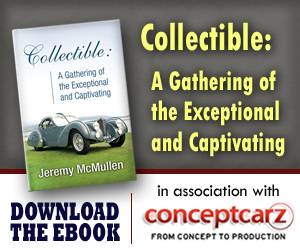 Similarly Priced Vehicles from 1920
Cleveland Model 40 Roadster ($1,385-$1,385)
Ford Model T ($1,000-$2,500)
Chalmers Model 35-C ($1,685-$2,370)
Lexington Series S ($1,885-$2,850)
Paige Model 6-42 ($1,670-$2,395)

Average Auction Sale: $9,240
Dodge Brothers
Monthly Sales Figures
Volume
October 2014
41,512
September 2014
44,020
August 2014
49,895
July 2014
43,118
June 2014
50,314
May 2014
57,923
April 2014
53,463
March 2014
60,575
February 2014
49,744
January 2014
34,905
December 2013
47,689
November 2013
41,506
(More Details)
© 1998-2014. All rights reserved. The material may not be published, broadcast, rewritten, or redistributed.