1920 Dodge Brothers Model 30 news, pictures, specifications, and information

Tweet
The Dodge brothers, Horace and John, produced steam engine parts in Detroit in the late 1900s. They created automobile parts for many of Detroit's fledgling automobile manufactures, including Henry Ford who was one of their larger customers. As partial payment for supplying parts, the Dodge Brothers agreed to become major stockholders in the Ford company. From 1903 until 1913, the company supplied the bulk of Ford's engine and chassis parts. In 1913, they were bout out and received several million dollars.

In 1914, the Dodge Brothers began building their own cars. With appropriate funds, they were able to design and build a very popular and reliable automobile that were price more than the Ford Model T but less than other competitor's vehicles. Sadly, both brothers died during 1920 and in 1928 the company was purchased by the Chrysler Corporation and the vehicle was renamed Dodge in 1930.

Most of the Dodge Brother automobiles were open touring cars or roadsters. This example is a rare Enclosed Coach was one of the first bodies built for Dodge by the Budd Company in Detroit. Most of the Enclosed Coach vehicles (Sedans) were constructed with wood frames. This example is constructed with a welded-steel inner structure.
Horace and John Dodge founded a precision machining company in Detroit in 1900 and quickly found work producing engine and chassis components for Olds Motor Vehicle and Ford Motor Company among others. They were very successful and built a strong reputation for quality. So not surprisingly their decision in 1914 to introduce their first Dodge car, the Model 30, complete with the industry's first all-steel body, 12-volt electrical system and a sliding gear transmission, met with much success. By 1916 they were second in U.S. sales.

With the tragic death of both brothers in 1920, the company passed into the control of investment bankers and was then acquired by Chrysler in 1928. In addition to building complete cars, Dodge also sold chassis with an engine, cowl and fenders for use by custom body builders.

This car is the only example of this style of speedster in existence and its early ownership is unknown. It is equipped with an early 1920s Roots-type supercharger with a pressurized fuel system and auxiliary oil tank. It was discovered as a 'basket case', but complete with the supercharger and gauges.

This car is believed by Dodge experts to be a custom-built speedster rather than a re-bodied car. While the chassis and engine were manufactured in 1920, the car has parts produced as late as 1925. It may have been built by a dodge Brothers dealer as a promotional car.

The car has been carefully restored to its original yellow hue and authentic brass trim.
For more information and related vehicles, click
here
THREE FOX NETWORKS DELIVER 21 HOURS OF BARRETT-JACKSON PALM BEACH COVERAGE
Palm Beach, FL – National Geographic Channel, FOX Sports 1 and FOX Sports 2 are set for 21 hours of live and same-day coverage from this year's 12th annual Barrett-Jackson Palm Beach Collector Car Auction. The multi-platform, interactive broadcast begins Friday, April 11 at 12:00 PM ET on FOX Sports 2, continuing on FOX Sports 1 at 3:00 PM ET. National Geographic Channel provides eight hours of coverage on Saturday, April 12 (12:00 PM ET), with FOX Sports 1 culminating the weekend on Sund...[Read more...]
ART EXHIBIT CELEBRATES CHRYSLER WORKERS' MULTIPLE TALENTS, CREATIVITY IN MANUFACTURING PROCESS
November 21, 2013 , Detroit - The UAW and Chrysler Group LLC today unveiled an art show that recognizes multidimensional employees from the shop floor and celebrates the role of the creative process in manufacturing automobiles. The jointly sponsored 2013-2014 Artists at Work Exhibition features 92 pieces of art by 50 UAW-represented and non-bargaining unit Chrysler Group employees. UAW and Chrysler Group officials honored the employee-artists at a reception this evening at the U...[Read more...]
J.D. POWER AND LMC AUTOMOTIVE REPORT
• May New-Vehicle Retail Selling Rate Expected to be 1 Million Units Stronger than a Year Ago
WESTLAKE VILLAGE, Calif., May 23, 2013 - Robust new-vehicle retail sales in May are the driving factor of returning total sales above the 15-million unit selling level for the month, according to a monthly sales forecast developed by J.D. Power & Associates' Power Information Network® (PIN) and LMC Automotive. Retail Light-Vehicle Sales New-vehicle retail sales in May are pr...[Read more...]
Commemorative Poster For 2013 Pebble Beach Concours d'Elegance Features Ford Family Lincolns
Event Posters Also Celebrate Aston Martin and Porsche 911 PEBBLE BEACH, Calif. (April 16, 2013) -- When Edsel B. Ford II came upon the 1956 Lincoln Continental MK II last year, he admired the long lines and elegant custom styling of the automobile, but he didn't immediately recognize it. Imagine his surprise when he learned the car had, in fact, belonged to his mother, Anne, as evidenced by the original owner's manual inscribed with her name. In all fairness, Edsel was just...[Read more...]
Concours d'Elegance of America Announces Official Charities
The Board of Directors of the Concours d'Elegance of America has announced that the College for Creative Studies (CCS), Leader Dogs for the Blind and Hospice of Michigan will be its charitable beneficiaries at the 2012 Concours d'Elegance of America at St. John's. Concours' Director and Chief Judge, Bill Parfet explained, 'To further celebrate the heritage of Detroit, a portion of the proceeds of the Concours d'Elegance of America at St. John's is designated for local educational and charita...[Read more...]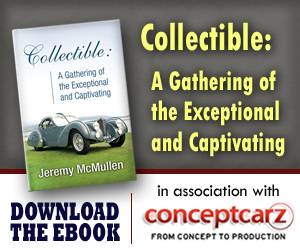 Similarly Priced Vehicles from 1920
Cleveland Model 40 Roadster ($1,385-$1,385)
Ford Model T ($1,000-$2,500)
Chalmers Model 35-C ($1,685-$2,370)
Lexington Series S ($1,885-$2,850)
Paige Model 6-42 ($1,670-$2,395)

Average Auction Sale: $9,240
Dodge Brothers
Monthly Sales Figures
Volume
July 2014
43,118
June 2014
50,314
May 2014
57,923
April 2014
53,463
March 2014
60,575
February 2014
49,744
January 2014
34,905
December 2013
47,689
November 2013
41,506
October 2013
45,314
September 2013
48,576
August 2013
52,858
(More Details)
© 1998-2014. All rights reserved. The material may not be published, broadcast, rewritten, or redistributed.