1920 Dodge Brothers Model 30 news, pictures, specifications, and information

Tweet
The Dodge brothers, Horace and John, produced steam engine parts in Detroit in the late 1900s. They created automobile parts for many of Detroit's fledgling automobile manufactures, including Henry Ford who was one of their larger customers. As partial payment for supplying parts, the Dodge Brothers agreed to become major stockholders in the Ford company. From 1903 until 1913, the company supplied the bulk of Ford's engine and chassis parts. In 1913, they were bout out and received several million dollars.

In 1914, the Dodge Brothers began building their own cars. With appropriate funds, they were able to design and build a very popular and reliable automobile that were price more than the Ford Model T but less than other competitor's vehicles. Sadly, both brothers died during 1920 and in 1928 the company was purchased by the Chrysler Corporation and the vehicle was renamed Dodge in 1930.

Most of the Dodge Brother automobiles were open touring cars or roadsters. This example is a rare Enclosed Coach was one of the first bodies built for Dodge by the Budd Company in Detroit. Most of the Enclosed Coach vehicles (Sedans) were constructed with wood frames. This example is constructed with a welded-steel inner structure.
Horace and John Dodge founded a precision machining company in Detroit in 1900 and quickly found work producing engine and chassis components for Olds Motor Vehicle and Ford Motor Company among others. They were very successful and built a strong reputation for quality. So not surprisingly their decision in 1914 to introduce their first Dodge car, the Model 30, complete with the industry's first all-steel body, 12-volt electrical system and a sliding gear transmission, met with much success. By 1916 they were second in U.S. sales.

With the tragic death of both brothers in 1920, the company passed into the control of investment bankers and was then acquired by Chrysler in 1928. In addition to building complete cars, Dodge also sold chassis with an engine, cowl and fenders for use by custom body builders.

This car is the only example of this style of speedster in existence and its early ownership is unknown. It is equipped with an early 1920s Roots-type supercharger with a pressurized fuel system and auxiliary oil tank. It was discovered as a 'basket case', but complete with the supercharger and gauges.

This car is believed by Dodge experts to be a custom-built speedster rather than a re-bodied car. While the chassis and engine were manufactured in 1920, the car has parts produced as late as 1925. It may have been built by a dodge Brothers dealer as a promotional car.

The car has been carefully restored to its original yellow hue and authentic brass trim.
For more information and related vehicles, click
here
CORENET GLOBAL MICHIGAN CHAPTER NAMES CHRYSLER GROUP 2014 REAL ESTATE CONTRIBUTOR OF THE YEAR
◾Award given annually to companies that are 'contributing to Detroit's future success through development of their real estate portfolio' ◾In 2012, Chrysler Group leased nearly 33,000 square feet of space within the former Dime Building, the first time the Company has established an office presence in downtown Detroit ◾Chrysler Group employs about 5,700 people in the City of Detroit at various facilities and has added approximately 2,225 jobs in Detroit since November 2011 May 9, 2014 , ...[Read more...]
DELTAWING TECHNOLOGIES INC. NAMES BOARD OF DIRECTORS
• Six-Member Governance Team On Board to Guide Company's Business Growth, Organizational Structure, and Future Success
Hoschton, Ga., March 3, 2014 – Georgia-based DeltaWing Technologies Inc. announced the formation of the company's board of directors. The six-member board includes auto industry, government, and business talent with nearly two centuries cumulative corporate, government and motorsports experience. DeltaWing Technologies Inc., based in the North Metro-Atlanta c...[Read more...]
FORD CELEBRATES 100TH ANNIVERSARY OF THE MOVING ASSEMBLY LINE WITH NEW GOALS FOR ADVANCED, FLEXIBLE
◾By 2017, Ford will increase its global flexible manufacturing to produce on average four different models at each plant around the world ◾Largest manufacturing expansion in 50 years with eight new assembly plants and six new powertrain plants globally to support growth and retain approximately 130,000 manufacturing jobs around the world ◾Ford ramping up new advanced manufacturing techniques such as 3D printing, advanced prototyping, robotics and virtual simulation to lead the next generation ...[Read more...]
Lingenfelter Collection Garage Crawl To Take Place Saturday, June 15 During 26Th Annual Eyeson Design
BRIGHTON, Mich. - Ken Lingenfelter, owner of Lingenfelter Performance Engineering, will open the doors of his famed Lingenfelter Collection by hosting a Garage Crawl during the 26th Annual EyesOn Design week of activities. All proceeds from EyesOn Design events, this year themed 'Revolution over Evolution,' will benefit the Detroit Institute of Ophthalmology. Lingenfelter, who serves on the EyesOn Design Board, will also exhibit select vehicles from his collection in the EyesOn...[Read more...]
1966 24 Hours of Le Mans: Bewildered Bruce
The look on Bruce McLaren's face as he climbed from his GT40 would be one of stark contrast to the rest of those with the Ford team. It was clear who the winner was, and yet, confusing as well. In the midst of one of the most demonstrative and authoritative victories in Le Mans history, McLaren and his co-driver Chris Amon would find themselves the beneficiaries of a saga that upset the team management at Ford as much as Ferrari's presence. It was an all-out effort. Tremendous amounts of capi...[Read more...]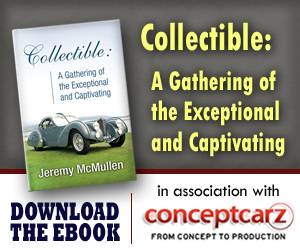 Similarly Priced Vehicles from 1920
Cleveland Model 40 Roadster ($1,385-$1,385)
Ford Model T ($1,000-$2,500)
Chalmers Model 35-C ($1,685-$2,370)
Lexington Series S ($1,885-$2,850)
Paige Model 6-42 ($1,670-$2,395)

Average Auction Sale: $9,240
Dodge Brothers
Monthly Sales Figures
Volume
November 2014
42,108
October 2014
41,512
September 2014
44,020
August 2014
49,895
July 2014
43,118
June 2014
50,314
May 2014
57,923
April 2014
53,463
March 2014
60,575
February 2014
49,744
January 2014
34,905
December 2013
47,689
(More Details)
© 1998-2014. All rights reserved. The material may not be published, broadcast, rewritten, or redistributed.