1925 Stutz Model 695 news, pictures, specifications, and information

Tweet
The Stutz Company, founded by Harry C. Stutz, got their start in 1911 when the built cars to compete at the Indianapolis Motor Speedway's 500 mile race. The Stutz cars did not win the race, but they performed well and garnered publicity for the new car builder. After the race, the Ideal Motor Company had been founded and production of one of the country's high performance vehicles had begun. By 1913, the company had been renamed the Stutz Motor Car Company and was producing four and six-cylinder models including the Bearcat.

Harry C. Stutz left the company in 1919 after disagreements with the company's stock holders. He formed his own company, the H.C.S. The Stutz Company was taken over by the Bethlehem Steel Magnate Charles M. Schwab and Frederick Moscovics was hired to transform the Stutz sports car into a proper luxury car.

This 1925 Stutz Model 695 has a Roadster body built by coachbuilder Weyman. Power is from a six-cylinder engine delivery 80 horsepower. This was the last year for the six cylinder model. This Weyman Roadster is one of only two known to exist. It completed a tour of Northern Europe in 1997.
Speedway Six Torpedo Tail Speedster
Engine Num: 15358

Sold for $43,700 at 2013 Bonhams.

Despite the fact the automotive industry was still a fledgling notion, some, like Harry Stutz recognized the benefits of track tested technology in street-going production cars. It would be this understanding that would lead Stutz to have one of his cars take part in the inaugural 1911 Indianapolis 500 and would lead to the famous Stutz slogan, 'The Car That Made Good in A Day.'

Actually, Stutz's company started out as the Ideal Motor Car Company and would become considered as luxurious in its automotive artistry as Aston Martin and Bentley. However, a couple of years after the successful run in the 1911 Indianapolis 500, in which Gil Andersen would finish the race 11th overall at the wheel of a Wisconsin-powered Stutz, the company would become restructured and would become known as the Stutz Motor Car Company.

The racing tradition would continue the following year when Stutz automobiles would finish 1st and 2nd in the 203 mile Illinois Trophy Race held at Elgin. One year later, 1913, Gil Andersen would take 1st place in the Elgin National Trophy Race. The margin of victory in the race would be a mere seven minutes. In all, Stutz cars enter ten races over the course of the 1913 season and would come away with 8 victories. This would lead to a tremendous amount of popularity for the company and orders exceed the company's ability to fulfill them.

The Stutz Bearcat would continue Stutz's reputation for performance. Although a passenger road car, Cannonball Baker would use a Bearcat to set a coast-to-coast record. He would go coast to coast in a mere 11 days and 7 hours.

The continued success would lead to the company being listed on the New York Stock Exchange and selling shares of stock at an unbelievable price of $100 per share. The company would continue to grow and, by 1920, would set a record for producing 4,000 cars in a single year. That same year, Stutz would leave the company to focus on other endeavors.

Despite Stutz's departure from his own company, racing performance would never become alien to the Indianapolis-based motor company. In fact, Stutz automobiles would go on to earn a runner-up finish in the 1928 Le Mans Grand Prix and would later set a record on the sands of Daytona Beach, Florida hitting 107 mph with a Stutz Blackhawk Speedster.

But although the Stutz legacy is filled with achievements on the race track, the company was also very adept in building truly luxurious and affluent designs that would become highly coveted. In fact, in many ways, Stutz would put the roar in the 'roaring twenties' and would continue a company of the prosperous and upper-class for decades to come.


The 2013 Bonhams auction in Scottsdale, Arizona sees an intriguing and an especially compelling Series 695H Speedway Six Torpedo Tail Speedster become available for purchase.

Originally starting out life as a road car, this particular Stutz would be discovered out in a field having been used as some kind of agricultural irrigation pump. In a photograph taken from the '40s or '50s, it shows the car still retaining its front cowl but having the motor of another car placed in the back to help act as a pump. Then, some time during the 1950s, the car would be removed and stored in a barn.

The car would remain in the barn undisturbed for decades. It wouldn't be until 2006 that it would be rediscovered. The current owner would then purchase the car and would have an important decision to make.

Obviously the car had been a road-going passenger car in its past. However, the owner would make the decision to take the car in another direction, a direction much more fitting of the Stutz heritage for motor racing.

The owner would eventually, and amazingly, come across a genuine torpedo tail, though of unknown origin, and would have it carefully fitted atop the original frame and the drivetrain. Over the course of the next few years the car would continue to be completed in its Speedster form.

Boasting of the Lockheed four-wheel hydraulic brake system, the car would be finished and would be road registered. Totally street-legal and sporting an amazing sound from its 289ci, OHV, 80hp inline six-cylinder engine, the Speedway Six Torpedo Tail Speedster harkens back to the early days of the Indianapolis 500 and when Stutz was prominent competitor in the motor racing scene.

Heading to auction, the 1925 Stutz Series 695H Speedway Six Torpedo Tail Speedster would be estimated to draw between $45,000 and $55,000.

Sources:
'Lot 396: 1925 Stutz Series 695H Speedway Six Torpedo Tail Speedster', (http://www.bonhams.com/auctions/20582/lot/396/). Bonhams 1793. http://www.bonhams.com/auctions/20582/lot/396/. Retrieved 9 January 2013.

'Stutz History', (http://www.stutzmotor.com/history.htm#3). Stutz. http://www.stutzmotor.com/history.htm#3. Retrieved 9 January 2013.

'1925 Stutz Model 695 News, Pictures and Infortmation', (http://www.conceptcarz.com/vehicle/z17247/Stutz-Model-695.aspx). Conceptcarz.com: From Concept to Production. http://www.conceptcarz.com/vehicle/z17247/Stutz-Model-695.aspx. Retrieved 9 January 2013.
By Jeremy McMullen
The 1925 Stutz Model 695 was powered by a 289 cubic-inch overhead cam six-cylinder engine that was fitted with a Rayfield carburetor and produced 80 horsepower. They had a three-speed manual gearbox and featured four-wheel hydraulic brakes. It is believed that only 748 examples of the Speedway Six 695 series were produced.

The coachwork for the Speedway Six chassis were commissioned to outside manufactures. This example wears five-passenger Sportbrohm body built by Robbins Body Corp. The car was given French fur upholstery and included dome and quarter lights in the rear interior. On the outside, distinguishable features include cowl lights, a cowl ventilator and running-bard scuff plates.

In the 1980s, the car was given a restoration by its then-owner Edward Gil. Gil kept the car for a decade before selling it to Frank Hurley. Hurley kept the car for five years. In the mid-1990s, the car was sold to a resident of the Seattle area.

In 2011, this vehicle was offered for sale at the Gooding & Company auction in Scottsdale, Az. where it was estimated to sell for $50,000 - $65,000 and offered without reserve. As bidding came to a close, the car had been sold for the sum of $46,200 including buyer's premium.
By Daniel Vaughan | Feb 2011
One of the last of the famous 6-cylinder Stutz models, this car draws from Stutz racing history - the day Stutz made good at the first Indianapolis 500 held at the Indianapolis Motor Speedway - for its model designation. This car developed 80 horsepower from its 288 cubic-inch overhead 6-cylinder engine - more power than that of many new straight eights.
FIRST RETAIL UNIT 2015 FORD MUSTANG GT FASTBACK SELLS FOR $300,000 AT BARRETT-JACKSON AUCTION IN SCOTTSDALE
◾The first retail unit 2015 Ford Mustang GT Fastback sold for $300,000 with proceeds benefiting JDRF, the leading diabetes research organization ◾With this sale, Ford has increased its JDRF charity car vehicle sales to more than $3.5 million ◾The winning bidder will personalize their new car with available 2015 Mustang GT options ◾Shelby GT500-inspired, 1956 Ford F-100 pulled in $450,000 for the Children's Hospital of Saskatchewan in Canada. KISS bassist and Rock and Roll Hall of Fame inducte...[Read more...]
Car Expert Hans Wurl Joins Gooding & Company's Team of Classic Automobile Specialists
SANTA MONICA, Calif. (December 9, 2013) – Gooding & Company, the official auction house of the Pebble Beach Concours d'Elegance®, is expanding its existing team with the addition of Hans Wurl, a well-known classic car specialist with a strong technical background. Wurl has served as advisor to noted collectors and participated in some of the best collector car events around the world. Based in Seattle, Wurl joins Gooding & Company's team of respected automotive specialists David Brynan,...[Read more...]
Barrett-Jackson Generates More Than $21 Million In Sales At 11th Annual Palm Beach Auction
The World's Greatest Collector Car Auctions™ Attracts Nearly 55,000 Attendees Despite Weather Concerns, Reports Strong Sales Signifying that Collector Car Market is on Steady Incline •More than $21 million in gross sales – An increase over 2012 sales •Nearly 55,000 car fans in attendance •More than $1.8 million raised for charity Scottsdale, Ariz. – (April 9, 2013) – Barrett-Jackson, The World's Greatest Collector Car Auctions™, announced today that it generated more than $21 millio...[Read more...]
Akerson's 1958 Vette Going On Block For Habitat For Humanity
A new home for a classic American car will soon help pave the way for several new homes for families throughout metro Detroit. General Motors Chairman and CEO Dan Akerson's personal 1958 Chevrolet Corvette will be auctioned off on Friday, Jan. 18, 2013 at 7:30 p.m. EST, by the famed Barrett-Jackson Auction Company in Scottsdale, Ariz. All proceeds will be donated by Akerson to Habitat for Humanity Detroit and its efforts to rebuild the Morningside Commons neighborhood located just east of G...[Read more...]
Ferrari Financial Services Signs on for Three Years as the Exclusive Financial Services Provider for Gooding & Company
Gooding & Company, the acclaimed auction house celebrated for selling the world's most significant and valuable collector cars, is pleased to announce that it has just signed an exclusive, three-year agreement with Ferrari Financial Services, the iconic brand's captive finance company. Ferrari Financial Services offers a personalized finance program designed to purchase or lease all types of Ferraris. The new agreement is an official continuation of Ferrari Financial Services' presence at Good...[Read more...]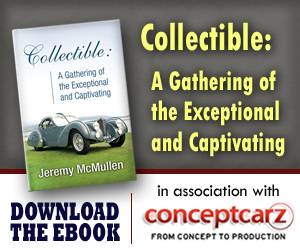 Similarly Priced Vehicles from 1925
Stearns Sedan ($2,475-$3,395)
Packard 236 ($3,755-$10,500)
Lincoln Model L ($598-$6,405)
Marmon Model D-74 ($3,900-$3,900)
Packard Model 136 ($3,275-$3,275)
Pierce Arrow Model 80 ($2,900-$4,100)

Average Auction Sale: $46,467
© 1998-2014. All rights reserved. The material may not be published, broadcast, rewritten, or redistributed.