1958 Packard Series 58L news, pictures, specifications, and information

Tweet
Hardtop Coupe
Engine Num: L2122

The 1958 catalog of Packards came with no model names. Each one was just a 'Packard.' And they were no longer built in Detroit. The end of Packard was in sight as Studebaker had taken over and many observers dubbed the Packardbakers. Not that there was anything wrong with Studebaker, it's just that it wasn't Packard. Sadly, the 1958 models did not sell well.

The Packard Series 58L were introduced early in 1958. They were available as a sedan, Hardtop Coupe, Station wagon, and the Packard Hawk Hardtop Sport Coupe. The base engine was a overhead valve V8 engine that displaced 289 cubic-inches and produced 225 horsepower. The Packard Hawk had a supercharged V8 that boosted power to 275 BHP.

All models except the Hawk had dual headlamps. In the back were tailfins, in keeping with the styles of the time.

Production was low, with 1200 Sedans, 675 Hardtop Coupes, and a mere 159 examples of the station wagon created. 588 buyers selected the Hawk Hardtop Sport Coupe.

This particular Packard is among the last Packards built. It was produced on July 23rd of 1958 and the line was halted on July 25. By this time these cars were Packards in name only - the 1957 and 1958 cars were essentially re-badged Studebakers as the two companies had merged.
Many historians agree that the last 'real' Packards rolled off the Detroit assembly line in 1956. After the 1954 merger of Studebaker and Packard, production of both marques were consolidated in Studebaker's South Bend, Indiana facilities. The resulting 1957 Packard, a redecorated Studebaker created on a shoestring budget, disappointed brand loyalists. Packard tried again in 1958 with quad headlamps, a low and wide grille and restyled tailfins (constructed of fiberglass), but fewer than 3,000 were built before the marque ceased production in July 1958.

The 1958 Station Wagon 'combined station wagon capacity with limousine luxury and riding ease,' claimed Packard. In actuality, this Studebaker-based Packard was smaller and lighter than a standard Ford or Chevrolet, with a 116-inch wheelbase and 206-inch overall length. Standard equipment included a 225 horsepower 289 cubic-inch V8 engine, 'Flight-o-Matic' automatic transmission and power brakes.

This 1958 Packard is a nine-passenger wagon and one of just 159 built. It was rescued from a field many years ago and fully restored to its present condition.
1958 was Packards final year of production before assimilation into the Studebaker model line, and only 588 examples of the Hawk Series 58LS were produced in the year. These cars were powered by a 289 cubic-inch V8 engine fitted with a MucCulloch centrifugal supercharger and Stromberg two-barrel carburetors. Standard equipment included a Borg-Warner Flight-O-Matic three-speed automatic transmission and four-wheel hydraulic drum brakes.

The Hawk is a direct descendant of the legendary industrial designer Raymond Loewy's iconic Studebaker Starliner of 1953. In 1956, it was redesigned with frontal and rear styling features and became Studebaker's prestige car. They were produced in several models and equipped with a number of powertrains.

The Hawk was fitted with a 'Continental' tire impression on the rear deck lid, a leather-trimmed interior, a non-functional hood scoop, front fender marker lights and full instrumentation including a supercharger boost gauge, a tachometer and a vacuum gauge.

This example has been given a complete, body-off restoration that was completed in 2008 to factory-correct specifications. It is finished in red and white two-tone exterior with a Saddle interior. This car has the optional power brakes and power steering. Just 30 miles have been covered since the restoration work was completed.

In 2010, this Hawk Sport Coupe was offered for sale at the Vintage Motor Cars of Meadow Brook event presented by RM Auctions. The car was estimated to sell for $55,000 - $75,000. As bidding came to a close, the car had been sold for the sum of $50,600 including buyer's premium.
By Daniel Vaughan | Aug 2010
| | | |
| --- | --- | --- |
| | | Hardtop Coupe |
Some would argue that Packard ceased to exist when the Packard was no longer built at the original Packard factory on East Grand Boulevard in Detroit, leaving in 1956.

However, the Packard name continued for two more years, as cars were built in South Bend, Indiana by Studebaker, which had merged with Packard in 1954.

The 1958 Packard Hawk was powered by a 289 cubic-inch, overhead valve V-8 that produced 275 horsepower, thanks to a McCulloch VS 57S supercharger that cut-in at 3,000 RPM.

This low mileage, mostly unrestored Packard is one of only 588 Packard Hawks built in 1958 - the only year produced. It was sold new in California and spent most of its life there.
JAGUAR LAND ROVER REPORTS U.S. SALES FOR MAY 2014
◾Jaguar Land Rover North America sales increase 17 percent in May, for its best May sales month result since 2007 ◾Land Rover brand has its best May sales month ever with a 28 percent increase over 2013 ◾Range Rover Evoque sales increase 59 percent for May ◾Jaguar F-TYPE Coupe went on sale in May leading to new high in monthly F-TYPE sales ◾Jaguar sales up 14 percent for the year (MAHWAH, NJ) - June 3, 2014 - Jaguar Land Rover North America today reported May 2014 U.S. sales: Land ...[Read more...]
JAGUAR LAND ROVER REPORTS U.S. SALES FOR DECEMBER 2013
◾Jaguar Land Rover North America sales increase 20 percent for 2013 with 66,962 units sold ◾Land Rover sets new U.S. full year sales record for the brand of 50,010 units with increase of 15 percent for 2013 ◾All new aluminum Range Rover increases 56 percent for 2013 ◾Jaguar finishes 2013 as one of the fastest growing automotive brands in the United States with 41 percent growth versus 2012 reaching 16,952 units ◾All-wheel drive and new powertrains helps Jaguar XF achieve a 43 percent gain fo...[Read more...]
HPD UNVEILS STREET PERFORMANCE PRODUCTS AT 2013 SEMA SHOW
11/05/2013 - LAS VEGAS Long a fixture at race circuits around the world, Honda Performance Development, the racing arm of American Honda Motor Co., Inc., will now be offering a new range of HPD Street Performance products, starting with the Honda CR-Z sport hybrid coupe. Two Honda passenger cars featuring HPD Street Performance products are on display at the 2013 Specialty Equipment Market Association Show in Las Vegas, along with an HPD Civic Si Coupe raced in the Continental Tire Sp...[Read more...]
2014 CALLAWAY SILVERADO AND SIERRA DEVELOPMENT - IN PROCESS
OLD LYME, CONNECTICUT (July 02, 2013)– Callaway engineers are hard at work developing the company's latest Supercharged versions of 2014 GM SportTrucks, after receiving their first 2014 Chevrolet Silverado and GMC Sierra trucks this past week. 2014 Silverado and Sierra product development, testing and validation will be conducted over the next few months. Supercharged 5.3L and 6.2L models are projected to be available later this year, in every GM-built cab and bed combination. Expe...[Read more...]
JAGUAR EXPANDS POWERTRAIN CHOICE WITH TWO ADDITIONAL FORCED-INDUCTION PETROL ENGINES
As Jaguar expands its product offer in key global markets it is introducing two additional petrol units to its range to enhance customer choice; the new 3.0-litre V6 Supercharged Petrol, and the 2.0-litre I4 Turbocharged Petrol. Adrian Hallmark, Global Brand Director, Jaguar Cars, said: 'Jaguar currently has its strongest range of products for several decades. Our continued growth is dependent on two things; activating the awareness of the brand, and expanding our range to enable us to access...[Read more...]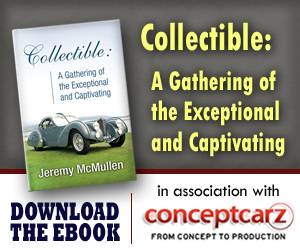 Similarly Priced Vehicles from 1958
Chevrolet Corvette C1 ($3,600-$3,600)
Porsche 356A ($3,200-$5,900)
Edsel Pacer Series B ($2,698-$3,765)
Edsel Citation ($3,498-$3,765)
Mercury Voyager ($3,630-$3,630)
Buick Series 50 Super ($3,642-$3,787)
Austin-Healey 100-6 ($2,920-$3,390)
Alfa Romeo Giulietta ($3,298-$3,780)

Average Auction Sale: $47,631
© 1998-2014. All rights reserved. The material may not be published, broadcast, rewritten, or redistributed.