1986 Pontiac Fiero news, pictures, specifications, and information

Tweet
The Fiero was the company's P-body two-passenger, mid-engined sports car. The 1986 Pontiac Fiero was available as the Base Coupe, Sport Coupe, SE, and GT. The base engine was an overhead valve four-cylinder engine displacing 2.5-liters and offering 92 horsepower. The Fiero SE was equipped with a Rally Tuned suspension, 14-inch cast aluminum wheels and a black-accented aero-package.

An optional 2.8-liter V6 engine was available with a multi-port fuel injection system, offering 140 horsepower. Standard equipment included reclining bucket seats in Pallex cloth trim with optional leather, suede and cloth trim. The Sport Coupe models wore P185/76R14 tires with new tri-tech wheel coves. Aluminum wheels were optional. Body colors included Black, Red, White, Gold and Silver.

New for 1986 were sail-panel stereo wheels which replaced the former headrest units. The design was very similar to the 1985 model; the smooth-surfaced front end now had a single center air slot with separate areas for park/signal lamps.

Pontiac produced 952,943 vehicles in 1986. 83,974 of those were the Pontiac Fiero. Pricing began at $9,950 for the Base Coupe and rose to $12,870 for the GT Coupe.
By Daniel Vaughan | Jul 2014
The Pontiac Fiero was produced for only a short time, lasting from 1984 through 1988. It was based on the Pontiac Banshee Concept inspired by John DeLorean. The design was courtesy of Hulki Aldikacti, from an outside firm called Entech, who created a small, two-door coupe with a mid-engine layout. It was dubbed the 'Fiero' which is an Italian word meaning 'proud'. This name was chosen because it was one of the first mid-engine production vehicle to be produced by Detroit's big-three. An example of an earlier attempt was the Chevrolet Corvair.

The mid-engine design is always a radical and exotic configuration; it was given this setup to improve the vehicles aerodynamics and give it proper weight distribution. The results were impressive, with the car having excellent handing and performance. Mounted transversely in the engine bay was a 2.5-liter four-cylinder engine which provided fuel economy that could rival other cars of its day. With the proper setup and four-speed manual gearbox, the car could achieve 40 mpg on the highway. With the 3-speed THM-125 automatic gearbox the MPG dropped to 32, which is still very impressive. The vehicles weighed just under 2600 pounds and had a wheelbase that measured a short 93.4 inches. Length was just 160.3-inches, meaning there was little room for cargo. It was a sports car that had performance characteristics, impressive fuel economy, and styling that resembled other exotic sports cars of the day, all at a fraction of the cost.

Much of the vehicles suspension, powertrain, and drivetrain were shared with other GM production vehicles, such as the Citation and Chevette. The chassis was a space-frame setup with Chevrolet Chevette steering, suspension and brakes. The body was created from Enduraflex plastic body panels with only four paint colors offered at any one time.

In 1984, the Fiero was given the honor of pacing the Indy 500.

By using components from other production vehicles, it could be produced more efficiently and at a lower cost. It also meant that its performance was only slightly better than other GM cars. Enthusiasts expected more, due to its mid-engine layout and exotic styling. As requests for an improved version of the Fiero began pouring in, and the oil embargo was a thing of the past, GM granted their request by introduced the GT model in 1985. It was a vastly improved vehicle, with a port-injected V6 engine and nearly 45 more horsepower, an increase of over 50-percent, than its four-cylinder counterpart. In the proceeding years, other aspects of the Fiero GT were upgraded, including the suspension and brakes in 1988, and the addition of a rear spoiler and ground affects.

When production ended after 1988, sales were still strong. GM was worried about sales declining sharply in the years to come and the mid-engined, two-seater sports car market to come to a close, so production ceased. During the five-years of production, 370,168 examples were produced.
By Daniel Vaughan | Sep 2007
For more information and related vehicles, click
here
FERRARI AT GOODWOOD FESTIVAL OF SPEED – DAY 2
The second day of the Goodwood Festival of Speed saw Scuderia Ferrari's official test-driver, Pedro de la Rosa, mixing with the crowd and signing autographs for the many Prancing Horse fans who flock to this great event every year. An array of spectacular classic Ferraris tackled the Hillclimb, one of which Pedro was particularly intrigued with: a 1959 Ferrari 250 GT LWB. The owner of the car was honoured to share the history of his historic Endurance Racer with the F1 driver, who clearly apprec...[Read more...]
McLAREN AUTOMOTIVE ON TARGET FOR LONG-TERM SUCCESS
Key information: ◾Profit before tax - £4.5m ◾Operating profit - £12.4m ◾Turnover - £285.4m (up from £266.6m) ◾Investment in future models - £70.6m (up from £68.1m) ◾Turnover and profit both expected to grow in 2014 ◾McLaren Automotive's next model, codenamed P13, to go on sale during 2015 ◾Limited run of track only McLaren P1™ hypercar confirmed for introduction in 2015 ◾McLaren 650S international sales already strong – more than 1000 orders received McLaren Automotive made bot...[Read more...]
2014 CONCOURS OF ELEGANCE CONFIRMS THE FIRST CONCOURS CARS TO APPEAR AT HAMPTON COURT PALACE
2014 CONCOURS OF ELEGANCE CONFIRMS THE FIRST CONCOURS CARS TO APPEAR AT HAMPTON COURT PALACE – FROM AN 1896 LUTZMANN TO A 2014 FERRARI LaFERRARI ◾2014 Concours of Elegance at Hampton Court Palace, (5-7 September) confirms the first half-dozen star car entries for this year's event ◾The 60 Concours cars will range from an 1896 Lutzmann, through to the 21st Century Ferrari LaFerrari hypercar, with 65 percent attending from overseas ◾Sixty carefully selected rare and exceptional concours ...[Read more...]
DEDICATED NEW WEBSITE LAUNCHED FOR THE 2014 CONCOURS OF ELEGANCE AT HAMPTON COURT PALACE
◾All-new website launched for the 2014 Concours of Elegance ◾Dedicated Concours of Elegance website whets the appetite for the 2014 event at Hampton Court Palace (5-7 September) ◾Website includes the latest Concours news, plus a flavour of the exceptional car line-up, the unique Royal Palace location, entertaining at the event, Concours partners, ticket sales, image and video galleries, charity details, plus everything else the Concours enthusiast could wish to know An all-new website - ded...[Read more...]
VUHL 05 CAPS STELLAR DEBUT YEAR WITH MAJOR INTERNATIONAL AWARD
Mexico City, 19 December 2013 – In a fitting end to an extraordinarily successful launch year, the stunning new VŪHL 05 trackday supercar has been honoured with an international Design, Technology and Engineering award. Established in 1992, and now regarded as a benchmark throughout the Americas and beyond, Mexico's annual Quorum Awards recognise the very best examples of cutting-edge design and innovation. The VŪHL 05 triumphed in this year's industry category and created history by b...[Read more...]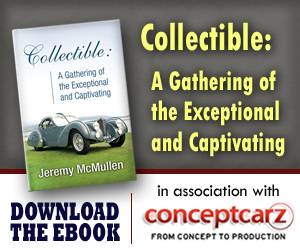 © 1998-2014. All rights reserved. The material may not be published, broadcast, rewritten, or redistributed.