1963 Studebaker Gran Turismo Hawk news, pictures, specifications, and information

Tweet
The 1962 Studebaker GT Hawk appeared to be an all-new, high-style personal car in the Thunderbird class. In reality, it was an unusually creative facelift of an aging design done on a shoe-string budget in the Brooks Stevens design studios.

Starting with the 1961 Hawk, Stevens lopped off the dated tailfins, added a Thunderbird-like roof cap, and applied a Continental-like beltline molding. The result: 1962 style on a platform that went way back to the 1953 'Loewy Coupe.'

The 1963 edition shown is the ultimate expression of GT Hawk power and luxury. This all-original, 40,000 mile car is one of only 160 built with the Avanti Supercharger R2 'Jet Thrust' engine/4-speed manual transmission combination. Other options include the 'Hill Holder,' power disc brakes and the 'Twin Traction' locking rear differential.
| | |
| --- | --- |
| | V8 Hardtop |
The Raymond Loewy designed Studebaker Coupes were introduced in 1963 and became the Hawk series from 1956 to 1961. In 1962, designer Brooks Stevens redesigned the Hawk in the European style. The new Gran Turismo Hawk was produced for three years. 1963 production was 4,634 units. Equipment includes a tachometer, front power disk brakes, power steering, twin traction rear axle, and a Flight-O-Matic transmission. The price was $3,866.

The Gran Turismo is powered by a 289 cubic-inch V8 with a four-barrel carburetor and develops 240 horsepower.
From 1962 through 1964 Studebaker produced the Gran Turismo Hawk, also known as the GT Hawk. The GT Hawk was an iteration of the Hawk series which had begun with the Golden Hawk in 1956. The styling was performed by Brooks Stevens using the prior Hawk cars as a starting point. The hood was retained while the radiator and grille borrowed inspiration from Mercedes-Benz. The GT Hawks was a marriage of both European and American styling and influences. The rear end was similar to that of a Lincoln while the roofline closely resembled a Ford Thunderbird. The result was a modern car that was both smooth and aerodynamic. It was sold in the US and other countries, such as Great Britain and Australia. In the US, sales were slow, with only 8,388 examples being produced in its inaugural year. 947 were produced for other countries during that year. This would be its strongest year, as sell fell to 4,009 for 1962, plus an additional 625 for export. Only 1,484 US examples were produced in 1964 and 283 for export.

Many areas of the vehicles were designed to be inexpensive to produce. The rear window was flat and recessed; the underpinnings and chassis of the car were nearly identical to prior Hawks. The engine bay could accept a variety of Studebaker engines which could be matted to a three-speed manual, four-speed or Flight-O-Matic automatic gearbox. The engines ranged from a 4.7-liter V8 engine that produced just over 210 horsepower to a supercharged 5-liter engine that produced over 330 horsepower. The cars low weight and front disc brakes made it a solid performance machine.

Minor styling improvements were made for 1963. The rectangular parking lights were replaced with round units. The side of the dash were wood grain which made it similar in appearance to the rest of the instruments. Changes followed in 1964 such as a 'Studebaker Hawk' nameplate appearing on the trunk lid. The grille was again updated, now having a Hawk emblem in the center of the grille. A circle-S ornament could also be found on the grille shell. The top was a half-vinyl-covered roof which had been part of Stevens original designs but never made it into production in prior models. Wheel covers, similar to the other Studebaker models, were added. A silver-threaded cloth upholstery was added to the list of options, and for the first time, AM/FM radio could be ordered on the GT Turismo.
By Daniel Vaughan | Sep 2007
NEW FORD FOCUS ST GLOBAL REVEAL AT GOODWOOD FESTIVAL OF SPEED; NEW MUSTANG ALSO DEBUTS ON FAMOUS HILL CLIMB
◾Ford premieres new Focus ST at Goodwood Festival of Speed in United Kingdom, June 27 ◾New Focus ST makes debut on world-famous hill climb; Ford and Sony Computer Entertainment stage first 'virtual versus real' race at Goodwood – with Gran Turismo®6 gamers going head-to-head with actual drivers of Focus ST ◾New Ford Mustang makes first dynamic driving appearance in Europe The new Ford Focus ST will make its global debut at Goodwood Festival of Speed in the United Kingdom, June 27. Ford's ...[Read more...]
GT ACADEMY SEASON 3 - EPISODE 1
SILVERSTONE, UK – The 32 fastest Gran Turismo gamers in America compete in Times Square on Gran Turismo 6, battle for speed at Monticello Raceway, and race karts wheel-to-wheel for an opportunity to attend GT Academy at Silverstone in the UK. ...[Read more...]
TWO MORE NISMO ATHLETES JUMP INTO THE SUPER GT HOT SEAT
◾Jann Mardenborough and Alex Buncombe to compete at the Fuji Sprint Cup in November ◾Both head to Japan this week for SUPER GT Test at Fuji YOKOHAMA, Japan – The next phase of the NISMO Global Driver Exchange will see Jann Mardenborough and Alex Buncombe head to Fuji this week to take part in the SUPER GT Official Test at Fuji Speedway on August 6 and 7. Both drivers will then go on to compete at the Fuji Sprint Cup (formerly JAF GP) at Fuji this November. Jann Mardenborough is the...[Read more...]
Raw Power Has a Stamp of Its Own Muscle Cars Roar at Spring Classic Auction
What do you get when you bring the U.S. Postal Service and Dana Mecum's Original Spring Classic Auction together at the State Fairgrounds — a Muscle Car Extravaganza! Since it began 26 years ago, Mecum's Spring Classic auction in Indianapolis has featured the largest auction of muscle cars in the world. This year, the Postal Service will celebrate the raw power of the performance vehicle at the Spring Classic event by dedicating five, limited edition stamps featuring iconic muscle cars...[Read more...]
GT Academy Program on a High at Nürburgring
As the number of European entries into the Nissan PlayStation GT Academy 2012 competition soared to well over 500,000 this weekend, two previous Academy graduates were demonstrating why the gamer-to-racer competition continues to grow in scale and reputation. Both Lucas Ordoñez, the first ever winner of the innovative competition back in 2008, and Briton Jann Mardenborough, 2011 winner, were in action behind the wheel of two very real Nissan GT-Rs at Germany's famous Nürburgring over the wee...[Read more...]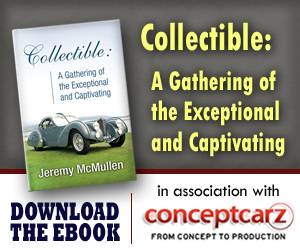 © 1998-2014. All rights reserved. The material may not be published, broadcast, rewritten, or redistributed.