Image credits: © Lancia.
1973 Lancia Fulvia news, pictures, specifications, and information

Tweet
Not all things are the same, just look at the history of the Lancia Fulvia. While the sedan version would continue in production for a decade, its smaller coupe brethren would become famous, making Lancia famous on the streets, as well as, on the forest roads of International rally events.

Lancia would first introduce its HF model Fulvia coupe in 1965. And it would be noted right away that the model car had been designed with racing very much in mind. In many ways, the HF Fulvia would bear a similarity to Alfa Romeo's coupe. Both would feature rather advanced engines, all-round disc brakes and other competitive design layout features. However, while the Alfa seemed particularly suited to circuit racing, the HF Fulvia would be particularly focused on rallying.

The HF Fulvia would be particularly suited to rallying. First of all, the design of the car would lend itself to being considered a rally car of a special pedigree. Lancia would introduce its sedan model in 1963. However, it would be the coupe model introduced a couple of years later that would become the basis for the rallying effort.

Lancia was still to be acquired by Fiat. Therefore, the company's reputation for engineering first was still well intact. The HF Fulvia Coupe, therefore, would be a mixture of beautiful styling and impeccable engineering and build. The result would be a small, contemporary coupe with solid performance.

By the early 1960s, car manufacturers were experimenting with the idea of front-wheel drive. Lancia would be no different. The Lancia four-cylinder engine would be suspended in front of the front axle and in front of the aluminum transaxle. From there, the drive would be sent to the wheels.

Lancia had developed its venerable narrow-angle V4. At 13 degrees of angle, the engine would be evolved to include two overhead camshafts and helped to fill in the space in between the banks of the engine. In an effort to reduce the center of gravity the engine would then be canted at 45 degrees. To many, this would give the mechanical layout of the car a very elegant touch. Mated with twin Weber, twin-choke carburetors, the 1.6-liter engine would be capable of producing 160bhp when properly tuned.

Combining the engine performance with solid handling from the independent front suspension and live rear axle with semi-elliptic leaf springs, the HF Fulvia Coupe would go on to win the International Rally Championship in 1972. The car would also help to make Lancia the most successful manufacturer in rally racing history.

One works Lancia Fulvia Group IV rally car would be chassis 2272. Completed in early 1973 with a Scocca Alleggerita (lightweight) body, chassis 2272 would compete as a works rally car throughout the 1973 season. Registered in Turin and numbered TO 233323, this particular chassis would take part in the San Remo Rally where it would be driven by Lampinen to an 8th place overall finish. Also, in 1973, the car would take place in the Rally of Switzerland, as well as, the Monte Carlo Rally where it would earn yet another 8th place finish at the hands of Kallstrom.

Following its rallying career, the car would remain on its original registration until it became the property of Beni Italo in 1977. In the years following being sold not much is known about the car. However, today, the car is presented in its period rallying livery with the iconic Marlboro adorning the car.

The restoration of the car didn't stop with the livery. In fact, the car comes with gold-painted wheels and such period correct features as the wired retaining pins on the boot-lid and large Cibie spotlights. The large tachometer, lack of a speedometer, rally timer and quick-access fuse box only go further to take the onlooker back to a day when the HF Fulvia dominated the International Rallying scene.

A former works car, 2272 certainly is a highly desirable example of the coupe that helped to create the Lancia rallying legend. Boasting of a successful racing history and a lightweight body restored to period correct livery it would be little wonder why the Lancia Fulvia 1.6 HF Group IV Coupe would be expected to draw between €140,000 and €160,000 heading to auction.

Sources:
'Lot No. 389: 1973 Lancia Fulvia 1.6 HF Group IV Coupe', (http://www.rmauctions.com/featurecars.cfm?SaleCode=MC12&CarID=r415&fc=0). RM Auctions. http://www.rmauctions.com/featurecars.cfm?SaleCode=MC12&CarID=r415&fc=0. Retrieved 3 January 2013.

'Lancia Fulvia Coupe HF (1965)', (http://www.autozine.org/Archive/Lancia/classic/Fulvia.html). Autozine.org. http://www.autozine.org/Archive/Lancia/classic/Fulvia.html. Retrieved 3 January 2013.

'1969 Lancia Fulvia HF Competizione News, Pictures and Information', (http://www.conceptcarz.com/vehicle/z1172/Lancia-Fulvia-HF-Competizione.aspx). Conceptcarz.com: From Concept to Production. http://www.conceptcarz.com/vehicle/z1172/Lancia-Fulvia-HF-Competizione.aspx. Retrieved 3 January 2013.

By Jeremy McMullen
In 1963 Lancia introduced the Fulvia at the Geneva Motor Show. It was designed by Antonio Fessia and intended as a replacement for the Lancia Appia. The Fulvia was a front-wheel drive vehicle where its predecessor, the Appia, used rear-wheel drive configuration. The longitudinal engine was mounted in the front. The suspension in the rear was a solid axle with a panhard rod and leaf springs while the front was independent with wishbones and leaf springs. Disc brakes were placed on all four corners of the car.

The DOHC V4 engine was designed by Zaccone Mina and mounted forward at a 45-degree angle. The 1091 cc engine was capable of producing between 59 and 71 horsepower depending on the configuration and compression ratio. The HF model had a 1216 cc engine and produced between 80 and 88 horsepower.

In 1969, Fiat took over production of the vehicle.

In 1972, a Fulvia was victorious at winning the International Rally Championship.

Throughout its life span the vehicle could be had in a number of body-styles and configurations. In 1963 a compact four door was introduced and dubbed the Berlina. In 1967, a GT version of the Berlina was available and featured a more powerful 1216 cc. engine. The GTE soon followed in 1968 with a 1298 cc engine. A shorter version was available in 1965 and dubbed the Coupe. The rally version Coupe HF was introduced in 1965 and featured a 1.2 and 1.3 engine. Later, a 1.6HF became available, as did a sport version which was a 2-seater sports car.

Both on the track and on the streets, the Fulvia had a successful career.
By Daniel Vaughan | Jul 2007
Many carmakers stand out in the collective memory of vintage auto enthusiasts as having built exceptionally well-engineered cars. Porsche and Lotus, for instance, each built cars not just with passion but also with mathematical precision and distinct purpose. One of the best-engineered marques of automotive history has often been forgotten, though.

It was the carmaker that made pioneering advances in technologies that have today become ubiquitous, including the 'V' engine configuration and unitized body construction. It was the carmaker so concerned with building cars to its own high standards that it ignored the principles cost-effectiveness and doomed itself to financial ruin and a takeover by Fiat. It was the carmaker that, even under Fiat's control, realized sparkling rally success with a car that would have looked at home on Mars. The name of this carmaker, once Italy's most technically advanced brand, is Lancia.

Established in 1906, Lancia quickly earned a reputation for being one of the most innovative carmakers in the world. In 1922 the radical Lancia Lambda was introduced, powered by a V4 and built using unitized construction. Decades later, Lancia's innovative spirit was still alive in the company's products, proven by the Aurelia of 1950 that featured the world's first mass-produced V6 as well as a rear transaxle and rear inboard brakes.

Lancia's expensive pursuit of engineering excellence ended when Fiat took over the debt-laden company in 1969. Before the Fiat takeover, though, Lancia was able to introduce a model that combined crisp Italian styling, capable performance, and advanced technology in a light and lithe package. That model, the Fulvia, was introduced in 1963 and continued in production for years after Fiat took control of ailing Lancia.

The Fulvia was a small, front-wheel-drive Lancia powered by a V4. With sales that surpassed 300,000 units, the Fulvia sold in great numbers for a Lancia yet still was not a financial success. It was produced in several variations until 1976.

The first Fulvia, introduced in 1963, was a sedan with styling by Pietro Castagnero. Its tight, boxy shape exemplified the typically clean lines of small Italian sedans from the 1960's. For 1965, a Fulvia coupe was released. The coupe's styling was every bit as pure as the sedan's, yet the Fulvia coupe's shape was more interesting and unique than was the sedan's somewhat anonymous profile. The coupe was also styled by Castagnero, but was an altogether more successful design than the sedan. The Fulvia sedan was produced until 1972, while the coupe remained in production until 1976.

The V4 that powered the first of the Fulvia sedans displaced only 1,091cc, good for a modest 58bhp. By 1964, power was up to 71bhp from the same displacement in the 2C sedan. This added power was by no means overwhelming, but it was a very impressive figure for such an engine of such diminutive displacement. The high specific output of Lancia's V4 was just one example of the high quality of the Fulvia's engineering. The later Fulvia GT (available with 1,216cc or 1,231cc motors) and GTE (1,298cc) were the most powerful Fulvia sedans.

When the coupe appeared in 1965, it used a V4 with displacement increased to 1,216cc. Output was at a hearty 80bhp. As the coupe aged, Lancia continued to provide sportier trim levels with even more powerful engines. Of these sportier trims, the 1.6 HF was the most impressive. It made 115bhp out of 1,584cc and, thanks in part to its 5-speed gearbox, could reach 112mph.

Another Fulvia coupe variant was the Fulvia Sport. This model was built by Zagato between 1965 and 1972, and featured aerodynamic styling by Ercole Spada coupled with powerful 1,216cc, 1,298cc and 1,584cc engines. Aluminum alloy was used in the construction of Fulvia Zagato bodies (though only early models featured all-alloy bodies), resulting in a lighter car than the Fulvia coupe.

The Lancia Fulvia, in sedan, coupe, and Sport forms, was successful in motor racing. The most notable racing achievements of the Fulvia range were accomplished by coupe models, which were used extensively in rallies. The highlight of the Fulvia's racing career came in 1972 when a Fulvia Rallye 1.6 HF won the International Championship for Manufacturers rally series.

The Fulvia was arguably the last true Lancia. Though Lancia produced some incredible vehicles while under Fiat control, none of them had the classic combination of refinement and innovation that characterized pre-Fiat models. The Fulvia remains an excellent choice for buyers looking to discover the Lancia mystique at an affordable price.

Sources:
Vanzetti, Piero. 'Lancia Fulvia.' Piero Vanzetti's Lancia Fulvia Site n. pag. Web. 15 Jun 2010. http://www.alma.it/vanzettip/fulvia/fulviae.html.

Wood, Jonathan. Great Marques of Italy. London: Octopus Books Limited, 1987. 151-183. Print.
By Evan Acuña
For more information and related vehicles, click
here
MINI BRINGS MOTORSPORTS HERITAGE TO DETROIT FOR JOHN COOPER WORKS HARDTOP WORLD PREMIERE
◾Rally legend Rauno Aaltonen to introduce newest addition to the MINI line up ◾MINI to compete in Continental Tire SportsCar Challenge Series with LAP Motorsports ◾U.S. pricing for base model 2015 MINI John Cooper Works Hardtop is $30,600 plus D&H Woodcliff Lake, NJ – January 12, 2015…The new 2015 MINI John Cooper Works Hardtop will make its World Premiere today at the North American International Auto Show, featuring the most powerful engine ever installed in a MINI production model...[Read more...]
NORRA MEXICAN 1000 RACERS PREPARE FOR ANNUAL NEW YEAR'S DAY TRADITION
-- Rally Registration to open for 'Happiest Race on Earth' -- -- Rally Registration to open New Year's Day -- (Agua Dulce, Calif.,) While the world enjoys this week's Christmas holiday, racers and adventure seekers from many parts of the globe are looking forward to their own off-road motorsports tradition. With just 140 days left before the fifth annual General Tire NORRA Mexican 1000, event registration will open as it has for the past three years – on New Year's Day, January 1, 2014...[Read more...]
DYSON RACING LOOKS AHEAD TO 2014, ADDS BURGESS, MCMURRY
Looking ahead to the unification of North American sports car racing in 2014, Dyson Racing has shuffled its driver lineup for the remainder of the 2013 American Le Mans Series presented by Tequila Patrón season. Toronto resident Tony Burgess and Chris McMurry will drive the No. 16 Mazda/Thetford/Norcold Lola B12/60 in the P1 class at four of the remaining six races, beginning with Sunday's Mobil 1 SportsCar Grand Prix at Canadian Tire Motorsport Park in Bowmanville, Ontario. The two-hour, 45-min...[Read more...]
ROD MILLEN SHOWDOWN WITH MONSTER TAJIMA IN ELECTRIC DIVISION HIGHLIGHTS THE 2013 PIKES PEAK INTERNATIONAL HILL CLIMB
Colorado Springs, February 11-------- A battle between two former Kings of the Mountain in the suddenly-loaded Electric Auto Division will highlight the 91st running of the Pikes Peak International Hill Climb on June 30. Eleven new records were set last year at the second-oldest motor sports event in the USA behind the Indy 500, the first edition contested on the fully-paved 12.42 mile course with 156 turns that begins at 9,390 feet and finishes on the summit at 14,110 feet, where the...[Read more...]
RENAULT AND CATERHAM GROUP ANNOUNCE A PARTNERSHIP TO DESIGN AND BUILD SPORTS VEHICLES
•Renault and Caterham Group today announced their decision to join forces in pursuit of a common project: to design develop and build future sports vehicles. This agreement reflects a similar passion and expertise in sports and motorsports vehicles. •The future vehicles will be distinctive, differentiated, and carry the respective DNA of Alpine and Caterham Cars, the automotive division of Caterham Group. They will be built at the Alpine plant in Dieppe, Normandy, in France. •The Caterham Gr...[Read more...]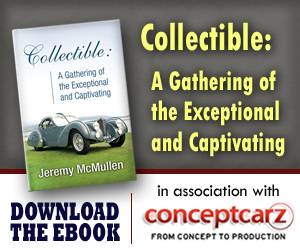 Similarly Priced Vehicles from 1973
Dodge Challenger ($3,010-$3,010)
Oldsmobile Cutlass S ($3,160-$3,160)
AMC Javelin ($2,983-$3,190)
Ford Mustang ($2,765-$3,190)
Plymouth Barracuda ($2,940-$3,125)
Lotus Europa ($4,500-$7,300)
Pontiac Firebird Trans Am ($4,200-$4,200)
MG B ($3,325-$3,610)
Triumph TR6 ($3,300-$3,300)

Average Auction Sale: $4,585
© 1998-2014. All rights reserved. The material may not be published, broadcast, rewritten, or redistributed.