1974 DeTomaso Longchamp news, pictures, specifications, and information

Tweet
The De Tomaso Longchamp was built as a businessman's 2+2 coupe from 1972 through 1989. It was named after the Longchamp horseracing track in France. it was a spirited performer comfortable for long trips and could carry a small family. The Longchamp was powered by the famed Ford 351 Cleveland motor, which was mated to a Ford automatic transmission of the ZF 5-speed gearbox. The classic proportions of the car incorporated by Tom Tjaarda make the car's beauty and style timeless. It displays a quiet masculinity that draws onlookers and stops people in their tracks to this day.

This 1974 Longchamp is the one built with detailed electronic health monitoring of the car. It has many prototype gauges and sensors that were never incorporated in other production cars. The car was totally disassembled and restored by Panteras by Wilkinson in Paramount, CA. The car has an improved motor and transmission and has been turned out in GTS livery.
This DeTomaso Longchamps was purchased directly from the factory in 1974 by Lebanese businessman Robert Chamoun. The car was flown to his home in Beruit. Serial #THLCN02107 is one of only 409 Longchamps built. It was used sparingly there until 1976 when he relocated the family to Illinois. After being flown here, the car saw little use and spent most of its time parked next to a Rolls-Royce in a garage. Due to the harsh summers and lack of garaging in Lebanon, the original paint deteriorated. Early in the 21st century, the car was stripped to bare metal and re-sprayed in its original light green and returned to its garage, still seeing little use.

In the spring of 2010, the family decided to sell the car. Removed from the garage, it was serviced for sale. The fuel system was cleaned, the radiator flushed, brakes bled, new exhaust installed, new tires mounted and tested for road worthiness.

This car is probably the best example of an unrestored Longchamps in existence. The current owners purchased the car with less than 14,000 kilometers on the odometer.
The DeTomaso Longchamp was designed by Tom Tjaarda who was working at Ghia at the time. It was a 2+2 Coupe based on the Deauville model but fitted on a shortened wheelbase. The Ford V8 Cleveland engine was placed in the front and sent its power to the rear wheels. Less than twenty examples (around 17) were given a five-speed ZF manual gearbox. The other transmission used was the 3-speed Ford C-6 Cruise-o-matic.

DeTomaso introduced the Longchamp at the 1980 Turin Motor Show. A cabriolet version came out at the 1980 Turin Motor Show, which had been the work of Carrozerria Pavesi of Mila. There were only a few GTS versions built. It is believed that only 14 examples of the Spyder were created; 395 examples were coupes, making a total of 409 Longchamps built.
By Daniel Vaughan | Sep 2009
For more information and related vehicles, click
here
BLACK WIDOW'S STINGRAY AMONG 15 CHEVROLETS IN CHICAGO
Brand partners with Marvel Studios for 'Captain America: The Winter Soldier' CHICAGO – So if the Black Widow had a sports car, what would it be? You don't have to wait until the April 4 premiere of 'Captain America: The Winter Soldier' to find out. Visitors to the Chicago Auto Show will see the world premiere of the black-on-black Corvette Stingray driven by S.H.I.E.L.D.'s Black Widow in the sequel to Captain America. They should not expect to see the Black Widow, but Chev...[Read more...]
KIA MOTORS SHOWCASES FUTURE TRANSPORTATION TECHNOLOGY AT 2014 CONSUMER ELECTRONICS SHOW
Advancements in Kia's highly regarded UVO voice-activation telematics system highlighted ◾Thoughtful updates in smartphone integration and voice-activation technologies advance functionality and safety ◾New suite of Electric Vehicle-centered telematics serves as a preview to upcoming introduction of Kia's highly anticipated Soul EV ◾Innovative Kia CUB concept makes North American debut Las Vegas, January 7, 2014 – The journey through Nevada's desert, heading toward the brig...[Read more...]
Gooding & Company's 10th Anniversary Pebble Beach Auctions Realizes More Than $112 Million
28 New Auction Records Set at Two-Day Pebble Beach Auctions in 2013 Pebble Beach, Calif. (August 20, 2013) – Gooding & Company, official auction house of the Pebble Beach Concours d'Elegance® and acclaimed for selling the world's most significant and valuable collector cars, realized more than $112 million at its Pebble Beach auctions over the weekend. During the two-day sale, Gooding & Company sold 116 of the 127 lots offered, for a 91% sale rate, with an average price per lot ...[Read more...]
TOYOTA GT86 IS CAR BUYER'S COUPE OF THE YEAR
Announcing the award on Friday (1 March), Steve Fowler, Car Buyer Editor-in-Chief, said: 'The GT86 is a fine example of Toyota doing what it does best: understanding the needs of a target market and delivering – in this case a focused sports car that's all about driving enjoyment, yet at an affordable price.' It's a neat summary of the essential qualities that have made the low, light and lithe GT86 an instant hit with media and motorists alike. Giving the Toyota a 4.8-out-of-five rating...[Read more...]
Buyers in abundance for another strong sale at Brooklands
Amidst some speculative recent market results, the heat was on Historics, but with Brooklands bathed in sunshine, the classic and sports car auctioneer again delivered another strong sale. In total 60 of 103 vehicles were seen away for a sale ratio of 58% and a final sale figure of £1,159,070. As pre-sale publicity predicted, Bentley's blazed a trail, with the star of the show an R-Type Coupé by Abbott of Farnham, which sold for £100,000. A 1937 4¼ litre Sports Special sold for £47,500, wh...[Read more...]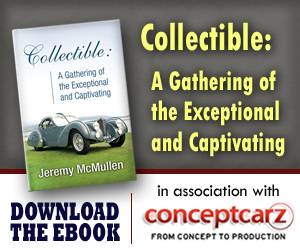 © 1998-2014. All rights reserved. The material may not be published, broadcast, rewritten, or redistributed.