1974 DeTomaso Longchamp news, pictures, specifications, and information

Tweet
The De Tomaso Longchamp was built as a businessman's 2+2 coupe from 1972 through 1989. It was named after the Longchamp horseracing track in France. it was a spirited performer comfortable for long trips and could carry a small family. The Longchamp was powered by the famed Ford 351 Cleveland motor, which was mated to a Ford automatic transmission of the ZF 5-speed gearbox. The classic proportions of the car incorporated by Tom Tjaarda make the car's beauty and style timeless. It displays a quiet masculinity that draws onlookers and stops people in their tracks to this day.

This 1974 Longchamp is the one built with detailed electronic health monitoring of the car. It has many prototype gauges and sensors that were never incorporated in other production cars. The car was totally disassembled and restored by Panteras by Wilkinson in Paramount, CA. The car has an improved motor and transmission and has been turned out in GTS livery.
This DeTomaso Longchamps was purchased directly from the factory in 1974 by Lebanese businessman Robert Chamoun. The car was flown to his home in Beruit. Serial #THLCN02107 is one of only 409 Longchamps built. It was used sparingly there until 1976 when he relocated the family to Illinois. After being flown here, the car saw little use and spent most of its time parked next to a Rolls-Royce in a garage. Due to the harsh summers and lack of garaging in Lebanon, the original paint deteriorated. Early in the 21st century, the car was stripped to bare metal and re-sprayed in its original light green and returned to its garage, still seeing little use.

In the spring of 2010, the family decided to sell the car. Removed from the garage, it was serviced for sale. The fuel system was cleaned, the radiator flushed, brakes bled, new exhaust installed, new tires mounted and tested for road worthiness.

This car is probably the best example of an unrestored Longchamps in existence. The current owners purchased the car with less than 14,000 kilometers on the odometer.
The DeTomaso Longchamp was designed by Tom Tjaarda who was working at Ghia at the time. It was a 2+2 Coupe based on the Deauville model but fitted on a shortened wheelbase. The Ford V8 Cleveland engine was placed in the front and sent its power to the rear wheels. Less than twenty examples (around 17) were given a five-speed ZF manual gearbox. The other transmission used was the 3-speed Ford C-6 Cruise-o-matic.

DeTomaso introduced the Longchamp at the 1980 Turin Motor Show. A cabriolet version came out at the 1980 Turin Motor Show, which had been the work of Carrozerria Pavesi of Mila. There were only a few GTS versions built. It is believed that only 14 examples of the Spyder were created; 395 examples were coupes, making a total of 409 Longchamps built.
By Daniel Vaughan | Sep 2009
For more information and related vehicles, click
here
FERRARI AT THE GOODWOOD FESTIVAL OF SPEED 2014
Yesterday, on the opening day of the Goodwood Festival of Speed, Ferrari unveiled its new, spectacular, California T which brims with a host of new technological solutions, not least of which is its 8-cylinder turbo engine. Maranello's engineers have created an entirely new power unit which delivers absolutely superb levels of performance, blistering pick-up and the most exhilarating soundtrack any turbo has ever yielded. The California T retains its predecessor's versatility, with a folding har...[Read more...]
NISSAN GIVES GAMERS 2020 VISION
Virtual supercar created to celebrate the 15th anniversary of the legendary Gran Turismo driving game becomes real at Goodwood Festival of Speed ◾NISSAN CONCEPT 2020 Vision Gran Turismo to be presented at Goodwood on June 26 ◾2+2 virtual supercar with advanced aerodynamic body ◾Four-wheel drive chassis, active suspension ◾Virtual version available to download in July GOODWOOD, England – Nissan's vision of a supercar for near future, originally created as the study model among Nis...[Read more...]
SUBARU ANNOUNCES 2014 BRZ PRICING
• BRZ sales up 200 percent YTD over 2013 Cherry Hill, N.J. - Subaru of America, Inc. today announced pricing for the 2014 BRZ. Starting at $25,595, the BRZ lineup focuses on the fundamentals of great sports car design: low vehicle weight, an ultra-low center of gravity and precision steering. Sales of the Subaru BRZ remain strong and were up 41 percent in June and up 200 percent year-to-date, bolstering record-setting corporate sales for the first half of the year. With sales up 2...[Read more...]
Gooding & Company's 10th Anniversary Pebble Beach Auctions Realizes More Than $112 Million
28 New Auction Records Set at Two-Day Pebble Beach Auctions in 2013 Pebble Beach, Calif. (August 20, 2013) – Gooding & Company, official auction house of the Pebble Beach Concours d'Elegance® and acclaimed for selling the world's most significant and valuable collector cars, realized more than $112 million at its Pebble Beach auctions over the weekend. During the two-day sale, Gooding & Company sold 116 of the 127 lots offered, for a 91% sale rate, with an average price per lot ...[Read more...]
Gooding & Company's 10th Anniversary Pebble Beach Auctions Saturday Sale Realizes More Than $53.7 Million
Santa Monica, Calif. (August 18, 2013) – Gooding & Company, official auction house of the Pebble Beach Concours d'Elegance® and acclaimed for selling the world's most significant and valuable collector cars, realized more than $53.7 million during the first of its two Pebble Beach evening auctions. 64 of the 68 lots offered, a 94% sale rate and an average price per lot $839,609 with the most notable being the 1957 Ferrari 250 GT 14-Louver Berlinetta (Lot 39) that set a world record for a ...[Read more...]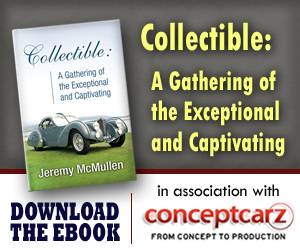 © 1998-2014. All rights reserved. The material may not be published, broadcast, rewritten, or redistributed.