1970 AMC AMX news, pictures, specifications, and information

Tweet
When the Nash-Kelvinator and Hudson Motor Car companies merged in 1954, the result was the American Motors Corporation. Their purpose was to gain economies of scale and to more effectively compete with the dominant Big Three automakers.

Hudson had a history that dated back to 1909 when it was formed by the Detroit department store magnate, J.L. Hudson and Roy D. Chapin. Nash Motors was founded in 1916 by former General Motors president Charles W. Nash who had acquired the Thomas B. Jeffery Company.

Just like many brands in the late 1960s and early 1970s, AMC aggressively participated in the muscle and pony car scenes. The original AMX was a two seat high-performance sports sedan that was produced from 1968 to 1971. It was intended to go head-to-head with America's only other two-seater of the era, the Chevrolet Corvette. The AMX name originated from the 'American Motors eXperimental' code used on two prototypes shown on the company's 'Project IV' tour in 1966. Also introduced in 1968, the AMC Javelin was designed to compete with the Ford Mustang and the Chevrolet Camaro.

All AMXs were identified with a glove box-mounted metal plate etched with a sequential identification number. This car has been restored by the current owner.
The 1970 AMC AMX came standard with an overhead valve 360 cubic-inch V8 offering 290 horsepower. It was mated to a four-speed manual close-ratio gearbox with floor shift controls. AMC listed the fastback coupe at $3,395 and produced a total of 4,116 examples.

For 1970, the AMX received new rear lamps and a newly restyled front end that it shared with the other performance models in the AMC lineup. The grille was flush with the hood and had redesigned bumper housing parking lamps. There were circular rally lights in the horizontally divided, cross-hatched grille. The hood featured a muscular Ram-Air induction scoop that allowed cold air into the engine.

The size of the vehicle was modified; it grew in length by about two inches and shrunk in size by one inch. Standard equipment included a heavy-duty 60-amp battery, courtesy lights, rear traction bar, Space-Saver spare tire, E78-14 blackwall tires, steel styled wheels, 140 mph speedometer, and dual exhaust system.

This was the final year for the original type AMX. The name would continue to be used on the performance models of the Javelin and Hornet.
By Daniel Vaughan | Nov 2013
This AMC AMX Coupe is powered by the 390 CID engine offering 325 horsepower. It has a rare automatic transmission and is one of about 901 cars that were fitted with this feature in 1970. It has the Go Package, power front disc brakes, handling package, heavy duty cooling and a Ram Air hood scoop. It is also one of 98 with optional leather seats. The car is fitted with the correct Matador Red paint, tilt wheel, AM/FM radio, console, and 145 MPH speedometer.
By Daniel Vaughan | Nov 2013
The AMC AMX, representing American Motors Experimental, was produced in low production numbers produced during the late 1960s and early 1970s. It had similarities to AMC's pony car, the Javelin, but was smaller and had seating for two. The AMX was not only sporty and attractive, but it introduced many 'industry firsts', including being the first production vehicle to use a one-piece injection molded dashboard which greatly improved safety for its occupants. In 1969 and 1970 it was named 'Best Engineered Car of the Year' by the American Automotive Society of Engineers.

There were multiple engines available to the buyer. From 1968 through 1970 a four-barrel carbureted eight-cylinder engine could be had in 290, 343, 360 and 390 cubic-inch flavors. Power was sent to the rear wheels courtesy of the standard T-10 four-speed manual gearbox. Dual exhaust and a special traction bar were also included as standard equipment. Adding to the sporty persona were extra wide tires which provided extra traction and enhanced performance.

In 1968 AMC produced 6,725 examples of the AMX. The following year 8,2963 were produced and in 1970 sales dipped to 4,116. There were 52 examples of the Hurst-modified SS/AMX drag strip racing versions. These are highly sought after in modern times as collector cars.

The AMC AMX was popular on the racing circuit, especially at drag strips. The potent engines and wide tires made them very competitive. The AMX captured the Super Stock Championship title multiple years. Craig Breedlove, a renowned driver with years of experience and many titles was hired by AMC to help further the career performance of the AMX. He did so by breaking over 100 records including the 24 hour average speed record which he averaged 130 mph. The previous record had been 103 mph.

From 1971 through 1974 the AMX name was used on the Javelin indicating the performance option. It was used again in 1977 as a performance option on the Hornet. The following year it was applied to the Concord and in 1979 and 1980 it appeared on the Spirit.

There were three concept versions of the AMX created, known as the AMX/1, AMX/2, and AMX/3. The first operational AMX prototype was debuted in 1966 and resided for a number of years in the Talledega Speedway museum. Two rolling prototypes were made of the AMX/2, with one being used for many years atop of a pole of a used car dealership. In 1970 AMC commissioned ItalDesign to create a mid-engined high-performance version of the AMX, dubbed the AMX/3. The design was mostly by AMC designer Richard 'Dick' Teague and production was done at the former Bizzarrini factory located in Turin, Italy. Only six versions were created from 1969 through 1972. Located mid-ship was a 390 cubic-inch AMC V8 capable of producing 340 horsepower. A custom made OTO Melara five-speed manual gearbox was used and top speed was achieved at 160 mph.
By Daniel Vaughan | May 2006
Low Mileage Collectables offered at Fort Lauderdale Auction
• Auctions America kicks off its 2014 collector car calendar March 14-16 in Fort Lauderdale • Leading recent entries are fantastic low mileage examples including a 2005 Ford GT, a 2006 Ford GT Heritage Edition, a 1954 Chevrolet Corvette and a 1967 Chevrolet Corvette 427/435 Coupe • Additional vehicle highlights include a 1973 Ferrari 365 GTB/4 Daytona, a 1971 Ford Mustang Mach 1 and a 1935 Hudson Terraplane driven by Johnny Depp in the movie 'Public Enemies' • Regarded as South Florida's pre...[Read more...]
Holden Celebrates 35 Years of Commodore
Holden is celebrating the 35th anniversary of its most iconic nameplate, Commodore. For over three decades, the Holden Commodore has delivered significant advances in vehicle performance, safety and comfort on the way to becoming Holden's longest-standing and most successful nameplate. Holden Executive Director, Vehicle Sales, Service and Marketing, Phil Brook, said Holden was extremely proud of Commodore's success. 'There are not many nameplates in Australia that can lay claim to a ric...[Read more...]
MIKE RYAN'S BANKS SUPER-TURBO PIKES PEAK FREIGHTLINER A UNIQUE BIG ONE TO WATCH IN PIKES PEAK OPEN DIVISION
Colorado Springs, June 20--------The Freightliner Cascadia Pikes Peak Special racing machine of Mike Ryan (Santa Clara, CA) is truly like no other entry in the Pikes Peak Open division during the 91st edition of the Pikes Peak International Hill Climb on June 30. Ryan, a veteran driver, finished ninth (12:39.960) last year on the Peak in the division, but has his sights set on a higher finish this year with this amazing vehicle. The winner was rookie French driver Romain Dumas, who bri...[Read more...]
Barrett-Jackson Flavors Its January Scottsdale Auction With NASCAR Treats
• RACING HERITAGE, HIGH PERFORMANCE ARE RECIPES FOR CAR-COLLECTING FEAST
• SPEED™ SET FOR 39 HOURS of LIVE COVERAGE STARTING JAN. 15
The great Henry Ford once said, 'Auto racing began five minutes after the second car was built.' And for more than 60 years, there are few entities that better represent auto racing in America than NASCAR. From the hallowed grounds of Daytona International Speedway, to Sonoma, California's intricate and picturesque road course, the sp...[Read more...]
TOPLINE COLLECTORS PLACE SPOTLIGHT on SPEED'S BARRETT-JACKSON BROADCAST FROM SCOTTSDALE
• TOPLINE COLLECTORS PLACE SPOTLIGHT on SPEED'S BARRETT-JACKSON BROADCAST FROM SCOTTSDALE
• 'LOST' SHELBY DUAL PROTOTYPE, HAGERTY GIVEAWAY & SALON COLLECTION HIGHLIGHT 39 HOURS OF LIVE COVERAGE
The 42nd annual Barrett-Jackson Scottsdale (Ariz.) Collector Car Event, the first of four set for live coverage in 2013, kicks off the auction season in grand style as some of the world's most sought-after machines cross the block starting Tuesday, Jan. 15 at 7 p.m. ET/4 p.m. PT. SP...[Read more...]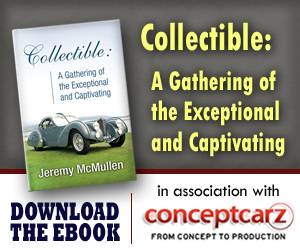 © 1998-2014. All rights reserved. The material may not be published, broadcast, rewritten, or redistributed.