1937 Graham Series 116 news, pictures, specifications, and information

Tweet
Like many American automobile companies, Graham exported automobiles to Europe. This Graham was shipped to Switzerland as a chassis and received a body designed and built by the coach building firm Worblaufen.

The 116 Series was built on a 116-inch wheelbase chassis and was powered by a six-cylinder, supercharged engine that provided an exciting ride.

This Graham remained in Europe for its entire life, until acquired three years ago by the current owner who proceeded to perform a complete, body-off restoration.
Graham introduced its supercharged models in 1934. The Great Depression was in full swing, as was the cylinder wars. Cadillac and Marmon both have V-16 cars, and many other manufacturers were offering high-horsepower Twelve and Eight cylinder cars.

Graham originally used only the supercharger on the 8-cylinder models. By 1936, the supercharger was adapted to the 6-cylinder engine. The Model 116 was one of the models with the supercharged version of the six-cylinder engine, and it had a wheelbase that measured 116-inches.
By Daniel Vaughan | Sep 2009
RK MOTORS TO JOIN CHARLOTTE CELEBRATION OF MUSTANG'S 50TH ANNIVERSARY
• April 17-20 Events Will Draw Historic Mustangs to Charlotte, N.C. for Special Celebration Saluting America's Favorite Pony Car
Charlotte, N.C. – March 17, 2014 - In anticipation of the city's special salute to the 50thanniversary of Ford Mustang, RK Motors today announced plans for a series of events in Charlotte during the April 17 to 20 weekend. With thousands of Mustangs expected to roar into the Queen City during the four-day celebration of America's favorite 'Pony Car,...[Read more...]
'Best of Show' Named at 2013 Hilton Head Island Motoring Festival & Concours d'Elegance
HILTON HEAD ISLAND, S.C. (Nov. 3, 2013) – The coveted 'Best of Show' and 'People's Choice' honors were awarded today at the prestigious Hilton Head Island Motoring Festival & Concours d'Elegance, held at the Port Royal Golf Club on Hilton Head Island, S.C. The top honor at Sunday's Concours d'Elegance, 'Best of Show,' was awarded to a 1929 Stutz Supercharged Coupe owned by Richard and Irina Mitchell of Montgomery, Texas. This car is the only example of its kind still in existence. ...[Read more...]
HPD UNVEILS STREET PERFORMANCE PRODUCTS AT 2013 SEMA SHOW
11/05/2013 - LAS VEGAS Long a fixture at race circuits around the world, Honda Performance Development, the racing arm of American Honda Motor Co., Inc., will now be offering a new range of HPD Street Performance products, starting with the Honda CR-Z sport hybrid coupe. Two Honda passenger cars featuring HPD Street Performance products are on display at the 2013 Specialty Equipment Market Association Show in Las Vegas, along with an HPD Civic Si Coupe raced in the Continental Tire Sp...[Read more...]
Lost Mercedes - Surfaces At Bonhams
One owner, unrestored, supercharged 'S' Type Mercedes to be sold by Bonhams at Goodwood Revival this autumn One of the greatest and most important motor car finds of the last decade, the 'Lost Mercedes' is to be offered at Bonhams Goodwood Revival sale on Saturday 15th September 2012. Bonhams announced today that it has been commissioned to sell a recently discovered 1928 Mercedes-Benz 26/120/180 'S' Type Sports Tourer which almost without precedent for motor cars of this type and d...[Read more...]
Keels & Wheels Concours d'Elegance
Nearly 12,000 people gathered on the lush grounds of Lakewood Yacht Club to get an up close look at some of the most pristine, classic automobiles and vintage wooden boats in the United States at the 17th Annual Keels & Wheels Concours d'Elegance. The 2012 event was co-hosted by the Antique and Classic Boat Society-Southwest Chapter. In addition, the event raised significant funds for Boys & Girls Harbor. To date, Keels & Wheels has donated more than one million dollars to charity. The 2012 ...[Read more...]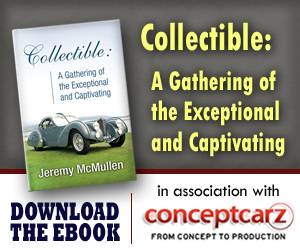 © 1998-2014. All rights reserved. The material may not be published, broadcast, rewritten, or redistributed.