Image credits: © Chevrolet. GM Corp
1956 Chevrolet Impala Show Car news, pictures, specifications, and information

Tweet
The 1950's Impala was big, very big. It actually began its life as a top option level of the Bel Air. Due to sales being so well for this body style, Chevrolet decided to create the Impala as its own model. Its styling has been termed 'bat-winged' due to the rear-styling of the vehicle. A variety of engines were available ranging from an inline-6 cylinder up to a triple carburetor, 348 cubic-inches V8 capable of producing 315 horsepower. A fuel injected V8 became available in 1959.

From the front of the car, the design was fairly normal for the 1950's era. Extensive amounts of chrome littered the front end. Two headlights, located side-by-side, were placed on each sides of the vehicle. A front grill was used to help keep the engine cool. View the car from the side and it becomes immediately clear that this is a big vehicle. The length of the vehicle could be extended an additional 11 inches by adding the Continental spare tire cover to the rear of the car. Viewing the car from the rear, the car quickly ends up in a league of its own, with only a few other vehicles such as the Cadillac Series 62 / DeVille having such a radical rear-end. The vehicle featured rear-fins that resembled cats-eyes. To top it all off, this car was not-only long, it was also very wide.

Drum brakes were used and due to the weight of the vehicle, tended to wear out rather quickly. The Impala came in three different body styles including a four-door sedan, two-door coupe, and a convertible coupe. Even though the vehicle weighed 3650 lbs, it could achieve a zero-to-sixy run in about 9 seconds. Top speed was in the neighborhood of 130 miles-per-hour.
Tradition Continues At Auctions America'S Spring Carlisle Collector Car Auction
• Total sales at Auctions America's Spring Carlisle collector car auction exceed $2.2 million • Top seller: rare 1959 Chevrolet Corvette 'Big-Brake' Fuel-Injected Convertible realizes $148,500 • Full weekend of collector car events attracts bidders from 27 states across the U.S. • Auction raises more than $12,000 to benefit the Chip Miller Amyloidosis Charitable Foundation AUBURN, Indiana (May 1, 2013) – Tradition continued in Carlisle, Pennsylvania this past weekend, as Auctions Am...[Read more...]
Brass Era, Corvettes Highlight First Four Classes Of Pinehurst Concours
VILLAGE OF PINEHURST, N.C. (April 24, 2013) – How often do you get an opportunity to see autos more than 100 years old restored to pristine condition, or a series of vintage Corvettes battling it out for 'Best in Class' to celebrate the 60th anniversary of an American sports car classic? It will all unfold for car enthusiasts the weekend of May 3-5 on the emerald green fairways of historic Pinehurst Resort as the inaugural Pinehurst Concours d'Elegance begins a new tradition in a state...[Read more...]
VICARI AUCTIONS' NEWLY LISTED NOCONA CLASSICS INCLUDE 1964 PONTIAC GTO, 1957 'RESTO MOD' CHEVY BEL AIR
The Vicari Auction Company recently added several classic automobiles to its growing roster of vehicles offered at its Cruisin' Nocona Auction, Saturday, April 20 at 10 a.m. Sure to appeal to discriminating muscle car enthusiasts, Vicari has a numbers-matching 1964 Pontiac GTO two-door convertible, the first year the convertible GTO became available. This 'Tri Power' GTO features original paint as well as the original engine and drivetrain. 'When the '64 GTO first rolled off...[Read more...]
Mecum's Auction Of Private Museum Collection A Pronounced Success
Verde Classics Museum Collection Brings More Than $3.7 Million in No Reserve Sales Mecum Auctions' Verde Classics Museum Collection Auction held in Boynton Beach, Fla., Feb. 23 included the successful sale of more than 75 collector cars and 470 lots of Road Art and memorabilia. One hundred percent of lots were sold and total sales of car enthusiasts Fran and Ron Green's personal collection for the special one-day auction event reached $3,784,520. The auction preview, held Feb. 22, ...[Read more...]
Mecum Auctions To Offer Coveted Museum Collection At No Reserve
Verde Classics' Large Selection of Cars and Memorabilia Crossing the Block Feb. 23 Mecum Auctions will return to Florida to offer an attractive collection of nearly 80 cars including a wide variety of high-performance convertibles and other eye-catching and unique vehicles along with more than 1,000 pieces of Road Art and memorabilia all at no-reserve this Feb. 22-23. Presented from the private collection of Fran and Ron Green, the desirable assortment available at the Verde Classics M...[Read more...]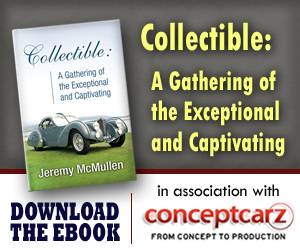 Chevrolet
Monthly Sales Figures
Volume
November 2014
149,673
October 2014
155,965
September 2014
153,873
August 2014
185,930
July 2014
175,155
June 2014
188,567
May 2014
205,010
April 2014
181,648
March 2014
179,681
February 2014
153,913
January 2014
119,089
December 2013
153,493
(More Details)
© 1998-2014. All rights reserved. The material may not be published, broadcast, rewritten, or redistributed.