Image credits: © Chevrolet. GM Corp
1956 Chevrolet Impala Show Car news, pictures, specifications, and information

Tweet
The 1950's Impala was big, very big. It actually began its life as a top option level of the Bel Air. Due to sales being so well for this body style, Chevrolet decided to create the Impala as its own model. Its styling has been termed 'bat-winged' due to the rear-styling of the vehicle. A variety of engines were available ranging from an inline-6 cylinder up to a triple carburetor, 348 cubic-inches V8 capable of producing 315 horsepower. A fuel injected V8 became available in 1959.

From the front of the car, the design was fairly normal for the 1950's era. Extensive amounts of chrome littered the front end. Two headlights, located side-by-side, were placed on each sides of the vehicle. A front grill was used to help keep the engine cool. View the car from the side and it becomes immediately clear that this is a big vehicle. The length of the vehicle could be extended an additional 11 inches by adding the Continental spare tire cover to the rear of the car. Viewing the car from the rear, the car quickly ends up in a league of its own, with only a few other vehicles such as the Cadillac Series 62 / DeVille having such a radical rear-end. The vehicle featured rear-fins that resembled cats-eyes. To top it all off, this car was not-only long, it was also very wide.

Drum brakes were used and due to the weight of the vehicle, tended to wear out rather quickly. The Impala came in three different body styles including a four-door sedan, two-door coupe, and a convertible coupe. Even though the vehicle weighed 3650 lbs, it could achieve a zero-to-sixy run in about 9 seconds. Top speed was in the neighborhood of 130 miles-per-hour.
'WE CAN BE HEROES AT THE PETERSEN' FAMILY FUN DAY ON DECEMBER 14
A new exhibit at the Petersen will showcase Kia vehicles inspired by DC Entertainment's 'The Justice League.' Launching the exhibit on Dec. 14is 'Heroes Day,' a day filled with activities for the entire family that honors our heroes—active police, firemen and military—with free museum admission. Los Angeles, (Dec. 9, 2013) – 'We can be Heroes at the Petersen,' an entire day of family fun on Dec. 14, will kick off a new exhibit at the Petersen featuring Kia vehicles inspired by the Supe...[Read more...]
2013 LA AUTO SHOW® HOSTS INAUGURAL MPG MOTORING INVITATIONAL PRESENTED BY FORZA MOTORSPORT 5 AND XBOX ONE
◾Top Collectors and Celebrities to Display More Than 60 Unique Vehicles on November 20 ◾More than 60 historic and unique vehicles to be displayed at Gilbert Lindsay Plaza ◾Influential icons, influencers, tastemakers, luminaries, collectors and celebrities to participate ◾The Motor Press Guild will announce its two Innovative Vehicle of the Year Awards at 7:30 AM ◾First-of-its-kind gathering for an international auto show ◾Event replaces the LA Auto Show's traditional opening keynote L...[Read more...]
Powerful Show Field Of American Muscle Cars At 7Th Annual Barrington Concours D'Elegance
BARRINGTON, ILL. – June 20, 2013 – The 7th Annual Barrington Concours d'Elegance will feature a show field of 1960s American muscle cars designed to showcase the power and performance synonymous with an era that redefined how Americans viewed high-performance street vehicles. The collection will be shown at the Concours on July 12-14, 2013, at the Makray Memorial Golf Club in Barrington, Ill., and will feature several rare cars, such as a 1965 Shelby GT350, a 1967 Shelby GT500 and a 1962...[Read more...]
John Staluppi's 'Cars of Dreams' Collection Joins RM's Record 2012 Calendar
• RM Auctions presents the renowned John Staluppi 'Cars of Dreams' Collection, December 1, in West Palm Beach, Florida • Amassed over the past decade, the well-known private museum features a superb collection of nearly 120 automobiles and a diverse selection of memorabilia, from a carousel to a complete drive-in theater, all to be offered without reserve • Sale continues RM Auctions' reputation as the specialist for private and estate collection sales Fresh on the heels of its highly succe...[Read more...]
2012 Keeneland Concours d'Elegance Features Packard Automobiles
The 9th annual Keeneland Concours d'Elegance will once again bring more than 150 classic and collector automobiles and motorcycles to the grounds of the historic Keeneland Race Course on Saturday, July 21, 2012. This year's featured marque is Packard, and collectors from across the country will compete for trophies in 18 classes of classic, vintage and exotic autos and motorcycles. Packard autos will be divided into pre-war and post-war classes. Other featured classes include the Motorcycle P...[Read more...]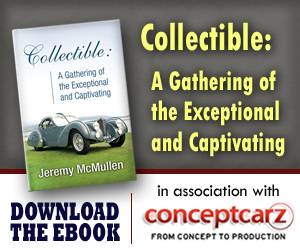 Chevrolet
Monthly Sales Figures
Volume
December 2014
184,938
November 2014
149,673
October 2014
155,965
September 2014
153,873
August 2014
185,930
July 2014
175,155
June 2014
188,567
May 2014
205,010
April 2014
181,648
March 2014
179,681
February 2014
153,913
January 2014
119,089
(More Details)
© 1998-2014. All rights reserved. The material may not be published, broadcast, rewritten, or redistributed.