1942 Mercury Series 29A news, pictures, specifications, and information

Tweet
Work began in 1937 on the soon-to-be introduced Mercury cars. The cars were introduced in New York at the time of the November 1938 auto show, and offered in four bodystyles including a two-door sedan, a four-door, a convertible coupe and a novel sedan coupe. The company was the brainchild of Edsel Ford and the design work was courtesy of E.T. 'Bob' Gregorie.

The Mercury cars were very similar in design to their Ford counterparts, and in many respect a larger version of the Ford. They were mechanically similar and obviously Ford-shaped. Among the main differences were a four inch longer wheelbase and ten extra horsepower.

During the first year of production, around 75,000 Mercury's were sold, with price tags to ranged fro $916 to $1,018. The following year, in 1940, 81,000 examples were sold, and a new body style - a convertible sedan - was introduced. Ford had discontine the four-door convertible after 1938, and Mercury had added to their listings.

For 1941, the Ford wheelbase grew to 114 inches, and the Mercurys now measured 118-inches. A station wagon option became available, and was one of seven body styles in the 1941 Mercury catalog. Costing $1,141, it was the most expensive Mercury, the convertible sedan having been dropped. Along with more power and a longer wheelbase, the Mercury Wagon was available in a choice of birch or gum panels to contrast the maple framing, and color-coordinated leather seats. Just like the Fords, the bodies were all built at Iron Mountain.

In total, Mercury sold 2,145 examples of the Woodie Wagon in 1941, easily out-selling Buick and Packard.

For 1942, the Mercury 29A rested on a 118-inch wheelbase and powered by a 239.4 cubic-inch Flathead V8 engine mated to a three-speed manual transmission with Columbia rear end. The available bodystyles were a convertible, Business Coupe, 6-passenger coupe, sedan, two-door sedan, and a station wagon.

This 1942 Station Wagon is one of just 783 examples built. In 2003, the Pebble Beach Concours celebrated the centennial year of the Ford Motor Company with several special classes for Ford-built automobiles. One of the categories was for wood-bodied cars. This example took second in Class honors.

The car is painted in black and the wood is original Maple frame-wood. The gumwood panels have been given twelve coast of the best marine varnish. The roof is a new black imitation leather and the seats are newly upholstered in brown leather. The front seats have lap belts for two. In the rear are new black rubber mats.

The car has a 3.78 gear and Columbia two-speed rear end. There are four-wheel hydraulic drum brakes, a solid front axle and a live rear axle with transverse semi-elliptic leaf springs.

In 2009, this 1942 Mercury Station Wagon was offered for sale at the Sports & Classics of Monterey auction in Monterey, California presented by RM Auctions. The car was estimated to sell for $175,000-$200,000 and offered without reserve. The lot was sold for the sum of $209,000, including buyer's premium.
By Daniel Vaughan | Dec 2009
ROCKERBOX MOTOFEST MOVES TO ROAD AMERICA DURING AHRMA VINTAGE MOTORCYCLE CLASSIC WEEKEND
ELKHART LAKE, Wis., February 13, 2014 -- Wisconsin's premier motorcycle show, The Rockerbox Motofest, featuring an eclectic mix of Euro, Japanese and American vintage café racers, choppers, sport bikes, racing machines, super motos, scooters, and sidecars is making an official move for the future. Instead of its usual Milwaukee home, the event is making the trek 60 miles North to America's National Park of Speed as part of Road America's American Historic Racing Motorcycle Association (AHRMA) ...[Read more...]
LINCOLN CONTINUES SUPPORT OF ARTS AS SIGNATURE SPONSOR OF TRIBECA FILM FESTIVAL
◾The Lincoln Motor Company demonstrates commitment to the arts as signature sponsor of the 2014 Tribeca Film Festival®, a diverse, international event ◾Lincoln's involvement extends the festival experience with a new initiative: Tribeca Interactive & Interlude: A Music Film Challenge, in collaboration with The Lincoln Motor Company ◾Lincoln will co-sponsor the 2014 festival's Spotlight film section, which showcases a mix of big names, bold talents on the rise, highly anticipated new releases a...[Read more...]
Two Best of Show Winners : Similar Designs : Same Owner
When these two vehicles won Best of Show honors at major Concours d'Elegance events, they both were owned by Judge Joseph Cassini III. The green colored Chrysler 4 door Phaeton with tan convertible top wears coachwork by LeBaron. In 2012, it won the Best of Show title (for an American car) at the Concours d'Elegance of America at St. Johns. The other car is a Packard 2 door Convertible Victoria with coachwork by Dietrich. It won this years Pebble Beach Concours d'Elegance Best of Show honors...[Read more...]
Pebble Beach Concours d'Elegance Introduces Its First Sport Customs Class
One-off Sport Customs designed to turn heads while tooling down Main Street USA will roll onto the 18th fairway of Pebble Beach Golf Links for the 2012 Pebble Beach Concours d'Elegance on August 19. This year, for the very first time, the Pebble Beach Concours d'Elegance is hosting an entire class dedicated to Sport Customs. 'These are one-of-a-kind cars built in the US, on modified American production chassis with American engines by individuals, designers and craftsmen,' explains auto...[Read more...]
RM Auctions Lifts Gavel On Charlie Thomas' Texas-Sized Collection of Automobiles
• RM Auctions further expands its 2012 calendar with the addition of 'The Charlie Thomas Collection', a single-day, single-vendor sale to be held in Dallas, Texas, October 20, 2012 • Auction features a superb assortment of more than 150 collector cars, all offered without reserve • Sale further consolidates RM's reputation as the specialist for private and estate collection auctions RM Auctions, the world's largest collector car auction house for investment-quality automobiles, is delighted...[Read more...]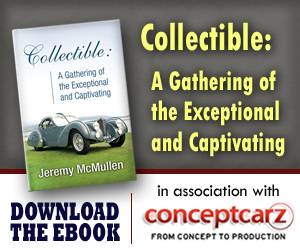 © 1998-2014. All rights reserved. The material may not be published, broadcast, rewritten, or redistributed.