1963 Jaguar XKE E-Type news, pictures, specifications, and information

Tweet
In March 1961, Jaguar introduced the 'E' type. Powered by the triple SU carbureted 3.8-liter six-cylinder, the E-Type is capable of 150 miles per hour. The clean lines and the high-tech specifications were a sensation - 'E'-Type steals the show at the Geneva Salon, 1961', as expressed by 'Autosport' magazine. In April 1961, Jaguar introduced the 'E' type in the USA. The announcement of the 'E' type was considered front page news by the magazines such as 'Car and Driver' and 'Road and Track.'

This automobile was built on June 06, 1963 and delivered to Waterloo, IA. The current owner began restoration in 1998 and over a four year period required 3000 plus hours.

The Museum of Modern Art in New York has two scale-models on permanent display in their design collections since 1964.
A complete restoration was performed on this car, stripping it down to the bare chassis, reusing all hardware wherever possible, and even using the original and salvageable bolts. The original chrome was stripped and re-plated. The restoration process was completed in May of 2007 and later that year was brought to the Bonhams Auction, An Important Sale of Collectors' Motorcars and Automobilia, held at the Quail Lodge Resort & Golf Club in Carmel, California. The restoration work was done to such high quality, it attracted a buyer willing to part with $120,000 plus premium and tax to own this magnificent 1963 Jaguar XKE 3.8-Liter Series I Roadster.
By Daniel Vaughan | Apr 2008
This Jaguar is a rebuild in the spirit of the Lightweight XKE's of the same period. It has an accurate lightweight monocoque and body from aluminum using period riveted panel joining techniques. The original reinforced Jaguar Lightweight front and rear subframes were exactly duplicated.

The engine has triple 45DCOE Webers on the 4.2-liter engine and delivers nearly 370 horsepower. There are stainless steel headers, a lightweight flywheel with dual disc Tilton clutch, high capacity water pump with Racemate alternator, Accusump pre-oiler, TX51 five-speed transmission and Salisbury limited slip differential.

In the spirit of the lightweights, this car has a wider rear track, which required new radius arms, control arms and half shaft spacers with adjustable HAL spring/shock units.

In 2010, the car was offered for sale at the Exceptional Motorcars and Automobilia auction presented by Bonhams. As bidding came to a close, it had been sold for the sum of $161,000 inclusive of buyer's premium.
By Daniel Vaughan | Oct 2010
Roadster
Chassis Num: 878978
Engine Num: RA 1010-9
Gearbox Num: EB 9208 JS

High bid of $97,500 at 2012 RM Auctions. (did not sell)

Jaguar produced just 2,023 open two-seat roadsters during 1963. This example was completed on January 28th of 1963 and is a left-hand drive example. It was dispatched to Jaguar Cars New York on February 7th of 1963 and its first owner was T.J. Mattoen of New York. In 2008, it received a complete rotisserie restoration by marque specialists. Since that time, it has traveled just 600 miles. The car is a numbers matching example which has been confirmed by its Jaguar Heritage Certificate. The car has its original tool roll with Metallifacture jack and new hammer, over $100,000 has been spent on the restoration, including an engine, transmission, rear end, and suspension rebuild. The car is finished in cream over red hides with contrasting black hood.

In 2012, the car was offered for sale at the St. Johns sale presented by RM Auctions. It was estimated to sell for $125,000 to $150,000. Bidding reached $97,500 but was not enough to satisfy the vehicle's reserve. It would leave the auction unsold.
By Daniel Vaughan | Oct 2012
The Jaguar E type, also known as the XK-E, brought style and performance together to create a mass-produced supercar. The road-going sports car was conceived in 1956 as a replacement for the D-type. In March of 1961 the E-Type was officially introduced to the world at the Geneva, Switzerland Motor show.
It's design was created by an aerodynamic engineer named Malcolm Sayer. The front engine, rear-wheel drive vehicle featured a moncoque body and a tubular front chassis. The six-cylinder double-cam engine had three SU carburetors and produced 265 horsepower. The suspension was independent with disc brakes on all four wheels. It brought together the best or aerodynamics, coupled with the latest technology and propelled by a potent engine. The vehicle was not only fast, it offered excellent performance and handling. Some of the most common complaints it received were the cabin being too cramped and it suffered from poor ventilation.

The E-Type was a popular vehicle. It was fast, performed well, and was competitively priced. Due to the United States safety and emission regulations, some of the horsepower was lost. The headlamp covers were also removed prior to the close of the 1960's.

A 4.2-liter engine and synchromesh gearbox was introduced in 1964. In 1966, the 2+2 coupe was introduced and featured a longer wheelbase. The Series II cars were not as quick as its predecessors. The Series III, however, was a different story. Powered by a V-12 engine they were once again able to propel the E-Type over 145 miles per hour.

Production for the E-Type ceased in 1975, after 72,520 examples being produced. It was replaced by the XJ-S; a vehicle that was larger, heavier, and not as visually appealing.
By Daniel Vaughan | Mar 2006
For more information and related vehicles, click
here
VOLKSWAGEN SUPPORTS THE ROCKAWAY! - ARTS FESTIVAL
Sustainable engagement for culture and environment ◾Free public arts festival with prominent contributors to recognise the ongoing recovery assist in the reconstruction of the Rockaway peninsula after Hurricane Sandy New York, 27th June 2014 –Volkswagen Group of America continues its close partnership with the New York based Museum of Modern Art (MoMA) and MoMA PS1. Ever since the catastrophe of hurricane Sandy in New York Volkswagen Group of America has been very active in supporting...[Read more...]
TWO OF THE ORIGINAL SHELBY GT350 MUSTANG PROTOTYPES TO MEET UP IN TULSA, OKLAHOMA
More than three decades after taping a full-page ad ripped from a 1965 car magazine above his bunk on an Alaskan crab boat, Mark Hovander is touring the country this year with the same Ford Shelby GT350 Mustang pictured on that page. Hovander and his crosstown friend John Atzbach are big fans of the first-generation Shelby Mustang, and between them they own two of the three original prototypes. As Mustang enthusiasts across the country and around the world celebrate 50 years of their favorite...[Read more...]
VOLKSWAGEN LOOKS BACK ON THREE YEARS OF SUCCESSFUL PARTNERSHIP WITH THE MUSEUM OF MODERN ART (MoMA) AND MoMA PS1
◾To date, this cooperation has delivered 20 projects and attracted millions of visitors ◾Current projects: retrospectives with works from Schlingensief and Polke in both museums ◾Honoring this cooperation, MoMA PS1 presents 'Night At The Museum', an evening of art and music on May 10 Wolfsburg/New York, 9 May 2014 – During the weekend, the successful completion of the third year of the partnership between Volkswagen Group of America and MoMA, along with MoMA PS1 is celebrated. The Qu...[Read more...]
FERRUCCIO LAMBORGHINI'S LEGENDARY UNIQUE RIVA AQUARAMA LAMBORGHINI HAS BEEN RESTORED
◾The fastest Riva Aquarama in the world restored to original condition by Dutch specialist Riva-World ◾Twin 350 hp 4.0 V12 Lamborghini engines from the equally legendary 350 GT ◾Collector's item for true connoisseurs Uithoorn, 7 October 2013 – The maritime world is a living legend richer with the launch of the Riva Aquarama Lamborghini, which has been fully restored to its original condition. Built 45 years ago for and commissioned by Ferruccio Lamborghini, founder of the superb Ital...[Read more...]
Cherished Classics From The Pettit Collection Will Be Offered Without Reserve
• The 1929 Duesenberg 'Blue J' and 11 collector cars from the William A. C. Pettit, III Collection will be sold at Gooding & Company's Pebble Beach Auctions
• Estate Proceeds will benefit the Shriners Hospital for Children®-Tampa
Gooding & Company, the acclaimed auction house celebrated for selling the world's most significant and valuable collector cars, is honored to present the finest automobiles of the William A.C. Pettit, III Collection at its Pebble Beach Auctions on Aug...[Read more...]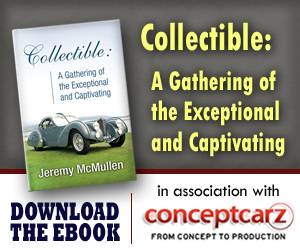 Jaguar
Monthly Sales Figures
Volume
December 2014
1,683
November 2014
1,253
October 2014
1,007
September 2014
1,142
August 2014
1,184
July 2014
1,187
June 2014
1,263
May 2014
1,304
April 2014
1,035
March 2014
1,816
February 2014
1,552
January 2014
1,347
(More Details)
© 1998-2014. All rights reserved. The material may not be published, broadcast, rewritten, or redistributed.