1941 Chrysler Thunderbolt news, pictures, specifications, and information

Tweet
The Chrysler Thunderbolt Concept introduced a new wave of designs and industry technological accomplishments. The body was comprised of aluminum and the roof was a retractable, electrically controlled hardtop. There were no door handles; rather they were operated by the push of a button. The windows were controlled by hydraulic power. The headlights were also carefully concealed in the bodywork. The aerodynamic design continued to the fully enclosed wheel wells. There were no A pillars.

The design was courtesy of Alex Tremulis, an individual who introduced many inspirational industry designs such as the Tucker. Based on the Chrysler Crown Imperial and named after Captain George Eyston's land speed record accomplishments, the Thunderbolt was a masterpiece. Eyston had captured the Land Speed record in 1938 at the Bonneville Salt Flats by traveling at a speed of 357.53 mph. Using a specially designed vehicle that was over 30 feet in length and weight an astonishing seven tons, it was powered by two Rolls-Royce 12-cylinder engines.

The retractable top was so revolutionary; it would not be until 1957 before another manufacturer had a similar feature. The vehicle was the Ford Skyliner.

The interior of the Thunderbolt was adorned in leather. The two-seater was powered by a 323.5 cubic-inch straight-eight engine capable of producing 143 horsepower. Power was sent to the rear wheels courtesy of a Chrysler Fluid Drive transmission.

A total of six examples were produced with four existing in modern time, one residing at the Walter P. Chrysler Museum located in Auburn Hills, Michigan. Each Thunderbolt was given their own unique color scheme.
By Daniel Vaughan | Dec 2005
Following the 1934 introduction of the aerodynamic Airflow model, one might think Walter Chrysler would have been anything but quick to introduce another streamlined automobile. Regardless of its advanced engineering and sleek styling, Chrysler spent four years trying to convince the public to buy it. They didn't. Nonetheless, his forward-thinking spurred him to contact legendary designers Alex Tremulis and Ralph Roberts of the LeBaron studio to design and construct two different show cars called 'Golden Arrow' and 'Thunderbolt.'

The 1941 Thunderbolt was Chrysler's response to GM's Y-Job Idea Car from 1938. Designed by Ralph Roberts and Alex Tremulis, the Thunderbolt featured a streamlined body with a retractable hardtop. It was a two-seat roadster; the Golden Arrow (its name later changed to Newport) was a modern interpretation of the classic dual cowl phaeton. Short of time, just five of each made the transition from drawing board to operating automobile in just nine months, all with flowing aluminum bodywork.

The Thunderbolt appeared in the 1940 Car Show circuit as an 'idea' car, the idea being good aerodynamics. Chrysler somewhat revisited streamlined design, previously used on the 1934 Airflow, and named it Thunderbolt. The name was chosen because of its association with a previous land speed record holder at the Bonneville Salt Flats.

The LeBaron-built body is aluminum, except for the structure for the hood and deck lid, and sits on a New Yorker chassis. The engine is a 323.5 cubic-inch inline-eight that delivers 140 horsepower. The power is transmitted to the wheels by a smooth Fluid Drive transmission with an overdrive unit that allows speeds of up to 100 mph. Four cars survive of the five that were reputedly built.

Chrysler called its Thunderbolt roadster 'The Car of the Future.' It was no exaggeration. There had never been a car like it. Beneath the smooth aerodynamic body were electrically operated concealed headlights and retractable one-piece metal roof that stored beneath the decklid just behind the passenger cockpit. Doors operated via push-buttons and the leather-covered instrument panel featured edge-lit Lucite dials.

Following successful promotional tours with its sister car, the Newport, all five were released for sale to private owners at a then astronomical $8,250 each.

When the US entered World War II in 1941, auto manufacturers turned to wartime production, putting most automobile development on hold. If the Thunderbolt had reached production, how different would the automotive world of today be?
Chrysler produced five Thunderbolts in 1940, four of which survive. Designed by Alex Tremulis, they featured a stunning steamlined full-envelope body, an electrically operated retractable hardtop, hidden headlights, hydraulic window lifts, push-button doors and back-lit gauges. They were first shown at the New York Auto Show in October, 1940. The Thunderbolts caravanned across the United States, stopping at Chrysler dealerships along the way and attracting tremendous crowds. This particular example was sold to the actor Bruce Cabot in March of 1941. In 1960, the car was sold to Bill Harrah. The present owner purchased the car at the Harrah's Auto Auction in 1985. In 1954, a Chrysler 331 cubic-inch Hemi engine was installed by B&H Motors of San Francisco, and the Thunderbolt engine was installed in a 1932 Chrysler CP-8 convertible sedan. The 1932 Chrysler was subsequently purchased and the Thunderbolt was reunited with its original engine.
The Chrysler Thunderbolt, designed by Alex Tremulis, was a technological tour de force when introduced in 1940. The body was aluminum, the roof was an electric retractable hard top, door buttons replaced handles, the headlights were concealed, the wheel wells fared over and there were no A pillars.

Tremulis the designer of the Cord 812, worked in the Briggs design studio. Briggs also employed ex-Le baron stylist Ralph Roberts, who had been sketching pontoon bodied fully enclosed scooters. The two collaborated on a proposal for Chrysler. The car was designed to erase the stigma of the failed Airflow and yet still casting streamlining as the way of the future. Those proposed designs, known as the Newport and the Thunderbolt, debuted at the 1940 New York Auto Show.

Six Thunderbolts were built and ultimately viewed by an estimated six million people. The car broke with Chrysler designs of the past and predicted future trends such as concealed headlamps and push button doors. Even today, the car still appears twenty years ahead of its time.
Mecum Hits East Coast with 1,000 Collector Cars and Vintage Motorcycles in Harrisburg
Auction Slated for July 24-27 at Pennsylvania Farm Show Complex and Expo Center Walworth, WI - July 9, 2014 -- Mecum Auctions, the largest collector car auction company in the world, will conduct its first-ever auction in Harrisburg this July 24-27 at the Pennsylvania Farm Show Complex and Expo Center with an estimated 1,000 collector cars expected to cross the auction block Thursday through Saturday and 200 motorcycles on Sunday. Featured consignments include a well-docume...[Read more...]
Two Best of Show Winners : Similar Designs : Same Owner
When these two vehicles won Best of Show honors at major Concours d'Elegance events, they both were owned by Judge Joseph Cassini III. The green colored Chrysler 4 door Phaeton with tan convertible top wears coachwork by LeBaron. In 2012, it won the Best of Show title (for an American car) at the Concours d'Elegance of America at St. Johns. The other car is a Packard 2 door Convertible Victoria with coachwork by Dietrich. It won this years Pebble Beach Concours d'Elegance Best of Show honors...[Read more...]
CONSUMER REPORTS: CHEVROLET SILVERADO IS TOP TRUCK, BUT RAM 1500 MAKES FOR A BETTER DAILY DRIVER
• Showdown between the Silverado 1500 & Ram 1500 was neck-and-neck
YONKERS, N.Y., Sept. 17, 2013 - In a heavy-metal duel between two top pickup trucks, the Chevrolet Silverado 1500's 'Excellent' road-test score makes it Consumer Reports' top-rated truck. But testers point out that the second-place Ram 1500 may be a better daily driver. Each model won skirmishes along the way, and they finished one-two in a competitive pickup truck category— separated by only three points. Bot...[Read more...]
The Mecum Marathon In Kissimmee Sets New Record As World's Largest
Unprecedented 10-day Auction Goes Where No Other Auction Has Ever Gone Before Mecum Auctions' record-setting 10-day auction, held Jan. 18-27, exceeded all expectations transforming more than 100 acres of land at Osceola Heritage Park in Kissimmee, Fla., into the nation's collector car epicenter. A total of 3,337 lots filled every building and 15 acres of tents with a total of 2,610 cars crossing the auction block and a huge selection of Road Art and memorabilia. With 1,811 vehicles sol...[Read more...]
EXTRAORDINARY MILHOUS COLLECTION PREPARES FOR FINAL ENCORE
RM Auctions, in association with Sotheby's, is proud to be offering one of the world's finest private museums, the Milhous Collection, during a multi-day sale, February 24 – 25, 2012 in Boca Raton, Florida. The result of over five decades of judicious collecting by brothers Bob and Paul Milhous, the extraordinary collection features an unparalleled series of mechanical musical instruments, automobiles and collectibles, handpicked from around the world and representing the 'best of the very be...[Read more...]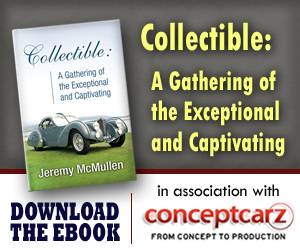 Chrysler
Monthly Sales Figures
Volume
November 2014
27,243
October 2014
27,546
September 2014
28,781
August 2014
29,762
July 2014
23,455
June 2014
24,026
May 2014
22,592
April 2014
21,967
March 2014
26,140
February 2014
25,230
January 2014
21,113
December 2013
20,270
(More Details)
© 1998-2014. All rights reserved. The material may not be published, broadcast, rewritten, or redistributed.