Image credits: © Shelby.
1965 Shelby Mustang GT350 news, pictures, specifications, and information

Tweet
here
TWO OF THE ORIGINAL SHELBY GT350 MUSTANG PROTOTYPES TO MEET UP IN TULSA, OKLAHOMA
More than three decades after taping a full-page ad ripped from a 1965 car magazine above his bunk on an Alaskan crab boat, Mark Hovander is touring the country this year with the same Ford Shelby GT350 Mustang pictured on that page. Hovander and his crosstown friend John Atzbach are big fans of the first-generation Shelby Mustang, and between them they own two of the three original prototypes. As Mustang enthusiasts across the country and around the world celebrate 50 years of their favorite...[Read more...]
ROLEX MONTEREY MOTORSPORTS REUNION
THE LADIES' TOUCH While vintage automobile racing trends as a mostly-gentleman's sport, plenty of women have shaped its decades-old history, and several will keep the wheels in motion driving their own collectibles at this year's Rolex Monterey Motorsports Reunion. Scheduled for August 14-17 at Mazda Raceway Laguna Seca, the annual event this year celebrates 100 years of Maserati and punctuates action on the track with 550 pre-selected historic and period-correct race cars competing in ...[Read more...]
SHELBY AMERICAN COMMEMORATES 50TH ANNIVERSARY FIA COBRA WITH SPECIAL EDITION CAR
• Iconic Shelby FIA Cobra to be Celebrated
Scottsdale, Ariz. – Jan. 17, 2014 – In 1964, Shelby American, today a wholly owned subsidiary of Carroll Shelby International Inc. (CSBI:PK) introduced the FIA version of the small block Cobra, which competed in the 1964 World Manufacturers Championship series against marques like Aston Martin, Jaguar and Corvette. To celebrate the birth of the 289 Ford powered roadsters, Shelby American will offer 50 limited edition continuation (CSX70...[Read more...]
Sonoma Historic Motorsports Festival Celebrates Corvette'S 60 Years At Sonoma Raceway
• Fast cars, fine food and wine highlight May 18-19 weekend
• Paul Reinhart is honored guest, popular racing seminar scheduled for second year
SONOMA, Calif. (April 27, 2013) - The Sonoma Historic Motorsports Festival returns to Sonoma Raceway on May 18-19 for the fourth straight year under that title. The program for the 27th annual historic-car event organized by General Racing Ltd. in Sonoma will celebrate the 60th Anniversary of the popular Corvette, created by the ...[Read more...]
Peter Brock and Bob Bondurant to Swap Shelby Stories at Rolex Monterey Motorsports Reunion
Two stalwart names in the colorful history of Shelby American, Peter Brock and Bob Bondurant, will share some of their stories of those early years at the Picnic with Shelby Cobra Saturday, August 18 at the Rolex Monterey Motorsports Reunion. The 30-minute picnic begins at 12:15 p.m. in the Ford Motor Company display, located at Mazda Raceway Laguna Seca's Yamaha Marketplace. Peter Brock was instrumental in Shelby American beginning in 1962. As a young designer, he dove into the entire design...[Read more...]
Carroll Shelby, Ford Family for More Than Half a Century
Carroll Shelby was a member of the Ford family for the better part of 60 years, producing stunning performance vehicles from concepts to production models. He once said his energy and passion for performance products were always strongest when he was working with Ford. Shelby most recently collaborated with the company on the 2013 Ford Shelby GT500 Mustang, the most powerful production V8 in the world. Working with SVT engineers at Sebring and the Arizona Proving Grounds, at times he drov...[Read more...]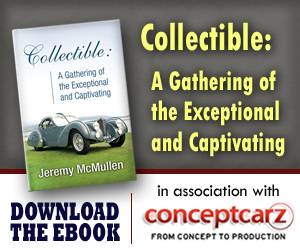 Ford
Monthly Sales Figures
Volume
December 2014
209,679
November 2014
178,221
October 2014
179,014
September 2014
172,261
August 2014
214,028
July 2014
204,373
June 2014
214,793
May 2014
244,501
April 2014
203,552
March 2014
235,198
February 2014
177,286
January 2014
148,671
(More Details)
© 1998-2014. All rights reserved. The material may not be published, broadcast, rewritten, or redistributed.