1939 Mercury Series 99A news, pictures, specifications, and information

Tweet
Edsel Ford introduced the Mercy model in 1939. This Sport Convertible was mounted on a 116 inch wheelbase, weighs 2,995 pounds and sold for $1,018. It was powered by a 239.4 cubic inch V-8 engine that developed 95 horsepower.

The original engine in this model was redone in 2001 to three-quarter race specifications. The Isky cam, Eddie Meyer hi-rise dual intake manifold, high compression heads and Fenton headers have increased the performance to 140 horsepower.

The original restoration now has 19,000 miles as it is driven from Michigan to Florida, where it is housed in winter, and returns home to Michigan in spring.
The origins of Mercury are fraught with drama. If it had been up to Henry Ford, there would never have been a Mercury or Lincoln, only the Ford.

From its very inception in 1937, Henry Ford denied that the Mercury even existed. His only contribution to the marque was in finally allowing Edsel to go ahead with it. The reason for the car was obvious enough: To put something into the gnawing $500 gap between the Ford DeLuxe and the Lincoln Zephyr.

The original 1939 Mercury debuted on November 5, 1938, and shared Ford's antiquated transverse-spring suspension. However, the first Mercury frame wasn't quite the same as a Ford's because it was made more rigid and carried a four-inch longer wheelbase.

The engine was pure Ford flathead V-8, bored out from 221 cubic-inches to 239.4 to develop an additional 10 horsepower. However, the body was unique, sharing no panels with Ford, although design-wise the two were clearly related. Also unique to Mercury was the narrow B-pillared Club Coupe, arguably the forerunner of the hardtop body style.
HILTON HEAD ISLAND MOTORING FESTIVAL TO FEATURE CARS OF THE RICH & FAMOUS
This year's 'Life' exhibit puts the spotlight on cars with headline heritage HILTON HEAD ISLAND, S.C. – The Hilton Head Island Motoring Festival & Concours d'Elegance, one of the nation's largest and fastest-growing automotive and motorsports enthusiast event weeks, takes a more glamorous approach with its annual 'Life' exhibit and presents Life of the Rich & Famous sponsored by Marriott Vacation Club. Life of the Rich & Famous is the sixth annual 'Life'-themed exhibit on the Fe...[Read more...]
FORD FUND ANNOUNCES $1 MILLION WILLIAM CLAY FORD AUTOMOTIVE DESIGN SCHOLARSHIP
◾Scholarship commemorates the design legacy of William Clay Ford, former chairman of Ford Motor Company's design committee ◾Ford Fund commits $50,000 per year during the next 20 years, giving five automotive design students each $10,000 per year ◾Mr. Ford oversaw design of the iconic Lincoln Continental Mark II, considered by many one of the greatest cars ever built Ford Motor Company Fund will award $1 million in automotive design scholarships during the next 20 years to commemorate the la...[Read more...]
GREG BIFFLE GIVES FORD MOTOR COMPANY 1,000TH NASCAR VICTORY AFTER WINNING AT MICHIGAN INTERNATIONAL SPEEDWAY
◾Ford Motor Company has won 1,000 NASCAR races in the Sprint Cup, Nationwide and Camping World Truck Series combined. ◾Jim Roper won the very first NASCAR-sanctioned stock car race in a Lincoln when he was deemed the winner at Charlotte on June 19, 1949. ◾Ford Motor Company has won 20 manufacturer titles and 13 driver championships in NASCAR's top three series. DEARBORN, MI, (June 16, 2013) – Henry Ford's win over Alexander Winton on Oct. 10, 1901 in what proved to be his only race a...[Read more...]
Edsel Ford's Speedster Stars at 'The Amelia'
Edsel Ford's 'continental car', a custom boattail speedster, will take its rightful place in the Sports Car Class of the 18th annual Amelia Island Concours d'Elegance. In the shape of Edsel's seminal speedster is the genesis of Ford's legendary design department. Edsel Ford was hardly 'a chip off the old block'. The acorn fell well away from the mighty oak that was Henry Ford, founder of the Ford Motor Company. Edsel was not just the President of Ford, he was a car guy to his core. His ta...[Read more...]
Classic Motorcar Holds Grande Salon Auction During Glenmoor Gathering
1912 Edsel Ford Model T Six Cylinder Speedster to Cross the Block CANTON, Ohio - Classic Motorcar Auctions LLC will hold their 3rd annual Grande Salon Auction Sept. 15-16, 2012 during the Glenmoor Gathering event at the historic Glenmoor Country Club in Canton, Ohio. The Grande Salon Auction will feature more than 150 antique, classic and sports cars as well as various automotive memorabilia up for bid. Vehicles will be available for preview on Friday, Sept. 14 from 1-8 p.m. The a...[Read more...]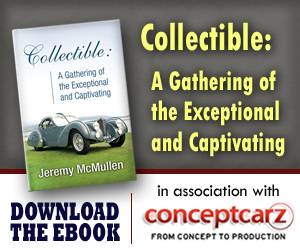 © 1998-2014. All rights reserved. The material may not be published, broadcast, rewritten, or redistributed.