1947 Chevrolet Fleetmaster news, pictures, specifications, and information

Tweet
Priced at $1,628, the convertible was the second most expensive Chevrolet for 1947, exceeded only by the wood-bodies station wagon in factory price. Standard equipment included a power top, 90-horsepower 'Stovebolt' six-cylinder engine, and DeLuxe two-spoke §teering wheel. With total model year production of 684,145, Chevrolet outsold archrival Ford by a wide margin to retain its position as America's best selling car. Academy Award winner actor Jack Nicholson drove this convertible in the Two Jacks (1990) before donating it to the Peterson Automotive Museum in 2003.

Collection of Petersen Automotive Museum Foundation. Gift of Jack Nicholson
Source - Peterson Museum
The division built 4,912 in 1947 and 10,171 in 1948, but for the Chevrolets redesigned 1949 lineup, station wagons were all steel.
By Daniel Vaughan | Apr 2005
Station Wagon
Coachwork: Ionia

Built on a 116-inch chassis and powered by a six-cylinder, 90 bhp motor, the coachwork on this example was supplied by the Ionia Company of Michigan. Basically unchanged from their 1946 model, Chevrolet produced 4,912 of the wagons with a base selling price of $1,893. This car remained in the hands of its original purchasing family until acquired by its current owner in September of 2000.
Considered to be a very handsome vehicle, the Chevy Fleetmaster was introduced in the middle of 1941. One of the lowest quantities manufactured of any Chevy vehicles of all time, the Fleetmaster was a beautiful and very rare streetrod. Basically prewar designs, the Chevy Fleetline was in great demand and was a very popular seller.

On October 3, 1945 the Fleetmaster first rolled off the assembly line in very small numbers. At the time there was a shortage of critical materals, mostly sheet steel. Unfortunately a United Auto Works strike was called on November 21rst and production was unable to resume at a normal pace. The assembly lines halted completely and weren't resumed until March 13, 1946 when the strike was settled. Chevrolet became the first GM division to resume production on March 29th.

The 1946, '47 and '48 Chevy models were basically 'warmed over' versions of the 1942 models. This was following four years with no civilian passenger vehicles being produced. Chevrolet chose to serve up existing models, much like its competitors. The demand for new vehicles was extreme, and the paid-for factory tooling was already in place. The Master DeLuxe became the Stylemaster while the Special DeLuxe was rebadged as the Fleetmaster. The Fleetline morphed into the Fleetmaster subseries. There was no business coupe in the Fleetmaster lineup, but other than that, the body type remained the same.

Featuring low, wide grillwork and headlights the 1942 Chevy Fleetmaster was basically the same as the final prewar series with only a few significant mechanical distinctions. In 1947 the grille and beltline molding were further advanced, and at this time the Fleetline Aerosedan was once again Chevy's volume leader, surpassing the 1946 Stylemaster Sport Sedan. The headlights smoothly blended into front that meshed into the doors much like Buick's style.

For the 1948 model year only a few minor modifications in the trim were made. Unfortunately the demand for the Fleetmaster was ebbing, and additional changes were no longer necessary. In January of 1949 there finally appeared a 'true' postwar Chevrolet.
A total of 162,632 1946 Fleetmaster models were produced, 264,584 units in 1947 and 248,778 in 1948.
By Jessica Donaldson
TOP CELEBRITY CAR COLLECTORS AND EXPERTS CURATE EXHIBIT ON WORLD'S GREATEST SPORTS COUPES
'The World's Greatest Sports Coupes' opens April 10 at the Petersen in Los Angeles • Guest curators include Patrick Dempsey, Francis Ford Coppola, Pink Floyd's Nick Mason and others • Exhibit will highlight the greatest sports coupes of the past century, ranging from European legends to American muscle cars to modern Japanese supercars • Made possible by Jaguar in celebration of the launch of new Jaguar F-TYPE Coupe Los Angeles, (April 1, 2014) – A small cadre of rock legends, criti...[Read more...]
The Petersen Automotive Museum's Newest Exhibit - Town Cars: Arriving In Style
As the evolution from horse-drawn carriage to the automobile was underway in the early 20th century, Town Cars quickly became a pillar of luxury, sophistication and an illustration of one's status – a counterpoint to the average, mass produced Ford Model T. Los Angeles, (Feb. 18, 2014) – Known as 'Mr. Showmanship,' it's no wonder that Liberace not only owned a town car – a vehicle designed around status and opulence – but took it to the next, flashy level by covering the exterior ...[Read more...]
VIDEO REPORT: NISSAN IDX CONCEPT TOUR CONTINUED IN SUNNY SOCAL, AND THE FAN BASE GROWS
LOS ANGELES – After debuting in Tokyo and playing in Detroit, the acclaimed Nissan IDx Freeflow and IDx NISMO concepts held a three-date tour on the West Coast. It was a super-charged string of venues worthy of the world's biggest rock bands, at least in the auto-enthusiast world. Along Abbot Kinney Boulevard in Venice, once described as the 'coolest block in America' by GQ magazine, fans of the concepts were able to get up close and personal with the cars, including speaking with designers a...[Read more...]
PETERSEN AUTOMOTIVE MUSEUM APPOINTS NEW CMO
Adam Langsbard, a veteran marketing pro with more than 20 years experience, has already helped launch the New Petersen's awareness and fundraising campaign and has locked in significant partnerships with Kia and Jaguar. (November 12, 2013) – The Petersen Automotive Museum is pleased to announce its new Chief Marketing Officer, Adam Langsbard. Langsbard, who joined the Petersen team at an instrumental time for the museum as it undergoes a dynamic transformation from the inside ou...[Read more...]
RRDC VOTES IN 37 NEW MEMBERS FOR 2013
HILLIARD, Ohio (Nov. 7, 2013) - Thirty-seven race-car drivers and motorsports professionals have been voted into the Road Racing Drivers Club in 2013. The group includes 13 Regular Members from the open-wheel and sports-car racing ranks, 20 Associate Members and four Honorary Members. The current roster of RRDC members now numbers 440. Voting was held among all current RRDC members. 'This year's crop of new Regular Members truly represents the spirit of the RRDC, as each driver has de...[Read more...]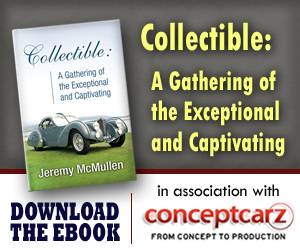 Similarly Priced Vehicles from 1947
Ford Super Deluxe ($1,250-$2,275)
Nash Ambassador ($1,750-$2,225)
Buick Super Series 50 ($1,845-$2,593)
Packard Super Deluxe Clipper Eight ($1,900-$1,950)
Plymouth Series P-15 ($1,140-$1,765)

Average Auction Sale: $27,772
Chevrolet
Monthly Sales Figures
Volume
December 2014
184,938
November 2014
149,673
October 2014
155,965
September 2014
153,873
August 2014
185,930
July 2014
175,155
June 2014
188,567
May 2014
205,010
April 2014
181,648
March 2014
179,681
February 2014
153,913
January 2014
119,089
(More Details)
© 1998-2014. All rights reserved. The material may not be published, broadcast, rewritten, or redistributed.