1948 Packard Standard Eight news, pictures, specifications, and information

Tweet
Also referred to as the 'Woody Wagon,' this car has an 8 cylinder engine, all original wood on the exterior and was bought new for a price of $3,895.00.

It is still owned by the original driver who was a delivery boy for Heyduks Florist in Cleveland, who bought the car new. Ed, the delivery body who was present when the car was delivered to the florist is now over 70 years old and still driving the car.

Totally new on the automotive scene in 1948 was the Packard Station Sedan Body 2201. Despite its price being $1,200 higher than the Standard Eight Sedan the wagon-line car was still classed in the 2201 series.


- The 22nd Series was introduced September 1947

The wood was northern birch framing wîth maple panels and was basically decorative, as the overall structure was braced by the metal body shell which actually was modified from the Standard Sedan Body, only the upper rear quarters which were removed from the sedan body used the wood as actual bracing. On the door sides and window frames the regular sheet metal was cut away in order to allow the wood to be inlaid, rather than just bolted on top. Únlike most other station wagons, which were 8 or 9-passenger cars the Packard was strictly a 6-passenger model, wîth no provision for a third seat. No light-weight, the Station sedan weighs 4,080 pounds.
Source - National Packard Museum
Packard introduced the 22nd Series of Packard Automobiles in 1948. In comparison to the Clipper automobiles, these were wider and available as wagons. The Station Sedan cost $3425 when new and was the most expensive of the short-wheelbase Packards. The substructure was comprised of steel and augmented by wood frames, and panels on the door and upper portions of the body.

In 1948, Packard produced 3,266 examples of the 22nd Series Station Sedan and 126 in 1947. Production continued until 1949, though a few were sold as 1950 models. Station wagons would not return to the Packard line-up until 1957 and 1958 with the Studebaker-derived wagon.

This 1948 Packard 22nd Series Station Wagon was offered for sale at the 2006 Gooding & Company Auction held in Pebble Beach, Ca. It is powered by an L-head straight-eight engine that develops 130 horsepower. It has a three-speed manual gearbox and sits atop a 120-inch wheelbase. There is seating for six and 21 cubic-feet of cargo space with both seats in use. A spare tire can be found under the floor.

At auction, the car was offered without reserve and estimated to sell for $65,000-$75,000. The estimate appeared to be very accurate as the car was sold for $68,200.
By Daniel Vaughan | Feb 2007
Packard's 1948-1950 station wagon was called the 'station sedan' because it used mostly sedan body stampings with bolt-on wooden ribs. Production for 1948 was 1786 units and the base price was $3425.

This car was originally sold by the Earl C. Anthony distributorship in California. This car has a unique roof-mounted luggage rack that appears to have been installed by Coachcraft Ltd. in Hollywood, CA.

In an attempt to preserve originality, restoration was limited to refinishing wood, new paint (original color), re-chrome several parts and re-upholstering of seats only with duplicate of original material.
| | |
| --- | --- |
| | Station Wagon |
While most people would refer to this automobile as a station wagon or woodie wagon, Packard referred to this body style as four-door 'station sedan' when it was introduced in 1948. The model was offered only in Packard's Standard Eight series and was discontinued after the 1950 model year. It is considered to be one of the very first all-steel bodied station wagons and features genuine Northern Birch wood paneling. Únlike other automakers the wood in this Packard was strictly decorative and was only used structurally for the tailgate.

As the 1950's dawned, automakers began to substitute real wood wîth fiberglass railing and Di-Noc wood grain decals.
Source - Gilmore Museum
For 1948, Packard introduced its all-new twenty-second series which was a wider and lower adaptation of the sleek Clipper lines. Unlike Ford and GM who designed a whole new body structure, Packard took the basic sedan and added a 'dormer' at the back. This preserved the general lines but offered slightly less interior room than the competitors' vehicles. Thus, the Packard Station Sedan became part of the lowest-priced Standard Eight series for 1948 and priced at $3,425. Production reached fewer than 3,900 in just over two years, with most of them being built in 1948.

This 1948 Packard Station sedan was previously in the collection of the Auburn Cord Duesenberg Museum. It is painted in Packard's Golden Green with a tan vinyl interior. It is equipped with a radio and heater for passenger entertainment and comfort and twin backup lights for convenience. The 288 cubic-inch L-head eight-cylinder engine offers 130 horsepower and is mated to a three-speed manual transmission with overdrive. There are four-wheel hydraulic drum brakes and a wheelbase that measures 120-inches.

In 2012, the car was offered for sale at the St. Johns sale presented by RM Auctions. It was estimated to sell for $40,000 to $60,000. As bidding came to a close, the car had been sold for the sum of $51,700 inclusive of buyer's premium.
By Daniel Vaughan | Oct 2012
Packard was building wood-bodied station wagons prior to World War II, on both the six-cylinder 115 and eight-cylinder One-Twenty model lines. The new Clipper styling of 1941, however, was not compatible with timber construction.

When World War II came to a close, the production of the Clipper resumed, and wagons were no longer constructed. By 1949, Packard introduced its all-new 22 Series, which was a wider and lower adaptation of the sleek Clipper lines. Packard used this to build a hybrid wagon, which was a design that consisted of a steel substructure augmented by wood frames and panels on the doors and upper body.

Packard took four-door, six-passenger sedans off the production line, and the body supplier, Briggs Manufacturing Company, changed the roofline to incorporate a lift-gate and tailgate. Using ash and maple, Briggs converted the sedan into a full station wagon, with steel supports at the B-posts and D-posts.

This 1948 Eight Station Sedan is finished in its original color of Cavalier Maroon over a tan interior. The car was last restored in the mid-1990s while part of a large collection of classic cars. It was purchased by its current owner shortly thereafter.

Accessories from the factory include a driver's die and passenger's side spotlight, fog lights, an AM radio, and a heater with flow-through ventilation.
By Daniel Vaughan | Jan 2014
This 1948 Packard Station Sedan is finished in Cavalier Maroon and has been treated to an extensive cosmetic and mechanical restoration. The exterior birch framing was restored by a specialist in New Zealand while the car was there for a 1,200-kolometer tour of the South Island. The interior ash has been replaced and the chrome was also re-plated. The engine is an L-head eight-cylinder unit displacing 288 cubic-inches and offering 135 horsepower. There is a three-speed manual transmission with overdrive and an Electromatic clutch, along with four-wheel hydraulic drum brakes.
By Daniel Vaughan | Nov 2014
KIA MOTORS AMERICA ELECTRIFIES LAS VEGAS WITH MUSIC-DRIVEN SOULS AT SEMA
Inspired by the Eclectic World of Contemporary Music, Kia Partners with RIDES Magazine and Popular Mechanics to Open the Show in Amplified Fashion ◾Five 2014 Souls debut with live mobile performances, featuring a cutting-edge DJ station and a pro-sound-quality, plug-in-ready amplifier on wheels ◾NBC's The Voice and Vans Warped Tour are represented with their own themed Soul urban hatchbacks ◾A rolling music museum Soul pays homage to the art form with memorabilia spanning multiple genr...[Read more...]
1964 Nurburgring 1000 Kilometers: Survive for One Last Victory
During the late 1950s, Richie Ginther would begin a relationship with John von Neumann and this partnership would result in one of the most dominant periods of American sportscar racing in which Ginther and Porsche would be virtually unbeatable. Nearly a decade later, that same combination would again join forces to provide one more moment of glory. By the mid-1950s Porsche had developed its 550. This was a small car more than capable of dominating its class and consistently able to challenge...[Read more...]
RM Auctions Announces New Paris Sale To Take Place During Retromobile Week
• RM Auctions expands European presence with all-new sale in Paris during the Retromobile show week • Auction to be held within the beautiful surroundings of 'Les Invalides' in central Paris, 4-5 February, 2014 • Magnificent ex-works Gordini 24S already consigned in anticipation of another exceptional RM sale LONDON (20 June, 2013) – RM Auctions, the world's largest collector car auction house for investment-quality automobiles, is delighted to announce the addition of a new sale to...[Read more...]
Auctions America's 2013 Auburn Spring Event Offers Ultimate Collector Car Weekend
• Auctions America presents the first of two annual Auburn sales, May 9 – 11 at historic Auburn Auction Park in Auburn, Indiana • Multi-day sale lifts gavel on 600 quality collector cars and an assortment of memorabilia • Notable early highlights include selection of Hudsons from the respected John Soneff Collection • Weekend also features inaugural Antique Automobile Club of America Central Division National Spring Meet, and an extensive car corral and swap meet presented by Carlisle Events...[Read more...]
Auctions America By RM's 2012 Auburn Spring Auction
'Variety' is the buzzword for this year's Auctions America by RM June 1-3 Auburn Spring auction, which will offer a huge range of collector vehicles and an enormous private collection of automotive memorabilia. More than 600 American muscle cars, Classics, foreign sports cars and hot rods will cross the block at the historic Auburn Auction Park, the company's national headquarters in Auburn, Indiana. 'Last year was our first spring event at the park,' said Auctions America by RM's President ...[Read more...]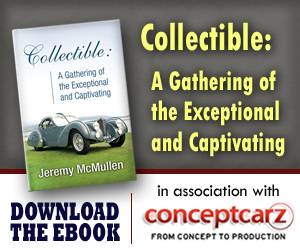 Similarly Priced Vehicles from 1948
Tucker 48 ($2,450-$2,450)
Buick Series 70 Roadmaster ($2,300-$3,430)
MG TC ($2,240-$2,240)
Cadillac Series 62 ($2,910-$3,440)
Chrysler Town and Country ($2,450-$3,415)
Oldsmobile Sixty Series ($1,600-$2,620)
DeSoto S-11C Suburban ($2,630-$2,630)
Singer 9AB ($2,200-$2,200)
Chrysler New Yorker ($2,065-$3,415)

Average Auction Sale: $38,309
© 1998-2014. All rights reserved. The material may not be published, broadcast, rewritten, or redistributed.