Image credits: © Cadillac. GM Corp.
1953 Cadillac Series 62 news, pictures, specifications, and information

Tweet
here
Final Countdown Underway To South Florida's Premier Collector Car Auction
• Auctions America kicks off its 2013 auction season, March 22-24 with its highly anticipated Fort Lauderdale Collector Car Auction • Celebrating its 11th year, the multi-day auction features more than 550 quality collector cars • Latest feature attractions include an outstanding 1963 Shelby Cobra and a 1974 Ferrari Dino 246 GTS • Digital catalog now available for download at auctionsamerica.com AUBURN, Indiana (February 27, 2013) – With the final countdown underway to its highly an...[Read more...]
Cadillac's 'Sixteen' Headlines The Amelia Concours d'Elegance Cadillac Concept Car Class
Cadillac's 2003 'Sixteen' will headline the 18th annual Amelia Concours d'Elegance's Cadillac Concept Car Class. A decade ago, the elegant excess of Cadillac's 'Sixteen' Concept Car set off alarms throughout the global auto industry as it rolled into the North American International Auto Show. Cadillac's 'Sixteen' Concept Car is a 1000 horsepower 13.6 liter V-16, 5000 pound, 19 foot long engineering and design statement taking conceptual cues from the legendary Cadillac V-16s of the 1...[Read more...]
Corvette Shines in the Big Apple
All-new Corvette Stingray comes to New York City 60 years to the day after Motorama debut 2013-01-16 Sixty years ago tomorrow, spectators lined New York City's posh Park Avenue, waiting to get a glimpse of the ground-breaking Chevrolet Corvette on display at the General Motors' Motorama show. On Thursday, the Corvette will be back in The Big Apple, marking the historic milestone with the all-new 2014 Chevrolet Corvette Stingray. The all-new Corvette Stingray debuted earlier...[Read more...]
CADILLAC CONCEPT CARS STAR at AMELIA CONCOURS d'ELEGANCE
There are limited production cars, there are rare cars and there are concept cars that never find their way to the showroom. A fleet of Cadillac's rare and mythic Motorama and Detroit Auto Show Concept Cars will take to the field at the 18th Annual Amelia Island Concours d'Elegance on Sunday March 10, 2013. Created under the supervision of GM's legendary styling chief, Harley Earl, the Cadillac Concept cars of the 'Fifties were created as the stars of GM's Motorama shows. All are blood anc...[Read more...]
GM Design: 85 Years of Making Art That Moves You
As GM Design celebrates its 85th birthday this month, the 1,900 men and women in GM's 10 global design centers are focused on the future, united in their vision to entice consumers to fall in love and see vehicles as they do: art that moves you. 'Our global team is united around its passion for designing vehicles that make an emotional connection with customers,' said Ed Welburn, GM vice president, Global Design. 'What was true 85 years ago is still true today: A designer's role is to create...[Read more...]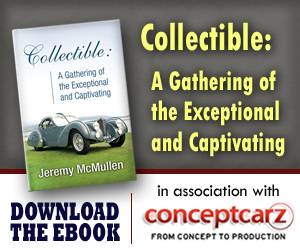 Similarly Priced Vehicles from 1953
Jaguar XK120 ($4,040-$4,255)
Hudson Italia ($4,800-$4,800)
Aston Martin DB2/4 ($6,000-$6,300)
Bristol 403 ($5,605-$5,605)
Packard Caribbean ($5,215-$5,215)
Cadillac Series 60 ($4,303-$4,303)
Oldsmobile Ninety-Eight ($2,550-$5,717)
Buick Series 70 Roadmaster ($3,350-$5,000)
Porsche 356 ($3,395-$4,580)

Average Auction Sale: $101,885
Cadillac
Monthly Sales Figures
Volume
September 2014
13,829
August 2014
16,650
July 2014
15,241
June 2014
13,941
May 2014
14,688
April 2014
13,900
March 2014
14,765
February 2014
13,437
January 2014
11,386
December 2013
18,165
November 2013
16,172
October 2013
14,792
(More Details)
© 1998-2014. All rights reserved. The material may not be published, broadcast, rewritten, or redistributed.