1954 Cadillac Series 62 news, pictures, specifications, and information

Tweet
In 1954 the Cadillac Eldorado special two-door Convertible Coupe with seating for five was offered for sale at a price of $5,738. Total production reach 2,150 ensuring this was a very exclusive automobile and re-assured everyone that Cadillac was the 'King of Luxury Cars.' It had styling that was bold, elegant, and appealing. A large amount of chrome made it instantly recognizable and the powerful V8 engine meant its luxury was backed by unsurpassed performance.

The name 'Eldorado' was in honor of the mythical City of Gold. When most cars of the era offering equipment as optional, the Eldorado offered it as standard. Included in the list were windows that could be opened or closed with the touch of a button. Power assisted steering and brakes meant this larger vehicle with a 115-inch wheelbase was easy to drive. The radio had a travel-tuner that would stop when a power transmitter was intercepted. The antenna could be raised by the touch of a button. The Autronic-Eye system would automatically dim the headlights when approaching motorists were detected. Kelsey-Hayes chrome wire wheels could be found on all four corners, with the rear quarter panels covered with bright aluminum trim. An optional Sport-Deck tire carrier, commonly known as a continental kit, was offered for those who wanted to travel.

This particular 1954 Cadillac Eldorado Convertible was offered for sale at the 2007 RM Auctions held at Meadow Brook. The estimated value was set at $60,000 - $80,000 and offered without reserve. There is a 331 cubic-inch overhead valve V8 engine capable of producing 210 horsepower. There is a hydramatic automatic gearbox and four-wheel power assisted drum brakes. It has an older restoration that has been well maintained and appears in good condition. It is finished in red and fitted with white leather interior in factory correct pattern.

At auction the estimated value proved to be accurate as the car was sold for $71,500 including buyers premium.
By Daniel Vaughan | Aug 2007
53 years ago, two young racers from Colorado challenged the well-funded factory teams in the Carrera Panamericana Road Race driving an independently sponsored 1954 Cadillac Series 62 Coupe.

By the time the dust settled, Keith Andrews and Blu Plemmons, from Colorado Springs, had driven the Caddy to a remarkable second-place finish, beating all of the factory teams over the final two stages of the race. They completed the 1,907-mile race in less than 21 hours, averaging more than 115 mph over the final 410 miles.

To celebrate the accomplishment, General Motors Performance Division has re-created the car with 'frame-on' restoration of a vintage car discovered in GM's vehicle inventory that matched the original racer's specs...even in color.

Updates were made to enhance vehicle and occupant safety, but the original design intent was maintained. 'Their performance in 1954 was consistent with Cadillac's DNA,' said Kevin Smith, Cadillac's Communications Manager.

The 1954 Cadillac Series 62 LaCarrera finished third in the 1954 La Carrera Panamerica Race. The team was only two minutes and fifty-five seconds behind first place. The 1,908 mile five-day Panamerican road race was across Mexico from Tuxtla to Ciudad Juarez.

Keith Andrews (Pilot) - Died May 15, 1957 in trial runs at Indianapolis Speedway. Keith ran at Indy in 1955 and 1956. Keith placed first in two out of eight legs in the five-day race. Keith also ran the Panam in 1953.

Blu Plemons Copilot - Lives in Denver and raced over 30 years short track using stock and modified cars. He still participates in racing with his grandchildren.

Wilson McCule (Mechanic) - Passed away in June of 2005. He was a mechanic at Raybestone Brake Service of Colorado Springs one of the original crew and helped to obtain the car and pull together the team.
For 1954 the Cadillac Series 62 was lower, had many changes to the front fascia including an inverted gullwing bumper and tapered bumper guards, and a slightly updated body design. Changes were made to the rear as well, including a redesigned bumper and dual exhaust outlets in keeping with the jet-inspired style of the era. A new, long-wheelbase version was now available and vehicles fitted with the feature were void of rear fender louvers. All Series 62 models had the Eldorado-style wraparound windshield.

The Series 62 was offered in a variety of 2- and 4-door bodystyles, including sedans, coupes, and convertibles. The Eldorado two-door sport coupe was the most expensive, costing $5,730. A total of 2,150 examples were produced in 1954.

The base two-door coupe cost $3840; a total of 40,940 examples of the two-door coupe (all versions excluding the Eldorado) were built in 1954. 34,253 examples of the four-door sedan (all versions) were created.
By Daniel Vaughan | Jun 2008
The introduction of the Cadillac Eldorado in 1953 proved to be a success - becoming one of the most publicized cars in American automobile history. The first Eldorado off the assembly line was given to President Dwight D. Eisenhower by General Motors and was used as his inaugural parade car.

The 1954 Cadillac Eldorado had a lower, sleeker body, a new cellular grille insert and a wraparound windshield. Like many expensive Cadillacs it came fully equipped including automatic windshield wipers, power steering and 12-volt electrical system. The Eldorado could be easily identified with its golden crest behind the air-slot fender breaks, the monogram plates on the doors and the custom interior trimmings with the Cadillac crest embossed on the seat bolsters.

In 1954 Cadillac marked its 40th consecutive year of V-8 availability - though the Eldorado's 230 horsepower, 331 cubic-inch V-8 engine was a far car from the 1914 70 horsepower Type 51 engine. Only 2,150 Cadillac Eldorados were produced in 1954 and cost nearly $6,000 from the factory.
The Eldorado model was part of the Cadillac line from 1953 to 2002. It was the longest running American personal luxury car as it was the only one sold after the 1999 model year. The 1953 Eldorado was a special-bodied, lower-production convertible derived from the 1952 ElDorado 'Golden Anniversary' concept car with bumper bullets (aka Dagmars) from the 1951 GM LeSabre show car. For 1954, the Eldorado had a lower, sleeker body, a new cellular grille insert and a wraparound windshield. It was powered by a 331 cubic-inch V8 engine offering 270 horsepower and rode on a 129 inch wheelbase chassis.

This car was previously owned by a famous Hollywood movie star and the current owner is CEO of the Word Network and WADLTV38 in Detroit.
The Harley Earl designed Cadillac Series 62 De Ville was a very large vehicle that featured a large, 6,390 cc (390 cubic inch) V-8 engine. The back had large fins that did little for performance and handling but was all about the style of the vehicle. The design of the vehicle was inspired by the space program and the era of jet engines. The large, 4400 lb car was fitted with drum brakes. These often wore out quickly. If a U-turn needed to be made, the driver would need a parking lot. The turning radius was 24 feet.

The car was a luxury vehicle that could carry six individuals comfortably. The car was a convertible with the top being raised and lowered automatically. The interior had electrical gauges. The head lights would turn on at dusk and were also capable of switching from high beam to low beam when they sensed oncoming traffic. In total, there were eight lights on the front of the vehicle. The four on the top were the driving lights while the lights mounted on the bumper were the parking lamps. To add to the driving comfort, air suspension was used. This aided in providing a very soft ride but there was significant body roll when cornering. With the V8, it was capable of creeping to sixty in 11 seconds. This reinforced the notion that this Cadillac was built for comfort and not for speed. The drivers enjoyed the ride and they looked good cruising along, enjoying the large open road.
By Daniel Vaughan | Aug 2010
For more information and related vehicles, click
here
Mille Miglia 2014: strong showing by Mercedes-Benz Classic pays homage to historic successes in thousand-mile race
•The Mille Miglia victories of 1931 and 1955 are highlights of 120 years of Mercedes-Benz motorsport history •Exclusive compressor-sports car models SS and SSLK and 300 SL racing and production sports cars dominate strong showing of Mercedes-Benz •The 'Mercedes-Benz Tribute to Mille Miglia' for the first time gives further classic cars access to the route. Stuttgart – A strong contingent of exclusive classics from Mercedes-Benz Classic will be lining up in May 2014 to drive the M...[Read more...]
Techno Classica 2014: more than 30 racing cars to celebrate 120 years of Mercedes-Benz motor racing history
•Cars that were the heroes of magical moments put their stamp on this high-powered, most comprehensive show presentation •With more than 30 vehicles, Mercedes-Benz Classic presents motor racing history in all its unique breadth and depth •120 years of Mercedes-Benz motor sport in the focus of the leading international classic motor show 120 years of Mercedes-Benz motor racing history have produced a timeline of extraordinary victories which since 1894 also stand for outstanding innovations ...[Read more...]
Jochen Mass: The Mass-ter Breakthrough
The city of Munich, Germany is one of the leading academic cities in the world hosting numerous, and famous, universities within its limits. It would be against this backdrop, in September of 1946, that Jochen Richard Mass would be born. Fittingly, he would become a true well-rounded and respected academic of the world of motor racing. But he needed that breakthrough that would define his career. While the city would have its darker moments in history, there would be very little do...[Read more...]
RARE CHRYSLER LA COMTESSE CONCEPT APPEARS AT AMELIA 2014
After decades in obscurity Chrysler's La Comtesse Concept Car will re-debut at the 19th annual Amelia Island Concours d'Elegance on March 9, 2014. The Fifties introduced new automotive chemical and paint technologies that helped summon a sea change in the way cars were purchased. It was a subtle component of Detroit's marketing equation, but color had risen near the top of the car buyer's priority list. The important fact was that women invariably chose the color of the new family car....[Read more...]
Auctions America 2012 Auburn Spring Auction Offers Full Range of Convertibles
Just in time for summer fun, Auctions America by RM will offer an array of open-air collector cars during its June 1-3 Auburn Spring auction,including a one-of-a-kind concept car that cost Ford Motor Co. more than a half-million dollars to produce. During the three-day event, more than 600 American muscle cars, Classics, foreign sports cars and hot rods will cross the block at the historic Auburn Auction Park, the company's national headquarters in Auburn, Indiana. 'It's that time of year wh...[Read more...]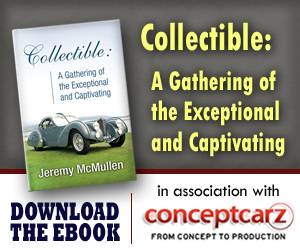 Similarly Priced Vehicles from 1954
Porsche 356 ($2,995-$4,580)
Jaguar XK-120 ($3,350-$4,000)
Lincoln Capri ($3,705-$4,030)
Buick Skylark ($4,354-$4,354)
Arnolt Bolide ($3,990-$3,990)
Bristol 403 ($5,605-$5,605)
Chrysler New Yorker ($3,200-$4,365)
Hudson Italia ($4,805-$4,805)
Kurtis Kraft 500S ($4,985-$4,985)
Packard Patrician Series 5426 ($3,895-$7,255)
Moretti 750 Grand Sport ($4,200-$4,200)

Average Auction Sale: $42,297
Cadillac
Monthly Sales Figures
Volume
October 2014
13,615
September 2014
13,829
August 2014
16,650
July 2014
15,241
June 2014
13,941
May 2014
14,688
April 2014
13,900
March 2014
14,765
February 2014
13,437
January 2014
11,386
December 2013
18,165
November 2013
16,172
(More Details)
© 1998-2014. All rights reserved. The material may not be published, broadcast, rewritten, or redistributed.