1964 Mercury Comet news, pictures, specifications, and information

Tweet
| | | |
| --- | --- | --- |
| | | Caliente HardTop Coupe |
The early 1964 Comets were factory built and sent out for modifications. Competition was fierce as the other manufactures were involved as well. Big engines and weight saving seemed to be the key. Racers also discovered that moving the weight further back in the car had its advantages as well.

Dealerships around the country realized that by sponsoring Drag Racing, they got great visibility. Henderson Lincoln Mercury (Springfield, Pennsylvania) like a lot of other dealers, got the message loud and clear. Ford and Mercury had a prestigious group of drivers in their stable in the early 1960's. Among them were Don Nicholson, Ed Schartman, Jack Chrisman, and the team of Kenz and Leslie. But, it was these early cars that put Mercury on the map.

Drag Racing historians will remember the picture of a Supercharged Comet driven by Jack Chrisman. While other drivers were fooling around wîth injectors, Jack stuffed a supercharger on his SOHC and went match racing. These early Comets are some of the most significant cars in the early years of A/FX racing.


This example is one of only 10 Original Factory Comets.
Source - Vehicle Owner
The Mercury Comet was introduced in 1960 as a sister to the Ford Falcon. At the time, Mercury appeared to be searching for its identity, which began with the 1957 Mercury's and their space-age styling. This was followed by the practicality of the Comet, which was at odds with a brand that was in the medium-priced field. By 1961, the Mercury's - including the full-size models - were simply badge-engineered Fords. Things began to change starting in 1962, when Mercury appeared to get its mojo back. The Comet was given a face-lift and offered in a dash of sportiness. The new S-22 model offered even more with its bucket seat interior. Mercury cars began taking notice in the NASCAR circuit, and the 1964 A/FX Comet was doing damage in the NHRA competition. With the introduction of the 289 Hi-Po engine, Mercury had a proper muscle car in the Comet Cyclone.

Six 1964 Comet Calientes were prepared for the East African Safari Rally and each received the 289 Hi-Po motor and heavy-duty modifications to cope with the harsh terrain of the continent. These modifications included a reinforced frame and six-point roll cage plus full-size Mercury front rotors, calipers, and rear drums.

This example was built by a collaboration of a few enthusiasts. It has a correct date-coded '5 bolt' 289 Hi-Po motor connected to a Ford 'Top Loader' four-speed. In the back there is a nine-inch 31-spine axle with limited slip differential. Body panels have been 'seam-welded' and lightweight bumpers also have been installed. This fully street-legal Comet has participated in the Tarmac Rally and hillclimb.

In 2011, this vehicle was offered for sale at the Quail Lodge auction presented by Bonhams. It was sold for the sum of $45,045 inclusive of buyer's premium.
By Daniel Vaughan | Nov 2011
The first series Mercury Comets were essentially re-badged Ford Falcons, the sedans stretched by some 5 inches. The name Comet was purchased by Ford from a 'professional car' manufacturer who recreated mostly Oldsmobiles. The Caliente stood for a trim level, neither Custom nor base.

This car is a recreation of one of the six factory-built African Safari Rally cars entered in the 1964 event, but re-configured as a tarmac car which holds an FIA 'Historical Technical Passport' and thus endorses the accuracy of the build to Appendix K specification. The motor is a '5-bolt' 289 Hi-Po V8 with a 'Top Loader' 4-speed.
From 1960 through 1967 Mercury, a division of the Ford Motor Company, produced the Comet. In 1970 there was no Comet but production resumed a year later and continued until 1977. The Comet was initially built atop a Ford Falcon frame that was stretched and became Mercury's intermediate/compact entry vehicle. With a 114 inch wheelbase many thought it would be considered an intermediate, but Mercury classified it as a compact. In comparison to the Ford Falcon, the Mercury had more lavish and upgraded interior trim details.

The Comet was intended to wear Edsel badging but when the brand was eliminated before the 1960 model year, Ford sold the Comet as a separate model through their Lincoln-Mercury dealers. The Comet continued to be its own model in 1961, the same year the S-22 model was introduced. The S-22 were two-door Comets with Moroccan vinyl bucket seats, stainless spoked steering wheel, and a center console. The carpet was upgraded, the wheel covers were stainless steel, and the rear quarter panels were given unique emblems. There were over 14,400 versions of the S-22 produced.

In 1962 the Comet officially became apart of the Mercury line. There was little aesthetic changes in 1962 but as the years progressed, there were more ornamentation and trim adorned on the exterior.

A convertible option was offered on the Comet in 1963, with 13,111 owners opting for the option. The Comet Cyclone with its V8 engine was also offered in 1963. The 260 cubic-inch engine and four-speed floor shift transmission gave the Comet the power many buyers were hoping for.

The 1964 Comets grew in size and became more square. Mercury introduced three new packages but with the same bodystyle and drivetrains. The packages were the Comet Caliente, Comet 202, and Comet 404. The Cyclone continued to be the sportiest of the package offerings. The Caliente was also a sports car option. The 202 version was an economical version while the 404 filled the gap between the offerings.

The headlights became stacked and new finned taillights were added in 1965. A 289 cubic-inch V8 became available offering 225 horsepower. There were a few vehicles that came from the factory with a 289 V8 and over 270 horsepower, thought this was technically not an option offered.

In 1966 the Comet was all new. It now shared a body and chassis with the Ford Fairlane making it a true intermediate with its 116 inch wheelbase. A GT option was offered for an additional $452 which included a 390 cubic-inch V8 with a four-barrel carburetor, dual exhausts, fiberglass hood with non-functional scoops and was capable of producing 335 horsepower. Power was sent to the rear wheels courtesy of a four-speed manual or automatic transmission. The front brakes were discs and a special handling package was offered to help with the extra power. The GT's were distinguished by their extra striping and badging.

For 1967 sales began to drop considerably partly to due with the introduction of the Mercury Cougar. The name of the Comet was only used on the 202. This trend continued in 1968 and 1969 where the Comet name was used on the low-line models.

There was no 1970 Comet but a year later the Comet re-appeared. It was available only as a coupe or a sedan.
By Daniel Vaughan | Jun 2006
In the beginning, the Comet was designed as an Edsel model and not officially a Mercury until 1962. The Comet was based on a stretched Ford Falcon from 1960 to 1964.
Produced by the Mercury division of the Ford Motor Company between 1960 and 1977, the Comet was classified as a compact or intermediate sized car.
With a longer wheelbase and a better grade interior trim detail, the Comet was a much more updated version of the Falcon. The Comet had very distinct outer body panels.
During the mid-1960's, Comets were available with Ford's highest performance muscle car engines of the day. About 50 models were produced, Comet Cyclones that were ultra-high performance lightweight vehicles that were equipped with a racing two carburetor 427 engine.
Developed at the same time as the Falcon, the Comet received a new grille design before its March 1960 introduction.
In design, the Comet was much like the Ford Falcon, except the Falcon came with a split grille.
After the release of the vehicle, the split grille was reformed into a model more in character with the Edsel models. Though the canted elliptical taillights, were used and carried the 'E' (Edsel) part number on them though the lenses differed in length and width.
The Comet was eclipsed by the new Mercury Montego before being relegated to low-line models.
By Jessica Donaldson
For more information and related vehicles, click
here
GAINES AND BECKMAN PACE MOPARS IN FINAL QUALIFYING AT LAS VEGAS
◾Mixed qualifying results for Mopar at 13th annual NHRA Toyota Nationals, the second to last event of the season ◾Mopar's Gaines and points leader Coughlin are second and third behind No.1 Pro Stock qualifier Edwards ◾Reigning champ Johnson still focused on winning after frustrating results in final two sessions put him sixth in qualifying ◾Beckman is top DSR Mopar with third place qualifying effort in Funny Car qualifying; Hagan is fourth October 26, 2013 , Las Vegas - Final qualif...[Read more...]
LAND ROVER ANNOUNCES 2014 U.S. MODEL LINEUP
(MAHWAH, N.J.) - September 12, 2013 - The 2014 model year continues the most dynamic product development and introduction period in the brand's history. An all-new Range Rover Sport is introduced, based on the all-new aluminum-intensive Range Rover that debuted for 2013. The Range Rover itself sees a significant increase in fuel efficiency for 2014 with the introduction of a new supercharged 3-liter V6 engine, for up to EPA-estimated 23 mpg in highway driving1, replacing the naturally asp...[Read more...]
MOPAR DOUBLES UP ON WINS AT ROUTE 66 NHRA NATIONALS WITH HAGAN AND COUGHLIN
◾Mopar doubles up by earning both Funny Car and Pro Stock title wins at 16th annual Route 66 NHRA Nationals ◾Hagan posts third title win in his sixth final round appearance of the year to extend his lead in Funny Car Championship standings with six races left in regular season. ◾Coughlin earns his fifth career Pro Stock win at Route 66 Raceway and his second of the season ◾Just two points separate Coughlin and Johnson in second and third spot in the Pro Stock standings as they chase down the ...[Read more...]
MOPAR ENHANCES SUPPORT OF NHRA SPORTSMAN RACING IN 2013
-Mopar launches 'Tom Hoover Sportsman Challenge' to support NHRA Sportsman Class racing -Winner receives $4,260 purse and will be presented with a commemorative Mopar trophy -Challenge and trophy named for Tom Hoover, 'Father of the 426 HEMI®', member of the famed Ramcharger race team and retired Chrysler engineer -Mopar continues NHRA contingency program with enhancements for 2013 season -Mopar to host Sportsman barbecues at Gatornationals, Mopar Mile High Nationals and U.S. Nationals in 20...[Read more...]
Collector Cars to be Offered in all Shapes and Sizes at Annual Classic Car Auction of Michigan
From pre-war toy trucks, to Evel Knievel's personal motorcycle, to a nine-ton 1950 Flxible Motor Coach, RM's 'Classic Car Auction of Michigan' event will offer a wide selection of rare collector vehicles at the Rock Financial Showplace, Novi, Michigan, April 25 & 26 The classic car hobby transcends generations of collectors who enjoy the thrill of the hunt for memorable cars and trucks of their younger days, many of which can be found at auction events such as RM's 'Classic Car Auction...[Read more...]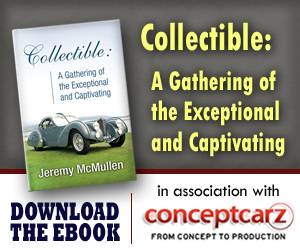 Similarly Priced Vehicles from 1964
Ford Mustang ($2,368-$2,612)
MG MGB ($2,660-$2,660)
Chevrolet Corvair Series ($2,020-$2,800)
Volkswagen Karmann-Ghia ($2,300-$2,500)
Triumph Spitfire MK1 ($2,200-$2,200)
Dodge Polara ($2,610-$2,980)
Studebaker Eight ($2,071-$2,960)

Average Auction Sale: $40,893
© 1998-2014. All rights reserved. The material may not be published, broadcast, rewritten, or redistributed.