1955 Mercury Monterey news, pictures, specifications, and information

Tweet
Mercury had a record-setting year in 1955 with a total of 329,000 Mercury vehicles sold. This was the same year they split from Lincoln. Mercury offered three series in 1955, the Custom, Monterey, and Montclair. These series came in a wide variety of body styles which included sedans, convertibles, and even station wagons. Further customization was available such as engine options, air-conditioning, power equipment, and more.

This 1955 Mercury Monterey Woody Station Wagon was offered for sale at the 2006 Gooding & Company Auction held in Pebble Beach, Ca. It was estimated to sell for $60,000-$80,000 and was offered without reserve. It is powered by an eight-cylinder engine that displaces 292 cubic-inches and produces just under 190 horsepower. It has a three-speed 'Merco-Matic' automatic gearbox and came is equipped with many factory options.

The Monterey Station Wagon was Mercury's most expensive vehicle in 1955 costing the buyer $2845. Included in the price were power steering, brakes and seats. A radio also accompanied the vehicle.

The car has recently been treated to a complete restoration which took over three years. The vehicle is finished in turquoise with wood trim. The interior has three seats which makes it one of the rare vehicles to be equipped with the rear seat.

At auction, the true beauty of its restoration and history was rewarded by the sale of the vehicle being driven well above the estimated value. When bidding concluded, the car ad been sold for $115,500.
By Daniel Vaughan | Feb 2007
An automobile marque of the Ford Motor Company, Mercury was founded in 1939 with the purpose to market entry-level-luxury vehicles that were slotted in between Ford-branded regular models and Lincoln-branded luxury vehicles. All Mercury models are today based on Ford platforms. The Mercury name is derived from 'messenger of the gods' of Roman mythology. In the beginning years, Mercury was known for performance.

The 1950 full-size near-luxury car Mercury Monterey represented a choice that the Ford Motor Company had to make. At the time General Motors and the Chrysler Corporation were producing a plethora of 'hardtop convertibles' and Ford realized that it couldn't convert its year-old bodies into hardtop models at a reasonable cost. Determined not to stand idly by as GM and Chrysler attempted to dominate the car market with its attractive new pillarless coupes.

Ford decided that the only solution was to customize existing two-door bodies into a new line of specialty models. These included the Ford Crestliner, Lincoln Capri and Lido, and the Mercury Monterey.

All of these vehicles were developed from the same formula with grained top coverings that were harmonized with a very limited number of pain colors. Color-coordinated interiors also matched the external theme, while special trim and badging were used both inside and out.

Responsible for the Mercury Monterey's special touches, William Schmidt took over the design work. A choice of either canvas or vinyl roof coverings were offered on the all new custom coupe, along with either fabric-and-leather or all-leather seats. A deluxe steering wheel was showcased, and bright trim edged the windows on the inside.

The base price of a 1950 Mercury Monterey was $2,146. Mercury's flagship sedan from 1950 through 1974, the classic 'Monterey' was considered to be '4,000 lbs. of Pure Decadence.' Still coveted even today, the sleek lines of those earlier models makes the Monterey a popular collectable classic.

Featuring the same chassis and running gear used on all other Mercurys, the Monterey featured a 118-inch wheelbase that ran between coil-and-wishbone suspension up front and leaf springs under a live axle in the rear. Achieving 110 bhp, the Monterey received its power from an L-head V-8 that displaced 255.4 cubic inches.

In early 1951, Ford decided to replace the Crestliner with the first hardtop, regardless of the cost. For 1952 Mercury and Lincoln came out with all-new bodies that were designed to include hardtops.

The Monterey name continued on, but on a premium series of Mercury's in three body styles. The Monterey later shared the same body style with the slightly more upscale Marquis, the Montclair, and the Park Lane. After the 1968 model year, the Montclair and Park were eliminated from the lineup. The Marquis-Monterey body eventually shared the same body as the Ford Galaxie, the Ford Custom and the Ford LTD.


From 1961 through 1963, the Mercury Monterey was sold in Canada as the Mercury Meteor. Available in three trim lines, the Meteor was sold as the LeMoyne, the Montcalm and Rideau. After the United States Monterey was retired, Canadian Meteors were still marketed from 1964 until 1976. They were re-badged Marquis models following the deletion of the U.S. model Monterey in 1974.

The Monterey nameplate was resurrected in 2004 for a minivan, though it was essentially a re-badged Ford Freestar with more features and newly modified cosmetic features. The Monterey comes with a high level of equipments and several styling cues from Mercury. These minivans were made to fill the gab in Mercury's vehicle lineup following the discontinuation of the Mercury Villager. Offered in only one trim level, for 2006 Mercury Monterey was offered in the fully-loaded Luxury edition.

The Luxury edition was featured in front-wheel drive, and is powered by a 4.2 liter V6 engine that was matched with four-speed automatic transmission and anti-lock braking system. The inside of the Monterey featured amazing standard features such as cloth upholstery, dual-zone air conditioning, first and second row captain's chairs, power sliding doors, tilting steering wheel and much more.

The all new Monterey also came with a great safety warranty. Standard occupant-sensing front passenger airbag, heated power-adjustable side mirrors that featured built-in warning/turn signals, perimeter anti-theft system, and Safety Canopy curtain and side-impact air bags. Optional features were Traction Control and Advancetrac electronic stability control.
By Jessica Donaldson
For more information and related vehicles, click
here
CHRYSLER GROUP IN 2015, UNDER THE HOOD: MORE POWER, GREATER EFFICIENCY AND EXCEPTIONAL VALUE
◾Introducing the HEMI® Hellcat – Chrysler Group's most powerful V-8 ever; 18th new engine added to Company lineup in less than five years ◾Celebrated TorqueFlite family grows by one with most robust eight-speed automatic in Chrysler Group history; 15th new transmission ◾TorqueFlite transmissions – projected to save current Chrysler Group customers more than 700 million gallons of gasoline – now available across entire Dodge full-size car lineup ◾Debut of new, high-efficiency, lightweight axle...[Read more...]
120 years of motor sport at Mercedes-Benz take centre stage at the Goodwood Festival of Speed 2014
'Addicted to Winning': at this year's Goodwood Festival of Speed, Mercedes-Benz looks back on some fascinating racing victories of the last 120 years •The unique motor sport heritage of the Mercedes-Benz brand is being celebrated with an exclusive installation by sculptor Gerry Judah •Mercedes-Benz and Gran Turismo®6 jointly celebrate '120 years of motor sport' Stuttgart. – The thrilling victories of the Mercedes-Benz Silver Arrows mark the peaks of the history of motor sport for...[Read more...]
Mercedes-Benz USA Announces Pricing for 2014 SLS AMG Black Series and C63 AMG Edition 507
MONTVALE, N.J. – Mercedes-Benz USA (MBUSA) today announced pricing for the 2014 SLS AMG Black Series coupe and the 2014 C63 AMG Edition 507 sedan and coupe. Both models are part of an exclusive lineup of high-performance AMG models available at all U.S. Mercedes-Benz dealers. The Manufacturer's Suggested Retail Pricing for the MY14 SLS AMG Black Series is $275,000 (plus $1,800 for destination and delivery). Pricing for the MY14 C63 AMG Edition 507 sedan will begin at $70,000 (plus $925 fo...[Read more...]
Goodwood Festival of Speed 2013: auction of Mercedes-Benz W 196 R one of highlights at world's 'largest motorised garden party'
• Mercedes-Benz Classic presents great moments in motor-racing history at Goodwood • Motorsport festival celebrating its 20th anniversary • Auction of only privately owned post-war Silver Arrow by Bonhams sure to cause a stir Stuttgart – This year's Goodwood Festival of Speed in West Sussex, England, includes the auction of a Mercedes-Benz Type W 196 R Grand Prix racing car on 12 July 2013. The auction will be one of the highlights of a weekend dedicated to motor sport. Mercedes-Benz...[Read more...]
BUICK TURNS 110: MOST SIGNIFICANT BUICK OF EACH DECADE
DETROIT – Remaining in business for 11 decades requires constant innovation, so choosing one model to represent a decade of significance can be a catalyst for debate. Among the hundreds of models designed and engineered for Buick, the 11 below stand out as the most significant for their respective decades since May 17, 1903. Let the debate begin. ◾1903-1912: The first Buick ever is quite significant, so Buick's first decade honor goes to the 1904 Model B. The first one of the line was so...[Read more...]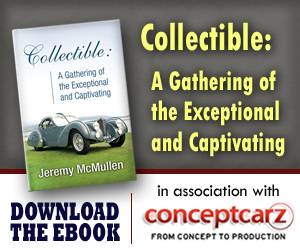 Similarly Priced Vehicles from 1955
Chevrolet Corvette C1 ($2,800-$3,000)
Chevrolet Bel Air ($1,666-$2,600)
Oldsmobile Super 88 ($2,435-$2,890)
Studebaker President ($2,275-$3,250)
Studebaker Starliner ($2,240-$2,500)
Dodge Royal Lancer ($2,635-$22,520)
Triumph TR2 ($2,455-$2,700)
Pontiac Star Chief Custom ($2,450-$2,960)

Average Auction Sale: $27,886
© 1998-2014. All rights reserved. The material may not be published, broadcast, rewritten, or redistributed.