1956 Cadillac Series 62 news, pictures, specifications, and information

Tweet
Proclaimed by Cadillac in 1956 as 'the most inspiring motor cars the world has ever seen', the increased 56 range of models included: the Sixty Special sedan, Sixty-Two coupe, Sixty-Tow Coupe de Ville, Sixty-Two Sedan de Ville Cadillac's first four-door hardtop and an instant sensation. Sixty-two sedan, Sixty-two convertible, Eldorado Biarritz convertible, Eldorado Seville coupe (new for 1956) and the Series Seventy-Five limousine.

The engine in the 1956 is Cadillac's famous overhead valve V8 with a high compression ratio of 9.7:1, 356 cubic-inch displacement, and producing 285 horsepower.

This Harley Earl designed Cadillac is painted its original color of 'Duchess Green.'
For 1956 the Cadillac Series 62 was restyled, with changes appearing throughout the vehicle. A new grille could now be found in the front, and repositioned bumper lights now resting in the bumper. The Eldorado series of the Model 62 line-up consisted of a two-door Hardtop Coupe Seville and a Coupe Biarritz. Both had two doors and seating for six. Their base price was well above the regular Series 62, costing a hefty $6,500. The base Series 62, in comparison, cost $4150. A total of 3,900 buyers selected the Eldorado Hardtop Coupe Seville and 2150 purchased the Eldorado Convertible Biarritz. The most popular bodystyle in the Series 62 lineup was the four-door Sedan DeVille which saw 41,732 examples produced.
By Daniel Vaughan | Jun 2008
This 1956 Cadillac Eldorado Seville 2-Door Hardtop Coupe is one of only 3,900 examples produced in 1956. These were very exclusive vehicles, as their $6,500 price tag made them over $2,000 more expensive than the base Series 62 model. As expected, the Series 62 Eldorado's were well appointed and fitted with nearly every standard feature available. Fitted with a 365 cubic-inch V8 engine, the Eldorado's had over 300 horsepower at their disposal.
By Daniel Vaughan | Jun 2008
The current owner of this car purchased it in 2004 from the wife of the first owner, who had left it parked in the garage after her husband passed away in the late 1980s. This brilliant example is a numbers-matching car with only 64,643 miles believed to be original. The current owner gave the car a thorough restoration from the top to bottom. The engine and its surrounding areas have been extensively detailed. The block and rocker covers are finished in Cadillac Gold while other components are black. The 305 bhp V-8 is fed by two four-barrel carburetors topped by a correct 'batwing' air cleaner. A three-speed Hydra-Matic transmission delivers the power and a new wiring harness has been carefully installed. The undercarriage has an as-new appearance with refinished floorboards, frame and driveline components.

There is a white convertible top and a metal 'parade boot.' The black and white leather upholstery has been restored to the original patterns and the other interior details include a refinished steering wheel and correct, precisely-fitted carpeting throughout the cabin. Authentic trunk fabric has also been installed with side panels to match. The chrome and stainless steel bright-work has been renovated to as-new condition. There are original anodized-gold 'Sabre Spoke' wheels and period-correct wide whitewall tires. There is precisely-fitted carpeting throughout the cabin. Authentic trunk fabric has also been installed with side panels to match.

Power accessories and luxury options included with this car are power steering, power brakes, power windows, top and seats, as well as a signal-seeking radio and climate control system.

In 2010, this Eldorado Biarritz Convertible was offered for sale at Gooding & Company Auction held in Amelia Island, Florida. The car was estimated to sell for $140,000 - $160,000. As bidding came to a close, bidding had reached $115,000 but was not enough to satisfy the car's reserve. It would leave unsold.
By Daniel Vaughan | Apr 2010
The Cadillac Eldorado came with a list of nearly 30 standard features, including electric window lifts, fog lamps, a six-way power front seat, power brakes, power steering and a multitude of comfort and convenience items. This example is equipped with a Wonderbar AM radio, an optional remote-control trunk release, a Continental spare tire kit, wide whitewall tires and a very rare set of gold-finished 'Sabre-Spoke' wheels.

This car has been given a restoration and covered about 1,000 miles since that time.

In 2010, this Cadillac Eldorado Biarritz Convertible was offered for sale at RM Auctions 'Automobiles of Amelia Island' sale in Amelia Island, Florida. The car was estimated to sell for $115,000-$145,000. As bidding came to a close, the car has been sold for the sum of $88,000, inclusive of buyer's premium.
By Daniel Vaughan | Apr 2010
This Cadillac Series 62 Convertible Coupe was originally sold to a couple in Detroit, MI at a cost of $5,550. It still has the original build sheet, owners manual and accessory booklet.

1956 was a banner year for Cadillac with over 150,000 units sold, including 8,300 Series 62 convertibles. The Series 62 was powered by a 365 cubic-inch V8 engine offering 285 horsepower and coupled to a new four-speed Hydramatic transmission. It had a 129 inc wheelbase and weighed 4,665 pounds.
By Daniel Vaughan | Aug 2010
The Eldorado was the flagship of the Cadillac division. It was luxurious, sporty, personal and elegant. The 1956 model year was the first time Eldorado buyers could opt for a hardtop or a convertible. This proved to be quite popular, giving Cadillac its highest Eldorado production thru the 1950s and 1960s.

A key element giving the Eldorado its sporting style was special quarter panels with open wheel wells that had aluminum wheels that were standard with the Eldorado along with a more pronounced fin and unique tail lights. The hardtop model had a vinyl top that was new and uncommon in 1956. Powering the Eldorado was a new 365 cubic-inch, 305 horsepower engine, with two four-barrel carburetors. A new hydro-matic transmission provided smooth shifting. Many optional equipment features were included in the Eldorado and the base price was $6,556. Air conditioning was optional and put the price tag over $7,000.

This example ahs been newly restored by the owner. The color of the car is Chantilly Maroon.
From its introduction in 1953, the Eldorado model was a convertible. For 1956, a coupe was added. The convertible was marketed as the Eldorado Biarritz and the coupe as the Eldorado Seville.

The Eldorado's rear bodywork was unique, featuring sharper fins than the other Cadillac series and bullet-style taillights housed in jet-like fender protrusions. The Eldorado engine was a cut above other Cadillac engines: its 365 cubic-inch V-8 was equipped with twin four-barrel carburetors and produced 305 horsepower, 20 horsepower more than 'conventional' Cadillacs.

Introduction of the Cadillac Eldorado Seville coupe proved to be a marketing success for Cadillac, outselling the convertible by a two-to-one margin.
The Harley Earl designed Cadillac Series 62 De Ville was a very large vehicle that featured a large, 6,390 cc (390 cubic inch) V-8 engine. The back had large fins that did little for performance and handling but was all about the style of the vehicle. The design of the vehicle was inspired by the space program and the era of jet engines. The large, 4400 lb car was fitted with drum brakes. These often wore out quickly. If a U-turn needed to be made, the driver would need a parking lot. The turning radius was 24 feet.

The car was a luxury vehicle that could carry six individuals comfortably. The car was a convertible with the top being raised and lowered automatically. The interior had electrical gauges. The head lights would turn on at dusk and were also capable of switching from high beam to low beam when they sensed oncoming traffic. In total, there were eight lights on the front of the vehicle. The four on the top were the driving lights while the lights mounted on the bumper were the parking lamps. To add to the driving comfort, air suspension was used. This aided in providing a very soft ride but there was significant body roll when cornering. With the V8, it was capable of creeping to sixty in 11 seconds. This reinforced the notion that this Cadillac was built for comfort and not for speed. The drivers enjoyed the ride and they looked good cruising along, enjoying the large open road.
By Daniel Vaughan | Aug 2010
For more information and related vehicles, click
here
BMW X4 SPORTS ACTIVITY COUPE AND M4 CONVERTIBLE MAKE WORLD DEBUT AT 2014 NEW YORK INTERNATIONAL AUTO SHOW
◾New BMW 4 Series Gran Coupe and BMW ALPINA B6 xDrive Gran Coupe to make North American debuts ◾Updated BMW X3 Sports Activity Vehicle also makes North American debut including first BMW Advanced Diesel X3 model for the US ◾BMW Concept X5 eDrive showcases new dimension of BMW EfficientDynamics technology Woodcliff Lake, NJ – April 3, 2014 6:00pm EDT/3:00pm PDT. . . The all-new BMW X4 Sports Activity Coupe as well as the BMW M4 Convertible make their world debuts at the 2014 New Yor...[Read more...]
CRAFTSMANSHIP DEFINES ALL-NEW 2015 CADILLAC ESCALADE
◾Precisely crafted interior with more technology ◾Emotional design evolution complemented by quieter cabin, smoother performance and more efficient powertrain ◾Higher levels of luxury, with sophisticated new technology for safety and connectivity DETROIT – From its introduction in 1999, the Cadillac Escalade quickly became the standard among luxury SUVs with a formula of bold design, powerful capability and luxurious accommodations. The all-new 2015 Escalade takes design and technic...[Read more...]
Maserati Trofeo Mc World Series Returns To Sonoma After Successful Debut Of Ghibli Sedan Over Pebble Beach Weekend
Englewood Cliffs, NJ, August 21, 2013- Maserati is proud to announce that the Maserati GranTurismo MC Trofeo World Series will make its North American stop for a second year at Sonoma Raceway the weekend of August 21st. Last year, famed actor and accomplished race driver Patrick Dempsey and top stuntman, and Hot Wheels X Games Double Loop World Record holder, Greg Tracy competed in the GranTurismo MC Trofeo to the delight of thousands of fans in attendance. Thanks to the success of last y...[Read more...]
SUBARU ANNOUNCES PRICING FOR 2014 WRX AND WRX STI
Cherry Hill, N.J. - Subaru of America, Inc. today announced pricing for the 2014 WRX® and WRX STI®. Subaru's iconic line of sport models have seen their sales increase by nearly 40-percent year-to-date and have a starting MSRP of $25,995. The 2014 Subaru WRX delivers the biggest performance value in its competitive set. The WRX offers more power than rivals like the Ford Focus ST and Volkswagen GTI, neither of which offers all-wheel drive. In the WRX, a 2.5-liter turbocharged/intercooled fo...[Read more...]
Automotive Hall of Fame Inductees Named
Awards to be Presented in Conjunction with the Concours d'Elegance of America The Automotive Hall of Fame will present its annual induction and awards ceremony on Thursday, July 26, 2012 as one of the week-long Concours d'Elegance of America events. It will be held at The Inn at St. John's in Plymouth, Michigan. Both the Concours d'Elegance of America and the Automotive Hall of Fame celebrate the heritage and history of Detroit. The show highlights the evolution of the automobile's...[Read more...]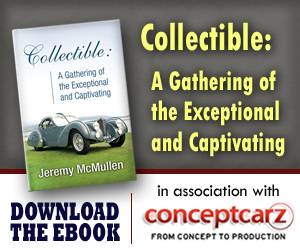 Similarly Priced Vehicles from 1956
Mercedes-Benz 190 SL ($4,000-$4,300)
Chrysler Imperial ($4,830-$5,223)
Porsche 356A ($3,210-$5,900)
Alfa Romeo 1900 ($6,100-$6,100)
Chrysler New Yorker ($3,770-$4,415)
Packard Caribbean ($5,500-$6,000)
Lincoln Premiere ($4,600-$4,745)
Jaguar XK-140 ($3,645-$4,300)

Average Auction Sale: $55,381
Cadillac
Monthly Sales Figures
Volume
December 2014
16,150
November 2014
13,148
October 2014
13,615
September 2014
13,829
August 2014
16,650
July 2014
15,241
June 2014
13,941
May 2014
14,688
April 2014
13,900
March 2014
14,765
February 2014
13,437
January 2014
11,386
(More Details)
© 1998-2014. All rights reserved. The material may not be published, broadcast, rewritten, or redistributed.