Image credits: © Bricklin.
1975 Bricklin SV1 news, pictures, specifications, and information

Tweet
Before the age of 25, Malcolm Bricklin had made his first million in franchising his Florida based plumbing and hardware supply stores.
He later became the Subaru importer for North America, his first automotive related endeavor. He later - created his own automotive company, and produced a revolutionary sports car named the SV1.

The SV1 was not only a sports car, it was a safety car; thus named the Safety Vehicle 1 (SV-1). With it's built in roll cage, shock absorbing 5-mph bumpers, and side guard rails, it greatly exceeded the safety requirements of its day.

It featured Gullwing doors, fiberglass body, tubular frame, and an AMC engine. 780 vehicles were produced with the AMC V8. The 360 cubic-inch engine was capable of producing 220 horsepower. AMC was unable to meet the demand for the engine so Bricklin began using a Ford power-plant. The Ford V8 engine produced 175 horsepower.

The SV-1 was plagued with build-problems. Most of the parts came from Detroit while the assemble transpired in Saint John, New Brunswick, Canada. The electro-hydraulic door system, made famous 20 years earlier by the Mercedes-Benz 300 SL, were not reliable. The weather-stripping leaked.

The goal was to build an inexpensive sports/safety car. When the vehicle was finally ready for sale, the price had skipped from an initial $4000 to $7490. In 1975 it increased again to $9980. There were many reasons for this spike. Since the vehicle was plagued with poor quality and high scrap count body panels, production was lower than expected. There were problems with the suppliers of the drive-train, suspension, and other components. Bricklin requested financial support from the New Brunswick government, but due to the lack of production, they were unwilling to help. So the cost of the car continued to rise.

In the end, the high cost to build, rising fuel prices, and low production drove Bricklin into a debt of $23 million.

During its production life span with ended in 1976, 2854 examples were produced, far from its goal of 50,000 units. Just like the DeLorean, a vehicle that had similar styling and features and was produced a few years after the Bricklin, it was a popular and revolutionary vehicle. Unfortunately, neither was able to be produced in large enough quantities to be profitable.
By Daniel Vaughan | May 2007
| | |
| --- | --- |
| | Coupe |
Malcolm Bricklin had a long career in the automotive world. Starting with the Handyman Hardware chain in Florida, he started importing Lambretta and Rabbit motor scooters, which led to an early Subaru distributorship. When the Subaru's safety was challenged, he was inspired to produce his own safety vehicle, which resulted in this gull-winged sports vehicle. The New Brunswick Provincial government provided loans and the cars were assembled in St. John. Manufacturing problems and quality problems with the finish of the fiberglass bodies and the vacuum system to operate the gull-wing doors resulted in large losses. Reportedly the first 800 cars cost $16,000 each to build, but were wholesaled to the dealers for $5,400 each. Production ended in 1975 and the company liquidated. The 1975 models switched to a 360 cubic-inch AMC engine in place of the Ford engine. Malcolm Bricklin went on to become the importer of the Yugo vehicle after this failure.
John Barnard's Finest: Some of the Greatest of Barnard's Design
The latter-part of Barnard's Formula One career would be filled with disappointments and disputes. However, there was no disputing the genius of the man from London. In fact, a couple of innovations that are mainstays in Formula One design were first introduced by this man who had been involved in motor racing in some form or manner since the 1960s. John Barnard would be born in London on the 4th of May in 1946. The war was over and a whole new world loomed on the horizon. It was t...[Read more...]
KIA MOTORS AMERICA ELECTRIFIES LAS VEGAS WITH MUSIC-DRIVEN SOULS AT SEMA
Inspired by the Eclectic World of Contemporary Music, Kia Partners with RIDES Magazine and Popular Mechanics to Open the Show in Amplified Fashion ◾Five 2014 Souls debut with live mobile performances, featuring a cutting-edge DJ station and a pro-sound-quality, plug-in-ready amplifier on wheels ◾NBC's The Voice and Vans Warped Tour are represented with their own themed Soul urban hatchbacks ◾A rolling music museum Soul pays homage to the art form with memorabilia spanning multiple genr...[Read more...]
1964 Nurburgring 1000 Kilometers: Survive for One Last Victory
During the late 1950s, Richie Ginther would begin a relationship with John von Neumann and this partnership would result in one of the most dominant periods of American sportscar racing in which Ginther and Porsche would be virtually unbeatable. Nearly a decade later, that same combination would again join forces to provide one more moment of glory. By the mid-1950s Porsche had developed its 550. This was a small car more than capable of dominating its class and consistently able to challenge...[Read more...]
Corvette Shines in the Big Apple
All-new Corvette Stingray comes to New York City 60 years to the day after Motorama debut 2013-01-16 Sixty years ago tomorrow, spectators lined New York City's posh Park Avenue, waiting to get a glimpse of the ground-breaking Chevrolet Corvette on display at the General Motors' Motorama show. On Thursday, the Corvette will be back in The Big Apple, marking the historic milestone with the all-new 2014 Chevrolet Corvette Stingray. The all-new Corvette Stingray debuted earlier...[Read more...]
1967 Can-Am Road America: The Beginning of the 'Bruce and Denny Show'
While Formula One will be forever considered the pinnacle of motorsport, from a period between 1966 and 1986 there existed a series that would likely be the closest to 'anything goes' as any motor racing series could truly get. Based upon the FIA Group 7 cars but allowed to showcase unlimited engine sizes and unfettered aerodynamics, the Can-Am cars would have to be considered the pinnacle of motorsport technology and power of their era. And for more than a couple of years there would be one tea...[Read more...]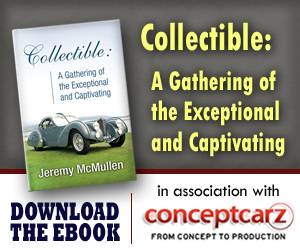 © 1998-2014. All rights reserved. The material may not be published, broadcast, rewritten, or redistributed.