1953 Aston Martin DB2/4 news, pictures, specifications, and information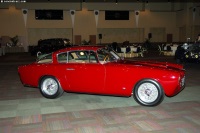 This example is very unique in having an Italian coachwork designed by Giovanni Savonuzzi and built by Allemano of Torino, Italy. The rolling chassis was ordered by a close friend of David Brown, Mr. J. O'Hana of Casablanca, and shipped the car to Allemano Serafino of Torino. With a new Berlinetta body and an engine wîth DB3 specifications, Mr. O'Hana enjoyed driving and racing the car in Casablanca. The car come to the ÚSA in the late 1970's to its new owner Alan Lampert. In the early 1990's Mr. Lampert spent nearly $150,000.00 on the restoration project, only to sell the car to Brian Hoyt before it was complete. Mr. Hoyt, who owns Perfect Reflection, a restoration shop in the San Francisco bay area, finished the restoration and brought the car to Pebble Beach in 1994. All the hard work paid off wîth this English car winning the 'Italian Coachwork Class' which was a milestone at Pebble Beach then. Without a doubt this is the finest Aston Martin DB2/4 wîth special coachwork available. Aston Martin Historian and Archivst, Roger Stowers said about this car ' This car must be the best example of foreign coachwork on any Aston Martin'.
Source - Blackhawk Collection


Roadster
Coachwork:
Bertone
Designer:
Franco Scaglione
Chassis Num:
LML/502
Engine Num: VB8 J/83
This unusual Aston Martin DB2/4 is one of several such chassis ordered by the American industrialist Stanley Harold 'Wacky' Arnolt to be bodied by Carrozzeria Bertone in Italy and sold as Arnolt Aston Martins. Franco Scaglione designed the flowing lines, and the result is distinctly Italian, particularly as seen in the smoother lines, although still very much Aston Martin. This car is the first of three special Bertone Spyders to be finished and was kept by Arnolt for many years.
The Aston Martin DB2 was debuted to the public at the New York Motor Show. This was not the vehicles first appearance. It had been race at the grueling 24 Hours of LeMans where one of the drivers, Pierre Marechal, had been involved in a fatal accident. The DB2 was designed by Frank Freeley and configured as a two-seater touring vehicle. It was Aston Martin's first real production vehicle. The name was derived from the initials of the company's founder, David Brown. The production designs were very similar to the vehicles raced at LeMans, offering LeMans performance and touring comfort. Power was supplied by a twin-cam, W.O. Bentley designed Lagonda six-cylinder engine capable of producing 115 horsepower. With the 'Vantage' option that became available in 1951, the output increased to 125 horsepower, thanks in part to SU HV6 carburetors and high compression pistons.
During the DB2's lifespan lasting from 1950 through 1953, 441 examples were produced.

In 1953 Aston Martin introduced the DB2/4 MK1. This version was available in 2+2 Saloon Coupe configuration or as a Drophead Coupe. The Saloon version had featured a hatchback rear window, an uncommon design at the time. There were only 73 Dropheads created guarantying their exclusivity in modern times.

The DB2/4 had been modified both mechanically and aesthetically from its predecessor. The front received updates that gave it a 'cleaner' design. The 2.6 Liter Vantage engine was placed under the hood and provided power for the rear wheels. Due to the extra weight of the DB2/4 MK1, a more powerful 3.0 liter engine capable of producing 140 horsepower was used in 1954.

During the DB2/4 MK1 lifespan lasting from 1953 through 1955, 565 examples were produced.

In 1955 Aston Martin introduced the successor to the MK1, the MK2. There was little to distinguish the MK2. It had the same mechanics as its predecessor and only minor exterior modifications. The main differences were a square rear wing and the addition of the notchback-hardtop that was added to the body-style configurations. There were only thirty of these created. Nearing the end of the MK2, the power was increased to 165 horsepower from the six-cylinder engine. It was capable of racing from zero to sixty in 11.1 seconds and capturing a top speed of 120 miles-per-hour.

During the DB2/4 MK2 lifespan lasting from 1955 through 1957, 199 examples were created.

In 1957 Aston Martin introduced the MK III. It was available as a coupe or convertible, both were two-door and capable of seating four individuals. This was the final installment of the DB2 family. It received several mechanical updates including Girling disc brakes, hydraulic clutch, automatic and overdrive transmission options. This marked the first time that Aston Martin offered disc brakes as standard equipment on a vehicle. Al-Fin drum brakes were used in the rear. Aesthetically, it was similar to its predecessors but had received modifications to the front, including the DB3S grille. The modifications were enough to make the MKIII the most beautiful of all the DB2 models.

Under the hood sat a six-cylinder engine producing 162 horsepower. The zero-to-sixty time was now rated at 9.3 seconds with the top speed at 120 miles-per-hour. In standard form with the optional dual exhausts, horsepower was raised to 178 horsepower. By adding Webers, high compression pistons and an oil cooler, the horsepower rating skyrocketed to an astonishing 220. These improvements were courtesy of the knowledge Aston Martin had ascertained on the racing track.

During the DB MK III lifespan lasting from 1957 through 1959, 551 examples were produced.
By Daniel Vaughan | Mar 2006
The first Aston Martin was built in 1913 by London Singer dealers Robert Bamford and Lionel Martin. It was comprised of a Coventry Simplex engine and an Isotta Fraschini chassis. They were later joined by Count Louis Zborowski, who provided finical backing and was an avid racer. Under the patronage of Augustus Bertelli, the legacy of Aston Martin continued to grow in motorsports throughout the years. Motorsports was expensive, and by 1925 the company had entered into receivership, a trend common to the company throughout its lifetime.

In 1926 the Aston Martin Motors Ltd. was incorporated with A.C. (Bert) Bertelli as one of the new directors. With the help of Bertelli, the company weathered the run years and the various financial backers. To many, Bertelli is the father of Aston Martin and some of the greatest pre-War era cars were created under his guidance. Their Ulster and 1.5-liter cars enjoyed much success including at the 24 Hours of LeMans.

A.C. Bertelli left Aston Martin in 1937, soon after the arrival of the new 2-liter car. This car was a shift in the way the company did business, as it was less sporty and marketed more towards civilized driving. In 1939 the company introduced a prototype designed by Claude Hill dubbed the Atom. It was comprised of a steel spaceframe chassis and given a four door sedan body. When gearbox manufacturer David Brown was given the opportunity to drive the Atom in 1947, he decided to buy the company.

The Atom was a slightly odd looking vehicle but possessed many modern features which would become the starting-point for many new models in the years to come. Aston Martins push-rod engines, however, were deemed inadequate by Mr. Brown. Rather than creating a new engine design he simply purchased Lagonda and the rights to produce the W.O. Bentley designed twin-cam six-cylinder engine. This engine would become the basis for Aston Martin engines in the years to come, and would give the company many podium finishes.

While negotiations were still in process with Lagonda, a small number of two-liter Aston Martins were created based on the Atom design. At the time, they were called 2-Liter Sports; in modern times they are commonly referred to as the DB1.

A six-cylinder Aston Martin racer made its racing debut at the first 24 Hours of LeMans in the post-War era. The production version was show in April of 1950 at the New York Auto Show. It was called the DB2 and powered by a 2.6-liter Lagonda six clothed in a two-door coupe body designed by Frank Freely. The design was well received by the public and it appeared as though financial stability would soon become part of the company's lineage. The small factory struggled to keep pace with the demand for the new coupe as more interest was created by the Works DB2s as they scored several important victories including first and second in class at LeMans in 1950.

The first fifty cars created had large grilles which were later removed. In 1951, the Vantage model was introduced which was an upgraded version of the DB2. The DB3 became the company's racing entrant while the DB2 was their road going model.

The two-seater DB2's first major update came in 1953 when it was given two rear seats and a name change to DB2/4. This, as was the DB2, was available in either fixed or drop head configuration. Several chassis were delivered to custom coachbuilders to be fitted with unique creations orchestrated by customers desires and demands. Among them were the 'Wacky' Arnolt commissioned Bertone Spiders which were very attractive and equally as popular.

Though meant for the road, the DB2/4 models were used by privateers in many various sporting events with much success. This inspired the Works to prepare three examples for the Rallye Monte Carlo in 1955. Their efforts were rewarded with a first in class and a Team Prize.

Another major revision occurred in 1956 with the introduction of the DB2/4 MKII featuring a three-liter version of the six-cylinder engine producing 140 horsepower. An even more powerful version was available, featuring a high-lift camshaft, larger valves, and 165 horsepower. Coachbuilders were still given the opportunity to create their versions of the car. The most memorable was a Touring created Spyder shown at the 1956 Earls Court show in London. Three additional orders were placed but never materialized. Nevertheless, this would be the start of a relationship between the British based Aston Martin Company and the Touring Coachbuilding firm, resulting in spectacular creations throughout the years.

The fourth and final update to the DB2/4 was the MKIII, also known as the DB MK III, introduced in 1957. The basic design of the prior DB cars was retained, as it had proven to be very popular and versatile. The most noticeable change was to the front which received a revised frontal region. The big changes occurred elsewhere, with the vehicles mechanical components, including the standard 162 horsepower engine and front disc brakes. Both of these changes greatly improved the vehicles performance and handling capabilities.

In 1958 the DB2 Series was replaced by the DB4 which were powered by a 3.7-liter version of the six-cylinder engine.
By Daniel Vaughan | Oct 2007
Recent Vehicle Additions