1966 Pontiac GTO news, pictures, specifications, and information

Tweet
The GTO become its own model in 1966, rather than an option package on the Pontiac Tempest. The result was almost 100,000 sales, the highest recorded for the GTO during a single year. The car's Coke-bottle styling, split mesh grille, and stacked headlights added up to a classic design with broad appeal. And the engine selections didn't hurt, with the top selection being the 389 Tri-Power (available with or without Ram Air for the first time), which was rated at a rattling 360 horsepower and shakin' 424 lb ft of torque.
The GTO really came into its own in 1966, and was designated as its own model after being an option package for its first two years. There was intense competition for domestic youth market share, especially within GM. The result would be some of the most creative marketing ever to come out of Detroit.

Pontiac knew that even though GM banned sanctioned racing, many young men were driving their GTOs to drag strips to see the wild altered-wheelbase Mopars and over-the-top Fords. The answer? The GeeTo Tiger campaign!

Using a pair of 'modified' Tiger Gold GTOs and a challenge to race the famed Tiger, fans packed the stands to see the pair of GTO's race at tracks nationwide. To say the campaign was a success is an understatement, and when final numbers were tallied, the GTO garnered record sales with nearly 96,946 sold, representing over 11 percent of Pontiac's total units for the model year.

This GTO was built with an eye on straight-line performance. Starting with the lighter post body, it is powered by its original, numbers-matching 389 Tri-Power V8 engine.

Purchased by the current owner in 1976, it was parked in the late 1980s for over 20 years. In 2011, the decision was made to return it to its former glory, and a full Concours restoration was performed by Magnum Auto Restorations of LaSalle, IL.
With a GM corporate ban on racing and a rule limiting engine size to 330 cubic-inches for their intermediates, John DeLorean and his team discovered a loophole. They quietly went about putting the 389 cubic-inch engine into the popular Tempest in 1964. It was certainly the right car at the right time, and others, including GM corporate brothers, scrambled to create their own intermediate sized cars with large displacement engines. Almost overnight an entirely new automotive genre was created.

In 1966, the GTO was restyled and became its own separate model line with hardtop, coupe and convertible body styles. 389 cubic-inch engine offerings ranged from the 335 horsepower 4-barrel to the 3x2 barrel (aka 'Tri-Power') XS code Ram Air III with 360 horsepower. The optional Ram Air III drivetrain featured a functional fresh air scoop, a revised performance came and a 4-speed manual transmission.

This starlight black Ram Air III GTO convertible is an example of one of the rarest and most desirable Pontiac convertible muscle cars. Featuring a long list of factory options including air conditioning, it is certainly one of the finest fully documented RA III convertible GTO's ever built. A full restoration to concours standards was recently completed by Level One Restorations in Arvada Colorado utilizing original and new old stock parts for the owner.
The GTO was the brainchild of Pontiac engineer Russell Gee, an engine specialist, chief engineer John De Lorean and Shane Wiser. DeLorean chose the name from the highly successful Ferrari 250 GTO ('GTO' is an Italian acronym for Gran Turismo Omologato). In early 1963, General Motors management banned divisions from involvement in auto racing. At the time, Pontiac's advertising and marketing approach was heavily based on performance and racing. Jim Wangers proposed a way to retain the performance image the division by focusing on street performance and offering a GTO as an option package (a loophole to GM policy). In 1966 GTO became a separate model versus an option package.

In May 1966 'Car Life' magazine drove the 389 cubic-inch V8 and reported performance at zero-to-sixty in 6.8 seconds, 0 to 100 in 19.2 seconds and a standing quarter mile of 15.4 seconds at 100 mph.
| | | |
| --- | --- | --- |
| | | Coupe |
Although this GTO is powered by a V-8, the big news for Pontiac in 1966 was the introduction of an overhead cam six. The GTO was considered a separate series and displayed distinctive trim on the new Tempest sheet metal.

In its front in incorporated rectangular parking lamps and the GTO nameplate is a new wire mesh grille. In the rear it featured horizontal, twin-slot tail-lamps and GTO lettering on the deck lid and rear fenders.

The other big news for GM's Pontiac division was a market share of more than 10 percent for the first time in its history. Much of this credit can be given to Pete Estes and John Z. Delorean who followed Estes as head of the Pontiac division.

This car is especially significant; it is all original, according to the owner.
This Pontiac GTO is a matching numbers example that has been restored to the factory build sheet. It has a 389 cubic-inch engine with the rare factory traveler reclining bucket seats with headrests. There is a M20 Muncie 4-speed transmission, a rebuilt factory Positraction rear end with Auburn components and Richmond 3.31 gears. There is power steering, factory air conditioning, upgraded power front disc brakes, Rallye gauges, factory Rally wheels with redline tires, and new factory center console.
By Daniel Vaughan | Dec 2014
The Pontiac GTO, in all respects a muscle car, debuted in 1964 and continued until 1974. John Zachary DeLorean, best known for the Delorean automobiles, was the individual who forced the development of the legendary GTO. The vehicle was very successful because it was able to capitalize on a segment of the market that had not been fully realized. Most of the muscle cars during this time were full-size cars. They had large engines, but due to the weight they were usually slow to accelerate. Pontiac offered a combination of 389 cubic-inch engines in their mid-size Tempest line and called it a GTO. The name GTO comes from Ferrari. It means Gran Turismo Omolgato.
The GTO package included the V8 engine, premium tires, special hydraulic lifters, dual exhaust, manual three and four-speed transmission with a Hurst shifter, heavy-duty clutch, improved suspension, a 3.23:1 rear axle ration, dual hood scoops, GTO emblems, and bucket seats. The 389 cubic-inch engine was rated at 325-348 horsepower depending on the configuration and modification of the engine. The 428 ft-lbs of torque was even more astonishing. Placing this mammoth engine in a mid-size sedan created a vehicle that was untouchable. It was available in both the coupe or convertible body styles. Pontiac sold nearly 32,500 GTO's during the first year.

For 1965, the Tempest GTO received cosmetic and mechanical updates. The engine was modified and was now producing between 335 and 360 horsepower with a torque rating at 431 ft-lbs. The headlights of the vehicle were modified; they were now in stacked configuration. The dual hood scoop was replaced with a single hood scoop. Over 75,000 examples were sold in the second year.

A dealer cold air induction kit for the Tri-Power cars helped stimulate sales and increased the horsepower of the vehicle. The induction kit made use of the hood scoop and brought about the Ram Air package.

For 1966, the GTO became its own model. There were styling changes mostly concentrating on the roof and the rear lights. The engines were unchanged, however, during the middle of the year the multi-carburetor setup was no longer offered. The GTO was still more popular than ever, selling 96,946 examples during 1966.

In 1967, a new 400 cubic-inch engine was introduced. The horsepower rating was between 255 and 360 horsepower depending on the configuration. The torque rating was between 397 and 438 ft-lbs. Minor styling changes occurred, mainly the grill and the rear of the vehicle. During the 1967 model year, nearly 82,000 GTO's were sold.

In 1968, the wheel base was expanded to 112 inches and now sat atop General Motors split wheelbase A-body. Major styling changes occurred. A rubber bumper, labeled the Endura, adorned the front of the car. Hidden headlights were optional equipment. The engine choices remained the same but the horsepower and torque was increased. The 440 was not producing between 265 and 360 horsepower while the torque ranged from 397 through 445 ft-lbs.

In 1969, the competition was becoming fierce. To compete, Pontiac offered a package on the GTO that included body paint, rear spoiler, decals, and a 366 horsepower, Ram Air III V8. A Ram IV V8 could also be purchased, increasing the horsepower rating to 370. Still a very successful year for Pontiac, there were more than 72,000 GTO's sold.

In 1970, the GTO once again received styling changes. There were now four exposed headlamps. The rear engine was

redesigned and the body received new creases. The base engine was dropped. A 455 cubic-inch engine was introduced. The 400 cubic-inch engine produced between 350 and 370 horsepower. The 455 cubic-inch V8 produced between 360 and 500 horsepower. Sales were still strong, but dropping. A little more than 40,000 GTO's were sold.

In 1971, sales continued to drop. Only about 10,000 were sold. GM announced that due to rising emission and safety regulations, compression ratings would have to be reduced and all engines would need to run on unleaded fuel. The horsepower ratings began to decrease. Due to a heavier chassis, introduced a few year prior, and lower horsepower ratings, the vehicle was losing its ability to be competitive. More bad news for the GTO; this was its last year as an independent model. The front end of the vehicle received minor styling updates.

In 1972, the Judge and convertible options were no longer offered. The horsepower ratings continued to go the same direction as the sales figures: down. A little over 5,800 vehicles were sold. The horsepower output was between 250 and 300. The 400 and 455 cubic inch engines were both offered.

In 1973, only 4806 GTO's were sold. The engine horsepower decreased as well, now 230 through 250. Its muscle car status was officially gone.

The 1974 production year was the last for the GTO. It was now an option on the Ventura model line-up. It came as a coupe or a hatchback. A 350 cubic-inch engine was the only one being offered. With a 200 horsepower rating, the car was dying a slow and very painful death. A little over 7000 vehicles were sold with the GTO option.

There were a few reasons for the GTO's decline. The muscle car era was coming to a close - or just being redefined and awaiting a revitalization. Government and safety regulations were becoming more strict. There were tough fuel regulations which severely limited the output of the engines but promoted better fuel economy. Insurance charges increased making these machines out-of-reach for many consumers. The cars became heavier, and heavier. The engine sizes decreased; The cost of ownership increased. The muscle car era was destroyed.
By Daniel Vaughan | Aug 2006
For more information and related vehicles, click
here
BREMBO TO CELEBRATE 10 YEARS IN THE MAKING OF CARBON CERAMIC BRAKES AT SEMA
• New Interactive Booth Display to Debut at 2013 SEMA Show
LAS VEGAS, Nov. 5, 2013 – Brembo will celebrate 10 years of producing carbon ceramic brakes at the 2013 SEMA Show in Las Vegas, NV on November 5-8, 2013. This year, Brembo's new booth show display will be interactive providing education on the carbon product line-up and the Brembo brand. A new video will also be shown in the booth going behind the scenes of the hit film's Fast and Furious 6 and RUSH, showing Brembo's in...[Read more...]
GRAN TURISMO DEMO TOPS ONE MILLION DOWNLOADS GLOBALLY IN TWO WEEKS
LONDON AND PARIS – The 2013 version of Nissan and PlayStation®'s innovative GT Academy gamer-to-racer competition is set to become the biggest and best yet. The online qualifying competition, played out on a specially designed demo version of the forthcoming Gran Turismo®6 game, has attracted almost 600,000 entrants from the 18 participating European countries (including Russia). With the GT Academy qualifying demo remaining open until the night of July 28, there is still plenty of tim...[Read more...]
Porsche Debuts Plug-In Panamera At Auto Shanghai
Today Porsche is celebrating the world premiere of the 2014 Panamera at Auto Shanghai, the Asian market's leading auto show. The centerpiece of the show for Porsche is the appearance of the new Panamera S E-Hybrid, the first plug-in hybrid offering from the German automaker. Also making their debut are two luxurious Executive versions for the Panamera S and Panamera 4S, which feature an extended wheelbase and a completely new 3.0-liter twin-turbo V6 engine. With this launch, the Panamera line-up...[Read more...]
Joe Bortz to Host Historic Dream Car Discussion Panel
Dream car collector and historian Joe Bortz has prepared a special treat for participants at the 40th Annual Pontiac-Oakland Club International Convention in St. Charles Illinois, this coming July 17-21. In addition to bringing his four historic Pontiac Dream Cars, he has also assembled a panel, conisisting of two noted designers, a retired engineer and two veteran authors to examine the topic of Pontiac's early concept vehicles. The panel discussion will be held on Friday, July 20th at 1...[Read more...]
GT Academy Program on a High at Nürburgring
As the number of European entries into the Nissan PlayStation GT Academy 2012 competition soared to well over 500,000 this weekend, two previous Academy graduates were demonstrating why the gamer-to-racer competition continues to grow in scale and reputation. Both Lucas Ordoñez, the first ever winner of the innovative competition back in 2008, and Briton Jann Mardenborough, 2011 winner, were in action behind the wheel of two very real Nissan GT-Rs at Germany's famous Nürburgring over the wee...[Read more...]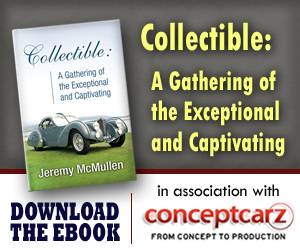 Similarly Priced Vehicles from 1966
Alfa Romeo Giulia ($2,930-$4,890)
Chevrolet Chevelle SS ($2,300-$3,000)
Pontiac Catalina ($2,760-$3,600)
Ford Fairlane ($2,238-$3,066)
Chevrolet Impala Series ($2,700-$3,200)
Dodge Coronet ($2,265-$2,925)

Average Auction Sale: $36,882
© 1998-2014. All rights reserved. The material may not be published, broadcast, rewritten, or redistributed.