Image credits: © Pontiac. GM Corp
1967 Pontiac Tempest GTO news, pictures, specifications, and information

Tweet
The 1967 model year featured only minor styling changes for the 1967 GTO, as compared to the 1966 model, mostly in the front grill and tail lights. However, a GM corporate wide mandate prohibited multi-carburetor engines, except for the Corvette, so the Tri-Power was no longer available. Good news arrived in the form of a 400 cubic inch motor, a bored out version of the 389. Dramatic new Rally II wheel appeared and a new 3-speed automatic transmission resulted in a major increase in sales of automatic transmission-equipped cars. The 1967 GTO is considered by many GTO enthusiasts to be the 'Best looking' and most desirable of all GTOs. Also, in 1967 the Monkees TV show featured a 1967 GTO, the famed 'Monkeemobile' which resulted in major exposure for the car. The car seen here is an original red on red, 4-speed GTO. It currently has a set of very rare and unique Crager mags that were only produced one year, in 1967, but a set of the original wheels do come with the car.
| | |
| --- | --- |
| | Hardtop Coupe |
The larger body Tempest was introduced in 1964. Ad man, Jim Wangers, came up with the idea of offering a package option consisting of a floor shift, 389 big V8, quick steering, stiffer suspension, dual exhaust, premium tires, GTO badge, chrome accents, and the GTO was launched. The engineers of the GTO were John DeLorean and Pete Estes. The GTO was the first midsize production car to use a big V8 motor; some say it was the 'godfather of the Muscle Car'. This GTO has a 360 hp, 400 cubic-inch engine, 4-speed, and factory headers.

The owner's brother purchased this car from its original owner with the intention of restoring it. His life was cut short and the current owner restored the GTO that they both loved, over a 25 year period.
| | | |
| --- | --- | --- |
| | | Hardtop Coupe |
This Fathom Blue (Pontiac only color) GTO, has push button AM radio, power antenna (rare option), Rally wheels, red line tires, Rally gauges, and heavy duty suspension. It is one of 3,300 400 cubic-inch, 360 horsepower output, 4-speed transmission, with California emissions. The current owners are the fourth owner of this car. It was awarded Best of Show at the July 2006 Richmond Hill Show, Best General Motors at October 2007 Hardeeville Show, Best Muscle Car at October 2007 Tybee Island show, Best of Show at the July 2005 JC Lewis Show.
In August of 1967, the current owner's brother placed a ten-dollar deposit at the dealership to hold this Pontiac GTO. The family still owns this car, including the original paperwork and manuals.

The 1967 Pontiac GTO featured new styling with full car-width trim along the center grille divider dipping midpoint, slightly revised body side accent moldings and new taillights. Standard features included front foam seat cushions, walnut grain dash inserts and redline or whitewall tires. According to the owner, a rare option is the matching interior and exterior Signet Gold color.

Standard heavy-duty shocks, springs and stabilizer bars and dual exhausts enhanced the 1967 Pontiac GTO. It is powered by a 335 horsepower, 400 cubic-inch Pontiac V-8 engine with a four-barrel carburetor-plus a four-speed Hurst transmission.
This car was finished on November 10, 1966 and was shipped new to Seifert Pontiac in Denver, Colorado. The car was finished in 'Special Paint' (Code #1) of Tiger Gold. It was a contest winning car for a marketing scheme to attract young male buyers. Jim Wangers, Pontiac's advertising man and marketer behind the GTO project, approached the Melville Shoe Company - makers of the Thom McAn brand - with an idea for a campaign that would help increase sales for both parties involved. Ads were printed proclaiming 'Thom McAn is giving away a $4,100 car just to get you to look at a $10.99 shoe.' A coupon was included in the ad, which could only be submitted in person at a Thorn McAn store. One car was to be awarded for each U.S. state, each finished in Tiger Gold. By the time the contest ended, however, the '66 model year was over and winners were instead given vouchers for the value of the '66 GTO to apply to a new '67 Pontiac.

The contest was a success, and Pontiac arranged for a second contest to give away about 22 GTOs for 1967.

This car was won by a lady from Colorado who found the car a little overwhelming, and therefore traded it in at Denver's Porter Pontiac for one more suited to her needs. Rito Vargas became the cars next owner, and would remain with him for many years. It was later stolen but recovered in 1979. After that, it was left, exposed to the elements with engine damage.

Bryan Stumbaugh discovered the car in 1992 in a salvage yard. He purchased the car and began a restoration throughout his college years, rebuilding the original WS-code 360 horsepower 400 cubic-inch H.O. motor, which needed a sleeved cylinder, crankshaft, two rods, windage tray and oil pan. He later discovered that this was a Thom McAn GTO. As a result, he decided to completely restore the car; the work was completed in 2005. Upon completion, it was featured on the cover of High Performance Pontiac in December 2007.

As per factory specifications, the car comes equipped with AM radio, door edge guards, Rally I wheels, custom sport steering wheel, electric clock, power front disc brakes, red inner fender, wood shift knob, Ride & Handling Package, front and rear mats, F70X14 redline tires, Safe-T-Track, four-speed transmission and, of course, the H.O. 400 V8 with a dealer-installed hood tachometer.

In 2010, this car was offered for sale at the 'Automobiles of Amelia Island' event presented by RM Auctions. The car was estimated to sell for $120,000 - $140,000. As bidding came to a close, the high bid of $80,000 was not enough to satisfy its reserve. It would leave the auction unsold.
By Daniel Vaughan | May 2010
This was the third year for the Pontiac GTO, which had become one of the most popular automobiles in America by the late 1960's. The GTO was based on Pontiac's LeMans series.

Power is supplied by a Pontiac 400 cubic-inch V-8 that develops 350 horsepower. Special GTO equipment included three-speed gearbox, sports-type springs and shock absorbers, Deluxe steering wheel and choice of bucket or notchback seats.

Ownership of the car from new has been documented by the current owner, who stays in contact with the car's original owner. The current owner has all documentation on this car, including the original window sticker and build sheet.
After a hugely successful 1966 for the GTO, Pontiac decided to avoid major changes for 1967. With mild styling upgrades, the biggest news would be under the hood. With four different 400 cubic-inch V8 engine options, the GTO could be built to suit the needs of nearly anyone.

With pressure from the conservative General Motors management team and strict orders to avoid anything that 'promoted aggressive driving,' the Tiger would be a bit less visible and the GTO would become The Great One. More creative marketing would assure that the GTO would maintain its status as the best-selling muscle car of the year.

This Regimental Red GTO was purchased new directly from the Pontiac retail store in Pontiac, MI. A friend of the current (and only) owner was a Pontiac engineer who told the owner the car was destined for use as a magazine test car. When purchased, the odometer read 49 miles.

From 1967 to 1980 the owner and his wife enjoyed drag racing and cruising in this GTO, racking up just 11,000 miles. After long-term storage, the decision was made to restore the car to its original glory. The owner also enjoyed collecting original and new old stock parts, and being the only owner, he knew exactly what he needed to do.

This GTO is believed to be one of just 36 post body coupes built with the Ram Air 360 horsepower engine backed by a four-speed manual transmission.
The Pontiac GTO, in all respects a muscle car, debuted in 1964 and continued until 1974. John Zachary DeLorean, best known for the Delorean automobiles, was the individual who forced the development of the legendary GTO. The vehicle was very successful because it was able to capitalize on a segment of the market that had not been fully realized. Most of the muscle cars during this time were full-size cars. They had large engines, but due to the weight they were usually slow to accelerate. Pontiac offered a combination of 389 cubic-inch engines in their mid-size Tempest line and called it a GTO. The name GTO comes from Ferrari. It means Gran Turismo Omolgato.
The GTO package included the V8 engine, premium tires, special hydraulic lifters, dual exhaust, manual three and four-speed transmission with a Hurst shifter, heavy-duty clutch, improved suspension, a 3.23:1 rear axle ration, dual hood scoops, GTO emblems, and bucket seats. The 389 cubic-inch engine was rated at 325-348 horsepower depending on the configuration and modification of the engine. The 428 ft-lbs of torque was even more astonishing. Placing this mammoth engine in a mid-size sedan created a vehicle that was untouchable. It was available in both the coupe or convertible body styles. Pontiac sold nearly 32,500 GTO's during the first year.

For 1965, the Tempest GTO received cosmetic and mechanical updates. The engine was modified and was now producing between 335 and 360 horsepower with a torque rating at 431 ft-lbs. The headlights of the vehicle were modified; they were now in stacked configuration. The dual hood scoop was replaced with a single hood scoop. Over 75,000 examples were sold in the second year.

A dealer cold air induction kit for the Tri-Power cars helped stimulate sales and increased the horsepower of the vehicle. The induction kit made use of the hood scoop and brought about the Ram Air package.

For 1966, the GTO became its own model. There were styling changes mostly concentrating on the roof and the rear lights. The engines were unchanged, however, during the middle of the year the multi-carburetor setup was no longer offered. The GTO was still more popular than ever, selling 96,946 examples during 1966.

In 1967, a new 400 cubic-inch engine was introduced. The horsepower rating was between 255 and 360 horsepower depending on the configuration. The torque rating was between 397 and 438 ft-lbs. Minor styling changes occurred, mainly the grill and the rear of the vehicle. During the 1967 model year, nearly 82,000 GTO's were sold.

In 1968, the wheel base was expanded to 112 inches and now sat atop General Motors split wheelbase A-body. Major styling changes occurred. A rubber bumper, labeled the Endura, adorned the front of the car. Hidden headlights were optional equipment. The engine choices remained the same but the horsepower and torque was increased. The 440 was not producing between 265 and 360 horsepower while the torque ranged from 397 through 445 ft-lbs.

In 1969, the competition was becoming fierce. To compete, Pontiac offered a package on the GTO that included body paint, rear spoiler, decals, and a 366 horsepower, Ram Air III V8. A Ram IV V8 could also be purchased, increasing the horsepower rating to 370. Still a very successful year for Pontiac, there were more than 72,000 GTO's sold.

In 1970, the GTO once again received styling changes. There were now four exposed headlamps. The rear engine was

redesigned and the body received new creases. The base engine was dropped. A 455 cubic-inch engine was introduced. The 400 cubic-inch engine produced between 350 and 370 horsepower. The 455 cubic-inch V8 produced between 360 and 500 horsepower. Sales were still strong, but dropping. A little more than 40,000 GTO's were sold.

In 1971, sales continued to drop. Only about 10,000 were sold. GM announced that due to rising emission and safety regulations, compression ratings would have to be reduced and all engines would need to run on unleaded fuel. The horsepower ratings began to decrease. Due to a heavier chassis, introduced a few year prior, and lower horsepower ratings, the vehicle was losing its ability to be competitive. More bad news for the GTO; this was its last year as an independent model. The front end of the vehicle received minor styling updates.

In 1972, the Judge and convertible options were no longer offered. The horsepower ratings continued to go the same direction as the sales figures: down. A little over 5,800 vehicles were sold. The horsepower output was between 250 and 300. The 400 and 455 cubic inch engines were both offered.

In 1973, only 4806 GTO's were sold. The engine horsepower decreased as well, now 230 through 250. Its muscle car status was officially gone.

The 1974 production year was the last for the GTO. It was now an option on the Ventura model line-up. It came as a coupe or a hatchback. A 350 cubic-inch engine was the only one being offered. With a 200 horsepower rating, the car was dying a slow and very painful death. A little over 7000 vehicles were sold with the GTO option.

There were a few reasons for the GTO's decline. The muscle car era was coming to a close - or just being redefined and awaiting a revitalization. Government and safety regulations were becoming more strict. There were tough fuel regulations which severely limited the output of the engines but promoted better fuel economy. Insurance charges increased making these machines out-of-reach for many consumers. The cars became heavier, and heavier. The engine sizes decreased; The cost of ownership increased. The muscle car era was destroyed.
By Daniel Vaughan | Aug 2006
For more information and related vehicles, click
here
BMW X4 SPORTS ACTIVITY COUPE AND M4 CONVERTIBLE MAKE WORLD DEBUT AT 2014 NEW YORK INTERNATIONAL AUTO SHOW
◾New BMW 4 Series Gran Coupe and BMW ALPINA B6 xDrive Gran Coupe to make North American debuts ◾Updated BMW X3 Sports Activity Vehicle also makes North American debut including first BMW Advanced Diesel X3 model for the US ◾BMW Concept X5 eDrive showcases new dimension of BMW EfficientDynamics technology Woodcliff Lake, NJ – April 3, 2014 6:00pm EDT/3:00pm PDT. . . The all-new BMW X4 Sports Activity Coupe as well as the BMW M4 Convertible make their world debuts at the 2014 New Yor...[Read more...]
FORD ESCAPE, FUSION ACCELERATE 'SUPER SEGMENT' SHARE GAINS
◾Ford retail market share to date in the 'super segment,' the combined subcompact, compact, midsize sedan and small utility segment, is up 28 percent, compared to a 9 percent overall industry gain ◾Fusion and Escape retail sales volumes increasing fastest in coastal states – Fusion sales up 60 percent this year in coastal states, Escape sales up 46 percent through April ◾Ford's California April retail sales up 78 percent in the super segment, compared to 59 percent for the first four months ...[Read more...]
Auctions America Readies for Highly Anticipated Spring Carlisle Collector Car Weekend
• Auctions America returns to Carlisle, Pennsylvania for its annual Spring Carlisle sale, April 25-26 • Two-day sale lifts the gavel on a diverse roster of approximately 300 quality collector cars • Notable highlights include a rare 1959 Chevrolet Corvette 'Big-Brake' Fuel-Injected Roadster, a 1970 Chevrolet Chevelle SS LS5 Convertible and a 1999 Bentley Azure Convertible • Sale held during Carlisle Events' highly anticipated Spring Carlisle Collector Car Swap Meet & Corral weekend, April 24...[Read more...]
Toyota Motor Sales Outpaces Industry with 17.2 Percent November Sales Increase
Best-Ever RAV4 November, Strong Camry and Corolla Sales Among Highlights TORRANCE, Calif. (Dec. 3, 2012) – Toyota Motor Sales (TMS), U.S.A., Inc., today reported November 2012 sales results of 161,695 units, an increase of 17.2 percent compared to the same period last year on both a daily selling rate (DSR) and a raw volume basis. The Toyota Division posted November total sales of 138,976 units, an increase of 17.3 percent on a DSR basis from November 2011. 'Replacement...[Read more...]
Joe Bortz to Host Historic Dream Car Discussion Panel
Dream car collector and historian Joe Bortz has prepared a special treat for participants at the 40th Annual Pontiac-Oakland Club International Convention in St. Charles Illinois, this coming July 17-21. In addition to bringing his four historic Pontiac Dream Cars, he has also assembled a panel, conisisting of two noted designers, a retired engineer and two veteran authors to examine the topic of Pontiac's early concept vehicles. The panel discussion will be held on Friday, July 20th at 1...[Read more...]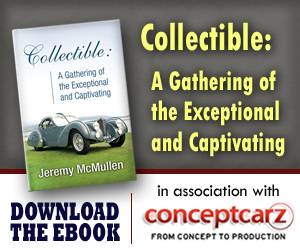 Similarly Priced Vehicles from 1967
Chevrolet Camaro Series ($2,500-$3,310)
Plymouth Satellite ($2,745-$2,990)
Oldsmobile Cutlass Supreme ($2,640-$3,065)
AMC Rambler Rebel ($2,300-$2,875)
Chevrolet Chevelle SS Series ($2,800-$3,000)
Dodge Coronet ($2,400-$82,700)
Mercury Cougar ($2,860-$3,080)
Pontiac Firebird ($2,670-$2,900)
Chevrolet Impala Series ($2,700-$3,300)

Average Auction Sale: $40,622
© 1998-2014. All rights reserved. The material may not be published, broadcast, rewritten, or redistributed.