1979 Pontiac Firebird news, pictures, specifications, and information

Tweet
The 1979 Pontiac Firebird had quad rectangular headlamps in the front that were separated by recessed housings. There was no grille; rather, they had horizontally ribbed lower grilles that went into twin slots below the bumper area. On the outer end were clear park/signal lamps.

The only body style option was a hardtop coupe, though several models were available including the base, Esprit, Formula, Trans Am, and Trans Am Limited Edition. Pricing began at $4,830 and rose to over $10,500 for the Limited Edition models. The base engine was Buick's 231 cubic-inch (3.8 liter) V-6 mated to a three-speed manual shift gearbox. They had power steering and FR78 x 15 steel-belted radials.

Esprit models had wheel covers, sport mirrors and additional body moldings. In total, 30,853 Esprit examples were produced. Formula models sold for just over $6,000 and total production reached 24,851. Powering the Formula models was a 301 cubic-inch V8 mated to an automatic transmission. They had power brakes, black-accented grille, non-functional twin hood scoop, and rode on P225/70R15 blackwall SBR tires. They also had Rally II wheels with trim rings, and a console.

Trans Am models were powered by a 403 cubic-inch V8 with four-barrel carburetion and mated to a four-speed manual transmission. They also had power brakes, air dam, rear spoiler, chrome side-splitter tailpipe extensions, and 'shaker' hood. In total, 117,108 examples were produced.
By Daniel Vaughan | Jan 2013
The Pontiac Trans Am production began in 1969 and only a few hundred were sold that year. As the years progressed, the muscle car era and the days of the high-horsepower engine greatly digressed. Emission regulations, increase in oil prices, and increases in safety policy brought this glorious era to its knees. During this time, the popularity of the Trans Am steadily increased, thanks in-part to its relatively powerful engine, good handling, and styling. In 1977, Burt Reynolds' 'Smokey and the Bandit' was released and the cars place in history was secured.

A sub-series of the Firebird began by 1979, including the base Firebird, the luxurious Esprit, and the sporty Formula. The Trans Am still accounted for nearly half of total Firebird production.

This 1979 Pontiac Firebird Trans Am is finished in Starlight Black. It was built at Pontiac's VanNuys, California plant and carried a price of $8,694.45 when new. It has the iconic Firebird hood decal, chrome exhaust splitters, and 'Snowflake' aluminum wheels. It is powered by a 403 cubic-inch Oldsmobile built V8 engine capable of producing 185 horsepower. There is a three-speed Turbo Hydra-Matic automatic transmission and disc brakes in the front and drums in the rear. Other amenities include air conditioning, power steering, and tilt wheel.

In 2008, this vehicle was brought to the 2nd Annual Vintage Motor Cars of Hershey presented by RM Auctions where it was estimated to sell for $12,000-$18,000. Though there was no reserve, a high bid of $9,900 was enough to secure new ownership. The lot was sold
By Daniel Vaughan | Oct 2008
This 1979 Pontiac Firebird Trans AM W72 2-door coupe was built in Van Nuys, California. It has a WS6 handling package, 6.6-liter L78 V8 engine, and 4-speed close ratio manual transmission. The exterior is finished in silver with a carmine red cloth interior. There are T-Tops, a limited slip differential, power windows, power steering, 4-wheel disc brakes, Goodyear Eagles on Snowflake wheels, AM/FM cassette radio, rally gauges, soft ray tinted glass, tilt steering, factory air conditioning, center console, and rear window defroster. There is also the iconic red bird on the hood.

This car has the original window sticker, invoice, build sheet, owner's manual and receipts from new. Ever gas purchase from new has been documented, including date, price, brand and amount. Documentation also extends to where it was parked for storage and all repair bills. There is an original invoice from the dealer including warranty and salesman card.
By Daniel Vaughan | Jan 2013
This Pontiac firebird Formula 2 door coupe is powered by a 6.6-liter V8 engine and fitted with a 4-speed Borg Warner transmission. There is a posi-traction rear, in-dash tachometer and gauges, and WS6 special performance package. The car was ordered with no power accessories and no luxury options, making it a few hundred pounds lighter than other models. The car has just 28,000 miles on the odometer. It is finished in Atlantis Blue with black interior.

1979 was the last year that the Pontiac 400 V8 was available.
By Daniel Vaughan | Feb 2014
Produced by Pontiac, a division of General Motors, the Pontiac Trans Am was based on the Firebird coupe body style and built on the F-body platform.

The last high-performance muscle motor from the original muscle car generation was the Firebird Trans Am with the 455 motor.

In 1971 appearing first as the 455-HO, the 455 motor was introduced.

The SD-455, a unique version of the 455 was offered I n 1973 and lasted one year. Using the leftover components from Pontiac's 366 NASCAR engine, it was built as a full bore racing engine.

With the ability to produce over 540 horsepower, the SD-455 had to be toned down to satisfy the EPA and meet GM's strict horsepower policy which required all GM vehicles to hold the HP under 300.

Though producing in final form, 371 HP SAE NET, approximately 440 gross horsepower, the PMD engineers listed the SD-455 at 290 HP. The ease with which it could be returned to its 500+ horsepower form was what made this engine so unique.

Some consider this SD-455 to be the most powerful factory Pontiac engine to ever be produced.

Offered for a few more years, the restrictions on vehicle emissions eventually became too much to the producers.

With only a total of 7,100 units produced with the 455 engine, the 1976 Trans Am was the final of the 'Big Cube Birds'.

The Trans Am was a strong effort to appeal to the growing muscle car population in the late 1960's.

The Pontiac Firebird was produced from 1967 until 2002. Both the Trans Am and Firebird were discontinued in 2002, though the body is still utilized in the IROC Racing Series.

The first generation of the Pontiac Trans Am was only available in 1969 and came with an optional handling package called the Trans Am Performance and Appearance Package, named after the Trans-Am Series. The package cost a total of $725.

Because the name was used without prior permission, the SCCA threatened to sue GM. The deal was settled by GM offering to pay $5 per every Trans Am sold.

689 hardtop models and eight convertibles were produced in the first year of production. In the same year, an additional Ram Air IV engine option for the 400 in³ to complement the Ram Air II.

Production of first generation models continued longer than one year, actually totally 17 months. The first generation models were differentiated from the Camaro by its four round headlights compared to the Camaro's two.

The Second generation was available from 1970 until 1981.

From 1982 until 1992, the third generation of Trans Am was introduced.
Available from model years 1993 until 1997, the fourth generation Trans Am offered anywhere from 275 to 305 horsepower as a result of the LT1 Small block aluminum headed engine.
By Jessica Donaldson
For more information and related vehicles, click
here
NEW 8-SPEED ENABLES QUICKER, MORE EFFICIENT CORVETTE
DETROIT – The all-new, paddle-shift eight-speed automatic transmission makes the 2015 Corvette Stingray faster and more fuel efficient, with 0-60 acceleration of only 3.7 seconds and an EPA-estimated 29 mpg on the highway. 'The Corvette Stingray is a great example of how we are leveraging engineering and technology to improve both efficiency and performance,' said Mark Reuss, GM executive vice president, Global Product Development, Purchasing & Supply Chain. 'No other car can match 460...[Read more...]
THE COUNTDOWN TO AUCTIONS AMERICA'S FORT LAUDERDALE SALE NOW UNDERWAY
• Auctions America kicks off its 2014 collector car calendar March 14-16 in Fort Lauderdale • Regarded as South Florida's premier collector car auction, the multi-day sale features nearly 500 cars spanning all segments of the collector car market • Joining the list of previously announced feature consignments are a 1970 Plymouth Hemi Superbird, a 1959 Cadillac Eldorado Biarritz and a 1934 Packard Twelve Convertible Sedan • Digital catalog now available for download at auctionsamerica.com [I...[Read more...]
Low Mileage Collectables offered at Fort Lauderdale Auction
• Auctions America kicks off its 2014 collector car calendar March 14-16 in Fort Lauderdale • Leading recent entries are fantastic low mileage examples including a 2005 Ford GT, a 2006 Ford GT Heritage Edition, a 1954 Chevrolet Corvette and a 1967 Chevrolet Corvette 427/435 Coupe • Additional vehicle highlights include a 1973 Ferrari 365 GTB/4 Daytona, a 1971 Ford Mustang Mach 1 and a 1935 Hudson Terraplane driven by Johnny Depp in the movie 'Public Enemies' • Regarded as South Florida's pre...[Read more...]
Holden Celebrates 35 Years of Commodore
Holden is celebrating the 35th anniversary of its most iconic nameplate, Commodore. For over three decades, the Holden Commodore has delivered significant advances in vehicle performance, safety and comfort on the way to becoming Holden's longest-standing and most successful nameplate. Holden Executive Director, Vehicle Sales, Service and Marketing, Phil Brook, said Holden was extremely proud of Commodore's success. 'There are not many nameplates in Australia that can lay claim to a ric...[Read more...]
Auctions America Continues Successful 2013 Season with its Annual Fall Carlisle Sale
• Auctions America rounds out its 2013 auction season in Carlisle, Pennsylvania, October 3-4 • Two-day Fall Carlisle sale, held in conjunction with the Carlisle Events Collector Car Swap Meet & Corral, features a diverse roster of 300 classics, exotics, muscle cars, hot rods, and customs • Auction highlights include a desirable 1967 Chevrolet Corvette 427/435 Roadster, a 1969 Chevrolet Camaro Z-28 RS Sport Coupe, and a 1960 Mercedes-Benz 190SL Roadster • Full event details and a frequentl...[Read more...]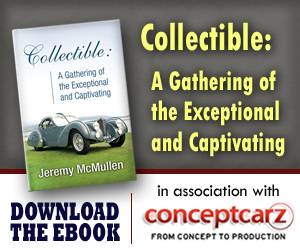 © 1998-2014. All rights reserved. The material may not be published, broadcast, rewritten, or redistributed.