1958 Jaguar XK150 news, pictures, specifications, and information

Tweet
| | |
| --- | --- |
| | Convertible |
The XK150 is powered by a 3,442 cc, in-line, six-cylinder, double-over-head cam engine developing 213 horsepower with a top speed of 123 mph. It has a 4-speed manual transmission. The chassis consists of rack-and-pinion steering, front independent torsion bar and wishbone/rear live-axle with leaf springs, suspension. Four-wheel disc brakes proved a big advantage for stopping this 3,330 pound car.

The XK150 was produced as a styling stopgap between the XK140 and the revolutionary E-Type that followed in 1961.

The XK150 was the final version and most thoroughly developed of the early XKs. It made its first appearance in mid-1957, as Jaguar's response to recently introduced rivals like the BMW 507 and Mercedes-Benz 300SL. The XK150 was plusher and more civilized, and substantially restyled, with a re-contoured beltline, wider grille and a one-piece windshield.
This XK150S was originally finished in black and was officially manufactured on September 12, 1958, and exported to Jaguar Cars New York just over two weeks later. The car has been repainted Carmen Red and its original 3.4-liter engine was replaced with a 3.8-liter motor which debuted in the D-Type race car and became available in the XK150 towards the end of the model's run.

By the 1980s, the XK was owned by Harvey Blake Jones of Nevada, whose untimely passing prompted his mother, Bonnie Kohler, to restore the car in his honor. In the 1990s, the car was purchased by Mathew Thomas, a principal at Hornburg Jaguar in Los Angeles.

This car was awarded a 2nd place award at the 1999 and 2000 Santa Barbara Concours d'Elegance and Best in Class wins at the 1998 XK150 National Event, the 1998 JOCCA Concours in San Luis Obispo and the 2000 JCNA Concours d'Elegance in San Diego.

In September of 2001 the car was sold to an East Coast collector who treated the car to engine upgrades and some mechanical freshening. Over the course of 2002 and 2003, the owner retained Vantage Motors of Stamford, Connecticut, to conduct almost $50,000 of mechanical work, including a rebuild of the engine with an increase in displacement to 3.8 liters, matching the specifications of the later, more powerful XK150 S examples. To accommodate the upgrade, other performance modifications were made on the camshafts, crankshaft, pistons, cylinder head, and flywheel, as well as the brakes, suspension, radiator and authentically restored the wiring harness.

In 2010, this Jaguar XK150 S was offered for sale at the Gooding & Company Auction held in Amelia Island, Florida. The car was expected to sell for $100,000 - $130,000. As bidding came to a close, the car had been sold for the sum of $104,500, inclusive of buyer's premium.

The new owner subsequently installed a new 5-speed gearbox. In 2012, the car was sold to its present owner, a New York based collector. Since that time, the car has been driven sparingly and serviced as needed.
By Daniel Vaughan | May 2013
The Jaguar XK150 was first introduced in the fall of 1957 and was intended to compete against the BMW 507 and Mercedes-Benz 300SL. It was the third and final evolution of its series and represented the best and most highly developed XK ever built. The design was similar to its predecessors with styling revisions that included the replacement of the traditional cut-down doors with a higher and more subtle beltline. The front aspect was modified with a widening to the grille and updates to the windshield with a more contemporary curved, one-piece version. The Open Two Seater (Roadster) also had the addition of roll-up side windows.

The XK150 was given power-assisted disc brakes at all four corners and powered by a dual overhead cam six-cylinder engine breathing through dual SU carburetors.

This 1958 example is one of only 1,297 examples of the 3.4-liter roadsters built. It is finished in red with black upholstery and has newly fitted carpeting.

In 2012, the car was offered for sale at the RM Auction in Scottsdale, Arizona. It was estimated to sell for $60,000-$80,000 and offered without reserve. As bidding came to a close, the car had been sold for the sum of $52,250 inclusive of buyer's premium.
By Daniel Vaughan | Feb 2012
The XK 150 was introduced in 1957 and remained in production until superseded by the E-Type in 1961. A total of 9,382 examples were built of which only 2,172 were left hand drive 'open two seater' models. The roadster version is the rarest XK 150 model, now with roll-up windows and thorough weather protection. While the XK had become more 'civilized' it still retained the ingredients that made it special, including its powerful dual overhead camshaft six-cylinder engine. It even retained the traditional roadster's window sill dip and top that was fully enclosed when retracted creating an exceptionally attractive profile.

Revisions to the bodywork were subtle, and mainly done to add interior room for the driver and passenger. The revised fender line made room for a wider cowl and windshield and fed into thinner doors that much improved comfort. Disc brakes were added after their effectiveness had been proven by the C-Types at Le Mans.

The XK 150 was a high performance, comfortable, and appealing automobile that retained the XK's predictable live rear axle handling.

This example is finished in red with black upholstery. It is an 'S' model as denoted by the chassis and engine numbers. The car was completed in December of 1958 and delivered the following year. The 'S' Models included triple SU HD8 carburetors, a revised Weslake-developed cylinder head and high compression pistons. The result was an engine that offered an impressive 250 horsepower. In total, just 888 examples of the XK150S Roadsters were produced to this specification.

This example has been given a two-year restoration that was completed in 2007. It joined the Oldenburg Collection soon after the work was done. It retains its factory tool kit and fitted leather luggage.

In 2013, the car was offered for sale at Bonhams Auction in Scottsdale, Arizona. As bidding came to a close, the car had been sold for the sum of $133,700 including buyer's premium.
By Daniel Vaughan | Feb 2013
This Jaguar XK150S has won more than 80 Concours awards over the past 15 years. Currently, the car still holds 100 point status with the Jaguar Club of North America. In 2012 it was National Champion, a position it has held since 1998.

This 'S', an original U.S. example, was built on July 3rd of 1958 and supplied to this country through Jaguar Cars New York. The first owner is not known, however it was delivered in Carmen Red paintwork with a black top and interior. It also had a rare close ratio gearbox and overdrive. It would be one of only approximately 200 cars which the company built to this specification.

Some records suggest this car may have raced in both the United States and Australia. It was discovered by the current owners in Pennsylvania in 1990. A restoration soon followed which consumed over five years from start to finish. The car was finished in Racing Green livery with a biscuit leather interior and cloth top. Since the work was completed, the car has been driven just 125 road miles.
By Daniel Vaughan | Jan 2014
In 1957 Jaguar introduced the XK150, a replacement for the XK140. The XK140 had been a replacement for the XK120 which had started the XK series with its elegant styling and impressive 120 mph capabilities. At the time, the XK120 was the fastest production vehicle in the world. The XK150 had many similarities to its predecessors but it featured modern styling and improved mechanics.
When the XK150 was introduced, it could be purchased in DropHead Coupe or FixedHead Coupe configuration. The Open Two Seater (OTS) Roadster version appeared a year later.

The base engine was a DOHC 3.4 liter straight-six that produced 180 horsepower. Most of the vehicles were outfitted with the SE version which had a modified cylinder head, dual SU HD6 carburetors, and larger exhaust valves bringing the horsepower rating to 210. Performance was further increased in 1958 when Jaguar enlarged the bore bringing the liter capacity to 3.8 and the horsepower rating to 220. The 'S' model featured three SU HD8 carburetors and a modified cylinder head bringing the horsepower rating to 260.

The XK120 suffered from poor steering. This was resolved by the adaptation of a rack-and-pinion unit on the XK140. The XK150 used the similar rack-and-pinion configuration, though still lacking power-assistance. The chassis was also similar to its predecessor. Disc brakes were standard on all four corners of the vehicle. The wheels could be ordered as Wire or as discs wheels.

Improvements continued in the interior of the vehicle. With roll-up door windows and door handles, the XK150 was more civilized. The longer hood meant the XK150 Roadsters were just a two seater unlike its 2+2 predecessors.

During its production lifespan lasting from 1958 through 1961, the Fixed Head Coupes were the most popular with 4445 examples being created. That figure was followed by the Drop Head Coupes with around 2670 examples. There were around 2260 Roadsters produced. The Roadster production figures would have been higher if they had not been introduced ten months after the Fixed and Drophead Coupe versions.

The XK150 continued the elegance and performance established by the XK120 and reinforced by the XK140. The long flowing lines of the hood gracefully curved towards the vertical grille which hid a potent engine that made the car legendary.
By Daniel Vaughan | Mar 2006
For more information and related vehicles, click
here
The First McLaren F1 GTR Longtail Race Winner Leads Gooding & Company's January Offerings
SANTA MONICA, Calif. (December 18, 2013) – Gooding & Company is thrilled to announce that an exceptional collector competition car has been added to its Scottsdale Auctions on January 17 and 18. The most successful 1997 McLaren F1 GTR Longtail, 021R, finished in stunning white, blue and red FINA livery (estimate: $5,000,000-7,000,000) will proudly drive over Gooding & Company's auction stage as one of many premier offerings. The auction commences at 11 a.m. at Scottsdale Fashion Square ea...[Read more...]
Extremely Significant, Early Shelby Cobra Roadster an Exceptional and Early Headline Consignment to Russo and Steele's Upcoming Monterey Auction
Scottsdale, Arizona – With his AC Ace-derived, Ford-powered Cobra, Carroll Shelby and his racing team spearheaded Ford's 'Total Performance' campaign of the 1960s on the world stage and ended Ferrari's dominance of the World Sportscar Championship for GT cars by 1965. This stellar example, CSX2012, is particularly significant as the first Cobra sold to the public from Shelby American's West Coast operations in Venice, California. With highly documented and fascinating history including its...[Read more...]
NISSAN REVEALS EXPANDING GLOBAL MOTORSPORTS PROGRAM FOR 2013, LED BY NISMO
•Nissan promises an exciting and expanded future motorsports program, led globally by NISMO •Nissan President and Chief Executive Officer Carlos Ghosn pledges a return to the Le Mans 24 Hours in 2014 with a pioneering Nissan race car incorporating electric vehicle technology •Expansion is key to success as Nissan makes long-awaited return to Australia's V8 Supercars Championship with a four-car entry •NISMO steps up GT-R assault on GT3 and SUPER GT Series, highlighted by the flagship GT-R ...[Read more...]
Barrett-Jackson Flavors Its January Scottsdale Auction With NASCAR Treats
• RACING HERITAGE, HIGH PERFORMANCE ARE RECIPES FOR CAR-COLLECTING FEAST
• SPEED™ SET FOR 39 HOURS of LIVE COVERAGE STARTING JAN. 15
The great Henry Ford once said, 'Auto racing began five minutes after the second car was built.' And for more than 60 years, there are few entities that better represent auto racing in America than NASCAR. From the hallowed grounds of Daytona International Speedway, to Sonoma, California's intricate and picturesque road course, the sp...[Read more...]
Russo and Steele Monterey Moves to Ocean Front Property
The 12th Annual Sports and Muscle in Monterey auction held by Russo and Steele Collector Automobile Auctions has announced that it's moving its venue to the waterfront remaining at the epicenter of the classic car week. Russo and Steele will feature 250 of the highest quality, collectible automobiles offered for auction over three days, August 16-18th, 2012. The new, dramatic coastal backdrop will provide a spectacular environment for its all new Monterey auction transformation. The new lo...[Read more...]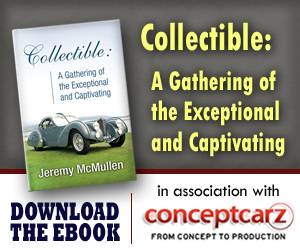 Similarly Priced Vehicles from 1958
Mercedes-Benz 190 SL ($5,025-$5,230)
Cadillac Series 62 ($4,780-$7,500)
Chrysler New Yorker ($4,295-$5,080)
Buick Series 700 Limited ($5,000-$5,125)
Buick Series 75 Roadmaster ($4,555-$4,680)

Average Auction Sale: $76,506
Jaguar
Monthly Sales Figures
Volume
December 2014
1,683
November 2014
1,253
October 2014
1,007
September 2014
1,142
August 2014
1,184
July 2014
1,187
June 2014
1,263
May 2014
1,304
April 2014
1,035
March 2014
1,816
February 2014
1,552
January 2014
1,347
(More Details)
© 1998-2014. All rights reserved. The material may not be published, broadcast, rewritten, or redistributed.