1967 Shelby Cobra 427 news, pictures, specifications, and information

Tweet
This 1967 Shelby Cobra 427 was offered for sale at the 2007 RM Auctions held in Amelia Island, Florida where it was estimated to sell between $750,000 - $850,000. The car is powered by a 427 cubic-inch side-oiler V8 engine that is still in the exact specifications as when it left the factory. This 427 Cobra has very clean lines, as there is no hood scoops, side pipes, roll bars, or other modifications. It carries chassis number CSX 3275 is has been treated to a complete restoration since new.

At auction, the lot was sold for $766,800.
By Daniel Vaughan | Apr 2007
After retiring from a very successful racing career, Carroll Shelby set his sights on sports car construction. His first project was the Cobra, an AC Ace whose aging six-cylinder engine was replaced by a Ford V8. Sports car racing inevitably demanded more horsepower, particularly with the entrance of the Corvette Grand Sports Corvettes, and thus was born the legendary 427 Cobra - a big block-powered behemoth capable of sub four-second zero-to-sixty acceleration and unparalleled racing prowess. To this day, the relatively few 427 Cobras in existence are prized by enthusiasts the world over. This particular example remained under the same ownership for nearly 40 years before coming out of long-term storage rather recently. The original car received a sympathetic cosmetic and mechanical restoration. With just 5,400 original miles, CSX3299 is presented in Guardsman Blue with proper Sunburst wheels. Its sensational performance and the popular appeal of this Anglo-American legend confirm it as one of the most significant icons of all times and a collector car of unmatched desirability.
The Cobra enjoyed a very long production lifespan through its multiple fiddles' it played; it began life as a Tojiero-Bristol, than an A.C. Ace, followed by the Ace Bristol and finally the Ace Ford. Just as it was ending its production life, Carroll Shelby breathed new life with the iconic Cobra. The 260 cubic-inch pushrod V8 engine produced 260 horsepower. It was mated to a four-speed manual Ford transmission which drove the 2,000 pound Cobra. Only minor modifications to the A.C. body and chassis were required. Stronger wire wheels were fitted and the leaf-spring independent suspension was little changed. The bigger 289 Ford V8 was substituted for the 260 and in 1963 the Bishop cam steering gear was replaced by rack-and-pinion.

In the capable hands of Ken Miles, Lew Spencer, and Bob Holbert, the Cobra's were able to outpace the more exotic marques.

More power was needed to battle the big-block Corvettes and other high-potent racers of the day, so Shelby turned to Ford with their 427 cid V8. It would be placed in the belly of the Cobra, but several significant modifications were needed before the vehicle could be safely operated. The original ladder frame, with its transverse leaf springs, had been designed for an 85-hosrepower engine. The 400 horsepower 427 was more than the setup could handle. Using Ford's computers, a much stiffer chassis with four-wheel independent coil-spring suspension was devised. The updates continued, with the removal of the six-inch wire wheels for much wider Halibrand magnesium wheels. Since the larger wheels would not fit under the standard fenders, the craftsmen at the A.C. factory in England gave the Cobra fender flares. In the front, a large front inlet was shaped to provide air to cool the engine. The result of these aesthetic changes was an aggressive appearance on a small, potent vehicle.

This 427 Cobra is CSX 3294 and houses a 427 cubic-inch V8 engine that is reported to produce an estimated 520 horsepower. It was damaged in the 1960s in a road accident and put away for many years. The disassembled car was later acquired by David Yanoff who began an extensive rebuilt. It was ultimately treated to a complete nut-and-bolt restoration by expert Geoff howard of Cobra Automotive of Wallingford, Connecticut.

During the restoration it was given the correct alloy S/C brake calipers, 36-gallon fuel tank, differential oil pump, transmission oil pump, factory roll bar and side pumps.

It is correct in every detail, has an outside fuel filler, a proper 427 'side-oiler' engine built to LeMans specifications, correct Halibrand wheels, 'quick jack' fittings in both front and rear, and a riveted hood scoop.

This car has been apart of the Michael Hammer Collection and was shown just once in 2007 where it was a class winner at the Beverly Hills Classics for Charity Show. Since the restoration in 2000, it has traveled a mere 300 miles.

In 2007 this 427 Cobra was brought to the Gooding & Company auction held in Pebble Beach, CA where it was estimated to sell for $750,000 - $850,000. Sadly, a buyer willing to satisfy the vehicles reserve was not found and the car left the auction unsold.
By Daniel Vaughan | Apr 2008
This big-block Cobra has a known history, an original engine, and a restoration done by a Shelby expert. The car left the Shelby factory and sent to McCafferty Ford of Trenton, New Jersey, where it was sold to its first owner, Davis Boardman of Fort Dix. The car may have had an interim owner prior to being purchased by a Long Island resident in the mid-1970s. IN 1977, the car was in the care of its third owner, Al Schmidle of Pompton Plains, New Jersey, who upgraded it with a genuine 427 engine and S/C-style roll bar, and refinished it in the same color scheme it wears today - Guardsman Blue with white LeMans stripes.

In 1978, the car was traded to Larry Megibow of Butler, New Jersey, for a 289 Cobra (CSX 2268), along with some cash. Two years later it passed to Rick Nagel of Dallas, Texas and finally to Ken Eber, co-founder of the Shelby American Automobile Club (SAAC).

In the winter of 1982, the car was sold to Tom Conel of Irvine, California. While in his care, the car was treated to a restoration, and had it upgraded to full S/C specifications. The work included the proper extension of the rear fender flares, installation of rectangular taillights and a competition fuel-cap, and revision of the dashboard layout. An oil-cooler with the attending scoop, side-exit exhaust pipes and a hood-scoop were also added at that time. The Sunburst wheels were replaced with Halibrand magnesium wheels.

The car would pass through several more owners over the years, prior to coming into the care of its current owner.

In 2010, the car was offered for sale at the Gooding & Company auction held in Pebble Beach, CA. The car was estimated to sell for $650,000 - $750,000. It would leave the auction unsold.
By Daniel Vaughan | Dec 2010
This 1967 427 Cobra, chassis number CSX3360, is the last Shelby Cobra ever built. Invoiced by AC Cars to Shelby America on October 26, 1967, it has been stored in Southern California during the 2000s. Delivered new as a street version Cobra, it has been driven 6,098 miles. Canepa Design of Scotts Valley, CA, completed a full ground-up cosmetic and mechanical restoration to its original configuration in the late 2000s. They used all of its original factory components including front and rear bumpers, sunburst wheels and upholstery.

The 427 cubic-inch engine, developing 410 horsepower, is coupled to a four-speed transmission and fitted with four-wheel disc brakes. The 2,355-pound vehicle has a top speed of 165 mph and will go from zero-to-sixty mph in just 4.2 seconds.
The iconic Trans-Atlantic sports car was both feared and admired on both the road and the track. The holy grail of Cobras is undoubtedly the big block 427. This example is one of just 356 examples made. The combination of 425 horsepower and a lightweight and compact aluminum body made for a combination that put fear into the hearts of drivers and competitors alike.
At one time this car was thought to be the last Cobra 427 shipped to Shelby American by AC Cars of Thames Ditton, west of London, based on incomplete information. Two more, CSX3359 and CSX3360, it was subsequently discovered were indeed shipped later. The current owner of this car (CSX3358) purchased it in late 1998 although the blue/black 427 with a single 4V carburetor was originally delivered to Gotham Ford in New York City. There were six owners of record before the current owner acquired the car; all owners were located in California except for the first, a New Yorker.
The formula for the success of the Cobra came through a man named Carroll Shelby adapting a powerful Ford engine into a nimble, British sports car.

A.C. Cars of Thames Ditton in Surrey, England had been producing the Ace since 1954. It was designed by John Tojeiro and featured an independent suspension by transverse leaf springs. The tubular frame body of the vehicle took its styling cues from Ferrari. The original engine used in the Ace was a 1991 cc, over-head-cam engine designed by John Weller, the founder of AC, in the 1920s. In 1956, an optional Bristol engine became available. This was a BMW derived, 1971 cc six-cylinder engine that was capable of producing 125 horsepower. With the Bristol engine, the Ace captured many victories on the race tracks around the world. It even won the SCCA Class E championship three years in a row.

In 1959, Bristol ceased its six-cylinder engine production. When Bristol stopped supplying A.C. with the engine, the production of the Ace ceased. Carroll Shelby quickly negotiated a deal where A.C. would supply him with the chassis. Now all Shelby needed was an appropriate engine. In 1961, Ford introduced the 221 cubic-inch small block engine. This was a new lightweight, thin wall-cast, V8 engine that produced 164 horsepower. Shelby approached Ford about the use of the engine for the 2-seat sports car. Ford agrees.

In February of 1962, a 260 HiPo engine and Borg-Warner four-speed manual gearbox was fitted into the aluminum-bodied Cobras. The AC Shelby Ford Cobra was complete.

In April of 1962, the first Cobra with chassis CSX 2000 was painted yellow and shipped to the New York Auto Show where it appeared on the Ford display. The vehicle was an instant success and attracted much attention. Orders came faster than Shelby could build. The prototype CSX 2000 was continuously being repainted for magazine reviews. The purpose was to create an illusion that more Cobras existed.

In 1963 the engine size increased to 289 cubic-inches. Rack-and-pinion steering was added to the vehicle.

Two Cobras were entered into the grueling 24-Hours of Le Mans endurance race. Carroll Shelby himself drove one of the vehicles. Ford had refused to provide an engine so Shelby, with the help of A.C. cars and Ed Hugus, prepare the cars. One of the Cobras managed to capture a seventh place finish, a major accomplishment.

Dan Gurney became the first American driver to win an FIA race in an American car when he won the Bridgehampton 500KM race in September of 1963 while driving a Cobra.

In 1964, the Cobra returned to LeMans where it finished fourth overall and first in the GT class.

Near the end of 1964, the Cobra 427 was unveiled to the press. If featured a new tubular, aluminum body, coil spring chassis, and a 427 cubic-inch, 425 horsepower engine. The car was able to go from zero to 100 mph and back to zero in less than 14 seconds.

In 1967, the last 427 Cobra was built and in 1968, the last 427 Cobra was sold by Carroll Shelby.

Ford had shifted their resources to the new GT40 and modified Mustang programs. In 1966, three GT-40 Mark II's crossed the finish line at Le Mans capturing first, second, and third.
By Daniel Vaughan | Mar 2010
For more information and related vehicles, click
here
TWO OF THE ORIGINAL SHELBY GT350 MUSTANG PROTOTYPES TO MEET UP IN TULSA, OKLAHOMA
More than three decades after taping a full-page ad ripped from a 1965 car magazine above his bunk on an Alaskan crab boat, Mark Hovander is touring the country this year with the same Ford Shelby GT350 Mustang pictured on that page. Hovander and his crosstown friend John Atzbach are big fans of the first-generation Shelby Mustang, and between them they own two of the three original prototypes. As Mustang enthusiasts across the country and around the world celebrate 50 years of their favorite...[Read more...]
SHELBY COBRA DAYTONA COUPE BECOMES FIRST CAR IN NEW CONGRESSIONAL HISTORIC VEHICLE REGISTRY
◾Shelby prototype (CSX2287) becomes first auto in Sec. of Interior's Heritage Documentation Registry ◾The car was designed and developed by the famed Shelby American team in 1964 ◾Shelby Cobra Daytona Coupes helped USA capture first and only FIA world championship Los Angeles – Feb. 12, 2014 – The prototype Shelby Cobra Daytona Coupe (CSX2287) designed and developed by Carroll Shelby's racing team, Shelby American, in 1964 is the first automobile recorded under the Secretary of the I...[Read more...]
SHELBY AMERICAN COMMEMORATES 50TH ANNIVERSARY FIA COBRA WITH SPECIAL EDITION CAR
• Iconic Shelby FIA Cobra to be Celebrated
Scottsdale, Ariz. – Jan. 17, 2014 – In 1964, Shelby American, today a wholly owned subsidiary of Carroll Shelby International Inc. (CSBI:PK) introduced the FIA version of the small block Cobra, which competed in the 1964 World Manufacturers Championship series against marques like Aston Martin, Jaguar and Corvette. To celebrate the birth of the 289 Ford powered roadsters, Shelby American will offer 50 limited edition continuation (CSX70...[Read more...]
SHELBY AMERICAN RENEWS PLANET SHELBY COBRA'S DEALER AND LICENSE AGREEMENTS
LAS VEGAS – August 1, 2013 – Officials with Shelby American, a wholly owned subsidiary of Carroll Shelby International Inc., (CSBI.PK), announced today that Planet Shelby Cobra's dealer and licensing agreements have been renewed. Under the new five year agreements, Planet Shelby Cobra can immediately resume the sale and delivery of official Shelby Cobras to its impressive base of customers. 'We're pleased that one of our most important advocates and Shelby Cobra dealers will stay in th...[Read more...]
World's Rarest Muscle Car to Join a Spectacular Show Field at the 2nd Annual Concours d'Elegance of Texas
Houston, Texas. April 1, 2012. Organizers of the 2nd annual Concours d'Elegance of Texas have confirmed that the world's rarest muscle car, the only big block GT convertible ever built by Shelby American Inc., will be part of this year's spectacular show field on Sunday, May 5 at La Torretta Lake Resort & Spa. The 1967 Shelby GT500 Convertible was originally assigned to Carroll Shelby, the most expensive GT500 in Shelby American's company car inventory and the only Shelby GT Convertible f...[Read more...]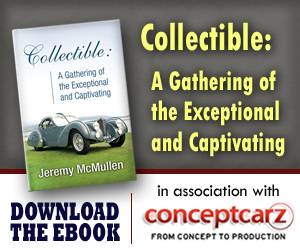 © 1998-2014. All rights reserved. The material may not be published, broadcast, rewritten, or redistributed.