Image credits: © Chrysler.
1997 Chrysler Phaeton news, pictures, specifications, and information

Tweet
The 1997 Chrysler Phaeton harks back to a time in the 30s and 40s when touring cars could be seen on the roads and the people driving inside them were strictly upper class. That's why Phaeton was built to be a four-door, four-seat convertible, wîth a separate windscreen behind the front seats to separate the driver from the passengers. The rear seat area had its own speedometer and tachometer so the rear seat passengers could monitor the car's performance.

And perform it did. Beneath those long, sweeping lines sat a 5.4-liter V12 made from joining together two of Chrysler's 2.7-liter V6s. That much engine produced in the neighborhood of a whopping 425 horsepower. Phaeton was a monster in size, too. With a 132-inch wheelbase, the car measured 215 inches in overall length and was 78 inches wide and 55 inches tall. It rode on 22-inch tires and the two-piece hardtop electrically stowed in the trunk.

Of course a vehicle meant for the touring elite left nothing to spare inside the doors. Seats in both the front and rear were leather-clad and more like overstuffed club chairs wîth armrests and handy consoles than traditional buckets. The interior was also finished wîth satin metal accents and wood inlays
Source - Chrysler
FORD BUILDS TWO MILLIONTH ECOBOOST ENGINE AS CONSUMER DEMAND GROWS IN MARKETS WORLDWIDE
◾More than 100,000 EcoBoost engines now produced every month, with a target of 1.2 million for 2013, up more than 60 percent from 2012. For the first time, EcoBoost production expected to exceed Ford's global diesel-engine production ◾Customer demand exceeds projections globally with 90 percent of Escape buyers in North America and 95 percent of Kuga buyers in Asia choosing EcoBoost; in diesel-centric Europe, 39 percent of Focus customers opt for EcoBoost ◾Ford doubled Cologne, Germany, produc...[Read more...]
CONTINENTAL GT3 HEADLINES BENTLEY'S LARGEST EVER PRESENCE AT GOODWOOD FESTIVAL OF SPEED
Continental GT3 race car makes its world debut •Speed 8 celebrates 10th anniversary of Le Mans win •The fastest four-seat coupe and convertible in the world appear on the hill •New Flying Spur joins on Bentley stand •Full Bentley model range on display (Crewe, 3rd July 2013) Bentley's new Continental GT3 race car is to spearhead the famous British marque's presence at this year's Goodwood Festival of Speed, taking place from 12th-14th July in Sussex, England. With a busy sch...[Read more...]
FLAT ROCK ASSEMBLY PLANT CELEBRATES PRODUCING ONE-MILLIONTH FORD MUSTANG AS YEAR 50 BEGINS
• Nine years after Ford Mustang production moved to Flat Rock, Mich., Flat Rock Assembly Plant celebrates producing one million of these iconic sports cars
• Raj Nair, Ford group vice president for product development, commemorates the occasion by riding off the line in a Ruby Red 2014 Mustang convertible accompanied by a senior plant employee
• Ford celebrates 49 years of continuous Mustang production with more than 8.5 million of America's favorite sports cars produced
...[Read more...]
NEW FLYING SPUR HEADLINES BENTLEY'S GENEVA PRESENCE
•World premiere of all new Flying Spur •European debut of world's fastest four-seat convertible, GT Speed Convertible •Enhanced specification luxury flagship 2014 model year Mulsanne unveiled •Continental GT V8 and W12 complete display (Crewe/Geneva, 4 March 2013) The new Bentley Flying Spur, the world's most refined performance sedan, makes its global debut at the Salon International de l'Auto in Geneva. Bentley's showcase of luxury and performance continues with the European d...[Read more...]
1967 Can-Am Road America: The Beginning of the 'Bruce and Denny Show'
While Formula One will be forever considered the pinnacle of motorsport, from a period between 1966 and 1986 there existed a series that would likely be the closest to 'anything goes' as any motor racing series could truly get. Based upon the FIA Group 7 cars but allowed to showcase unlimited engine sizes and unfettered aerodynamics, the Can-Am cars would have to be considered the pinnacle of motorsport technology and power of their era. And for more than a couple of years there would be one tea...[Read more...]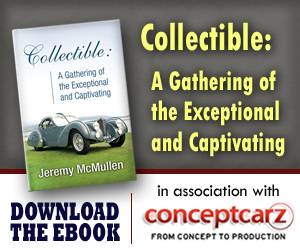 Chrysler
Monthly Sales Figures
Volume
November 2014
27,243
October 2014
27,546
September 2014
28,781
August 2014
29,762
July 2014
23,455
June 2014
24,026
May 2014
22,592
April 2014
21,967
March 2014
26,140
February 2014
25,230
January 2014
21,113
December 2013
20,270
(More Details)
© 1998-2014. All rights reserved. The material may not be published, broadcast, rewritten, or redistributed.