1956 Mercedes-Benz 190 SL news, pictures, specifications, and information

Tweet
| | |
| --- | --- |
| | Roadster |
Between 1955 and 1963, fewer than 26,000 examples of the Mercedes-Benz 190SL were produced with many of those being sent to the United States. They were built alongside their race-bred sibling, the 300SL. The 190SL was a less expensive version and based on the 180 saloon. Mounted on a detachable sub-frame, the car was propelled through a 1897cc overhead camshaft four-cylinder engine and a four-speed manual gearbox. With twin Solex downdraft carburetors, the M121 unit offered 120 SAE horsepower giving the 190Sl a top speed of 171km/h.

This Mercedes-Benz 190SL was purchased new by the father of the current owner and has never been out of the family. A restoration was performed by the owner's son in the late 1990s. it served as a daily driver until 2003, at which point consideration was made to prepare the car for showing. The car is currently in fine concours condition.
Mercedes-Benz built 25,881 examples of the 190 SL (just 4,032 in 1956) between 1955 and 1963. It made its debut at the New York Auto Show in 1954 and was offered alongside the 300 SL. This particular example is an early-production example that is fitted with the most desirable factory specifications and offers a tremendous degree of originality. It spent a short time at the original selling dealership where its paintwork was damaged by falling glass within the showroom window and was therefore refinished in the original shade of Erdbeerrot or 'Strawberry' (DB 543).

This roadster was purchased new by Robert Roberts of Pittsburgh, Pennsylvania and was delivered with a removable hardtop only.

The current owner acquired the car in December of 2012. At the time, the odometer shows just over 31,000 original miles. The current owner had the body stripped to bare metal and refinished, using the factory-applied dashboard paint as the standard for matching. The original Light Grey (1058) Roser leather interior, while in good condition, was treated using the Leatherique process.
By Daniel Vaughan | Nov 2014
Max Hoffman was responsible for the sporty two-seat Mercedes-Benz 190SL sports car. The S represented 'Sports' while the L meant Light, or 'Sehr Leicht'. With a curb weight of 2560 pounds, it was hardly 'light' when compared with other vehicles in it class, some 500 through 1000 pounds less. It was however an excellent alternative to the higher-priced Mercedes-Benz 300SL. The gullwing-door 300SL was available only as a coupe while the 190 SL could be purchased as a Roadster with a soft top convertible or with a removable hardtop roof.

In 1954, Mercedes introduced its two-door 190SL at the New York Auto Show. Fifteen months later the production version was displayed at the 1955 Geneva Auto Show. Gone was the air-scoop that had been on the hood, along with other aesthetic aspects.

The 300SL was initially priced at $7,460 while the 190SL was $3998. As a result the 190SL outsold the 300SL by nearly eight to one. In its best year 4,032 190SL's were produced. In its worst year only 104 examples were produced.

Under the hood was an 1897 cc four-cylinder OHC engine that was capable of producing around 105 horsepower. It took 14.5 seconds to go from zero to sixty and had a top speed of nearly 110 mph. Drum brakes were placed on all four corners of the 14 foot, one inch vehicle. Servo brakes were optional until 1956 at which point they became standard.

The engine capacity was taken into account when naming the vehicle. By moving the decimal place once to the left, it created 189.7. The number was then rounded up to 190. So the 190 represents the approximate engine capacity in liters, meaning about 1.9 liters.

The 190SL production run lasted from 1955 through 1963. Most of the body-styles were open roadsters the rest were coupes. In comparison to many other nameplates, this is a very low number, guarantying its exclusivity and rarity in today's standards. It was a beautiful sibling to the prestigious and awe-inspiring gullwing door 300SL.
By Daniel Vaughan | Sep 2006
For more information and related vehicles, click
here
CHRYSLER GROUP LLC REPORTS MAY 2014 U.S. SALES INCREASED 17 PERCENT; BEST MAY SALES SINCE 2007
◾50th-consecutive month of year-over-year sales gains ◾Jeep®, Dodge, Ram Truck and FIAT brands each post sales gains in May compared with same month a year ago ◾Jeep brand sales up 58 percent; best sales month ever for third consecutive month ◾Ram pickup truck sales up 17 percent; best May sales since 2005 ◾FIAT brand sales up 18 percent; best May sales ever ◾Eight Chrysler Group vehicles set sales records in May June 3, 2014 , Auburn Hills, Mich. - Chrysler Group LLC today report...[Read more...]
Two Best of Show Winners : Similar Designs : Same Owner
When these two vehicles won Best of Show honors at major Concours d'Elegance events, they both were owned by Judge Joseph Cassini III. The green colored Chrysler 4 door Phaeton with tan convertible top wears coachwork by LeBaron. In 2012, it won the Best of Show title (for an American car) at the Concours d'Elegance of America at St. Johns. The other car is a Packard 2 door Convertible Victoria with coachwork by Dietrich. It won this years Pebble Beach Concours d'Elegance Best of Show honors...[Read more...]
Barrett-Jackson Flavors Its January Scottsdale Auction With NASCAR Treats
• RACING HERITAGE, HIGH PERFORMANCE ARE RECIPES FOR CAR-COLLECTING FEAST
• SPEED™ SET FOR 39 HOURS of LIVE COVERAGE STARTING JAN. 15
The great Henry Ford once said, 'Auto racing began five minutes after the second car was built.' And for more than 60 years, there are few entities that better represent auto racing in America than NASCAR. From the hallowed grounds of Daytona International Speedway, to Sonoma, California's intricate and picturesque road course, the sp...[Read more...]
TOPLINE COLLECTORS PLACE SPOTLIGHT on SPEED'S BARRETT-JACKSON BROADCAST FROM SCOTTSDALE
• TOPLINE COLLECTORS PLACE SPOTLIGHT on SPEED'S BARRETT-JACKSON BROADCAST FROM SCOTTSDALE
• 'LOST' SHELBY DUAL PROTOTYPE, HAGERTY GIVEAWAY & SALON COLLECTION HIGHLIGHT 39 HOURS OF LIVE COVERAGE
The 42nd annual Barrett-Jackson Scottsdale (Ariz.) Collector Car Event, the first of four set for live coverage in 2013, kicks off the auction season in grand style as some of the world's most sought-after machines cross the block starting Tuesday, Jan. 15 at 7 p.m. ET/4 p.m. PT. SP...[Read more...]
Land Rover Celebrates 25 Years In The U.S. At New York Auto Show
2012 marks the 25th year of Land Rover in the United States. To commemorate this milestone, Land Rover North America hosted a special celebration in conjunction with the New York Auto Show and invited customers to drive 2012 model year vehicles on a custom-built urban off-road adventure in the heart of New York City's meatpacking district. Heritage Land Rovers on display at the off-road course included: 1987 Range Rover, 1993 Land Rover 110, 1995 Range Rover Classic, 1995 Camel Trophy Discove...[Read more...]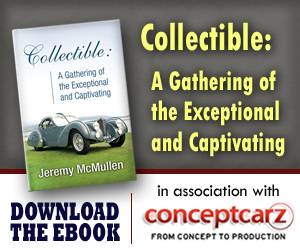 Similarly Priced Vehicles from 1956
Cadillac Series 62 ($4,145-$6,500)
Chrysler New Yorker ($3,770-$4,415)
Jaguar XK-140 ($3,645-$4,300)
Packard Patrician ($4,161-$4,161)
Arnolt Bolide ($4,000-$6,000)
Chrysler 300B ($4,240-$4,240)
Packard Four-Hundred ($4,190-$4,190)
Alfa Romeo Giulietta ($3,135-$4,070)

Average Auction Sale: $55,895
Mercedes-Benz
Monthly Sales Figures
Volume
December 2014
37,297
November 2014
37,110
October 2014
30,733
September 2014
29,523
August 2014
28,958
July 2014
29,406
June 2014
28,707
May 2014
26,617
April 2014
28,281
March 2014
29,316
February 2014
22,609
January 2014
23,892
(More Details)
© 1998-2014. All rights reserved. The material may not be published, broadcast, rewritten, or redistributed.