Image credits: © Seat.
2001 Seat Tango news, pictures, specifications, and information

Tweet
Daring, full of vital energy and sporting intensity, the SEAT Tango conveys emotions beyond the impact of technological advances.

With this two-SEATer, to be unveiled at the Frankfurt International Motor Show, the SEAT Technical Centre has evoked the spirit of sporty 50s and 60s convertibles through the use of pure, no compromise, design. The result is a thriller whether it's being driven gently or its incredible potential is being fully exploited.

Tango has been conceived as a genuine spider - open, minimalist, essential in every detail. It features expressive and innovative solutions based on a structure in which the chassis, body, passenger compartment, engine and structural elements merge to form a whole.


Primary materials and textures blend together, creating a smooth, continuous flow of elements wîth the aesthetics of the cockpit, for example, exploding onto the outside of the car and back again to the inside. Like a metal skeleton, unpolished aluminium tubes are visible throughout the interior of the cockpit which also plays host to parts of the chassis, while the waterproof leather upholstery also lines the storage compartments behind the SEATs of this enticing roadster.

Novel lighting solutions are a strong feature of the concept. The SEAT Tango features streamlined headlamps devoid of internal structures, leaving their architecture visible. Both Xenon dipped headlights and sidelights automatically follow the direction of the front wheels

The foglamps are made up of a series of light emitting diodes encased in the central moulding of the grille, while the rear lights use filters lit by fibre optics to create multiple combinations (the entire light strip can be a rear light, a brake light or an indicator).


They are also of variable intensity, automatically adjusting their brightness to the prevailing conditions. This small galaxy of lights is perfectly integrated in the smooth lines of the body, whose only 'cosmetic' addition is a small aerodynamic spoiler at the lower rear end.

Sophistication lies beneath. A complex tubular structure (called a Safety Skeleton) intertwines under the muscular shape and is a direct descendent of the World Rally Car safety cage. It houses not only the front MacPherson struts and the rear suspension system which features a degree of self steer, but also the engine, which transmits 180 hp to the front wheels.

At the rear, buttress-like framework is joined to the structure of the SEATs themselves, distributing tension in several directions. This means the driver's SEAT is fixed, so to ensure the perfect driving position the pedal box is adjustable, while both the §teering wheel and its integral instrument dials are adjustable for height and reach.


Tango demonstrates perfectly the creative and innovative capabilities of SEAT's Technical Centre. The SEAT Tango makes its début at the Frankfurt International Motor Show, which is open to the public from 13 to 23 September.
Source - SEAT
NORRA MEXICAN 1000 RACERS PREPARE FOR ANNUAL NEW YEAR'S DAY TRADITION
-- Rally Registration to open for 'Happiest Race on Earth' -- -- Rally Registration to open New Year's Day -- (Agua Dulce, Calif.,) While the world enjoys this week's Christmas holiday, racers and adventure seekers from many parts of the globe are looking forward to their own off-road motorsports tradition. With just 140 days left before the fifth annual General Tire NORRA Mexican 1000, event registration will open as it has for the past three years – on New Year's Day, January 1, 2014...[Read more...]
Team Toyota Athletes and Partners Create Their Ultimate Rides at 2013 SEMA Show
Four-Way Vehicle Customization Competition Unlocks Imaginations TORRANCE, Calif. (Sept. 26, 2013) – A NASCAR driver, a freestyle skier, a BMX rider and two supercross stars go head-to-head in a competition to create their ultimate dream rides. This year's Toyota Dream Build Challenge invites a diverse group of Team Toyota athletes along with their big-time partners to modify vehicles, letting fans participate in the process and vote for their favorites at http://www.ToyotaDreamB...[Read more...]
50 years ago: Eugen Böhringer drove the 'Pagoda' to victory in the 1963 Spa–Sofia–Liège rally
• Second overall victory in succession for Mercedes-Benz at the 90-hour rally • The then new SL model series W 113 impressively displayed its sporting credentials Stuttgart – From Belgium to Bulgaria and back, 5,500 kilometres in 90 hours: from 27 to 31 August 1963, Eugen Böhringer drove the red Mercedes-Benz 230 SL (W 113) day and night, hurtling through narrow passes and along distant motorways. Together with co-driver Klaus Kaiser, he secured overall victory in the 'Marathon de la ...[Read more...]
SUBARU ANNOUNCES PRICING FOR 2014 WRX AND WRX STI
Cherry Hill, N.J. - Subaru of America, Inc. today announced pricing for the 2014 WRX® and WRX STI®. Subaru's iconic line of sport models have seen their sales increase by nearly 40-percent year-to-date and have a starting MSRP of $25,995. The 2014 Subaru WRX delivers the biggest performance value in its competitive set. The WRX offers more power than rivals like the Ford Focus ST and Volkswagen GTI, neither of which offers all-wheel drive. In the WRX, a 2.5-liter turbocharged/intercooled fo...[Read more...]
Breaking news from Coys
1966 AC Shelby Cobra - Now selling at No Reserve! Coys are pleased to announce that a 1966 AC Shelby Cobra will now be selling at No Reserve later today at the Autosport International show at the NEC in Birmingham. Featured on the front cover of Classic & Sportscar magazine in September 2012, this Cobra is beautifully presented in Rangoon Red paintwork with black leather upholstery and hood and tan tonneau and sidescreens, and the car still displays a delightful patina. The 427ci b...[Read more...]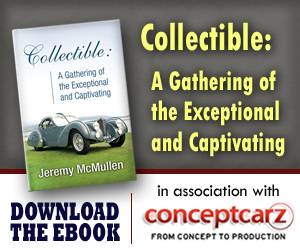 © 1998-2014. All rights reserved. The material may not be published, broadcast, rewritten, or redistributed.