Image credits: © Ford.
1996 Ford Indigo Concept news, pictures, specifications, and information

Tweet
Here is another nice little car put out by the friendly people at Ford
It was not just the name of the IndiGo that was clever (playing on its association wîth IndyCar racing). This was no mere show car but a concept designed from the outset to be feasibly manufactured at some point. Even though most people who worked in the trade accepted that this was too radical to be offered for sale, it was a driveable car.

Ford said that the IndiGo 'captures the essence of the race-track and transforms it into a realistic design for the street.' The styling was strongly rac car in feel, from the bespoilered, narrow nose to the blacked-out wings, while construction also mimicked competition use.

A 441bhp 6.0 litre V-Twelve engine-formed by mating two V-Six units together - was estimated to give a top speed of 170mph and 0-60 time of under four seconds. The six-speed sequential gearbox was derived from race cars, and changes were made by pressing buttons on the §teering wheel. Even the instrument panel on the dashboard was Formula 1 inspired
Source -
ERIC VIGOUROUX AND 'BALLISTIC' BJ BALDWIN WITH NEW EVR PROTO VX-101 RALLY RAID CONCEPT IN LE DAKAR 2014
◾Experienced and spectacular desert raid drivers team up for victory in 2WD category ◾Totally new rally pickup truck with powerful V8 engine ◾EVR and Jefferies Racing have joined forces ◾High potential for top team APPLE VALLEY, USA, November 8, 2013 - Eric Vigouroux Racing has announced their participation with two new developed pickup trucks in Le Dakar 2014 in collaboration with Jefferies Racing. Experienced Dakar pilot Eric Vigouroux from France, living in California will team u...[Read more...]
GLOBAL RALLYCROSS ANNOUNCES GRC LITES INAUGURAL 2013 SCHEDULE
Los Angeles, Calif. (June 14, 2013) – Global Rallycross is pleased to announce the inaugural season of GRC Lites, with a six race schedule that will see the new series visit some of the greatest race tracks in America. GRC Lites, the companion series to Global Rallycross's Supercar class, has been designed to be the ideal class for drivers to gain rallycross experience. The inaugural season of GRC Lites schedule will take place from July through November. The six race dates are as foll...[Read more...]
Norra 'Forges The Future' This Week Via First All-Electric Off-Road Race Car To Challenge The Legendary Baja Penninsula
Since 1967, the National Off Road Racing Association's (NORRA) Mexican 1000 has been asignificant environment for creativity and innovation in off-road motorsports. Thanks to the technical and industry credibility of hot rod pioneer and NORRA executive Don Francisco, the unique Baja competition quickly rose to prominence via the participation of stars like of Parnelli Jones, James Garner and Steve McQueen. Why? From its inception desert racing's wide-open environment gave the automotive industry...[Read more...]
Citroen Shifts Into Racing Gear For 2012 Goodwood Festival Of Speed
•New Citroën Racing driver, Thierry Neuville, will be putting DS3 WRC through its paces on the hill climb & Forest Rally Stage •Hot blooded 256bhp DS4 Racing concept making its UK premiere on the Citroën stand •New Citroën DS5 taking part in the Moving Motor Show Citroën is showcasing the very best of its stylish flair, 'Créative Technologie' and racing pedigree at this year's Goodwood Festival of Speed with the DS3 WRC in action; the UK premiere of DS4 Racing concept and a display of th...[Read more...]
Monaco Association Against Muscular Dystrophy
Blancpain, classicdriver.com and RM Auctions are delighted to announce the offering of the 2011 Lamborghini Gallardo LP600 GT3 Racing Car, chassis 09825, at RM's upcoming Monaco sale, May 12 at the Grimaldi Forum. Offered by luxury Swiss watch manufacturer, Blancpain, the Lamborghini on offer is the racing car in which Blancpain President and CEO, Marc A. Hayek, won the 2011 Amateur-Class championship in the ADAC GT Masters Series. 100 percent of proceeds from the vehicle's sale, inclu...[Read more...]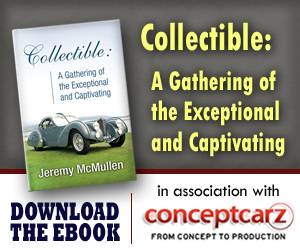 Ford
Monthly Sales Figures
Volume
December 2014
209,679
November 2014
178,221
October 2014
179,014
September 2014
172,261
August 2014
214,028
July 2014
204,373
June 2014
214,793
May 2014
244,501
April 2014
203,552
March 2014
235,198
February 2014
177,286
January 2014
148,671
(More Details)
© 1998-2014. All rights reserved. The material may not be published, broadcast, rewritten, or redistributed.