Image credits: © Ford.
1986 Ford RS200 news, pictures, specifications, and information

Tweet
Ford began developed on a rear-wheel drive, turbo-charged version of their MK III Escort (the Escort RS 1700T) for the new Group B rally racing series. As is often the case, development problems arose which ultimately forced Ford to abandon the project. Instead of simply writing off the costs of the failed 1700T, Ford executives made the decision to go in a different direction, and build an all-new, purpose-built rally car. This new vehicle would go head-to-head with the Lancia delta S4 and the Audi Quattro S1 - meaning the new car would require four-wheel drive.

The RS200 was given a composite/fiberglass body styled by Flippo Saprino at the Ghia Design Studio. Formula One designer Tony Southgate designed the chassis along with help from former F1 engineer John Wheeler. Mounting the 1.8-liter Cosworth 'BDT' engine in the middle, and placing the transmission in the front, gave the RS200 excellent balance, even better than its competition.

Complying with FIA homologation rules, Ford planned to build a minimum of 200 examples. 24 of those were given serious upgrades, and dubbed 'Evolution' models. The RS200 Evolution received uprated suspension, brakes and a larger 2.1-liter version of the Cosworth powerplant. At full boost, the RS200 has nearly 600 horsepower and can race from zero-to-sixty in just over 3 seconds.

This white RS200 is one of those rare Evolution models and has just 5.557 kilometers. The interior has grey carpeting, door inserts, red Sparco seats and a matching red leather XR3i steering wheel.

In 2011, this vehicle was offered for sale at the Amelia Island Auction presented by RM Auctions. It was estimated to sell for $80,000-$120,000. As bidding came to a close, the car had been sold for the sum of $159,500 including buyer's premium.
By Daniel Vaughan | Apr 2011
The Ford RS200 was designed to comply with FIA homologation regulations and based on Ford's Group B Rally car. Homologation rules stated that 200 examples of road going version must be created in order to compete in rally racing. The vehicle was so perfect that it held the Guinness Book of Records for being the world's fastest accelerating car.

The vehicle was created by Ford of Britain. It was based heavily on the European version of the Escort though its chassis was designed by a former Formula 1 designer named Tony Southgate. John Wheeler used his F1 engineering background to aid in the development. The vehicle was given all-wheel-drive and a mid-mounted engine. Weight-distribution was further improved by placing the transmission at the front of the car. Production lasted from 1984 through 1986. The body was constructed of a plastic and fiberglass composite and designed by the legendary firm, Ghia. The suspension was made up of a double wishbone setup with twin dampers on all wheels. The engine was a l.8 liter Ford four-cylinder unit with Cosworth modifications. A turbocharger helped produce 250 horsepower for the road-going versions and around 350 for the racing versions. Though some of the racing engines were highly tuned and produced horsepower in the 400 through 450 range.

Ford created the 200 road-going versions of the RS200 in compliance with FIA rules. They created additional spare parts which could have created in excess of twenty extra vehicles. These parts were ear-marked for the racing efforts.

With a potent engine, lightweight construction, excellent weight distribution and all-wheel drive the Ford RS200 was theoretically the ultimate machine. In reality, it lagged in the power-to-weight ratio in comparison to other vehicles. Also, the engine produced low-RPM lag which made it difficult to be competitive.

The Ford RS200 best finish in Group B rallying competition came in 1986 at the WRC Rally of Sweden where it placed third. It did achieve mild success in other classes outside of Group B competition and it may have seen more in the Group B class but after one year of racing, the FIA disbanded the Group B and the RS200 became obsolete. The decision to disband came after Herni Toivonen and co-driver Sergio Crestos died in an accident at the 1986 Tour de Course. Officials made the decision that the cars were too fast and posed to many safety risks. This was unfortunate on many fronts. The Group B racing was very competitive and just as exciting. To combat their shortcomings, Ford had planed on resolving the vehicles problems with the introduction of an 'Evolution' version. The upgraded engine was estimated to produce between 525 and 800 horsepower. The rest of the vehicles components were to receive attention such as the suspension, brakes, chassis, and more. Zero-to-sixty was estimated to take around two seconds.

Out of the 200 examples created, around 24 were later converted to the 'Evolution' status.
By Daniel Vaughan | Sep 2006
John Barnard's Finest: Some of the Greatest of Barnard's Design
The latter-part of Barnard's Formula One career would be filled with disappointments and disputes. However, there was no disputing the genius of the man from London. In fact, a couple of innovations that are mainstays in Formula One design were first introduced by this man who had been involved in motor racing in some form or manner since the 1960s. John Barnard would be born in London on the 4th of May in 1946. The war was over and a whole new world loomed on the horizon. It was t...[Read more...]
RRDC VOTES IN 37 NEW MEMBERS FOR 2013
HILLIARD, Ohio (Nov. 7, 2013) - Thirty-seven race-car drivers and motorsports professionals have been voted into the Road Racing Drivers Club in 2013. The group includes 13 Regular Members from the open-wheel and sports-car racing ranks, 20 Associate Members and four Honorary Members. The current roster of RRDC members now numbers 440. Voting was held among all current RRDC members. 'This year's crop of new Regular Members truly represents the spirit of the RRDC, as each driver has de...[Read more...]
1964 Nurburgring 1000 Kilometers: Survive for One Last Victory
During the late 1950s, Richie Ginther would begin a relationship with John von Neumann and this partnership would result in one of the most dominant periods of American sportscar racing in which Ginther and Porsche would be virtually unbeatable. Nearly a decade later, that same combination would again join forces to provide one more moment of glory. By the mid-1950s Porsche had developed its 550. This was a small car more than capable of dominating its class and consistently able to challenge...[Read more...]
Norra Names Mark Mcmillin Grand Marshal For 2013 General Tire Mexican 1000
Legendary Baja racing champion and San Diego-based homebuilder Mark McMillin has been named by the National Off Road Racing Association (NORRA) as the honorary Grand Marshal for this year's upcoming General Tire NORRA Mexican 1000. The unique fourth annual on and off-road rally is set to kick off this Saturday, April 27th in Mexicali, Baja, Mexico and will conclude at lands-end in San Jose Del Cabo on May 1. Mark McMillin's Grand Marshal role places him in an elite group of previous icons ...[Read more...]
1967 Can-Am Road America: The Beginning of the 'Bruce and Denny Show'
While Formula One will be forever considered the pinnacle of motorsport, from a period between 1966 and 1986 there existed a series that would likely be the closest to 'anything goes' as any motor racing series could truly get. Based upon the FIA Group 7 cars but allowed to showcase unlimited engine sizes and unfettered aerodynamics, the Can-Am cars would have to be considered the pinnacle of motorsport technology and power of their era. And for more than a couple of years there would be one tea...[Read more...]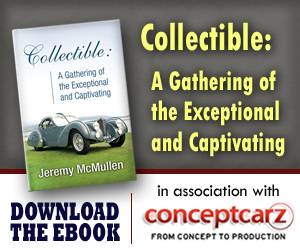 Ford
Monthly Sales Figures
Volume
December 2014
209,679
November 2014
178,221
October 2014
179,014
September 2014
172,261
August 2014
214,028
July 2014
204,373
June 2014
214,793
May 2014
244,501
April 2014
203,552
March 2014
235,198
February 2014
177,286
January 2014
148,671
(More Details)
© 1998-2014. All rights reserved. The material may not be published, broadcast, rewritten, or redistributed.