1951 Studebaker Commander State news, pictures, specifications, and information

Tweet
The name Commander was used throughout most of the Studebaker Companies existence. It appeared in the 1920's and used consistently by the company with the exception of a few years, those being 1936 and 1959-1963. The Commander name had many duties during its existence with some of those denoting the companies premium model range.

The postwar Studebaker Commander had been the work of Virgil Exner and Raymon Loewy. Its bullet-nosed front end and use of chrome trim gave the vehicle a distinct appearance. Power was from a 233 cubic-inch overhead valve V8 that continued to rise in power as the years progressed. In 1952, the Commander was chose as the Indianapolis 500 Pace Car.

The 1951 Studebaker Commander State Convertible Coupe finished in red with red interior was offered for sale at the 2006 RM Auction in Monterey, CA where it was estimated to sell between $40,000-$60,000. It was offered without reserve. Since new, the vehicle has undergone a comprehensive restoration that included work being done to the chrome, paint and upholstery. On auction day the car did sell, netting $49,500.
By Daniel Vaughan | Dec 2006
In the postwar era, Studebaker claimed 'First by Far with a Postwar Car.' Their dramatic Starlight coupe was introduced in 1947 and sales were strong, seeing levels not seen before the war. Studebaker achieved eighth place in the industry for 1949, before setting into a steady ninth as other automakers' production caught up with demand.

For 1950, Studebaker introduced their automatic transmission, developed in conjunction with Borg Warner. 1950 was also the year the cars were face-lifted with the aircraft-inspired 'bullet-nose' design. The following year, a V-8 engine was offered, a first for an independent automaker. The engine was a sturdy overhead-valve design that remained in production for over a decade.

This Studebaker Commander State Convertible is finished in light yellow with a saddle tan interior and a canvas top. It was restored in 1987 and has aged rather nicely. The engine is a 232.6 cubic-inch overhead valve V-8 that offers 120 horsepower. There is a three-speed automatic gearbox and four-wheel hydraulic drum brakes. It is equipped with AM radio, under-seat heater, backup lamps, directional signals, chrome fender skirts, full chrome wheel covers and a tissue dispenser. For 1951, just 3770 'State' Line convertibles were produced.

In 2011, this Commander State Convertible was offered for sale at the St. John auction presented by RM Auctions. The car was estimated to sell for $35,000 - $45,000 and was offered without reserve. As bidding came to a close, the car had been sold for the sum of $30,250 including buyer's premium.
By Daniel Vaughan | Oct 2011
Studebaker entered the automotive business in 1902 with electric vehicles, and began producing gasoline -powered vehicles in 1904. They began using the Commander name in 1927, it was applied to various cars in company's product line-up from year to year. Say the name 'Studebaker,' and there is a good chance that the image that springs to mind is the 1950-1951 models, a.k.a the 'bullet nose' Studebaker.

This example is a 1951 Studebaker Commander convertible in Commander Red. 1951 models differ from their 1950 predecessors with some styling refinements in the front end with flush, rather than recessed, grille work.

This example was built on November 9. 1950, at Studebaker's South Bend, Indiana facility. It spent most of its life in Tucson, Arizona, where an amateur restoration was performed on it before it was sold to a new owner in California. The car was shown and received many awards at local car meets in the Los Angeles area. In 2003, it was housed in a storage garage which caught fire, scorching the paint and damaging the top and interior.

The current owner acquired the car about ten years ago and had it shipped to Indiana where he decided to commission a full professional restoration because the car 'looked very sad' but was not permanently damaged.' The restoration was completed by Westmoreland Auto Restoration in Blairsville, Pennsylvania.
The Studebaker Commander was produced for several years, representing several bodystyle changes, and first appeared in the 1920s. The company would continue to use the name until their demise in 1966. There were only a few years where the Commander did not appear in Studebaker's line-up during that time; those were in 1936 and 1959-1963.

When the name first appeared in 1927, it was Studebaker's middle-series. As the years progress, it would move up and down market, often changing positions from year to year. The name would continue until it was dropped in 1935, only to reappear in 1937 where it served as the company's least expensive model, taking the place of the previous Studebaker Dictator. The company had decided to do away with the 'Dictator' name, due to the negative political connectors associated with the name. Mainly, Adolf Hitler in Germany had tainted the word 'dictator.'

The Commander moved up-market in 1939 when Studebaker introduced the Champion model. After the Second World War, Studebaker dropped its President moniker, and repositioned the Commander in its place. At the same time, Studebaker introduced an extended wheelbase model known as the Land Cruiser.

The President name reappeared in 1955; the President model became the premium model range and the Commander was demoted to the mid-range model. The name would continue until 1958 and reappear in 1963 for the 1964 model range. It was positioned next to the lowest-priced Lark model and above the entry-level Challenger model.
By Daniel Vaughan | Jun 2008
For more information and related vehicles, click
here
BMW TEAM RLL – TWELVE HOURS OF SEBRING PREVIEW
Woodcliff Lake, N.J. – March 12, 2014 . . . After five years of beginning its season at the Twelve Hours of Sebring, BMW Team RLL arrives ready for the 62nd annual event with something it has never had before – momentum from a prior race. The new TUDOR United SportsCar Championship that has merged the GRAND-AM and ALMS series began with the Rolex 24 At Daytona in January. BMW Team RLL finished second and fourth - the only team in the GTLM class to finish both team cars in the top-five. ...[Read more...]
VOICES: BMW TEAM RLL IS READY FOR THE ROLEX 24 AT DAYTONA
Woodcliff Lake, N.J. – Jan. 23, 2014 . . . BMW Team RLL brings a power-packed driver lineup to the 52nd Rolex 24 at Daytona to pilot the two BMW Z4 GTLM racing machines. Bill Auberlen, Joey Hand, Maxime Martin and Andy Priaulx will share the black No. 55 car. John Edwards, Dirk Müller, Graham Rahal and Dirk Werner will co-drive the white No. 56 machine. Among them Auberlen has two class wins (1997 GT3, 1998 GT3) and Müller one (1998 GT1) while Hand and Rahal co-drove to the 2011 overal...[Read more...]
THE 2014 AMELIA ISLAND CONCOURS D'ELEGANCE HONORS FIFTY YEARS OF McLAREN
McLaren's 50th anniversary will be celebrated at the 19th annual Amelia Island Concours d'Elegance on March 9, 2014, with a display of rare and significant McLaren racers from five decades of competition. McLarens were not only victorious in the world's richest and most prestigious races, the company changed motorsport through a relentless pursuit of perfection and brought a strictly professional approach to a sport that had been more of a glamorous hobby than a true business. Today McLaren...[Read more...]
Mazda Raceway Laguna Seca : Another Chapter Closes
MONTEREY, CA, Make no mistake about it. After three days of competition at the Rolex Monterey Motorsport Reunion, there were awards to be won, but they were not necessarily bestowed upon the actual winners in 16 different classes that took to the straights, curves, hairpin turns and challenging drops of Mazda Raceway Laguna Seca. In fact, Rolex Awards of Excellence were awarded in each race category to individual drivers who were determined by an independent panel to be 'most deserving,' ...[Read more...]
Townsend Bell To Make Grc Debut At X Games Munich
Townsend Bell, a seven-time Indianapolis 500 starter and current American Le Mans Series driver, will make his Global Rallycross debut at X Games Munich on June 30, 2013. Bell will drive the #7 Royal Purple Ford Fiesta for OMSE2. Bell's major professional career began after he won the 2001 Indy Lights championship, launching him into CART, Formula 3000, and Formula One test drives. Since 2004, he has mostly focused on IndyCar, earning a fourth place finish in the 2009 Indianapolis 500 and 12 ...[Read more...]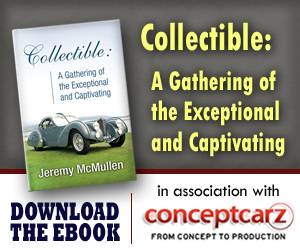 Similarly Priced Vehicles from 1951
Simca Aronde ($1,995-$1,995)
Buick Deluxe ($2,125-$2,560)
MG TD ($1,950-$1,950)
Chevrolet Styleline Deluxe ($1,627-$2,190)
Ford Custom Deluxe ($1,500-$2,030)
Mercury Series 1CM ($2,113-$2,365)
Nash Ambassador ($2,135-$2,320)

Average Auction Sale: $23,786
© 1998-2014. All rights reserved. The material may not be published, broadcast, rewritten, or redistributed.