1932 Studebaker President news, pictures, specifications, and information

Tweet
The Studebaker President was introduced in 1928 and signaled Studebaker's entry into the luxury car segment. It was powered by a high output eight-cylinder engine that easily carried the elegant coachwork at high rates of speed. Three Presidents were driven around the Atlantic City board track for 25,000 miles averaging 68 mph. This did much to prove the engines durability and performance.

In 1931, Studebaker enhanced the engine further with a nine bearing construction. A modified version of the President won the Pike's Peak hill climb. At the Indianapolis 500, the cars further proved their potential and sporty characteristics by continually finishing in the top ten.

By the early 1930s, Studebaker had captured 114 records with 35 of them remaining for 35 years.

For 1932, the Studebaker was visually modified and given a new grille and suicide doors. Around 200 roadsters were constructed and about 54 surviving for 1931 and nine from 1932.

This 1932 Studebaker President Four Seasons Roadster was offered for sale at the 2007 RM Auctions held in Amelia Island, Florida. It was estimated to sell between $150,000 - $200,000. Under the long and graceful bonnet was a 337 cubic-inch side valve engine with nine main bears. It produced 122 horsepower and had a three-speed synchromesh gearbox.

This car has been treated to a complete restoration which took four years to complete. It has won numerous awards and been judged Junior and Senior awards at AACA Hershey meetings. It was awarded Firs in Class and the Most Elegant Open Car at the Cincinnati Concours d'Elegance. It won Primary and Senior Awards at the CCCA Grand Classic. The vehicle was invited to the 1995 Pebble Beach Concours d'Elegance, an honor just to attend.

At auction, the car did find a new owner with a selling price that met the estimated value. Though the restoration is a little dated, the car is in wonderful condition. The selling price of $176,000 is a fair price for a car this elegant.
By Daniel Vaughan | Mar 2007
The Studebaker President was the premier automobile model manufactured by the Studebaker Corporation of South Bend, Indiana during the 1927 to 1942 model years. The first automobile bearing the name President was unveiled on July 23, 1926, and was designated as the 'ES' in internal Studebaker memos.

Albert R. Erskine, Studebaker's president, spared no expense in funding the President; his intent was to make the President the finest automobile on the American road. Presidents produced from1 1928 to 1933 established numerous land speed records, some of which went unbroken for ten or more years.

In 1932, Studebaker introduced 'Ovaloid' headlights which were oblong in shape and made it easy to identify the President and other 'senior' Studebaker models. Presidents manufactured in this era were considered to be nearly on par with more exclusive marques such as Cadillac, Packard and Chrysler's Imperial model range.

Studebaker went into receivership during 1933, and the era of the big impressive President came to an abrupt end. The Classic Car Club of America regarded as the American authority on granting 'classic car' status, recognizes the 38,403 Studebaker Presidents produced in 1928 (8-cylinder FA & FB models only) and between 1929 and 1933 as a 'Full Classic.'

Standard equipment on the Studebaker President included a Stromberg carburetor, Delco-Remy ignition, Bendix brakes, freewheeling, ride control, vacuum distributor, hydraulic shock absorbers, metal spring covers, synchromesh transmission, dual ashtrays, an inside sun visor and an airplane-style instrument panel.

This Brougham wears an older no-expense-spared restoration and features dual side-mounted spares and a rear-mounted trunk. It is painted in dark burgundy with gray accents and burgundy pin striping. The interior is gray cloth and it rides on chrome-plated Budd wheels.

In 1991, this vehicle won the AACA 'Outstanding Vehicle in the Show Year' and has won National Firsts in both the AACA and CCCA events. IN 1993 it won the AACA Preservation Award, a Studebaker National Museum Design Award, and a class award at the Meadow Brook Hall Concours d'Elegance.

In 2009, this Studebaker 91 President St. Regis Brougham was offered for sale at the Automobiles of Amelia Island Auction presented by RM Auctions. It was estimated to sell for $120,000-$160,000. The lot was sold for a high bid of $90,000, including buyer's premium.
Studebaker produced the President Eight from 1927 to 1942. The 1929-33 Presidents are Classic Car Club of America Full Classics. The President bodies have a color band at the beltline and crowned and beaded fenders. Though elegant, they were not expensive cars. As the 1930's progressed, the Studebaker Presidents became more streamlined and culminated in the art deco designs of the Raymond Loewy Studio starting in 1938.

This President is a Four Seasons Roadster and one of only nine known examples surviving. It rides on a 135-inch wheelbase chassis powered by a 122-horsepower in-line eight-cylinder engine. The original price was $1,855. Many standard features included a cigar lighter, clock and Trico vacuum wiper.
By Daniel Vaughan | Jul 2010
The Studebaker Company was formed in 1852 as a wagon manufacturer and eventually changed to automotive production, making them one of the oldest names in the automobile industry. They were in the automotive business from 1902 through 1966, a total of 64 years. They produced electric powered cars for the first two years and introduced gasoline power in 1904. During the 1920's they produced vehicles in the mid-priced range and showed great promise during the late 1920s. In 1927 Studebaker moved up-market and into the luxury car segment with their President model line. The President was given a powerful eight-cylinder engine that was worthy of the elegant coachwork that it carried. The engine earned Studebaker a reputation in power, performance and endurance. In 1931 a Studebaker President outfitted with a nine-bearing engine won the Pikes Peak hillclimb.

The Studebaker President stayed in production until 1942 and later reappeared in 1955 and discontinued again in 1958. The first Studebaker was built on July 23rd, 1926 and was given the internal named the ES. The goal of the President was to be the finest, most powerful, dependable, and luxurious car on the American market. By establishing land speed records in the late 1920's and early 1930's, the President cemented its name in the performance department. The powerful nine-bearing eight-cylinder engine captured 114 records, 35 of which would stand for 35 years. The long bodies meant there was plenty of interior room for the passengers and no expense was spared when creating these automotive marvels.

In 1935 the Studebakers could be purchased with a steel sliding roof allowing passengers to enjoy the open air and picturesque views. Sales reached 2305 examples most with a selling price of around $1,529. Some of the optional equipment included exterior mounted chrome salon horns, chrome radiator mascot, two side mounted spare tires, foot hassocks in the rear compartment, Startix automatic starting system, full automatic spark control and chock, overdrive with synchronized shifting, full cushioned power seats, special 4-spoke phantom type steering wheel.

The suspension was improved in 1936 with all Studebakers being equipped with the Startix suspension system. In 1937 a semi-automatic 'Miracle-Shift' transmission was offered, which featured a dashboard mounted shifter. In 1939 the shift lever was moved the steering wheel column and the 'Miracle-Shift' unit was discontinued.

Raymond Loewy joined Studebaker as a design consultant near the close of the 1930's. His influence and designs can be seen on the later 1930 model Presidents.

In 1941 Studebaker offered a premium trim level President, named the Skyway President. This automobile had full fender skirts that enclosed the cars rear wheels, adding a unique styling and improving aerodynamics. These examples were only offered for a short time, as the President line was discontinued in 1942.

The President name reappeared in 1955 and stayed in production until 1958.

The President Speedster was a one-year special edition car based on the 1953 Starliner. Ironically, the 1953 car had virtually no chrome, while the Speedster had chrome virtually everywhere. Three-toning was optional on the Speedster. It was the predecessor to the 1956 Hawk series.

In 1956 the Loewy Euro-style Studebaker was reskinned to look more American. The dashboard was totally redesigned with a 'Cyclops Eye' speedometer sitting atop it. The President Classic had a longer wheelbase than the standard President line and it also had a more powerful engine. Despite the improvements, 1956 was a disastrous sales year for Studebaker.

The President Starlight hardtop was produced for only one year, 1958. The Starlight was complete with chrome and fins, but it was still based on the old 1953 body shell. The narrowness of the body prevented the use of conventional quad headlights, so Studebaker resorted to a 'pod' design where the lights bulged out slightly on the sides of the car.
By Daniel Vaughan | Dec 2007
120 years of motor sport at Mercedes-Benz take centre stage at the Goodwood Festival of Speed 2014
'Addicted to Winning': at this year's Goodwood Festival of Speed, Mercedes-Benz looks back on some fascinating racing victories of the last 120 years •The unique motor sport heritage of the Mercedes-Benz brand is being celebrated with an exclusive installation by sculptor Gerry Judah •Mercedes-Benz and Gran Turismo®6 jointly celebrate '120 years of motor sport' Stuttgart. – The thrilling victories of the Mercedes-Benz Silver Arrows mark the peaks of the history of motor sport for...[Read more...]
Techno Classica 2014: more than 30 racing cars to celebrate 120 years of Mercedes-Benz motor racing history
•Cars that were the heroes of magical moments put their stamp on this high-powered, most comprehensive show presentation •With more than 30 vehicles, Mercedes-Benz Classic presents motor racing history in all its unique breadth and depth •120 years of Mercedes-Benz motor sport in the focus of the leading international classic motor show 120 years of Mercedes-Benz motor racing history have produced a timeline of extraordinary victories which since 1894 also stand for outstanding innovations ...[Read more...]
MARIO ANDRETTI TO BE HONORED BY RRDC AT LONG BEACH
• Firestone returns as presenting sponsor
HILLIARD, Ohio (March 7, 2014) - Mario Andretti, the world's most recognized race-car driver, will be honored by the Road Racing Drivers Club at the 'RRDC Evening with Mario Andretti presented by Firestone' in Long Beach, Calif., on Thursday, April 10, prior to the running of the Toyota Grand Prix of Long Beach. This is the RRDC's sixth consecutive annual banquet honoring auto racing's most influential leaders. Previous honorees were ...[Read more...]
History Rolls into Hershey for RM's Annual Pennsylvania Sale
• Final countdown underway to RM's annual Hershey, Pennsylvania auction, held October 10 – 11 during the historic AACA Eastern Regional Fall Meet • Two-day sale features 116 vehicles, with an emphasis on Brass and Classic Era motor cars • Sale entries led by a rare, award-winning 1933 Chrysler CL Imperial Convertible Roadster • Auction also features number of vehicles steeped with local Pennsylvania history • Digital catalogue now available online at rmauctions.com BLENHEIM, Ontario (S...[Read more...]
Auctions America By RM's 2012 Auburn Spring Auction
'Variety' is the buzzword for this year's Auctions America by RM June 1-3 Auburn Spring auction, which will offer a huge range of collector vehicles and an enormous private collection of automotive memorabilia. More than 600 American muscle cars, Classics, foreign sports cars and hot rods will cross the block at the historic Auburn Auction Park, the company's national headquarters in Auburn, Indiana. 'Last year was our first spring event at the park,' said Auctions America by RM's President ...[Read more...]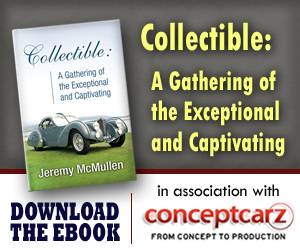 © 1998-2014. All rights reserved. The material may not be published, broadcast, rewritten, or redistributed.