1941 Studebaker Commander news, pictures, specifications, and information

Tweet
The largest and most luxurious of the Raymond Loewy-styled Studebakers in the years before World War II, priced in Buick Century and Chrysler Windsor territory. A smooth L-head straight eight delivering 117 horsepower. The Landcruiser was produced in South Bend, IN. The first Studebaker Landcruiser debuted at the 1933 Chicago World's Fair. Studebaker introduced the ultra-luxurious Skyward Land Cruiser which featured a slightly curved single pane windshield, rear fender skirts and premium details and fabrics.
In the early 1930s, Studebaker was on the verge of bankruptcy following a failed merger with the White Motor Company. In early 1933, the company entered receivership. After a massive reorganization, including the divestment of Pierce-Arrow and the termination of the low-priced Rockne line, the company returned to viability. Along with a successful $10 million advertising campaign engineered by new company president Paul G. Hoffman in 1934, Studebaker returned to prosperity. Soon, the company again became America's top independent automaker. With the help of Raymond Loewy, the cars received thoroughly modern styling that included a lower, wider stance, eliminated running boards, inclined die-cast side grilles, an enlarged greenhouse and air vents within the sides of the cowl. The headroom was maintained though the cars were lower in their overall height. All of the Studebakers featured wider, more comfortable seats.

This Commander sedan is a former AACA award-winning example. It was given a comprehensive restoration and includes exterior accessories as period-style amber fog lamps and a spotlight. The blue and white two-tone interior includes an AM radio, a three-spoke steering wheel, seat belts with Studebaker logos, and a heater/defroster.

In 2010, this Studebaker Commander Sedan was offered for sale at the Vintage Motor Cars of Meadow Brook where it was estimated to sell for $10,000 - $15,000 an offered without reserve. As bidding came to a close, the car was sold for the sum of $20,900 including buyer's premium.
By Daniel Vaughan | Aug 2010
The Studebaker Commander was produced for several years, representing several bodystyle changes, and first appeared in the 1920s. The company would continue to use the name until their demise in 1966. There were only a few years where the Commander did not appear in Studebaker's line-up during that time; those were in 1936 and 1959-1963.

When the name first appeared in 1927, it was Studebaker's middle-series. As the years progress, it would move up and down market, often changing positions from year to year. The name would continue until it was dropped in 1935, only to reappear in 1937 where it served as the company's least expensive model, taking the place of the previous Studebaker Dictator. The company had decided to do away with the 'Dictator' name, due to the negative political connectors associated with the name. Mainly, Adolf Hitler in Germany had tainted the word 'dictator.'

The Commander moved up-market in 1939 when Studebaker introduced the Champion model. After the Second World War, Studebaker dropped its President moniker, and repositioned the Commander in its place. At the same time, Studebaker introduced an extended wheelbase model known as the Land Cruiser.

The President name reappeared in 1955; the President model became the premium model range and the Commander was demoted to the mid-range model. The name would continue until 1958 and reappear in 1963 for the 1964 model range. It was positioned next to the lowest-priced Lark model and above the entry-level Challenger model.
By Daniel Vaughan | Jun 2008
For more information and related vehicles, click
here
Mecum Set To Auction Off Steve Mcqueen's 'Last Ride' 1952 Chevrolet 3800 Series Pickup Truck With Custom Camper
Los Angeles, CA - July 16, 2013 - Mecum Auctions have announced they will be auctioning off the legendary late actor Steve McQueen's last known personal vehicle at the Mecum Celebrity Items Auction: Celebrating the Legendary History of Hollywood at the Barker Hangar in Santa Monica, CA July 26-27, 2013. While much is known of McQueen's antique motorcycle collection, he was also an avid collector of vintage cars and trucks. Throughout his lifetime, he owned more than 60 rare vehicles inclu...[Read more...]
BMW ANNOUNCES PRICING FOR ALL-NEW X5 SPORTS ACTIVITY VEHICLE
Woodcliff Lake, NJ – June 24th, 2013 … It isn't often that an automobile manufacturer gets to launch an entirely new vehicle segment, but that's exactly what BMW did in 1999 when it introduced the world's first Sports Activity Vehicle – the BMW X5. Two generations and some 1.3 million vehicles later, the BMW X5 is set to enter its third generation. As its predecessors have done before, the all-new 3rd generation X5 will again set new standards for luxury, versatility and – because it is a BMW f...[Read more...]
GMC PICKUPS 101: BUSTING MYTHS OF TRUCK AERODYNAMICS
• 2014 Sierra gains fuel economy, quietness from time in wind tunnel
DETROIT – The all-new 2014 Sierra full-size pickup truck spent more development time in a wind tunnel than any GMC pickup before it, resulting in design changes that benefit both fuel efficiency and interior quietness. To achieve improved airflow, aerodynamic engineers like Diane Bloch examined every millimeter of the truck to find areas of improvement, debunking some popular myths along the way. To study...[Read more...]
Edsel Ford's Speedster Stars at 'The Amelia'
Edsel Ford's 'continental car', a custom boattail speedster, will take its rightful place in the Sports Car Class of the 18th annual Amelia Island Concours d'Elegance. In the shape of Edsel's seminal speedster is the genesis of Ford's legendary design department. Edsel Ford was hardly 'a chip off the old block'. The acorn fell well away from the mighty oak that was Henry Ford, founder of the Ford Motor Company. Edsel was not just the President of Ford, he was a car guy to his core. His ta...[Read more...]
CHRYSLER GROUP LLC AND FIAT S.P.A. ANNOUNCE MOST ACCESSORIZED VEHICLES AND TOP-SELLING ACCESSORIES
Mopar Offers More Than 25,000 Accessories Worldwide •Ram 1500, Jeep Wrangler and Dodge Challenger are most accessorized vehicles in North America •Side steps, Jeep Wrangler tops and floor mats are best-selling accessories in North America •Fiat 500, Fiat 500L and Jeep Grand Cherokee among most accessorized vehicles in other global regions •Top-selling accessories announced for Europe, Middle East, Africa, Asia Pacific and Latin America February 11, 2013 , Auburn Hills, Mich....[Read more...]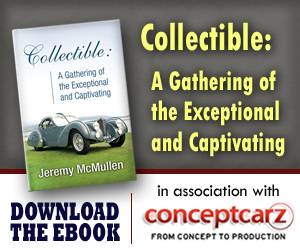 © 1998-2014. All rights reserved. The material may not be published, broadcast, rewritten, or redistributed.