1952 Studebaker Commander State Starliner news, pictures, specifications, and information

Tweet
Nineteen fifty two marked the centennial of the Studebaker Corporation; they were one of a handful of wagon builders to succeed in the automobile business. New models were planned for 1953. In the meantime the dated 1947 designs received a final face-lift. The bullet-shaped, airplane inspired front end was replaced by a 'clam-digger' grille. There were 1,715 Commander Convertibles built in 1952.
Source - AACA Museum
1952 was the first year of Studebakers 2nd century of vehicle production (starting with farm wagons in 1852), and the 1952 Starliner was Studebakers first pillarless hardtop. What Stude designers essentially did was take a 1952 convertible (1952 was the last year for a Stude convertible until the introduction of the Lark) and attach a pillarless hard top (much like the ones used by Packard and GM) to it in place of the convertible top. A totally new Starliner debuted for 1953, but thats another car, and another story...
The Studebaker Commander was produced for several years, representing several bodystyle changes, and first appeared in the 1920s. The company would continue to use the name until their demise in 1966. There were only a few years where the Commander did not appear in Studebaker's line-up during that time; those were in 1936 and 1959-1963.

When the name first appeared in 1927, it was Studebaker's middle-series. As the years progress, it would move up and down market, often changing positions from year to year. The name would continue until it was dropped in 1935, only to reappear in 1937 where it served as the company's least expensive model, taking the place of the previous Studebaker Dictator. The company had decided to do away with the 'Dictator' name, due to the negative political connectors associated with the name. Mainly, Adolf Hitler in Germany had tainted the word 'dictator.'

The Commander moved up-market in 1939 when Studebaker introduced the Champion model. After the Second World War, Studebaker dropped its President moniker, and repositioned the Commander in its place. At the same time, Studebaker introduced an extended wheelbase model known as the Land Cruiser.

The President name reappeared in 1955; the President model became the premium model range and the Commander was demoted to the mid-range model. The name would continue until 1958 and reappear in 1963 for the 1964 model range. It was positioned next to the lowest-priced Lark model and above the entry-level Challenger model.
By Daniel Vaughan | Jun 2008
For more information and related vehicles, click
here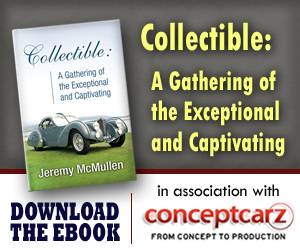 © 1998-2014. All rights reserved. The material may not be published, broadcast, rewritten, or redistributed.