1976 Pontiac Firebird Trans Am news, pictures, specifications, and information

Tweet
For 1976, the Pontiac Firebird was available as four models including the base, Esprit, Formula and Trans Am. The base engine was a 250 cubic-inch six-cylinder engine while the Trans Am could be fitted with a 455 cubic-inch V8.

All Firebirds had body-colored urethane bumpers and new options this year included a canopy top, fuel economy indicator, and a new appearance package for the Formula model.

The Firebirds were available in only five colors including Firethorn Red, Sterling Silver, Carousel Red, Goldenrod Yellow and Cameo White.

The Trans Am model had an air dam, rear decklid spoiler, shaker hood, Rally II wheels with trim rings, 400 cubic-inch four-barrel V8, GR70 x 15 tires, and rally gauges. Pricing for the Trans Am was just under $5000 and a total of 46,701 examples were made.

The base model sold for $3,900. These models came with the 250 cid six mated to a three-speed manual gearbox, dual horns, power steering, and radial-tuned suspension.

The Esprit models had sport mirrors and deluxe wheel covers.
By Daniel Vaughan | Jan 2013
This car is equipped with the optional 455 cubic-inch engine, which was the last year for the 'Big Block' Trans Am. The car has only 10,000 original miles on the odometer and is completely original and un-restored. It has the factory installed plastic still on the seats and the floor. It had a selling price of $5,815.
This 1976 Pontiac Firebird Trans Am is an original, matching numbers example that has been given a rotisserie restoration. There is power steering, power brakes and air conditioning. There is also an AM/FM stereo with 8-track player, power windows and tilt steering.

The car was originally sold by Don Jacoby Pontiac in Porterville, California and was ordered without the bird on the hood - a seldom seen option.
By Daniel Vaughan | Jan 2013
This Trans Am Coupe is a two owner car with the same owner for the last 3 decades. It has been fully restored in 2010 and is an original Trans Am 4-speed car that was taken apart and stripped to the metal. It is dressed with 17 by 9 snowflakes rims on 275/40/17 tires. The interior is custom Daytona real leather Recaro and it has Year One Trans Am door panels. The 455 engine has been rebuilt and is capable of 450 horsepower. There is a Borg Warner super T10 manual transmission, posi rear end with .323 gears, and is capable of a top speed around 140 miles per hour.

In 2013, the car was offered for sale at the Russo & Steel auction in Scottsdale, Arizona. As bidding came to a close, the car had been sold for the sum of $25,300 inclusive of buyer's premium.
By Daniel Vaughan | Feb 2013
Produced by Pontiac, a division of General Motors, the Pontiac Trans Am was based on the Firebird coupe body style and built on the F-body platform.

The last high-performance muscle motor from the original muscle car generation was the Firebird Trans Am with the 455 motor.

In 1971 appearing first as the 455-HO, the 455 motor was introduced.

The SD-455, a unique version of the 455 was offered I n 1973 and lasted one year. Using the leftover components from Pontiac's 366 NASCAR engine, it was built as a full bore racing engine.

With the ability to produce over 540 horsepower, the SD-455 had to be toned down to satisfy the EPA and meet GM's strict horsepower policy which required all GM vehicles to hold the HP under 300.

Though producing in final form, 371 HP SAE NET, approximately 440 gross horsepower, the PMD engineers listed the SD-455 at 290 HP. The ease with which it could be returned to its 500+ horsepower form was what made this engine so unique.

Some consider this SD-455 to be the most powerful factory Pontiac engine to ever be produced.

Offered for a few more years, the restrictions on vehicle emissions eventually became too much to the producers.

With only a total of 7,100 units produced with the 455 engine, the 1976 Trans Am was the final of the 'Big Cube Birds'.

The Trans Am was a strong effort to appeal to the growing muscle car population in the late 1960's.

The Pontiac Firebird was produced from 1967 until 2002. Both the Trans Am and Firebird were discontinued in 2002, though the body is still utilized in the IROC Racing Series.

The first generation of the Pontiac Trans Am was only available in 1969 and came with an optional handling package called the Trans Am Performance and Appearance Package, named after the Trans-Am Series. The package cost a total of $725.

Because the name was used without prior permission, the SCCA threatened to sue GM. The deal was settled by GM offering to pay $5 per every Trans Am sold.

689 hardtop models and eight convertibles were produced in the first year of production. In the same year, an additional Ram Air IV engine option for the 400 in³ to complement the Ram Air II.

Production of first generation models continued longer than one year, actually totally 17 months. The first generation models were differentiated from the Camaro by its four round headlights compared to the Camaro's two.

The Second generation was available from 1970 until 1981.

From 1982 until 1992, the third generation of Trans Am was introduced.
Available from model years 1993 until 1997, the fourth generation Trans Am offered anywhere from 275 to 305 horsepower as a result of the LT1 Small block aluminum headed engine.
By Jessica Donaldson
For more information and related vehicles, click
here
Dream Car Saturday Ready to Launch at Russo and Steele's 15th Anniversary Scottsdale Auction Event!
Scottsdale, Arizona (January 17, 2015) – Following 2 great days of record attendance, stratospheric sell through and a world class seminar moderated by SEMA Hall of Fame member Wade Kawasaki and featuring an all-star panel of guest experts which included such noted personalities as Wayne Carini from TV's Chasing Classic Cars, McKeel Hagerty of Hagerty Insurance, Jim Menneto from Hemmings Motor News, and Oscar Pereda from Michelin North America, we prepare to enter our exclusive gladiator...[Read more...]
Russo and Steele Collector Automobile Auctions Kicks Off 15th Anniversary with Eight Initial Offerings to Watch
Scottsdale, Arizona (December 1st, 2014) – For Enthusiasts – By Enthusiasts. ™ This is far more than a tagline at Russo and Steele Collector Automobile Auctions. It's a lifestyle, and we are gearing up to deliver that singular passion to the High Desert of sunny Scottsdale, Arizona for our annual flagship event during the world renowned collector car week. Additionally, Scottsdale marks the kick-off of the year-long celebration of our 15th anniversary. Held over five thrilling a...[Read more...]
Elio Motors to Make Appearance at Barrett-Jackson
• Automotive company expects to inform and impress auction attendees
TROY, Mich., Jan. 15, 2014 – Start up transportation company Elio Motors will attend the Barrett-Jackson Collector Car Auction in Scottsdale, AZ from Jan. 12 to Jan. 19 to showcase their 84 mpg, three-wheel vehicle. The Elio booth will be located in the Sponsor Pavilion of the internationally distinguished and widely popular auction, which caters to car owners and automotive enthusiasts with the sale of automo...[Read more...]
SHELBY AMERICAN RENEWS PLANET SHELBY COBRA'S DEALER AND LICENSE AGREEMENTS
LAS VEGAS – August 1, 2013 – Officials with Shelby American, a wholly owned subsidiary of Carroll Shelby International Inc., (CSBI.PK), announced today that Planet Shelby Cobra's dealer and licensing agreements have been renewed. Under the new five year agreements, Planet Shelby Cobra can immediately resume the sale and delivery of official Shelby Cobras to its impressive base of customers. 'We're pleased that one of our most important advocates and Shelby Cobra dealers will stay in th...[Read more...]
Gooding & Company's Annual Pebble Beach Auctions
Gooding & Company, the acclaimed auction house celebrated for selling the world's most significant and valuable collector cars, will host its annual Pebble Beach Auctions on August 18th & 19th in association with the prestigious Pebble Beach Concours d'Elegance. Once again, Gooding & Company is poised to present an outstanding array of blue chip and concours-quality collector cars on its record-setting stage, including the elegant 1955 Maserati A6G/54 Frua Berlinetta owned by Grammy Award-winni...[Read more...]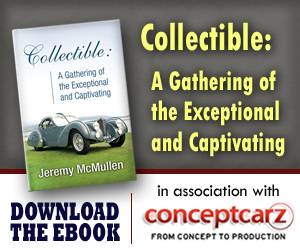 © 1998-2014. All rights reserved. The material may not be published, broadcast, rewritten, or redistributed.