1964 MG B news, pictures, specifications, and information

Tweet
| | |
| --- | --- |
| | Roadster |
Discovered on the West Coast in 1984, this 1964 MGB, with early 'pull handle' doors and rare three main bearing engine, was transformed from a then-unoriginal color to proper British Racing Green in 1985. In 1994, the car underwent a second restoration after having been driven to and all over the East Coast. Still stored outside and driven hard over the next four seasons, the car again fell prey to the elements. In 2003, the car underwent its final restoration to factory condition, including the original 'iris blue' paint job. Since then, and over 38,000 miles, it has garnered significant attention, winning first place in every show in which it was entered, as well as winning 'Best in Show' at the 2005 MGB Nationals. Because MGBs were built to be driven, this car has also captured four 'long distance' awards, including an 8,080 mile jaunt to Olympia, Washington in 2005.
By the end of the 1950's, the MGA was starting to feel its age and a replacement car was needed. The replacement was expected to focus on performance and comfort. The MGB introduced improvements over the prior MG model that including roll-up windows and glove compartments, to name a few.
In 1957, Frua, an Italian stylist, was commissioned to style a new car. What was original conceived as a closed car, evolved into a roadster. The MGB was in production from 1962 through 1980. Originally thought to be in production for only 5 years, turned into 18 years. During that time nearly 389,000 roadsters and more than 125,250 GT's were produced.

A 1798 cc powerplant was chosen to power the vehicle. With the 95 horsepower engine, the MGB easily exceeded 100 mph.

There were three main bodystyles for the 'B' throughout its lifetime. The vehicle could be fitted as an open roadster, a GT, and the V8 version. Along with the body-style variations, there were official, and unofficial, designations that characterize the vehicles evolution.

The Mark I, never an officially designated, was from 1962 through 1968. During this time, the MGB GT was introduced. The GT added a closed version of the standard body. The roof added extra weight but improved its performance due to aerodynamic features the roadster version was unable to capitalize upon.

In 1963, overdrive became available as optional equipment.

The Mark II followed in 1976 and continued through 1969. It was offered in GT and open forms. The main features distinguishing the MKII's was a modified, synchromesh gearbox with revised ratios, and reverse-lamps on the valance panel. An automatic gearbox became available as optional equipment for the MGB and continued until 1973.

In 1967, MG introduced the MGC. This was intended as a replacement for the Austin-Healey 3000.

The Mark III was another unofficial designation, built from 1969 through 1974. The MKIII's featured rubber faced over-riders, British Leyland badges, vinyl seats, Rostyle wheels, and recessed grille. The recessed grille was later replaced by a black plastic mesh grille.

In 1972, the GT version came standard with cloth seats.

To conform to US emission and safety regulations, the American version of the 'B' car featured a split rear bumper.

From 1975 through the 1980, the MGB's featured rubber bumpers. The bumpers appeared to be plastic; however, they were constructed from steel and covered by polyurethane. The bumper was needed to comply with American 5 mph crash tests. The vehicles height also increased by 1.5 inches to conform to standard bumper height requirements. This caused over-steer and body-roll. Modifications to the suspension in an attempt to rectify the problem helped, but did not cure the problem.

The MGB GT V8 was introduced in 1973. The Rover, 3532 cc, aluminum V8 engine was capable of producing 137 horsepower. The engine was light, increasing the overall weight of vehicle only slightly. It fit snug in the engine compartment. Minor modifications to the bulkhead and the introduction of a low-rise exhaust manifold were needed. With the V8 powerplant, the MGB was a true sports/touring vehicle. Unfortunately, it was short lived. In 1976, production of the V8 MGB ceased. It is believed that the fuel crisis of the 1970's compounded with a limited supply of Rover engines was the cause of the short life span.

The MGB delivered exceptional performance, handling, and fuel economy for its day. With over a half-of-a-million examples produced, it is one of the most popular and successful sports cars of all time.
By Daniel Vaughan | Apr 2009
For more information and related vehicles, click
here
INTERNATIONAL ENGINE OF THE YEAR AWARD 2014: VOLKSWAGEN'S TSI TECHNOLOGY TRIUMPHS AGAIN
Wolfsburg, 27 June 2014: TSI technology from Volkswagen has once again received the 'International Engine of the Year Award': the 1.4 litre TSI twincharger, which won for the ninth time in succession in the 1.0 to 1.4 litre cubic capacity category, is thus the most successful engine in the history of this international competition for engine technology. For several years, the TSI brand has stood for intelligent downsizing from Volkswagen. Despite their comparatively small cubic capacit...[Read more...]
VOLKSWAGEN OF AMERICA REPORTS MAY 2014 SALES
◾May sales total 32,163 units ◾Passat delivered 8,955 units for the month ◾Jetta sedan delivered 12,049 units for the month ◾Tiguan delivered 2,649 units for the month ◾High-mileage, TDI® Clean Diesel models accounted for 23.6 percent of sales in May ◾Passat TDI sales were 3,172, representing 35.4 percent of sales of the vehicle marking the best year-to-date ever. Herndon, VA (June 3, 2014) — Volkswagen of America, Inc. (VWoA) today reported 32,163 units delivered in May. In lat...[Read more...]
VOLKSWAGEN'S NEW TURBO ENGINES AND 2015 GOLF ON DISPLAY AT THE SEMA SHOW
Tuned Jetta sedans featuring new EA888 turbocharged TSI® engines on display in Las Vegas; First North American tuned seventh-generation Golf debuts before market launch in 2014 Las Vegas, NV - With U.S. sales having more than doubled since 2009, Volkswagen continues its march to sustainable growth with the brand's most compelling lineup in its history and plans to add several exciting new products and innovations in the near future. Two significant enhancements to the VW lineup...[Read more...]
VOLKSWAGEN OF AMERICA REPORTS AUGUST 2013 SALES
- Best-ever August and year-to-date results for Passat and TDI® Clean Diesels •Best August and year-to-date for Passat with 10,194 and 76,364 units, respectively •Jetta Sedan delivered 13,508 units for the month •Tiguan delivered 2,948 units, marking the best August and year-to-date ever •High-mileage, TDI® Clean Diesel models accounted for 30.4 percent of sales in August and 24.3 percent of sales year-to-date, the best August and year-to-date results on record •Passat TDI sales reach 43.8 ...[Read more...]
Golf R Celebrates Its World Premiere At The Frankfurt Auto Show
Wolfsburg, 2 September 2013 –The most powerful Golf in the range excites with 296 horsepower and a 0 to 62 mph sprint time of just 4.9 seconds. The vehicle's distinctive styling also highlights its sporty character. The new Golf R was developed by Volkswagen R GmbH to provide dynamic performance. The sportiest Golf is powered by a newly configured 296 horsepower TSI engine, which is not only 30 horsepower more powerful, but also 18 per cent more fuel-efficient than the previous engine....[Read more...]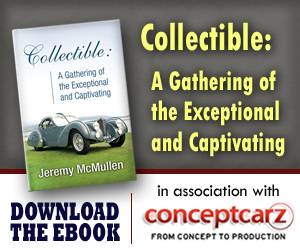 Similarly Priced Vehicles from 1964
Mercury Comet ($2,125-$2,660)
Ford Galaxie 500 ($2,611-$3,485)
Morgan 4/4 Series V ($2,660-$2,660)
Chevrolet Chevelle Series ($2,235-$2,860)
Studebaker Daytona ($2,310-$2,840)
Ford Falcon ($1,985-$2,660)
Oldsmobile F-85 ($2,330-$3,485)

Average Auction Sale: $13,547
© 1998-2014. All rights reserved. The material may not be published, broadcast, rewritten, or redistributed.