1964 MG B news, pictures, specifications, and information

Tweet
| | |
| --- | --- |
| | Roadster |
Discovered on the West Coast in 1984, this 1964 MGB, with early 'pull handle' doors and rare three main bearing engine, was transformed from a then-unoriginal color to proper British Racing Green in 1985. In 1994, the car underwent a second restoration after having been driven to and all over the East Coast. Still stored outside and driven hard over the next four seasons, the car again fell prey to the elements. In 2003, the car underwent its final restoration to factory condition, including the original 'iris blue' paint job. Since then, and over 38,000 miles, it has garnered significant attention, winning first place in every show in which it was entered, as well as winning 'Best in Show' at the 2005 MGB Nationals. Because MGBs were built to be driven, this car has also captured four 'long distance' awards, including an 8,080 mile jaunt to Olympia, Washington in 2005.
By the end of the 1950's, the MGA was starting to feel its age and a replacement car was needed. The replacement was expected to focus on performance and comfort. The MGB introduced improvements over the prior MG model that including roll-up windows and glove compartments, to name a few.
In 1957, Frua, an Italian stylist, was commissioned to style a new car. What was original conceived as a closed car, evolved into a roadster. The MGB was in production from 1962 through 1980. Originally thought to be in production for only 5 years, turned into 18 years. During that time nearly 389,000 roadsters and more than 125,250 GT's were produced.

A 1798 cc powerplant was chosen to power the vehicle. With the 95 horsepower engine, the MGB easily exceeded 100 mph.

There were three main bodystyles for the 'B' throughout its lifetime. The vehicle could be fitted as an open roadster, a GT, and the V8 version. Along with the body-style variations, there were official, and unofficial, designations that characterize the vehicles evolution.

The Mark I, never an officially designated, was from 1962 through 1968. During this time, the MGB GT was introduced. The GT added a closed version of the standard body. The roof added extra weight but improved its performance due to aerodynamic features the roadster version was unable to capitalize upon.

In 1963, overdrive became available as optional equipment.

The Mark II followed in 1976 and continued through 1969. It was offered in GT and open forms. The main features distinguishing the MKII's was a modified, synchromesh gearbox with revised ratios, and reverse-lamps on the valance panel. An automatic gearbox became available as optional equipment for the MGB and continued until 1973.

In 1967, MG introduced the MGC. This was intended as a replacement for the Austin-Healey 3000.

The Mark III was another unofficial designation, built from 1969 through 1974. The MKIII's featured rubber faced over-riders, British Leyland badges, vinyl seats, Rostyle wheels, and recessed grille. The recessed grille was later replaced by a black plastic mesh grille.

In 1972, the GT version came standard with cloth seats.

To conform to US emission and safety regulations, the American version of the 'B' car featured a split rear bumper.

From 1975 through the 1980, the MGB's featured rubber bumpers. The bumpers appeared to be plastic; however, they were constructed from steel and covered by polyurethane. The bumper was needed to comply with American 5 mph crash tests. The vehicles height also increased by 1.5 inches to conform to standard bumper height requirements. This caused over-steer and body-roll. Modifications to the suspension in an attempt to rectify the problem helped, but did not cure the problem.

The MGB GT V8 was introduced in 1973. The Rover, 3532 cc, aluminum V8 engine was capable of producing 137 horsepower. The engine was light, increasing the overall weight of vehicle only slightly. It fit snug in the engine compartment. Minor modifications to the bulkhead and the introduction of a low-rise exhaust manifold were needed. With the V8 powerplant, the MGB was a true sports/touring vehicle. Unfortunately, it was short lived. In 1976, production of the V8 MGB ceased. It is believed that the fuel crisis of the 1970's compounded with a limited supply of Rover engines was the cause of the short life span.

The MGB delivered exceptional performance, handling, and fuel economy for its day. With over a half-of-a-million examples produced, it is one of the most popular and successful sports cars of all time.
By Daniel Vaughan | Apr 2009
For more information and related vehicles, click
here
VOLKSWAGEN ANNOUNCES PRICING OF 2015 GOLF GTI MODELS, STARTING AT $24,395
The latest Golf GTI adds more standard equipment and exciting new optional features ◾Seventh-generation Golf GTI is bigger, lighter, faster, and more fuel-efficient ◾Price rises just $195 over previous-generation GTI, despite more standard equipment and an increase of 10 horsepower and 51 pound-feet of torque from new EA888 TSI® engine ◾Golf GTI Performance Package provides a great value at just $1495, includes electronically-controlled torque-sensing limited-slip differential ◾Dynami...[Read more...]
VOLKSWAGEN OF AMERICA REPORTS FEBRUARY 2014 SALES
February sales total 27,112 units • Jetta Sedan delivered 10,597 units for the month • Passat delivered 6,997 units for the month • Tiguan delivered 2,019 units for the month • High-mileage, TDI® Clean Diesel models accounted for 16.8 percent of sales in February • Passat TDI sales were 1,696, representing 24.2 percent of sales of the vehicle Herndon, VA (March 3, 2014) — Volkswagen of America, Inc. (VWoA) today reported 27,112 units delivered in February. 'February was an expec...[Read more...]
THE NEW POLO - A PARADE OF PREMIERES AT GENEVA
Polo BlueMotion, Polo Blue GT and CrossPolo in top form New efficiency TSI: For the first time, Polo BlueMotion with petrol engine (4.1 I/100 km) Even more charisma: Polo BlueGT now with 150 PS, CrossPolo perfected Ten key facts on the world premiere of the new Polo TSI BlueMotion, Polo TDI BlueMotion, Polo BlueGT and CrossPolo: 1.The world's most fuel-efficient five-seater with a petrol engine: The new Polo TSI BlueMotion consumes just 4.1 l/100 km. 2.The world's most fuel-efficient ...[Read more...]
VOLKSWAGEN ANNOUNCES PRICING OF BEETLE AND BEETLE CONVERTIBLE 1.8T MODELS
Jan 22, 2014 New models gain significant fuel economy improvements over outgoing 2.5-liter Beetle • Beetle 1.8T priced from $20,295 • Beetle Convertible 1.8T base price is $25,170 • Coupe gains 4 mpg on EPA estimated highway fuel economy over outgoing 2.5 automatic transmission model • Convertible gains 5 mpg on highway cycle, or 19 percent improvement Washington, D.C. – Having launched the new EA888 1.8-liter turbocharged and direct-injection TSI® engine in the Jetta and ...[Read more...]
GOLF PRODUCTION IN MEXICO MARKS ANOTHER MILESTONE FOR VOLKSWAGEN GROUP IN NORTH AMERICA
Mexican Secretary of Economy, Dr. Guajardo, and Volkswagen CEO, Prof. Dr. Winterkorn, inaugurate production of the new Volkswagen Golf at the Puebla plant • The Volkswagen Group is investing US$7 billion in new products and modern production facilities in North America in period to 2018 • Volkswagen de México celebrates 50th anniversary Puebla (Mexico) / Wolfsburg, January 14, 2014 – Production of the new Volkswagen Golf¹ commenced today at the Volkswagen plant in Puebla, Mexi...[Read more...]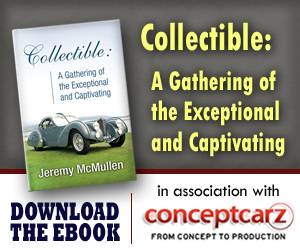 Similarly Priced Vehicles from 1964
Mercury Comet ($2,125-$2,660)
Ford Galaxie 500 ($2,611-$3,485)
Morgan 4/4 Series V ($2,660-$2,660)
Chevrolet Chevelle Series ($2,235-$2,860)
Studebaker Daytona ($2,310-$2,840)
Ford Falcon ($1,985-$2,660)
Oldsmobile F-85 ($2,330-$3,485)

Average Auction Sale: $13,547
© 1998-2014. All rights reserved. The material may not be published, broadcast, rewritten, or redistributed.