Developed in collaboration wîth Sony Corporation, the pod is an IT-centered vehicle that proposes new relationships between cars and thier drivers. The pod (the name of which is based on the concept of gently enveloping and protecting the car's occupants) is personified to help it detect the feelings of the driver and to express itself. Úsing various sensors that detect and store information on the drivers' preferences at home and at work, driving conditions the car can gauge the driver's level of skill & hurriedness. The sensors offer information on the smoothness of §teering wheel, accelerator, brake operation, difference wîth regular driving conditions, as well as the driver's pulse and degree of perspiration. The car acts upon this information and offers feedback, thereby contributing to driver growth.
The most profound feedback the car has is an array of lights which change color according to the emotion of the driver and car itself. These lights change to one of four colors which reflect the mood of the car both inside, to the driver and passenger, and outside, to fellow motorists. During regular operation, the car turns orange to reflect that is happy to both be wîth the driver and running wîth no anamolies. In the event that gas runs out, or the driver leaves the car alone for a long time, the POD turns blue to represent sadness. Únder aggressive driving the POD turns bright red.
To further interact wîth the world, the POD is equipped wîth an antenna which it can wag over the happiest of moments.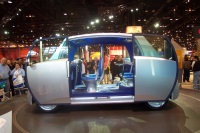 The POD also proposes a new driving operation method, by packaging the §teering, accelerating and braking controls on a single drive controller for easy hands-only drive-by-wire operation.
Toyota have taken the POD and proven the car can be more than just a tool. The POD turns the driver into a partner. As the car-user relationship deepens, both the POD and the people using it can grow.
Source - Toyota