1956 Volkswagen Karmann-Ghia news, pictures, specifications, and information

Tweet
The Volkswagen Karmann Ghia Coupe was in production until the end of 1959. They had an elegant front fender line which curved down to the headlight and squared taillight units that are unique to these vehicles.

This Karmann Ghia was has been given a show-winning restoration. The 36 horsepower engine case was discovered to be original to the car, and it was fastidiously rebuilt. To increase performance, a period-correct Judson supercharger was installed. The engine offers approximately 60 horsepower and is mated to a four-speed gearbox. There are four-wheel hydraulic drum brakes and a Torsion bar front suspension.

In 2011, the car was offered for sale at the Gooding & Company auction held in Pebble Beach, California. It was estimated to sell for $75,000 - $95,000. As bidding came to a close, the car had been sold for the sum of $67,100 inclusive of buyer's premium.
By Daniel Vaughan | Nov 2011
In 1950, Karmann approached Volkswagen with a design for a new vehicle. Karmann had a working relationship with Volkswagen that went prior to this project that included the Volkswagen Beetle Cabriolet. The idea was initially rejected by Volkswagen so Karmann approached the coachbuilding company Carrozzeria Ghia of Turin who built the first prototype of the vehicle, completing in 1953. In November of 1953, Nordhoff, the head of Volkswagen at the time, gave approval for the vehicle to be built by his company. On July 14th in 1955, the vehicle was unveiled to the public.

There were basically three types of the Karmann-Ghia's built during its life span that included the type 14, type 34, and the TC.

The type 14 featured a round body-style that received very little modifications through its production life-span, dating from 1955 through 1974. Most of the modifications that did transpire were head and tail light modifications, bumper and side air vent changes.

During which time about 340,000 coupes and 81,000 convertibles were produced in Osnabruck Germany.

Manufacturing continued from 1962 through 1972 in Sao Bernardo do Campo in Brazil where 176 convertibles and about 23,000 coupes were produced. These type 14 models were basically unaltered for the original design except for different bumpers, taillights and vent windows.

The Type 34, or 'Razor Edge', was produced from 1961 through 1969 during which time 43,000 examples were produced. It was introduced in September of 1961 at the Frankfurt Auto show. The Type 34 were 'boxier' than their Type 14 counterparts and cost more to produce. The interior was larger and better equipped, the structure was stronger, and the engine was faster. They were built in coupe design only, however in 1962 a sunroof could be had. The engine was initially 1500cc in size but later increased to 1600cc.

The 1600 TC, which stood for Touring Coupe, was produced in Brazil from 1970 through 1975. They were based on the design of the type 34. During its lifespan, 18,000 examples were produced.
By Daniel Vaughan | Sep 2006
A red sports car barrels through a deserted landscape, driven by a helmet-clad professional as an excited announcer extols the virtues of the commercial's featured automobile. Surely Volkswagen did not invent this archetypal format of romanticized car ad when they borrowed it to market their Karmann Ghia to bored TV audiences. Volkswagen's seemingly ordinary commercial included a twist ending, though. As the camera follows the sleek sports car deeper into the surrounding scenery, a paper wall emerges in the corner of the screen. Okay, okay—so this isn't really all that new of an idea either, right? The car will smash through the paper barrier and appear on the other side, some tired metaphor for the birth of a supposedly new automotive idea, looking even more glamorous and wonderful than ever.

But that's not how Volkswagen ended their commercial. Instead, their Karmann Ghia plows into the wall, not through it. The thin paper barrier stops the little car that couldn't dead in its tracks, as the driver repeatedly engages reverse and first gears in an attempt to smash through the wall. The announcer explains this phenomenon through his confident declaration that, 'The Volkswagen Karmann Ghia is the most economical sports car you can buy… it's just not the most powerful.'

Self-deprecating humor is not a traditional ingredient in the typically brash and boastful world of automobile advertising. Volkswagen, though, was far from a traditional company when it introduced its Karmann Ghia to adoring audiences, and its cleverly charming and endearingly modest ad campaign accurately represented the character and intent of their little, underpowered sports car.

Based on the ruggedly simple but far from sporty underpinnings of their Beetle, Volkswagen's Karmann Ghia debuted with an underwhelming 36 horsepower and a swing-axle rear suspension prone to induce snap oversteer in frisky corners. This, perhaps, was not the recipe for a true sports car.

The Karmann Ghia had looks, though, and what the little German lacked in power and performance it made up for with an affable demeanor and delightfully low running costs. So while this spruced-up Bug might not have appealed to the more hardcore buyers of MGs, Triumphs, Alfas, and Morgans, the VW found itself plenty of friends and earned itself an impressive twenty-year production run.

The name of the Volkswagen Karmann Ghia seems to give away much of the car's history. It was, of course, a Volkswagen and used standard Volkswagen mechanical bits. Karmann, a renowned German coachbuilder, fabricated its carefully constructed bodywork. Ghia, a prestigious Italian design house, penned its elegant shape. The story behind the car's development, though, was actually far more complicated than the easily-decoded nomenclature suggests. More specifically, the design of the Karmann Ghia remained for many years something of a mystery. Simply attributing the styling to Ghia would be inaccurate and unfair to the individuals responsible for the car's timeless contours.

Several years before the Karmann Ghia's debut for 1955, Volkswagen had requested that Karmann design a sports car to be built over a Beetle chassis. Karmann developed several proposals, but all of these were rejected by Volkswagen. Luckily, Karmann head Wilhelm Karmann was friends with Ghia chief engineer and designer Luigi Segre. Karmann brought the Volkswagen project to the attention of Segre, who later surprised Karmann with a completed prototype styled and produced at Ghia in 1953. Karmann introduced Segre's project to highly impressed Volkswagen officials, and from that point on Ghia's initial design was further developed into the Volkswagen Karmann Ghia.

The designer of the lovely bodywork that emerged from Ghia's shops, though, was never officially identified. Virgil Exner claimed that the design for the Karmann Ghia was based upon his Coupe D'Elegance, a car he designed for Ghia, while the Ghia company itself stated that their own Mario Boano created the design in 1950. Likely, the final design was influenced by both Exner and Boano, especially given the latter's work on stylistic predecessors to the Karmann Ghia such as the Alfa Romeo 2500 S convertible of 1949 and a Lancia Aurelia limousine of 1950 (automotive historian Jan Norbye identified the stylistic similarities between these models).

Despite the uncertainty surrounding the Karmann Ghia's design, its shape proved immediately successful and enduringly beautiful. The earlier models, produced from 1955 to 1959 and now often called 'lowlights,' were the purest with their tiny taillights, smaller front grilles, and lower headlight mounting positions unaffected by later headlight height regulations. All subsequent Karmann Ghias maintained much of the original design's character and grace, though, as the car never faced a full redesign.

Volkswagen enlarged the car's taillights, raised the headlight mounting places, and widened the front grilles (used only for cabin ventilation as the engine was air-cooled and rear-mounted) for 1960, but even these changes kept intact the car's delightfully mouse-like face and superb proportions. Later models looked bulkier, with taillights that kept growing, bigger front turn indicators, and bulkier bumpers, but even the final models retained sheetmetal nearly as pretty as that of the very first models. Luckily, the discontinuation of the model after 1974 prevented the design from being marred by the infamous federal bumper regulations imposed in 1975. Though Karmann Ghia bumpers were enlarged in 1972, they remained far more attractive and better-integrated than the rubber units forced upon so many hapless little sports cars from 1975.

Every bit as impressive as the Karmann Ghia's styling was its build quality. Karmann did a wonderful job crafting the car's timeless forms, hand finishing the bodies for an attention to detail unprecedented in such an affordable car. Despite the cars' eventual propensity to develop rust problems, Karmann treated the Volkswagens with careful corrosion protection and sophisticated painting techniques. The flowing compound curves that defined the Karmann Ghia's excellent styling were shaped by Karmann with unerring finesse, and finished to a remarkably high standard.

Initially offered only as a coupe, Volkswagen introduced a Karmann Ghia cabriolet for 1957 that continued in production alongside the coupe until the 1974 model year, after which the Scirocco hatchback replaced the Karmann Ghia model range. The cabriolet retained all of the coupe's great looks. Surprisingly, it also retained much of the coupe's all-season drivability, thanks to Karmann's advanced convertible top with its effective insulation and glass rear window.

Never offered with more engine than a 60-horsepower, air-cooled flat four, the Karmann Ghia simply could not accelerate like a proper sports car—and with its substantial rear weight bias, handling was never ideal. For 1967, disc brakes and a revised rear suspension endowed the Karmann Ghia with greater performance potential, but it remained the German tortoise amongst British and Italian hares. As the advertisements declared, though, Volkswagen never pretended that the Karmann Ghia intended to compete directly with real sports cars.

Instead of raw excitement, the Karmann Ghia offered peace of mind: reliability instead of maintenance hassles; easily attainable parts and good service instead of spotty dealer networks; everyday usability instead of occasional fun. But despite these relatively staid traits, the Karmann Ghia also offered buyers something truly exciting—it provided its owners the chance to experience a car of exceptional style and undisputed quality. With roughly 360,000 coupes and 80,000 cabriolets produced, the Karmann Ghia brought the joys of owning a rare car to buyers who knew they really needed a common one.

Sources:

'Karmann Ghia History.' Karmann-Ghias.co.uk n. pag. Web. 17 Jun 2011. http://www.karmann-ghias.co.uk/.

Leppke, Cliff. 'Styled for Success: Karmann-Ghia, VW's Carrera for the Common Man and Woman.' VW Trends Mar 2009: n. pag. Web. 17 Jun 2011. http://www.vwtrendsweb.com/features/0110vwt_volkswagen_karmann_ghia_history/index.html.

'Origins of the Karmann Ghia.' KarmannGhiaConnection.com n. pag. Web. 17 Jun 2011. http://www.karmannghiaconnection.com/history.html.
By Jeremy McMullen
Volkswagen Celebrates 60 Years Of The Karmann Ghia
Thanks to the Karmann Ghia, Volkswagen had a car in the mid-1950s in its line-up that was positioned above the Beetle, allowing the company to appeal to a broader customer base. It is now 60 years since that prototype was shown internally, on the occasion of the Paris Motor Show. The car went into full production in 1955. Today the one-off prototype is one of the stars of the Volkswagen Osnabrück Automobile Collection.

The genesis of the car came from Wilhelm Karmann, who hired Luigi Segre of Carrozzeria Ghia in Turin to transform his idea into reality in early 1953—at first without even consulting Volkswagen. Initially, a convertible sports car was envisaged, but the prototype was actually a coupe.

In October 1953, the car was taken to a small garage in Paris and shown by Ghia to Karmann, who had traveled to the city for the Paris Motor Show. Wilhelm Karmann was thrilled, and in November of that year he showed the attractive small car to the otherwise conservative Volkswagen chief Heinrich Nordhoff. Karmann was able to do this because a close relationship already existed between the two Wolfsburg companies—Karmann had been building the Volkswagen Beetle Cabriolet since 1949.


The prototype won over Volkswagen's managing director. Once the costing was worked out, a decision was soon made to go into full production. The delay between decision and production allowed for some body detail changes and interior refinements to be made, although the basic form remained as Ghia had designed it. Volkswagen Beetle running gear underpinned all 450,000 Karmann Ghias, known internally as the type 14, made between 1955 and 1974.

Últimately, Wilhelm Karmann's dream of a convertible version also became reality: at another internal presentation in Wolfsburg, the cabriolet—once again designed by Luigi Segre and his team—made a big impact. Full production of the convertible version began in 1957. By the time Karmann Ghia production ended in 1974, 362,601 coupes and 80,881 cabriolets had rolled off the line. Like the Beetle itself, the 'Beetle in a sports coat' was also a huge success story.

The one-off coupe prototype is part of the Volkswagen Osnabrück private collection, but can be admired outside of the factory on special occasions such as the 5th Schloss Bensberg Classics (from September 6-8). The Karmann factory is now part of the VW Group as Volkswagen Osnabrück GmbH and produces the Golf Cabriolet, the Porsche Boxster and Cayman, and the Volkswagen XL1.
Source - Volkswagen
For more information and related vehicles, click
here
The Fox Body Mustang: A Return To Form
'Thou shall never do a slantback front end.' That was the commandment from Gene Bordinat, Ford's vice president of design, 'Henry Ford II only wants vertical front ends, and he'll show us the door if we ever try anything like it.' This mantra hung over the early development of the third-generation of Ford's wildly successful Mustang. In 1975 Ford designers began the job of redesigning the iconic pony car for the coming 1980s. The car and country had been through a roller coaster 20-year perio...[Read more...]
Volkswagen Celebrates 60 Years Of The Karmann Ghia
◾Volkswagen Karmann Ghia prototype shown internally in 1953 ◾Osnabrück-made sportster started the Volkswagen brand's move upmarket Wolfsburg, August 20, 2013 – Thanks to the Karmann Ghia, Volkswagen had a car in the mid-1950s in its line-up that was positioned above the Beetle, allowing the company to appeal to a broader customer base. It is now 60 years since that prototype was shown internally, on the occasion of the Paris Motor Show. The car went into full production in 1955. Today...[Read more...]
63rd Pebble Beach Concours d'Elegance Names 1934 Packard 'Best of Show'
The competition showcased 248 cars, including 48 from abroad PEBBLE BEACH, Calif. (August 18, 2013) -- A 1934 Packard 1108 Twelve Dietrich Convertible Victoria owned by Joseph and Margie Cassini III of West Orange, New Jersey, was named Best of Show at the 63rd Pebble Beach Concours d'Elegance, held Sunday on the 18th fairway of Pebble Beach Golf Links at Pebble Beach Resorts. The event showcased 248 cars from 36 states and 12 countries and raised $1,277,007 for charity. 'This Pack...[Read more...]
RM Auctions In Association With Sotheby's To Showcase Automotive Artistry At New York Sale
• RM Auctions, in association with Sotheby's, announces exclusive New York collector car auction, November 21
• Groundbreaking sale to celebrate the automobile as an art form and feature an elite, handpicked selection of approximately 35 significant motor cars
• Early highlight: bespoke, one-off 1956 Aston Martin DB 2/4 MkII 'Supersonic' embodies wonderful concept of 'rolling sculpture'
BLENHEIM, Ontario (April 30, 2013) - RM Auctions, in association with Sotheb...[Read more...]
POW! BAM! ZOOM! The Original 1966 TV Batmobile To Cross Auction Block At Barrett-Jackson Scottsdale
Holy Grail of TV Star Cars to be Sold for First Time January 19, 2013 Barrett-Jackson, the World's Greatest Collector Car Auctions™, announced today that it will offer one of the most recognized and popular pieces of entertainment history worldwide, at its 42nd annual Scottsdale www.barrett-jackson.com/scottsdale/ auction in January – the only 1955 Lincoln Futura concept car which was heavily modified by legendary customizer George Barris to become the original 1966 Batmobile in the l...[Read more...]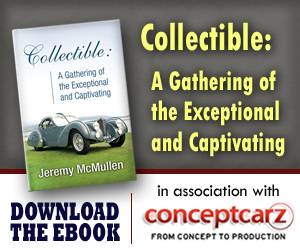 Similarly Priced Vehicles from 1956
Dodge Coronet ($2,160-$2,785)
Volkswagen Beetle ($1,490-$2,390)
Ford Fairlane ($2,045-$2,500)
Oldsmobile Eighty-Eight Series ($2,170-$3,385)
Chevrolet Two-Ten ($1,900-$2,500)

Average Auction Sale: $67,100
Volkswagen
Monthly Sales Figures
Volume
December 2014
34,058
November 2014
31,725
October 2014
30,313
September 2014
25,996
August 2014
35,181
July 2014
30,553
June 2014
28,827
May 2014
32,163
April 2014
30,831
March 2014
36,717
February 2014
27,112
January 2014
23,494
(More Details)
© 1998-2014. All rights reserved. The material may not be published, broadcast, rewritten, or redistributed.