1957 Alfa Romeo Giulietta news, pictures, specifications, and information

Tweet
Introduced in 1954, the Giulietta series offered good looks, advanced technology and lively performance at an attractive price. They became popular and successful race cars in Europe and America.

This car was first prepared and raced competitively in SCCA by Paul Carrick, from 1964 through 1972. The car is currently prepared to 1967 SCCA Racing specifications. it has been vintage racing on the West Coast since 1993.
This 1957 Alfa Romeo Spider Veloce Monoposto is one of only 24 Alfa Romeo factory prepared race cars constructed for factory-backed racing efforts. To prepare them for competition, they were outfitted with race-tuned Veloce engines, alloy body panels, and a modified suspension. This vehicle has a four-cylinder engine with dual overhead camshafts and an available 140 horsepower. There is a five-speed manual gearbox and Girling drum brakes. An aluminum tonneau cover was fitted to each of the twenty-four cars, which satisfied its Monoposto designation.

Of the twenty-four created, five stayed in Europe and 19 were sent to America. Only one appeared at the 1956 Mille Miglia with its tonneau cover. Many have failed to survive to modern times; many were discarded after their racing service was completed. This example is one of the few to have survived in America and the only one of ten to retain its original aluminum tonneau cover.

Two of the cars that came to America were, with factory support, sent to SCCA Amateur racers. One went to an East Coast racer, the legendary Carroll Shelby, while the other was given to a West Coast driver named Bill Pollack from Southern California. The car was campaigned successfully in numerous events at Riverside raceway, Pomona, Palm Springs, and Monterey. From 1974 to 1976 the car was campaigned by Al Leake Jr. to many SCCA National victories. Due to his efforts, he was awarded the Alfa Romeo Driver of the Year. The car was later crashed at Laguna Seca and the damage required the car to be fully rebuilt. The task was completely swiftly and it was re-entered into competition.

This car has been driven in SCCA and vintage race events in modern times, including the Mille Miglia in 1991. It was awarded 'Race Car Best in Class' at the 1966 Alfa Romeo National Concours. It has its full FIA documentation and multiple historical documents that describe its lengthy history.

This Alfa Romeo Spider Veloce Monoposto was treated to a complete nut & bolt restoration in the mid-1990s. It was given modern safety features such as an on-board fire extinguisher, safety harness and race seat. There is a modern fuel cell and stainless steel braided lines.

This vehicle was brought to the 2007 Monterey Sports & Classic Car Auction presented by RM Auctions, where it had an estimated value of $120,000 - $160,000. At auction the car was sold for $99,000.
By Daniel Vaughan | Dec 2007
This 1957 Alfa Romeo Mille Miglia Spyder was prepared for SCCA Racing in 1969. It has won over 250 victories, 21 championships, and 11 lap records. It was restored for vintage racing in 2002 and has since competed in over 50 vintage racing events.

This vehicle runs with big bore sports cars and still wins often. It participated in the 1991 Mille Miglia re-enactment in Italy. It is one of the original 'Rubber Chicken Racers.'

It has lap records at Riverside, Portland, Sears Point, Laguna Seca and Willow Springs.
The Alfa Romeo Giulietta Sprint was introduced in late 1954 and the following year, a spider version was introduced. The Spider examples wore coachwork by Pinin Farina and they succeeded in building a highly successful sports car with significant appeal for the Italian auto manufacturer.

This Giulietta was pulled from a barn in the 2011s. It was purchased during the 1970s in Texas and then found its way to California. In the 1980s it moved to Corvallis, Oregon where it remained in a family posession seeing only occasional use. After the driver's seat received damage, the car was sent to the barn to await restoration.

After decades of ownership, a decision was made that the Giulietta would be sold in order to start a college fund for the owner's grandchildren. Purchased by a Northwest collector, the car was pulled from the barn and shipped to the Seattle area.

In 2012, this vehicle was offered for sale at the Gooding & Company auction in Scottsdale, Arizona. The car had an estimated value of $25,000 - $35,000 and offered without reserve. As bidding came to a close, the car had been sold for the sum of $19,250 inclusive of buyer's premium.
By Daniel Vaughan | Apr 2013
This Alfa Romeo Giulietta Spider retains its original matching-numbers engine and is currently finished in the original factory color. Assembly was completed on June 17th of 1957 and was sent to Hoffman Motor Car Company of New York for retail on July 18th. Little is known of the car's early history. By the early 1990s, it came into the car of Jane Watson Stetson of Vermont. While in Mrs. Stetson's care, it received a minor restoration, including a partial engine rebuild, electrical refurbishment, and work to the motor mounts and main gearbox bearing. During the early 2000s, the car was owned by a series of New Jersey-based owners. These included Mark Paradis, the mayor of the borough of Lebanon, and later John Dean of Ocala, Florida who purchased the car in 2009. Mr. Dean treated the car to a significant restoration. The current owner acquired the car in late 2012. In 2013, it was brought to Gooding & Company's Amelia Island auction where it was estimated to sell for $60,000 - $80,000 and offered without reserve. As bidding came to a close, the car had been sold for the sum of $49,500 inclusive of buyer's premium.
By Daniel Vaughan | Apr 2013
Prior to World War II, Alfa Romeo was blessed with a mystique that few companies have ever been able to duplicate. Perhaps the easiest way to describe prewar Alfa Romeo is to compare it with postwar Ferrari, a company whose relentless dominance on the racetrack and in the garages of millionaires has become a familiar fact of life. It was, after all, with Alfa Romeo that Enzo Ferrari began in earnest his famous career.

Suggesting that the two brands are entirely analogous is far too simple a conclusion, though. Ferrari did in a sense pick up where prewar Alfa left off, building glorious cars that were created first and foremost to win races. But the Ferrari company was a relative latecomer to auto racing, while Alfa Romeo was involved from nearly the start of the sport. Alfa Romeo built its reputation with some of the finest drivers, finest engineers, and finest automobiles known to the world. An Alfa won every Mille Miglia from 1928 to 1938, with the exception of the 1931 race that was won by a Mercedes-Benz SSK. Alfas won Le Mans in 1931, 1932, 1933, and 1934. It wasn't until just before the outbreak of World War II, when Nazi Germany fed Auto Union and Mercedes-Benz great sums of money to create cars that could dominate auto racing and boost national pride, that Alfas began to slowly slip off the podiums—and even after that the company remained highly competitive.

Alfa Romeos raced in the most grueling, dangerous, frightening, and exciting events that car racing has ever known. The company's road cars, too, used phenomenal engines and chassis, many of which were initially developed for race use and then later detuned and clothed in stunning bodies by Italy's famed carrozzerie. Alfa built supercars before supercars existed. Alfa was, put simply, one of the absolutely superlative prewar marques, a rarefied combination of lust, precision, sophistication, and aesthetic excellence.

After World War II, though, Alfa Romeo boldly entered a market into which it had never before ventured: that of the mass-produced car. Fortunately, these later Alfas did not lose their prewar dignity. Instead, the carmaker's characteristically excellent engineering and styling were translated into smaller, more affordable packages. The 1900 was the first of Alfa's mass-produced cars. An excellent vehicle with monocoque construction and a twin-cam four cylinder with alloy head, the 1900 was a clear departure from Alfa's prewar roots. The car was distinctive, though, and while it was usually ordered as a conservative sedan, it could also be ordered as a coupe or convertible from the same excellent design houses that created some of the finest examples of prewar Alfa style. The real success story of Alfa Romeo's early postwar years, though, was introduced four years after the 1900, and named Giulietta.

Despite what BMW fans might say about their 2002s, the Alfa Romeo Giulietta was the first sports sedan. Admittedly, that assertion might meet with some controversy, but even on paper the Giulietta's sporty demeanor is clear. Even the four-door (or Berlina) Giuliettas were equipped with mechanicals that made many contemporary sports cars jealous. The brakes were excellent finned Alfin drums, the rear axle with its aluminum differential housing was suspended by coils instead of leaves, and the car's compact size and weight of just one ton ensured delightful road manners.

And then you see the engine. Displacing just 1,290cc, it was not particularly powerful. It had a polished sophistication that could not be matched by the engines in many cars with bigger price tags and more impressive performance figures, though. The Giulietta engine was such an inherently excellent and modern unit that its basic design, albeit in 1,962cc form, was in use until the very last of the Alfa Romeo 105- and 115-series Spiders were produced—in 1993.

The Giulietta's engine contained many features usually reserved for prohibitively expensive cars, yet it was made available affordably to the masses. The block and head were both cast in aluminum. An oil capacity to rival the Exxon Valdez ensured cool operation even at sustained high engine speeds. The pistons traveled in cast-iron wet liners that were replaceable, indicating that these engines were designed not just to perform but also to last. Twin, chain-driven camshafts operated two valves per cylinder that opened into hemispherical combustion chambers. This was an engine comparable to those used in some of the very best sports cars of the time—and sure enough, Alfa created successful racing cars using tuned Giulietta running gear coupled with aerodynamic bodies.

Unlike most cars offering more than one body configuration, where the four-door sedan is usually the first style introduced, Alfa Romeo introduced the coupe (or Sprint) version of its Giulietta before the Berlina. The background behind this unusual decision is fascinating.

Alfa intended to release the Giulietta Berlina as the initial Giulietta body style in 1953. In order to raise money and generate interest in their new car, Alfa held a lottery by issuing company securities and giving security-holders the chance to win a Giulietta. Alfa Romeo held this lottery while their latest car was still being developed, though, and by 1953 the Giulietta was not yet ready for production. The randomly-selected lottery winners were getting upset at not having their cars by the originally stated release date, and Alfa knew it had to act quickly to settle the problem before the Giulietta's reputation was tarnished before the model had even been released.

The Giulietta Berlina would not be ready until 1955. Given Alfa Romeo's close relationship with the Italian carrozzerie, though, the company knew that it could order a limited run of cars built quickly to assuage the concerns of angry lottery winners. Alfa Romeo accordingly contacted Bertone to arrange for the production of the Giulietta Sprint in time for a debut at Turin in 1954. Alfa didn't realize just how well its Giulietta would sell in all three standard body configurations (Berlina, Sprint, and Spider), and by the end of production the car had been a success story not only for Alfa but also for Bertone, which went on to produce all Giulietta Sprints.

In addition to the Berlina and Sprint, a two-seat Spider (convertible) version of the Giulietta was also produced. Styled and built by Pinin Farina, this lithe and pretty automobile was proof that the Giulietta running gear was perfectly suited to sports cars. Though the Berlina was the most popular body style by a wide margin, the little sedans are now very rare as they tended to lead rougher lives than the Sprints and Spiders.

From 1956, Giulietta shoppers could choose a Sprint Veloce or Spider Veloce in addition to the standard versions of the three primary body styles. The Veloce models featured, amongst other engine modifications, twin Weber carburetors in place of the standard trims' single Solex units, and they could rev to 8,000rpm. With virtually no external cues giving away the added power, the Veloces were true sleepers that offered tremendous fun in cars that were still relatively affordable and sturdy.

Two other notable, but exclusive, Giulietta body styles were the Sprint Speciale (by Bertone) and the Sprint Zagato. Both of these models added sleek, aerodynamic bodies to an already impressive platform. The cars are highly prized today, the Sprint Speciale for its terrific style and the Sprint Zagato for its racing pedigree.

The Giulietta was produced in two series, retroactively titled 750 and 101 in reference to the beginning digits used for part numbers associated with the vehicles. The early 750 and later 101 were distinguished by several subtle yet important changes (such as the 101's split-case gearbox and longer wheelbase for Spider), but they were not marketed as different cars and there were transitional examples that blurred the distinctions between the series. Despite the detail changes, the Giulietta models were never fully redesigned until the Giulia replacement came in 1962 (some Giulietta models remained in production until 1964). The Giulia continued to cement Alfa Romeo's postwar reputation as the producer of innovative, thoughtfully-engineered, and superbly styled mass-produced sports cars and sedans.

To gain an insightful understanding of the Giulietta, it's helpful to consider the car's name. Giulietta. No one seems to know for sure where that name came from, but there is a popular legend that offers a possible idea. Several of Alfa Romeo's directors, as well as racing driver Jean-Pierre Wimille, ended up in a Paris nightclub at a time near the debut of the Alfa 1900. A clever Russian prince who happened to be in the same nightclub recognized the eight gentlemen and asked, 'You are eight Romeos, without even one Giulietta?' Evidently, the Alfa directors liked the name.

Whether or not this story is true, it gives a clear (if romanticized) picture of what Alfa Romeo was like in the 1950s. This was a clever, stylish brand, run by charismatic enthusiasts who were ready to reformulate the essence of their company. Exciting times, exciting people, exciting cars—Giulietta's birth represented a new chapter in Alfa Romeo's history that has come to be as highly regarded as the tradition of extravagant perfection before it.

Sources:

Benson, Joe. Illustrated Alfa Romeo Buyer's Guide . 2nd. Osceola, WI: MBI Publishing Company, 1992. Print.

Goodfellow, Winston. Italian Sports Cars. Osceola, WI: MBI Publishing Company, 2000. Print.

LaChance, David. ''The Italian Girlfriend'.' Hemmings Sports & Exotic Car. Dec 2010: 24-29. Print.
By Evan Acuña
The 1954 Alfa Romeo Giulietta was an important vehicle for the Company, because it was the first offering since World War II that truly resembled the racing inspired vehicles Alfa was capable of producing. The vehicles were mass produced, a first for the company. The Giulietta came in various body-styles including the Spider, Sprint, TI, and Veloce.
The vehicles were built with the engine in the front and powered the rear wheels. Most used a four-speed manual gearbox with front and rear drum brakes. The steering was worm-and-roller with the front suspension comprised of wishbones with telescopic dampers and coil springs with anti-roll bar while the rear was a rigid live axle with telescopic dampers and coil springs.

The first of the Giulietta's to be offered was the 2+2 coupe which featured a four-cylinder engine and bodywork by Bertone. The 1290 cc engine producing 65 horsepower, a respectable figure at the time. A year later the berlina version appeared, commonly referred to as a salon. This version brought a level of practicality, with its four doors and longer wheelbase. It featured the same mechanical components as the Sprint but the engine was not as powerful, producing a little over 50 horsepower.

The famous coachbuilder, Pininfarina, was tasked with designing a new prototype for 1955. What was created was the Giulietta Spider Prototype, first introduced to the public at the 1956 Turing Motor Show in production form. It sat atop a slightly shorter wheelbase than the Sprint but used the same mechanical components.

In 1956, the Veloce was introduced. This version was sporty, with its dual-cam 1300 cc alloy engine. Using dual Weber DC03 carburetors the vehicle was capable of producing 90 horsepower. The gas tank was enlarged to better prepare it for endurance racing while the larger front brakes provided excellent stopping power. By using Plexiglas rear and side windows and aluminum alloy doors, hood, and trunk lid the vehicle was able to shed weight, ultimately improving performance. The Veloce version was available on the Spider and the Sprint.

In 1957, the Giulietta Ti was introduced, outfitted with a salon body and powered by a Sprint engine. With the four doors and a 65 horsepower engine, this became the most popular Giulietta ever produced.

Modest changes were made in 1959 to correct reliability issues. There were few aesthetic changes, mostly to the exterior of the TI version.

In 1961 the berlina's received an updated grill and the Spider now shared the same wheelbase as the Sprint. The TI received extra power, an increase that brought total output to 75 horsepower.

In 1963, the production of the berlina ceased with the TI doing the same a year later. Throughout the production lifespan of the Giulietta, the TI was by far the most popular model with nearly 93,000 examples being produced. The closest to the TI was the berlina with a little over 39,000 examples. With nearly 2,800 examples produced, the Spider Veloce was the lowest produced version. There was a version dubbed the Promiscua that was a four door estate car and featured body work by Coli that was even more exclusive, with only 91 examples produced.
By Daniel Vaughan | Jan 2011
For more information and related vehicles, click
here
Rolex Monterey Motorsports Reunion to Celebrate 50th Anniversary of Shelby GT350 Mustang
MONTEREY, Calif., November 17, 2014 —The Rolex Monterey Motorsports Reunion will celebrate the 50th anniversary of one of the most recognizable road racing cars of the '60s – the Shelby GT350 Mustang – as the 2015 featured marque August 13-16, 2015 at Mazda Raceway Laguna Seca. The Shelby GT350 Mustang came onto the scene just one year after the Ford Mustang debuted. Ford Motor Company, already having success with Carroll Shelby in the Cobra program, enlisted Shelby to make the new Mu...[Read more...]
Selected Entries at Rolex Monterey Motorsports Reunion Span 81 Years of Racing History
• Cars Run Gamut from a 1911 National 40 to a 1992 Mazda RX-792P GTP
MONTEREY, Calif., March 19, 2014 — The Rolex Monterey Motorsports Reunion is likened to a museum that springs to life each August on the Monterey Peninsula. And this year is no exception as 550 historic and period-correct race cars have been accepted to compete in 15 race groups over the four-day gathering, August 14-17 at Mazda Raceway Laguna Seca. The oldest car accepted is Brian Blain's 1911 National 40...[Read more...]
Sonoma Historic Motorsports Festival Celebrates Corvette'S 60 Years At Sonoma Raceway
• Fast cars, fine food and wine highlight May 18-19 weekend
• Paul Reinhart is honored guest, popular racing seminar scheduled for second year
SONOMA, Calif. (April 27, 2013) - The Sonoma Historic Motorsports Festival returns to Sonoma Raceway on May 18-19 for the fourth straight year under that title. The program for the 27th annual historic-car event organized by General Racing Ltd. in Sonoma will celebrate the 60th Anniversary of the popular Corvette, created by the ...[Read more...]
Gooding & Company's Annual Pebble Beach Auctions
Gooding & Company, the acclaimed auction house celebrated for selling the world's most significant and valuable collector cars, will host its annual Pebble Beach Auctions on August 18th & 19th in association with the prestigious Pebble Beach Concours d'Elegance. Once again, Gooding & Company is poised to present an outstanding array of blue chip and concours-quality collector cars on its record-setting stage, including the elegant 1955 Maserati A6G/54 Frua Berlinetta owned by Grammy Award-winni...[Read more...]
Carroll Shelby, Ford Family for More Than Half a Century
Carroll Shelby was a member of the Ford family for the better part of 60 years, producing stunning performance vehicles from concepts to production models. He once said his energy and passion for performance products were always strongest when he was working with Ford. Shelby most recently collaborated with the company on the 2013 Ford Shelby GT500 Mustang, the most powerful production V8 in the world. Working with SVT engineers at Sebring and the Arizona Proving Grounds, at times he drov...[Read more...]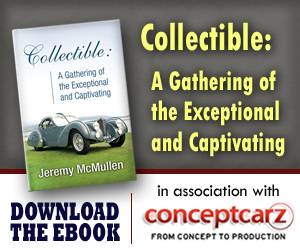 Similarly Priced Vehicles from 1957
Chevrolet Corvette C1 ($3,460-$3,460)
Porsche 356 ($3,215-$3,915)
Porsche 356 A ($3,200-$3,910)
Ford Thunderbird ($3,406-$3,406)
Chevrolet Bel Air ($2,173-$2,900)
Lotus 7A Series 1 ($2,995-$2,995)
Buick Century Series 60 ($3,315-$3,830)
Buick Caballero Estate ($3,045-$3,045)
Oldsmobile Golden Rocket Fiesta Super 88 ($3,210-$3,210)
Plymouth Suburban ($2,300-$2,850)

Average Auction Sale: $58,969
Alfa Romeo
Monthly Sales Figures
Volume
December 2014
67
November 2014
24
(More Details)
© 1998-2014. All rights reserved. The material may not be published, broadcast, rewritten, or redistributed.