Image credits: © Chevrolet. GM Corp
1962 Chevrolet Impala Series news, pictures, specifications, and information

Tweet
| | | | |
| --- | --- | --- | --- |
| | | | Series 1800 V8 HardTop Sport Coupe |
In 1958, Chevrolet introduced the Impala. It was named after the southern African antelope and was Chevrolet's most expensive passenger model through 1965. Ed Cole, Chevrolet's chief engineer in the late 1950s, defined the Impala as a 'prestige car within the reach of the average American citizen.'

The 1962 model featured new 'C' pillar styling for all models except the 4-door hardtop. Sport Coupe models featured the 'convertible roof' styling. The 'overhang' roof style of the sedans was replaced with a more attractive, wider 'C' pillar with a wrap-around rear window. This car came with the 409 cubic-inch engine with dual-quad carburetors, a 4-speed transmission and posi-traction rear axle.

The Impala features premium interior appointments, bucket seats, and more chrome trim outside, including a full-width aluminum-and-chrome panel that houses the triple-unit taillight assembly. The 1962 Impala has a 119-inch wheelbase and an overall length of 209.6 inches. Weight of the coupe is 3,450 lbs.

This example is a three-owner vehicle. Originally manufactured in Los Angeles and sold new in Fresno, the current owner purchased the car in 1991. The color is Anniversary Gold and the car has always been registered in California.
For the early 1960s, Chevrolet offered a performance package in a full-sized car that was fitted with a long list of factory options and powered by the legnedary big-block Chevrolet 409. The Turbo-Fire V8 engine displaced 409 cubic-inches and offered 409 horsepower. The Turbo-Fire V8 engien featured a twin four-barrel carburetor and high-lift cam, solid valve lifters and a lightweight valve-displacement of 409 cubic-inches. This option set the buyer back an additional $484.

This example has a Borg-Warner T-10 four-speed manual floor-shift tranmsision with four-wheel drum brakes. A three-speed Powerglide automatic was also avaialbe, along with a variety of engines raning from 4, to 6, to 8 cylinders. The list of bodystyles included a sedan, hardtop sport sedan, hardtop sport coupe, convertible and a 6 or 9 passenger station wagon.

The Chevroelt Impala convertible had a base price around $3,275 in 1962. The 'Super Sport' or 'SS' package added another $53.80, which included the exterior bading, simulated machine-turned trim inserts, spinner-style wheel covers, interior grab handle and locking center console. For an extra $102.25, the buyer would receive matching vinyl front bucket seats finished in the color of their choosing.

This example is painted in Roman Red with a matching interior and a black top. It was given a full restoration a few years ago and freshened in 2006-2007.

In 2009, this 1962 Chevrolet Impala 409/409 SS Convertible was offered for sale at the Sports & Classics of Monterey auction in Monterey, California presented by RM Auctions. The car was estimated to sell for $75,000-$100,000 and offered without reserve. The lot was sold for the sum of $57,750 including buyer's premium.
By Daniel Vaughan | Dec 2009
This 1962 Chevrolet Impala has a matching numbers 409/409 HP engine with dual 4-barrel carburetors and a 4.56 Positraction rear end. It has a 4-speed Borg Warner transmission and original T-3 headlights. It is finished in the rare combination of Nassau Blue with a Blue interior.
By Daniel Vaughan | Nov 2013
The 1950's Impala was big, very big. It actually began its life as a top option level of the Bel Air. Due to sales being so well for this body style, Chevrolet decided to create the Impala as its own model. Its styling has been termed 'bat-winged' due to the rear-styling of the vehicle. A variety of engines were available ranging from an inline-6 cylinder up to a triple carburetor, 348 cubic-inches V8 capable of producing 315 horsepower. A fuel injected V8 became available in 1959.

From the front of the car, the design was fairly normal for the 1950's era. Extensive amounts of chrome littered the front end. Two headlights, located side-by-side, were placed on each sides of the vehicle. A front grill was used to help keep the engine cool. View the car from the side and it becomes immediately clear that this is a big vehicle. The length of the vehicle could be extended an additional 11 inches by adding the Continental spare tire cover to the rear of the car. Viewing the car from the rear, the car quickly ends up in a league of its own, with only a few other vehicles such as the Cadillac Series 62 / DeVille having such a radical rear-end. The vehicle featured rear-fins that resembled cats-eyes. To top it all off, this car was not-only long, it was also very wide.

Drum brakes were used and due to the weight of the vehicle, tended to wear out rather quickly. The Impala came in three different body styles including a four-door sedan, two-door coupe, and a convertible coupe. Even though the vehicle weighed 3650 lbs, it could achieve a zero-to-sixy run in about 9 seconds. Top speed was in the neighborhood of 130 miles-per-hour.
By Daniel Vaughan | Dec 2009
Chevrolet Impala, 1958-1960
In 1958, Chevrolet decided to move upscale with a new trim level for the successful Bel Air. Called Impala, the upgrade package included enhanced interior and exterior styling, along with powertrain options potent enough to create one of the best performing large cars available at the time.

The name of this new trim level had been used at Chevy before, when GM was showcasing dream cars in its 1956 Motorama shows. One auto created for this show by GM's design studio was the Chevrolet Corvette Impala. With a hardtop and room for five, this concept was created to show the possibility of producing a full model line for the Corvette. It had a traditional Corvette grille and swoopy lines with a sporty flair, free of the fins so popular on sedans.

Though the Corvette Impala never made it beyond concept car status, the Bel Air Impala retained some of its sporting intent. The priciest car in Chevrolet's fleet, the new flagship could be had with a 348c.i. V8 producing 315bhp.

Ironic given the clean lines of the Corvette Impala, the Bel Air Impala featured large fins and as much chrome as a contemporary roadside diner. Other new styling elements included a six taillight rear treatment, and a wide front view with four headlamps. The Impala package could be ordered only as a coupe or convertible, enhancing the sporting image of the car. While the base engine was a 145bhp straight six, every other available engine was a V8 displacing 283c.i. or 348c.i. With this plethora of performance-minded engine options, buyers knew theses vehicles were serious.

The Bel Air Impala was an easy seller. Despite its premium price, the public loved its looks and available power. Its sales volume was high enough to prompt Chevy to bring back the Impala for 1959 as a model line in its own right, free of Bel Air connections.

Available as a sedan, coupe, and convertible, the 1959 Impala was an even bigger hit. Its design was fresh and considered very stylish, with huge fins second in size only to Cadillac's. The Impala was named after an African antelope, hence the car's logo. Other animals were evidently taken into consideration as well during the designing of the Impala. The large tailfins were referred to as 'bat wings.' The long, narrow taillights, which tapered toward the center to sharp points, were called 'cat's eyes.'

Many consider the early Impala the first real muscle car. The 1958 models especially followed the formula of taking a big sedan, getting rid of a couple of doors, and shoehorning in the biggest V8 that'll fit under the hood.

For 1959, the performance slant of Impalas took on a hint of greater sophistication when an impressive new engine choice was made available. A 283c.i. V8 with an advanced fuel injection system was introduced. With more power than the cheapest 348c.i. engine, the fuel injected motor made a great choice. Unfortunately, it was never very popular and is a rare find today.

The 1960 Impala was a letdown for driving enthusiasts. Some of the distinct styling features were deleted, as was the availability of fuel injection. The Impala had taken a step away from its performance roots. It continued to sell incredibly well, though. In 1959, the Impala was already the bestselling Chevrolet. In 1960, it became America's bestselling car of any manufacturer.

Successful or not, the Impala was beginning to lose its direction in 1960. But hopeful enthusiasts were rewarded for their patience a year later when the 1961 Impala SS was introduced, bringing a brand new performance icon to Chevrolet. The Impala would go on to become the bestselling full-size car of all time.

Sources:

www.corvettes.nl, '1956 Chevrolet Impala Show Car.' Car Styling 7 Mar 2009 http://www.carstyling.ru/en/cars.1956_Chevrolet_Impala%20Show%20Car%20.html.

Patterson, Marit Anne. '1958 Chevrolet Impala Convertible.' Sports Car Market 08 Aug 2008 7 Mar 2009 http://www.hagerty.com/lifestyle/hobby_article.aspx?id=34714.

'Chevrolet Impala History.' Muscle Car Club 7 Mar 2009 http://www.musclecarclub.com/musclecars/chevrolet-impala/chevrolet-impala-history-1.shtml.

'1958 Chevrolet Impala.' 1958 Classic Chevrolet: 'A Whole New Look' 7 Mar 2009 http://58classicchevy.com/.
By Evan Acuña
Considered to be 'the best selling full-size car in the U.S.,' in 1960 the Chevy Impala was designed and built by the Chevrolet division of General Motors.

Originating as a sports coupe, the Impala began as a dreamcar for the 1956 General Motors Motorama.
The name Impala originated from a southern African antelope known for its speed and prowess. Introduced in 1958, the Impala was developed by chief engineer automotive executive for General Motors, Edward Cole.
Michigan born, Cole was the son of a dairy farmer whose lifelong aspiration was to become an automotive engineer. Beginning as a lab assistant for the General Motors Institute, Cole worked in engineering before gaining recognition and becoming promoted to chief engineer in 1952. Cole eventually became president of Chevrolet in 1967.

Introduced with a trim package, the new sporty model was unique with its six taillights. Eventually becoming the 'best selling car in the Chevrolet product line', in 1959 it became a separate model in both two and four-door versions. Within the second year of production, production reached 473,000 units.

Continuing for a decade as the best-selling automobile in the U.S. Impala broke the record for sales with over 13 million units sold. The Impala held this record until 1977 setting an 'all-time industry annual sales record of more than 1 million units.'

Introducing the largest impala, the 1971 redesign set the standard that has yet to be topped remaining Chevrolet's top-selling model until the late 1970's.

The design of the Impala SS (Super Sport) became the model often credited for the beginning of the muscle car era.

During the 1973 energy crisis that rocketed the nation, the impact of high rising gas prices put a damper on the industry. Impala sales plummeted and the redesign of the Impala to meet changing demands. Minimized in length, becoming more narrow and taller in stature, the new Impala showcased 'the new image of the full-size American car – smaller, lighter, more efficient.'

Over the decades, the Impala has continued to remain an American trademark, enhanced by its ability to evolve with the times.

Introduced during the Los Angeles Auto Show in 2005, the 2006 Impala came complete with a base engine, a 3.5 L V6 that produced 211 hp. A completely revised interior, the 06 Impala was selected by Fleet car of the Year by both Automotive Fleet and Business magazines.
By Jessica Donaldson
For more information and related vehicles, click
here
Holden Celebrates 35 Years of Commodore
Holden is celebrating the 35th anniversary of its most iconic nameplate, Commodore. For over three decades, the Holden Commodore has delivered significant advances in vehicle performance, safety and comfort on the way to becoming Holden's longest-standing and most successful nameplate. Holden Executive Director, Vehicle Sales, Service and Marketing, Phil Brook, said Holden was extremely proud of Commodore's success. 'There are not many nameplates in Australia that can lay claim to a ric...[Read more...]
500-600 HP Now Available for 2014 C7 Corvette, Venom GT Debut at Dubai Motor Show
November 4, 2013 Sealy, Texas-Beneath the carbon-fiber hood of the seventh-generation Corvette Stingray throbs the most powerful base engine ever offered: the 455-bhp 6.2-liter LT1 V-8, a direct-injected aluminum powerplant that, amazingly, can launch you to 60 mph in just over 4 seconds yet still return up to 30 mpg on the highway. The power is certainly ample, but we at Hennessey are never content with stock levels and prefer nice round numbers...how does 500 or 600 horsepower at the cr...[Read more...]
BORGWARNER INTRODUCES NEXT-GENERATION EFR TURBOCHARGING TECHNOLOGY AT 2012 SEMA SHOW
• BorgWarner Hosts 2012 Indianapolis 500 Winner Dario Franchitti on October 30
• Borg-Warner Trophy™ on Display October 30 - November 1
BorgWarner (NYSE: BWA) will introduce its next-generation EFR-7163 (Engineered for Racing) turbocharger as well as its current EFR and AirWerks™ Series turbochargers at the 2012 SEMA Show at the Las Vegas Convention Center on October 30 – November 2. Featuring an innovative light-weight aluminum bearing housing and mixed-flow turbine, BorgWarne...[Read more...]
ROB MACCACHREN- 'IT ALL COMES DOWN TO THIS'
The Lucas Oil Off Road Racing Series (LOORRS) heads to Firebird International Raceway in Phoenix this weekend for the final race of the season where the Pro2 Unlimited championship will be decided. After Rob MacCachren suffered a disappointing weekend in Las Vegas, where he was absent from the podium for the first time of any LOORRS racing weekend this season, he has slipped to third in points behind rivals Brian Deegan and Marty Hart. Never one to give up, MacCachren intends to put the ROCKSTAR...[Read more...]
WORLD'S GREATEST SUPERCARS BATTLE FOR NEW FASTEST LAP AT PAGEANT OF POWER
•Cholmondeley Pageant of Power (15-17 June, www.cpop.co.uk) announces new Supercar class •New racing category will see Lamborghini Aventador, BAC Mono, new Porsche 911 and many more competing for the lap record •Unique opportunity to see ultra-rare road cars in action, including the Aston Martin One-77, Bugatti Veyron Super Sport and Ferrari Enzo Some of the finest modern supercars, including models from Bugatti, Lamborghini, Bentley, Aston Martin and Maserati, will take to the track at ...[Read more...]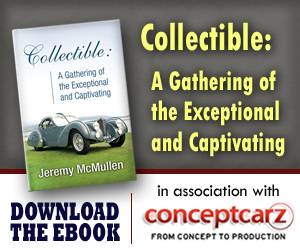 Similarly Priced Vehicles from 1962
Mercury Monterey ($2,670-$3,290)
Ford Ranchero ($2,730-$2,840)
Studebaker GT Hawk ($3,100-$3,100)
Studebaker Lark ($1,932-$3,100)
Dodge Dart ($2,240-$3,090)

Average Auction Sale: $38,260
Chevrolet
Monthly Sales Figures
Volume
March 2014
179,681
February 2014
153,913
January 2014
119,089
December 2013
153,493
November 2013
145,089
October 2013
155,214
September 2013
127,785
August 2013
187,740
July 2013
162,670
June 2013
193,460
May 2013
179,510
April 2013
172,460
(More Details)
© 1998-2014. All rights reserved. The material may not be published, broadcast, rewritten, or redistributed.