1969 AMC AMX news, pictures, specifications, and information

Tweet
Fastback Coupe
Chassis Num: 31483

AMC offered several different 'muscle cars' during the late 1960's and early 1970's. The AMX was a two-door fastback hardtop available with a variety of powerful V8 engines. The 'Big Bad' AMX came out in the middle of the year. This option-created model came in three colors and had its bumpers painted the same shade as its body. A total of 284 'Big Bad' Orange AMX's were produced. 'Big Bad' Blue and 'Big Bad' Green cars were also available.
This automobile is Number 18 of 52 super stock AMX drag cars built jointly by American Motors Corp. and Hurst Performance. The AMC has a 390 cubic-inch, 12.3:1 compression ratio, cross ram manifold, with dual Holly Carburetors, Crane Roller Cam & heads, and develops 420 horsepower.

In 1969 this car won the AHRA Summer Drag Nationals and was runner-up in S/S Eliminator with the world record of 11.08 at 127.11 mph. It has factory paint in a red, white and blue paint scheme.
The AMC AMX, representing American Motors Experimental, was produced in low production numbers produced during the late 1960s and early 1970s. It had similarities to AMC's pony car, the Javelin, but was smaller and had seating for two. The AMX was not only sporty and attractive, but it introduced many 'industry firsts', including being the first production vehicle to use a one-piece injection molded dashboard which greatly improved safety for its occupants. In 1969 and 1970 it was named 'Best Engineered Car of the Year' by the American Automotive Society of Engineers.

There were multiple engines available to the buyer. From 1968 through 1970 a four-barrel carbureted eight-cylinder engine could be had in 290, 343, 360 and 390 cubic-inch flavors. Power was sent to the rear wheels courtesy of the standard T-10 four-speed manual gearbox. Dual exhaust and a special traction bar were also included as standard equipment. Adding to the sporty persona were extra wide tires which provided extra traction and enhanced performance.

In 1968 AMC produced 6,725 examples of the AMX. The following year 8,2963 were produced and in 1970 sales dipped to 4,116. There were 52 examples of the Hurst-modified SS/AMX drag strip racing versions. These are highly sought after in modern times as collector cars.

The AMC AMX was popular on the racing circuit, especially at drag strips. The potent engines and wide tires made them very competitive. The AMX captured the Super Stock Championship title multiple years. Craig Breedlove, a renowned driver with years of experience and many titles was hired by AMC to help further the career performance of the AMX. He did so by breaking over 100 records including the 24 hour average speed record which he averaged 130 mph. The previous record had been 103 mph.

From 1971 through 1974 the AMX name was used on the Javelin indicating the performance option. It was used again in 1977 as a performance option on the Hornet. The following year it was applied to the Concord and in 1979 and 1980 it appeared on the Spirit.

There were three concept versions of the AMX created, known as the AMX/1, AMX/2, and AMX/3. The first operational AMX prototype was debuted in 1966 and resided for a number of years in the Talledega Speedway museum. Two rolling prototypes were made of the AMX/2, with one being used for many years atop of a pole of a used car dealership. In 1970 AMC commissioned ItalDesign to create a mid-engined high-performance version of the AMX, dubbed the AMX/3. The design was mostly by AMC designer Richard 'Dick' Teague and production was done at the former Bizzarrini factory located in Turin, Italy. Only six versions were created from 1969 through 1972. Located mid-ship was a 390 cubic-inch AMC V8 capable of producing 340 horsepower. A custom made OTO Melara five-speed manual gearbox was used and top speed was achieved at 160 mph.
By Daniel Vaughan | May 2006
For more information and related vehicles, click
here
Chevrolet Performance Enhances 2014 NHRA Contingency
Brand supports loyal racers – including those winning with COPO Camaros DETROIT – It can pay to run Chevrolet Performance parts in drag racing. Competitors who use parts and display the brand's decal on their race cars are eligible for contingency payouts in many NHRA classes. COPO Camaro racers who win in NHRA's Mellow Yellow Series – in Super Stock and Stock classes – are eligible for $1,500 payout. The runner up will receive a $1,200payout, a $450 increase from 2013. New...[Read more...]
Mecum Marathon – Results From Kissimmee 2014
Walworth, WI - January 31, 2014 -- The largest collector car auction in the world lived up to its moniker once again with Mecum's Kissimmee, Fla., event, held Jan. 17-26, offering a grand total of 2,750 cars and more than 3,000 items of Road Art throughout the 10 days of heated bidding and hard-hammering sales. Auction sales reached a hefty $63,435,490 in total with 1,759 of the vehicles exchanging hands for a sell-through rate of 64 percent. Despite nationwide weather conundrums resul...[Read more...]
Mecum Makes Schaumburg Convention Center Newest Chicago Venue
1,000 Collector Cars to Be Offered at Auction October 10-12, 2013 Walworth, WI - August 6, 2013 -- Mecum Auctions has taken its record-setting auctions all across the country and continues to drop the hammer in new locations each year. This Oct. 10-12, Mecum will roll out the red carpet in Chicagoland offering more than 1,000 vehicles at a world-class venue with 100,000 square feet of pillar-free exhibit space – the Schaumburg Convention Center. 'The Schaumburg Convention Ce...[Read more...]
Mecum's Kansas City Spring Auction Reaches $9.6 Million in Sales
April 25-27 Auction Draws Large Crowd and Diverse Selection to Downtown K.C. Magnificent and serene Kansas City, Mo., turns into a car collector's paradise twice a year when Mecum Auctions comes to town. Last weekend, April 25-27, the Kansas City Convention Center was transformed into that dream location with 735 cars spread across the gleaming floor of beautiful Bartle Hall. With 446 cars selling over the three-day period for a 61 percent sell-through rate, the enduring auction brough...[Read more...]
Chevy Performance Rolls with Hot Rod Magazine Power Tour
Weeklong drive kicks off with unprecedented access to GM's Milford Proving Ground Road trip! It's that time of year again for the annual automotive pilgrimage known as the Hot Rod Magazine Power Tour® and Chevrolet Performance helps get it started on Saturday, June 2, at General Motors' Milford Proving Ground. The Power Tour winds up in Arlington, Texas, on June 9. With more than 3,000 hot rods, muscle cars, classic trucks and late-model performance vehicles and approximately 12,00...[Read more...]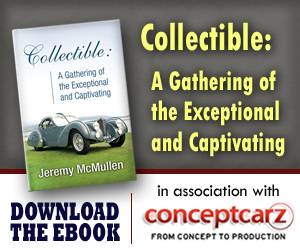 Similarly Priced Vehicles from 1969
Triumph TR6 ($3,300-$3,300)
AMC AMX II Concept ($3,297-$3,297)
Mercury Cougar ($3,000-$3,575)
Chevrolet Caprice ($3,295-$3,675)
Plymouth Fury ($2,700-$3,715)

Average Auction Sale: $23,768
© 1998-2014. All rights reserved. The material may not be published, broadcast, rewritten, or redistributed.