1956 Studebaker Sky Hawk news, pictures, specifications, and information

Tweet
In 1956, the 'Loewy Coupes' evolved into the Hawk series consisting of the Flight Hawk (coupe with Champion 6), Power Hawk (coupe with 259 V8), Sky Hawk (hardtop with 289 V8), and Golden Hawk (hardtop with 352 Packard V8). Although the Golden Hawk was the most powerful, the big Packard engine made it perilously nose-heavy. The next-in-line Sky Hawk was much lighter and had much better handling. In 1957, the Golden Hawk got a supercharged Studebaker V8, just as powerful as the Packard engine but much lighter. The three other Hawk models were dropped and replaced by a single model, the Silver Hawk.
A pillar-less two-door hardtop coupe, the Studebaker Sky Hawk was introduced for one year only, 1956. Produced by Studebaker-Packard Corporation, the Sky Hawk was considered to be part of the Studebaker President series. The Sky Hawk was one of four models of Hawks that was available for 1956 and it was positioned nestled between the flagship Golden Hawk and Power Hawk pillared coupe.

The Sky Hawk was different from the Golden Hawk because it featured less chrome trim and also lacked the Golden Hawk's fins. Less garish, the Studebaker Sky Hawk featured hardtop styling. The inside was also quite a bit less luxurious and they were powered by the President's 289 cubic inch V8 with 210 hp standard and 225 hp optional. The Sky Hawk featured an overall length of 203.9 inches, a wheelbase of 120.5 inches and it had an overall weight of 3,215 lbs.

Set at a base price of $2,477, additional options added to the price. A total of 3,610 units were produced during the 1956 model year. The Sky Hawk featured good styling for the 1950's, along with adequate handling, fine performance. The Sky Hawk also featured a decent low-production appeal and was quite highly sought after. The major downside of the '56 Sky Hawk was Studebaker's usual rust and oil leak problems.
By Jessica Donaldson
For more information and related vehicles, click
here
C IS FOR CADILLAC: $1.1 MILLION V-16 ROADSTER LEADS RM'S STRONGEST PERFORMANCE IN HERSHEY
• RM Auctions posts record results in Hershey, with more than $14 million in sales and 93 percent of all lots sold • Top seller: highlighting the unique A-to-Z Collection, John Moir Jr.'s 1930 Cadillac V-16 Roadster achieves an incredible $1,100,000 • The quality of the Jeffrey Day Collection also shines, bringing strong prices for finely restored Fords • Full results available online at www.rmauctions.com HERSHEY, Pennsylvania (October 11, 2014) – RM Auctions, the world's largest collect...[Read more...]
AUDI Q5 NAMED BEST LUXURY COMPACT SUV FOR FAMILIES BY U.S. NEWS & WORLD REPORT
• The 2014 Best Cars for Families awards recognize cars, SUVs and minivans that improve family life on the road • Awards based on professional automotive reviews, safety and reliability ratings, seating and cargo volume and the availability of family-friendly features • Audi Q5 leads segment consideration according to recent survey by market research firm GfK The 2014 Audi Q5 has been named Best Luxury Compact SUV for families by U.S. News & World Report. The Q5 took the top prize in one of...[Read more...]
LAND ROVER INVITES CONSUMERS TO ENGAGE WITH 2014 RANGE ROVER SPORT VIA AN INTERACTIVE DIGITAL EXPERIENCE, 'RACE THE SUN'
◾RACE THE SUN tells a highly suspenseful, original story through an interactive film that features competitive gaming functionality ◾Project aligns with the adventure and high-performance elements of Land Rover's DNA ◾RACE THE SUN is a key component of the Range Rover Sport marketing campaign, 'Driven to Another Level' (MAHWAH, NJ) – October 15, 2013 – Today, Land Rover is releasing RACE THE SUN, an interactive digital experience that supports the recent launch of the all-new 2014 Ra...[Read more...]
Keels & Wheels Concours d'Elegance
Nearly 12,000 people gathered on the lush grounds of Lakewood Yacht Club to get an up close look at some of the most pristine, classic automobiles and vintage wooden boats in the United States at the 17th Annual Keels & Wheels Concours d'Elegance. The 2012 event was co-hosted by the Antique and Classic Boat Society-Southwest Chapter. In addition, the event raised significant funds for Boys & Girls Harbor. To date, Keels & Wheels has donated more than one million dollars to charity. The 2012 ...[Read more...]
Bentley Ready For Classic Thousand Mile Challenge
•Iconic Bentley Blowers ready for great Mille Miglia adventure •Bentley Continental W12 and V8 models join historic cars in Italy (Crewe, England & Brescia, Italy. 16 May, 2012) W.O. Bentley's gift for creating cars that combined the speed of a thoroughbred racing machine with an enviable reputation for strength and comfort, allowing them to effortlessly cover hundreds of miles, is set to be underlined once again at the 2012 Mille Miglia when two 4½ litre Bentley Blowers take on the ...[Read more...]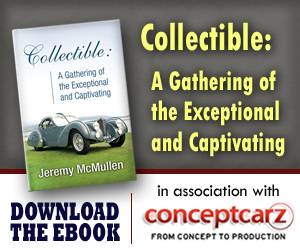 Similarly Priced Vehicles from 1956
Chevrolet Bel Air ($2,022-$23,400)
Studebaker President ($2,185-$2,490)
Dodge Royal Series ($2,475-$2,940)
Hudson Rambler ($1,830-$2,490)
Plymouth Belvedere ($2,115-$2,530)

Average Auction Sale: $19,183
© 1998-2014. All rights reserved. The material may not be published, broadcast, rewritten, or redistributed.