1956 Studebaker Sky Hawk news, pictures, specifications, and information

Tweet
In 1956, the 'Loewy Coupes' evolved into the Hawk series consisting of the Flight Hawk (coupe with Champion 6), Power Hawk (coupe with 259 V8), Sky Hawk (hardtop with 289 V8), and Golden Hawk (hardtop with 352 Packard V8). Although the Golden Hawk was the most powerful, the big Packard engine made it perilously nose-heavy. The next-in-line Sky Hawk was much lighter and had much better handling. In 1957, the Golden Hawk got a supercharged Studebaker V8, just as powerful as the Packard engine but much lighter. The three other Hawk models were dropped and replaced by a single model, the Silver Hawk.
A pillar-less two-door hardtop coupe, the Studebaker Sky Hawk was introduced for one year only, 1956. Produced by Studebaker-Packard Corporation, the Sky Hawk was considered to be part of the Studebaker President series. The Sky Hawk was one of four models of Hawks that was available for 1956 and it was positioned nestled between the flagship Golden Hawk and Power Hawk pillared coupe.

The Sky Hawk was different from the Golden Hawk because it featured less chrome trim and also lacked the Golden Hawk's fins. Less garish, the Studebaker Sky Hawk featured hardtop styling. The inside was also quite a bit less luxurious and they were powered by the President's 289 cubic inch V8 with 210 hp standard and 225 hp optional. The Sky Hawk featured an overall length of 203.9 inches, a wheelbase of 120.5 inches and it had an overall weight of 3,215 lbs.

Set at a base price of $2,477, additional options added to the price. A total of 3,610 units were produced during the 1956 model year. The Sky Hawk featured good styling for the 1950's, along with adequate handling, fine performance. The Sky Hawk also featured a decent low-production appeal and was quite highly sought after. The major downside of the '56 Sky Hawk was Studebaker's usual rust and oil leak problems.
By Jessica Donaldson
Studebaker's coupes that appeared in 1953 wore styling courtesy of Bob Bourke, of Raymond Loewy and Associates. In 1956, he was given the task of creating an all-new appearance, this time on a very tight budget. The four new models of the 1956 Studebaker Hawks had modern styling with small fins at the rear, two-tone colors, a bold front grille, and sculptured sides. The Sky Hawk came without fins and was equipped with the 289 cubic-inch Studebaker V8.

This particular example was delivered new by Lathrop G. Hoffman, the dealer on Beverly Hill's Wilshire Boulevard. It is believed that its original owner retained the car for four decades. The next owner was Art Astor. Currently, it is a sympathetically restored example that has been refinished in its original two-tone white and blue color combination. The chrome has been recently replated, and the stainless trim is original. Inside, the blue and white two-tone interior is original, the dashboard and steering are original, and the carpets are new.

The car has a radio, clock, power antenna, dual chromed exhaust tips, wide whitewalls, and original documentation.
By Daniel Vaughan | Jan 2015
For more information and related vehicles, click
here
2015 DODGE CHALLENGER SRT HELLCAT: THE FASTEST MUSCLE CAR EVER WITH A 1/4-MILE ELAPSED TIME OF 11.2 SECONDS
July 11, 2014 , Auburn Hills, Mich. - Dodge is giving its Challenger owners full on bragging rights at the drag strip and racing to the front line of the horsepower wars with its new 2015 Dodge Challenger SRT Hellcat. The 2015 Dodge Challenger SRT Hellcat is the fastest muscle car ever with a National Hot Rod Association-certified ¼-mile elapsed time of 11.2 seconds at 125 miles per hour (mph) with stock Pirelli P275/40ZR20 P Zero tires. With drag radials, the run dropped to just 10...[Read more...]
JAGUAR LAND ROVER REPORTS U.S. SALES FOR JANUARY 2014
◾Jaguar Land Rover North America increases 15 percent in January, for its best January sales month result since 2004 ◾Land Rover brand has its best January sales ever increasing 11 percent on strong Range Rover Sport demand, up 29 percent ◾Jaguar continues growth streak with 31 percent growth in January on new XF sales, up 29 percent ◾Jaguar launches F-TYPE Coupe with British Villains campaign, debuted on broadcast of Super Bowl XLVIII on Fox. (MAHWAH, NJ) - February 3, 2014 - Jagua...[Read more...]
DANA ENABLES EFFICIENCY, PERFORMANCE OF AWARD-WINNING VEHICLES
MAUMEE, Ohio, Jan. 23, 2014 - Technologies from Dana Holding Corporation (NYSE: DAN) are enabling award-winning vehicles and engines to operate at peak efficiency and performance. The company's technologies are prominent on the 2014 Motor Trend Car and Truck of the Year, the North American Car and Truck of the Year, the Green Car of the Year, and six of this year's Ward's 10 Best Engines. Dana's innovative technologies help automakers increase overall vehicle performance and efficiency...[Read more...]
LAND ROVER ANNOUNCES 2014 U.S. MODEL LINEUP
(MAHWAH, N.J.) - September 12, 2013 - The 2014 model year continues the most dynamic product development and introduction period in the brand's history. An all-new Range Rover Sport is introduced, based on the all-new aluminum-intensive Range Rover that debuted for 2013. The Range Rover itself sees a significant increase in fuel efficiency for 2014 with the introduction of a new supercharged 3-liter V6 engine, for up to EPA-estimated 23 mpg in highway driving1, replacing the naturally asp...[Read more...]
Bonhams smashes multiple world records at $32.7 million Quail Lodge motorcar auction
Bonhams 16th annual Carmel automotive auction – the longest running sale during the Monterey Peninsula Car Week – was a resounding success with a nearly 90 per cent sale-through rate and nearly $33 million realized. The Bonhams pavilion, situated on the spacious western lawns of Quail Lodge in sunny Carmel Valley, hosted an incredibly busy viewing in a lovely garden party atmosphere. Buyers from around the world came to view some of the rarest and most important cars ever offered, which resul...[Read more...]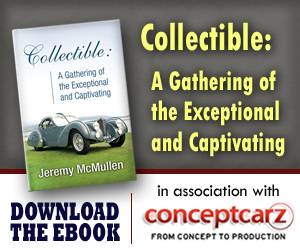 Similarly Priced Vehicles from 1956
Chevrolet Bel Air ($2,022-$23,400)
Studebaker President ($2,185-$2,490)
Dodge Royal Series ($2,475-$2,940)
Hudson Rambler ($1,830-$2,490)
Plymouth Belvedere ($2,115-$2,530)

Average Auction Sale: $19,183
© 1998-2014. All rights reserved. The material may not be published, broadcast, rewritten, or redistributed.