1956 Studebaker Sky Hawk news, pictures, specifications, and information

Tweet
In 1956, the 'Loewy Coupes' evolved into the Hawk series consisting of the Flight Hawk (coupe with Champion 6), Power Hawk (coupe with 259 V8), Sky Hawk (hardtop with 289 V8), and Golden Hawk (hardtop with 352 Packard V8). Although the Golden Hawk was the most powerful, the big Packard engine made it perilously nose-heavy. The next-in-line Sky Hawk was much lighter and had much better handling. In 1957, the Golden Hawk got a supercharged Studebaker V8, just as powerful as the Packard engine but much lighter. The three other Hawk models were dropped and replaced by a single model, the Silver Hawk.
A pillar-less two-door hardtop coupe, the Studebaker Sky Hawk was introduced for one year only, 1956. Produced by Studebaker-Packard Corporation, the Sky Hawk was considered to be part of the Studebaker President series. The Sky Hawk was one of four models of Hawks that was available for 1956 and it was positioned nestled between the flagship Golden Hawk and Power Hawk pillared coupe.

The Sky Hawk was different from the Golden Hawk because it featured less chrome trim and also lacked the Golden Hawk's fins. Less garish, the Studebaker Sky Hawk featured hardtop styling. The inside was also quite a bit less luxurious and they were powered by the President's 289 cubic inch V8 with 210 hp standard and 225 hp optional. The Sky Hawk featured an overall length of 203.9 inches, a wheelbase of 120.5 inches and it had an overall weight of 3,215 lbs.

Set at a base price of $2,477, additional options added to the price. A total of 3,610 units were produced during the 1956 model year. The Sky Hawk featured good styling for the 1950's, along with adequate handling, fine performance. The Sky Hawk also featured a decent low-production appeal and was quite highly sought after. The major downside of the '56 Sky Hawk was Studebaker's usual rust and oil leak problems.
By Jessica Donaldson
For more information and related vehicles, click
here
'CARS OF THE COWBOYS' CLASS COMING TO THE 2015 AMELIA ISLAND CONCOURS D'ELEGANCE
On March 15, 2015, the 20th annual Amelia Island Concours d'Elegance will display the eclectic and eccentric cars customized and modified to promote America's movie and TV cowboys with the highly anticipated 'Cars of the Cowboys' class. In true 'Amelia' tradition, this unique display on the 10th and 18th fairways of The Golf Club of Amelia Island at The Ritz-Carlton will put fun ahead of fad and fashion as the first gathering of cowboy vehicles at a major international Concours. Featur...[Read more...]
THE JAGUAR F-TYPE R COUPE TO MAKE ITS CANADIAN DEBUT AT THE 2014 TORONTO AUTO SHOW
(MISSISSAUGA, ON) February 13, 2014 - Jaguar will showcase its 2014 model year line up at the 2014 Canadian Auto Show held February 14 to 23, 2014. The 2015 F-TYPE R Coupe will be making its Canadian debut and the C-X17 Sport Crossover concept will also be on display. For 2014, Jaguar has showcased it most dynamic lineup ever. With the all-new F-TYPE sports car joining the family as the heir to the Jaguar sports car legacy, it has renewed Jaguar spirit and has represented a return to ...[Read more...]
JAGUAR LAND ROVER REPORTS U.S. SALES FOR SEPTEMBER 2013
◾Jaguar Land Rover North America increases 1 percent in September ◾Jaguar continues U.S. growth streak with 31 percent growth in September on new XF and XJ all wheel drive models and F-TYPE sales ◾Land Rover Range Rover and Range Rover Evoque see strong increases in September, up 23 percent and 26 percent respectively ◾Land Rover U.S. sales decrease 7 percent for month due to tight supply of Range Rover Sport during launch; Land Rover brand up 12 percent year-to-date (MAHWAH, NJ) - Oct...[Read more...]
LAND ROVER ANNOUNCES 2014 U.S. MODEL LINEUP
(MAHWAH, N.J.) - September 12, 2013 - The 2014 model year continues the most dynamic product development and introduction period in the brand's history. An all-new Range Rover Sport is introduced, based on the all-new aluminum-intensive Range Rover that debuted for 2013. The Range Rover itself sees a significant increase in fuel efficiency for 2014 with the introduction of a new supercharged 3-liter V6 engine, for up to EPA-estimated 23 mpg in highway driving1, replacing the naturally asp...[Read more...]
JAGUAR EXPANDS POWERTRAIN CHOICE WITH TWO ADDITIONAL FORCED-INDUCTION PETROL ENGINES
As Jaguar expands its product offer in key global markets it is introducing two additional petrol units to its range to enhance customer choice; the new 3.0-litre V6 Supercharged Petrol, and the 2.0-litre I4 Turbocharged Petrol. Adrian Hallmark, Global Brand Director, Jaguar Cars, said: 'Jaguar currently has its strongest range of products for several decades. Our continued growth is dependent on two things; activating the awareness of the brand, and expanding our range to enable us to access...[Read more...]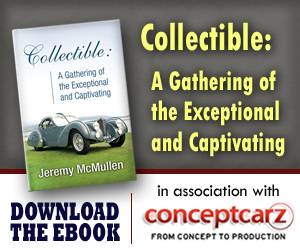 Similarly Priced Vehicles from 1956
Chevrolet Bel Air ($2,022-$23,400)
Studebaker President ($2,185-$2,490)
Dodge Royal Series ($2,475-$2,940)
Hudson Rambler ($1,830-$2,490)
Plymouth Belvedere ($2,115-$2,530)

Average Auction Sale: $19,183
© 1998-2014. All rights reserved. The material may not be published, broadcast, rewritten, or redistributed.