Image credits: © BMW.
1965 BMW 2000CS news, pictures, specifications, and information

Tweet
Those manufacturers that had found a niche in the market place to survive the Great Depression were forced once again to figure out how to stay in business after World War II. BMW stayed successful with their affordable and efficient bubble car, named the Isetta. They also produced luxury cars such as the 507 and aircraft parts.

In 1959, BMW was on the brink of bankruptcy. Their Isetta vehicle had sold well for a period of time but it was quickly loosing ground to the VW Beetle. A vehicle that had similar features such as excellent fuel economy and practicality, but offered more room for passengers.

Harald and Herbert Quandt provided financial backing to BMW to produce a four-door car which came known to be Neue Klasse or 'New Class'. This happened to be the savior for the struggling company. In 1962 the vehicle was debuted and dubbed the 1500. It featured a four-cylinder engine. In total, 24,000 of the 1500's were produced.

The 1800 was introduced near the end of 1963. It had a four-cylinder, 1773cc engine that was capable of producing 90 horsepower. Variants such as the 1800 Ti and 1800 Ti/SA soon followed.

In 1964 the 1600 replaced the 1500. The 1600 was a responsive, four-door sedan that received excellent reviews from the automotive tests all over the world. The 1600-2 was soon introduced. It was a sportier, two-door version of the four-door 1600 that offered more horsepower and sat atop shorter 98.4 wheelbases, thus decreasing the overall weight of the vehicle and improving performance. The 1600-2 featured a 1573cc (1600) cc engine. The additional '2' represented the number of doors. A 105 horsepower 1600Ti soon followed. BMW was once again inching closer to its sports-car roots; a heritage it had not visited since the 1930's.

Helmut Werner Bonsch and Alex von Falkenhausen, both employee's of BMW's, had independently experimented with a 2.0 liter engine in the 1602 body. The combination was a success.

In 1966, the sale of 1600's in the United States began to escalate. The press had done much to stimulate desire for this small and responsive vehicle. The problem was that the sportier version, the 1600ti, was unable to pass the US Federal exhaust emissions regulations and thus, unable to be sold in that market. This was due to its twin-carburetor engine. The solution was to sell the 2-liter version which was able to pass the emissions regulations. So, in 1966, the 2002 was introduced.

During the life span of the 2002, which ranged from 1968 through 1976, there were three generations. The first generation was from 1968 through 1971. The second generation was built from 1971 through 1973. The third generation was built from 1973 through 1976.

From 1968 through 1976, BMW produced around 80,000 vehicle for the US market.

The vehicle produced from 1968 through 1973 can be identified by their round tail lights. Vehicle built after that and through 1973 had larger bumpers and sat atop a wider trac.

A turbo version of the 2002 was introduced but due to safety concerns, only produced in limited numbers. Less than 2000 were made; all were left-hand drive.
By Daniel Vaughan | Jun 2005
Italian thoroughbreds to feature prominently at Bonhams Quail Lodge auction
Numerous iconic and desirable models from Ferrari, Lancia, Lamborghini and more contribute to growing anticipation for this approaching sale San Francisco – Bonhams is delighted to announce its impressive assembly of Italian sports cars for its fast approaching 16th annual Carmel motorcar auction on August 16th. After announcing earlier this spring the consignment of some truly exceptional and noteworthy Italian cars – most notably the one-off 1954 New York Auto Show, 1953 Fe...[Read more...]
Next Generation European Compact Car From Nissan To Be Manufactured By Renault In Europe
Nissan Motor Co., Ltd. today announced that the replacement for the current Nissan Micra compact car will be manufactured at a Renault plant in Europe. Due to start production in 2016, the vehicle will be exported across Europe's left-hand drive markets. Under the Nissan Power 88 six-year business plan, the company will launch, on average, one new model every six weeks for the duration of the plan. Consequently, available capacity across the relevant plants in the Nissan manufacturing networ...[Read more...]
Coys True Greats London Sale
Coys round off their 2012 auction calendar with their world-famous True Greats sale of important collectors cars, classic film posters and the Keeler Collection of rare models. With some 400 lots coming under the auctioneer's hammer on 4th December, this sale offers a superb choice of entries for any car collector. Among the great entries include two Lamborghini Miuras, a rare Aston Martin DB5 Vantage in left-hand drive, accompanied by its sister models a DB4 and a DB6, and from Germany a be...[Read more...]
A Piece of Hollywood and Jaguar History
Clark Gable's 'Best in Class' 1949 XK120 This weekend, a very special XK120 graced the judging field at the 62nd Pebble Beach Concours d' Elegance. This particular XK120 is significant, not only because it was named 'Best in Class,' but because its first owner was none other than Hollywood icon Clark Gable, a devoted Jaguar enthusiast. Gable's XK120, chassis No. 670003, was judged 'Best in Class' in the 'Postwar Sports Open' category. The car is owned by Mr. Jeff Lotman, of Los Ang...[Read more...]
Cherished Classics From The Pettit Collection Will Be Offered Without Reserve
• The 1929 Duesenberg 'Blue J' and 11 collector cars from the William A. C. Pettit, III Collection will be sold at Gooding & Company's Pebble Beach Auctions
• Estate Proceeds will benefit the Shriners Hospital for Children®-Tampa
Gooding & Company, the acclaimed auction house celebrated for selling the world's most significant and valuable collector cars, is honored to present the finest automobiles of the William A.C. Pettit, III Collection at its Pebble Beach Auctions on Aug...[Read more...]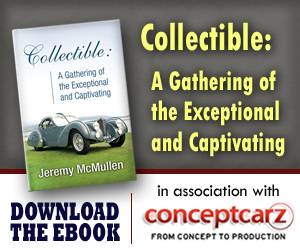 BMW
Monthly Sales Figures
Volume
September 2014
25,586
August 2014
27,214
July 2014
26,409
June 2014
30,201
May 2014
29,602
April 2014
25,202
March 2014
32,107
February 2014
22,017
January 2014
18,253
December 2013
37,389
November 2013
31,752
October 2013
27,574
(More Details)
© 1998-2014. All rights reserved. The material may not be published, broadcast, rewritten, or redistributed.