Image credits: © Lotus.
1998 Lotus Emme 422T news, pictures, specifications, and information

Tweet
In 1997 Lotus was joined by a Brazilian company named Emme that specialized in the production of scooters. The purpose of the union was the creation of a super sedan based on the Emme 420 and 420T. The result was the Lotus Emme 422T produced only for the Brazilian market. Power was courteous of a four-cylinder DOHC turbocharged engine capable of producing over 260 horsepower. Zero-to-sixty took just under five seconds and top speed was achieved at 171 mph. Excellent stopping power was courteous of 11.6 inch ventilated disc brakes.

During its short production run, less than fifteen examples were created.
By Daniel Vaughan | Dec 2005
THE VOLVO V60 AND S60 POLESTAR BRING RACE-TESTED INNOVATION TO REAL-WORLD DRIVING
Quickest factory Volvos ever make U.S. debut at 2014 Chicago Auto Show ◾Special press conference being held today at 11:30am CT during the 2014 Chicago Auto Show ◾V60 sports wagon and S60 sedan models will be available in two colors ◾345 hp / 369 lbs.-ft T6 power plant, matched with fully tuned suspension ◾Coming to U.S. showrooms this summer ROCKLEIGH, N.J. (Feb. 6, 2014) – The Volvo wagon is most definitely back in the U.S., and together with performance and tuning partner Polest...[Read more...]
World debut for a new Volvo V60 engineered by Polestar
The new Volvo S60 and V60 Polestar are here •S60 and V60 model •0-100 km/h in 4.9 seconds •Limited Edition The new Volvo S60 and V60 Polestar are here, set for sale on four continents around the world in 2014. The countries set for the S60 and V60 Polestar include Canada, the Netherlands, Japan, Sweden, Switzerland, United Kingdom and the USA, with further markets and final production numbers to be revealed next year. 'We are proud to present the S60 and V60 Polestar. A car de...[Read more...]
Maserati Ghibli On Stage In Los Angeles At The Start Of The 'Opposite Of Ordinary' Era
North American Debut for the Quattroporte Ermenegildo Zegna Limited Edition Concept Los Angeles - Maserati celebrates the North American roll out of the all-new Ghibli at the Los Angeles International Auto Show, following the highly successful worldwide launch of the Quattroporte in January. Also making its North American debut is the exclusive Quattroporte Ermenegildo Zegna Limited Edition concept featuring an unique color scheme, special mirror polished rims on tone and an elegant in...[Read more...]
2014 MITSUBISHI LANCER SPORTBACK: NUMEROUS NEW FEATURES/UPGRADES FOR THIS UNIQUE AND SPORTY 5-DOOR
Mitsubishi Motors' utterly unique Lancer Sportback rings in the new model year with a plethora of new features and upgrades for this roomy (up to 52.7 cubic feet of available cargo space) and fun-to-drive diamond star-badged 5-door. New features and upgrades for the 2014 Mitsubishi Lancer Sportback include: ◾New audio system (Sportback ES) ◾New 6.1-in. touchscreen display audio system (Sportback GT) ◾New HD Radio® (Sportback GT) ◾New SIRIUSXM® satellite radio with 3-month pre-paid subscrip...[Read more...]
McLaren GT Confirms Details of Enhanced 12C GT3 To Compete Globally in 2013
•Additional production run of the 12C GT3 confirmed to compete globally •Revisions designed to improve overall efficiency and reliability •12C GT3 competitive debut season summary available to view at the official McLaren Automotive YouTube channel: http://youtu.be/72jgg4BqYsY As was confirmed at the close of last year, McLaren GT will produce further examples of the 12C GT3 available to compete in the 2013 season. These new models are eligible for all GT3 championships and, for the fir...[Read more...]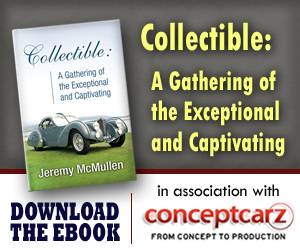 © 1998-2014. All rights reserved. The material may not be published, broadcast, rewritten, or redistributed.