1983 March 83G news, pictures, specifications, and information

Tweet
This March 83G competed in the IMSA GTP Class powered by a 360-cubic-inch Chevrolet engine developing 720 horsepower. It is fitted with full ground effects and the 2200 pound car was clocked at 215 mph at Daytona. The car has a 31-gallon fuel capacity and can travel from zero-to-sixty mph in 3 seconds. The body consists of 5 pieces of Kevlar and carbon fibre, while the chassis is aluminum honeycomb monocoque.

Kenper Miller and David Cowart, the current owners, raced 'The Red Lobster' in the Camel GT Series from July 1983 through March 1985. During this span, the car had 11 top five finishes and 15 times it finished in the top 10.

For the past 10 years, the car has participated in select vintage races around the country.

Al Holbert was the original racer, with a 366 Chevy engine. It ran in red and white livery with CRC Chemicals / Red Roof Inn sponsorship. In four races in 1983 IMSA he earned a 2nd at Riverside, 1st in Miami, Mid Ohio and Laguna Seca.

He sold the car to David Cowart and Kemper Miller, who were sponsored by Red Lobster.

In 1983 they were 2nd in their debut at Brainerd IMSA, 4th at Sears point, 2nd at Mosport and 4th at the Daytona finale.

In 1984 they were 2nd at Laguna Seca, Mosport and Michigan, 3rd at Riverside, 4th at Road Atlanta, 6th at Sears Point and Lime Rock.

These were remarkable results for privateers.

After its retirement from racing, Camel leased the car for two years and displayed it in malls and public places to promote the IMSA series.

It was possibly the best known car of its day due to the distinctive graphics that suited the shape of the car.
This IMSA GTP Coupe has a remarkable race history. With CRC, Red Roof Inn livery, it won the IMSA GTP Championship with the legendary Al Holbert driving. It then went to the 24 Hour Race at Daytona where it finished first overall - the first Porsche powered GTP to do so. Its flat 6, 3.0 litre engine has a single turbo and produces more than 650 horsepower.
Racing History
1983: CRC Sponsored.
27/2: Miami G,P: Holbert, #41; 1st.
24/4: Riverside: Holbert/Trueman, #14; 2nd.
01/5: Laguna Seca: Holbert, #14; 1st.
19/6: Mid-Ohio: Trueman/Bundy, #14; 1st. (Chev engined car).

Sold to Cowart/Miller. Red Lobster sponsored.

10/7: Brainerd. Cowart/Miller, #25; 2nd.
24/7: Sears Point: Cowart/Miller, #25; 4th.
31/7: Portland: Cowart/Miller, #25; DNF. (Axle).
14/8: Mosport: Cowart/Miller, #25; 2nd.
21/8: Road America: Cowart/Miller, #25; DNF. (Axle).
11/9: Pocono: Cowart/Miller, #25; DNF. (Axle).
27/11: Daytona Finale: Cowart/Miller, #25; 4th.

1984:
4-5/2: Daytona 24-Hours: Cowart/Miller, #25; DNF. (Axle).
25/2: Miami GP: Cowart/Miller; 9th.
24/3: Sebring 12-Hours: Cowart/Miller, #25; DNF. (Axle).
08/4: Road Atlanta: Cowart/Miller, #25; 4th.
29/4: Miller/De Narvaez, #25; 3rd.
06/5: Laguna Seca: Miller, #25; 2nd.
20/5: Charlotte: Cowart/Miller, #25; DNF. (Axle).
28/5: Lime Rock: K. Miller, #25; 6th.
03/6: Mosport 6-Hours: Cowart/Miller, #25; 2nd.
10/6: Mid-Ohio: Cowart/Miller, #25; 18th.
07/7: Watkins Glen: Cowart/Miller, #25; 19th.
29/7: Portland: Cowart/Miller, #25; DNF. (Axle).
05/8: Sears Point: Miller, #25; 6th.
26/8: Road America: Cowart/Miller, #25; DNF. (Axle).
09/9: Pocono: Cowart/Miller, #25; 21st.
15/9: Michigan: Cowart/Miller, #25; 2nd.
30/9: Watkins Glen: Cowart/Miller, #25; DNF. (Axle).
25/9: Daytona Finale: Cowart/Miller, #25; DNF. (Axle).

1985:
2-3/2: Daytona 24-Hours: Cowart/Miller, #25; DNF. (Axle).
24/2: Miami GP: Cowart/Miller, #25; DNF. (Axle).10th.
14/4: Road Atlanta: Cowart/Miller, #25; DNF. (Axle).
This vehicle is a 1983 March IMSA GTP 'Executone' 83 G1 with serial number 83 G1. It was treated to a restoration in 2004 and brought back to its original glory, when Randy Lanier drove the car to an impressive 2nd place victory at the 24 Hours of Daytona. Lanier had been running at the lead for 20 of the hours.

Drivers who have graced the cockpit include Hurley Haywood, Whittington Brothers, Jim Truman, and Bobby Rahal. The car is currently powered by a 310 cubic-inch Chevrolet engine capable of producing 550 horsepower and 350 foot-pounds of torque. There is a Hewland DG500 gearbox mated to the engine and powering the rear wheels. The body is constructed of carbon fiber-kevlar and carefully conceal the aluminum monocoque chassis. There is a rack & pinon steering setup and unequal-length controls arms controlling the suspension.
By Daniel Vaughan | Jul 2007
The early 1980s was an exciting time for motor-sports, especially due to the introduction of the new FISA sanctioned Group C and the IMSA GTP regulations. Group C cars were eligible to contest for the World Championship with such prestigious venues as the 24 Hours of Le Mans. The GTP regulations, though similar to the Group C category, were endurance races in the United States. The purpose for having two similar categories but sanctioned under different governing bodies was create a more level field of cars and to dismantle Porsche's dominance on the sport. Porsche would continue to dominate in the Group C category, however, while the IMSA Category was able to succeed in their goal of attracting a wide range of cars. Group C cars were limited on the amount of fuel they could use per race, while the IMSA cars had displacement criteria based on their minimum weight.

In the Group C category, competition quickly grew as they had better chances of achieving a podium finish. One such company was 'March', who developed a brand new GTP car for this class. With their experience gained from the BMW M1C Formula 1 project, the company was able to quickly develop the March 82G. The car utilized the aluminum honeycomb monocoque chassis used in the BMW M1C, and configured by Adrian Newey and Robin Herd to accept a wide variety of engines. The suspension was comprised of double wishbones in both the front and the back. The body design was courtesy of Max Sardou. It incorporated many ground effect principles with a distinct open hole in the front between the fenders that helped transfer air to the under body venturis. The design would continue to change over the years, though it would keep its nickname 'lobster-claw.'

Mounted mid-ship was a Chevrolet V8 engine mounted at 90-degres. Aluminum was used in the construction to help reduce the overall weight. Fitted with two overhead valves per cylinder, the 350 cubic-inch engine was capable of producing over 600 horsepower. Disc brakes could be found at all four corners, and power was sent to the rear wheels via a five-speed gearbox.

The March 82G made its racing debut at the Daytona 24 Hours where it qualified on pole, an exceptional performance on the inaugural IMSA GTP race. Early on in the race, the car was forced to retire due to problems with the gearbox. The second race of the season was at the Sebring 12 Hours. The March 82G would finish in second behind a Porsche 935.

Three additional cars were built with all but one being fitted with a Chevrolet powerplant. The other car had a BMW six-cylinder engine. None of these cars would have much success in the IMSA GTP category. One March 82G was entered by the factory at the Silverstone and Le Mans race in the Group C category, but it did not have much success.

The highlights for the 82G were at the beginning of the season. With the lessons learner, the March factory built the 83G for the following year. Its design was similar to its predecessor. In total, four examples were built to GTP specification and one to Group C. Nissan purchased one of the cars and Al Holbert purchased the remaining three. Holbert fitted two of them with a Chevy V8 and gave the other a turbocharged flat-six Porsche engine. The Porsche powered car would prove to be very successful and won every race it was entered in that season. Holbert would win the IMSA Championship that year.

For 1984, March introduced their 84G model. Seven examples were created given a variety of engines included a Buick V6 Turbo, Mazda rotary, Porsche flat-six, and a Chevrolet V8. The changes to the car were minor, but sufficient to give drivers Randy Lanier and Bill Whittington a dominant seasons and earning the IMSA championship. This incredible success the March Company was experiencing was to be short lived, as Porsche introduced their flat-six powered Porsche 962 part way through the season. In the capable hands of Al Holbert and Derek Bell, the Porsche 956 earned five victories during the season.

For 1985, March introduced their 85G model. Eleven examples were built. Two of March's customers were BMW and Nissan, with one of the Nissan powered cars achieving a World Championship victory at Fuji. Though it was a win, most of the European manufactures had withdrawn from the race due to the rainy weather and not having proper tires.

The 86G followed the next year, and was commissioned by Nissan in the Group C category, and by BMW for use in GTP racing. Another example was created for a privateer and would become the final GTP/C car built by the March factory.

There were ten examples of the March 86G constructed. BMW purchased six examples and two were later destroyed in fires caused by the turbo chargers. Nissan purchased four examples and prepared them for Le Mans. The BMW cars were run in the IMSA GTP series.

These new March cars were designed by Gordon Coppuck and originally carried the name '86S', with the 'S' symbolizing sport. The cars were very lightweight, thanks in part to their aluminum honeycomb chassis with magnesium bulkheads. The BMW cars were fitted with 2-liter engines that were given additional performance with the assistance of turbochargers.

BMW raced the cars during the season with some success. Most of their attempts at overall victory eluded them due to mechanical or other problems. When BMW halted their support, two of the cars were purchased by Gianpiero Moretti. These two cars were given Buick engines. One was a turbocharged V-6 an the other was a normally-aspirated V-8 unit. Both of these cars raced until 1988.

The BMW 86G cars were very fast, competitive, and lightweight. Their shortcomings were their lack or reliability. With further development, testing, and fine-tuning, they surly could have become consistent front-runners.
By Daniel Vaughan | Dec 2009
For more information and related vehicles, click
here
HURLEY HAYWOOD HONORED WITH RRDC'S 2014 PHIL HILL AWARD
DAYTONA BEACH, Fla. (Jan. 24, 2014) - Hurley Haywood, winner of more endurance classics than any other driver in racing history, was honored by the Road Racing Drivers Club with the 2014 Phil Hill Award. RRDC president Bobby Rahal presented Haywood with the award at a dinner prior to the running of the Rolex 24 At Daytona, the season opener of the 2014 TUDOR United SportsCar Championship. The Phil Hill Award has been presented annually since 1993 to the person who the RRDC feels has re...[Read more...]
IMSA ANNOUNCES 2014 TUDOR UNITED SPORTSCAR CHAMPIONSHIP SCHEDULE
◾12-Event Inaugural Season Will Showcase New Series At Premium Venues ◾Attractive Lineup Reflects Cooperative Spirit Of Rolex Series, ALMS Merger ◾Preseason Test Sessions Scheduled For November At Sebring And Daytona DAYTONA BEACH, Fla. (Sept. 20, 2013) – Continuing its commitment to revolutionize sports car racing in North America, the International Motor Sports Association (IMSA) today announced a 12-race schedule for the 2014 debut season of the TUDOR United SportsCar Championship...[Read more...]
DYSON RACING LOOKS AHEAD TO 2014, ADDS BURGESS, MCMURRY
Looking ahead to the unification of North American sports car racing in 2014, Dyson Racing has shuffled its driver lineup for the remainder of the 2013 American Le Mans Series presented by Tequila Patrón season. Toronto resident Tony Burgess and Chris McMurry will drive the No. 16 Mazda/Thetford/Norcold Lola B12/60 in the P1 class at four of the remaining six races, beginning with Sunday's Mobil 1 SportsCar Grand Prix at Canadian Tire Motorsport Park in Bowmanville, Ontario. The two-hour, 45-min...[Read more...]
YOKOHAMA TIRE CORPORATION GEARS UP FOR THE 2013 MOTORSPORTS SEASON
Plans include a new team in the ALMS GT Class and continued efforts in the GTC and GT3 Challenge series, off-road racing and drifting FULLERTON, CA (March 7, 2013) – From desert racing to drifting, Porsche 911 GT3 to Ferrari 458, Yokohama Tire Corporation (YTC) is busy tuning up for the 2013 racing season. 'This will be an exciting year,' said Andrew Briggs, YTC director of product planning and motorsports. 'We have a new ALMS partner, a historic teaming in off-road and a strong, over...[Read more...]
Stars of American Racing Panel Discussion for upcoming Savannah Speed Classic
The Hilton Head Island Motoring Festival & Concours d'Elegance, one of the nation's signature automobile events, is proud to announce the addition of legendary racing stars, to the already packed Savannah Speed Classic agenda. The scenic river-view site of Hutchinson Island in Savannah will be alive with not only the roar of vintage race cars, off-road drives through the woods, Hot Lap rides at speed, but some of history's greatest automotive influences including Hurley Haywood, Brian Redman, To...[Read more...]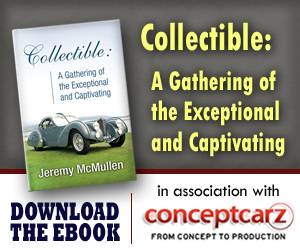 © 1998-2014. All rights reserved. The material may not be published, broadcast, rewritten, or redistributed.